October may be one of the funnest months — if you like exploring the scariest outdoor spots, that is. There are a lot of haunted bridges, battlefields, and of course, houses. If you're like us and enjoy scaring yourself silly by snaps of twigs in the woods, odd orbs floating by, or blood curdling screams, then this post is for you.
We've found everything from haunted roads to mines to trees. Check out 50 legends of the scariest outdoor spots in the United States.
Alabama: Nancy's Mountain Trail
While Nancy's Mountain Trail at the U.S. Army Corps of Engineers Haines Island Park is a stunning walk through the woods, what may also stun you is the beautiful ghost of Nancy searching for her son and husband who never returned.
Story has it that Nancy's son went off to join the war effort and never returned. Nancy and her husband got word he died but his body was never recovered. Nancy's husband went to search for their son himself and ended up frozen to death next to the grave of an unknown soldier.
Nancy left her home and was never seen again in the town, until many years later, carrying a lantern down to the shore in hopes of greeting her son and husband. Go on this hike early in the morning or late in the evening when the trail is covered by mist, and keep your eyes peeled for Nancy.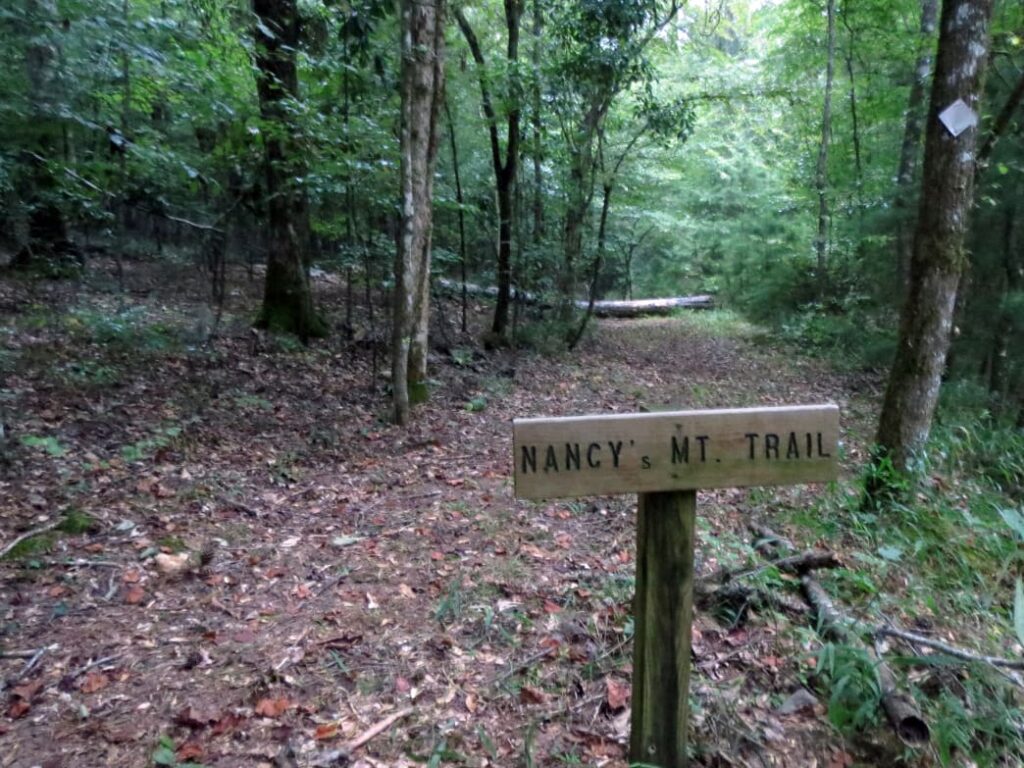 Alaska: Badarka Road, Chugiak
Folks travel through Badarka Road for the beautiful landscapes and of course, the ghost stories.
A father and 5-year old daughter went out during winter to cut wood to bring back home for the fireplace, where the rest of the family was waiting. To keep his daughter safe from falling on the ax they brought with them to chop wood, the father stuck the ax into the tree.
The little girl, wanting to impress her father, pulled down the ax, only for it to fall on top of her head, killing her. The father was devastated. He refused to leave her side, and eventually died of hypothermia.
About halfway down Badarka Road at 3:30 AM, it's said you can see a father cradling his daughter and some have heard his cries.
Arizona: Luana's Canyon, southeast of Kingman
During the 1800's, a family lived in the canyon in a small wooden house. The father would leave his family to go out searching for food and gold. Sometimes for two weeks at a time. The family usually had enough food to eat and always expected him to return.
And as legends go, one day he left his family to find food and gold, and never returned. Luana, his wife, became distraught and eventually fell into a sort of madness from starvation and losing her husband. Her children constantly begged for food and water.
Luana could no longer handle the children's cries and eventually murdered them by chopping them into pieces. She carried what was left of her children down to the river and let the current take them away. She wailed from grief and guilt for killing her children who were doomed to die from starvation anyway.
To this day, people claim to hear her wails in the canyon. You can still visit the old wooden house too.
Arkansas: Toltec Mounds
Known to locals as the "Stonehenge of Arkansas," these are remnants of the Plum Bayou culture. It actually has nothing to do with the Mexican Toltec or Aztec tribes. 
The Plum Bayou people built around 18 mounds for ceremonial, religious, governmental, and cultural purposes. According to archeological digs, items that were found couldn't be traced to any other ancient tribe, but the Plum Bayou culture. Along with finding items during archeological digs, it seems as though the Plum Bayou people simply disappeared.
These days, visitors near the existing mounds claim to hear footsteps around them and have seen orbs and lights.
California: Moro Rock Trail, Tulare
Moro Rock Trail is only .5 miles, but is a very popular trail of around 400 stairs up a giant boulder. Once you get to the top, you're gifted with beautiful views of Sequoia National Park and wildlife.
While this seems like a regular ol' trail, visitors claim to have seen ghostly figures in pictures they've taken atop the rock. Many people thought at first it was user error or maybe someone was "photobombing" their picture.
One story has it that a woman felt a very strong presence around her shoulders when her family took her photo. When they developed the photo, there were two phantom hands resting on her shoulders.
Colorado: Phantom Canyon Road
If you like to ride your bike on gravel roads, you'll be able to do that (and you might be lucky enough to see a ghost too).
Phantom Canyon Road was once the route of Florence and Cripple Creek Railroad and is now a detour off the Gold Belt Tour byway. Not for a beginning gravel rider, this road is twisty, narrow, and climbs 4,000 feet in elevation through creepy tunnels and ghost towns of Wilbur, Adelaide, and Glenbrook.
Story goes, as you climb up the road, you may witness an executed uniformed 1890s prison inmate walking along the railway.
Connecticut: Dead Man's Cave
What was once called Abraham's Cave back in 1873, two boys went in search of the entrance that was once large enough to hold a dozen men. When they got to the opening, they found an actual dead man.
The corpse was so decomposed it took officials a long time to identify him. They finally were able to. It was Edward Barnum, a nephew of P.T. Barnum. Most people believe that the cave's now haunted by Edward.
Delaware: Swamp Trail, Lums Pond State Park 
(Trigger Warning: rape)
Lums Pond State Park is one of Delaware's most beautiful parks. But to folks who know the story of the 7-mile Swamp Trail, it has a more sinister impression.
Legend says that in the 1870's a young girl ran away from home to the woods of Lums Pond and found a spot to rest underneath a canopy of trees. She was found by a stranger who attacked, raped, and eventually murdered her. She was found where the present-day Swamp Trail is.
If you're alone and quiet enough, you may hear cries from the woods, and it might be the girl who was killed long ago.
Florida: The Devil's Tree, Oak Hammock Park, Port St. Lucie
Most trees seem harmless, right? The Devil's Tree is an oak tree that lies on a dirt trail in the corner of Oak Hammock Park in Port St. Lucie. It's known for the site of a number of gruesome murders back in the 1970's. Today, it's believed to be haunted by evil spirits.
Supposedly, there have been numerous attempts to cut down the tree, but have failed. They once even had a priest perform an exorcism to no avail. 
Visitors claim to have seen people in dark hooded capes performing satanic rituals near the tree as well as ghosts hanging from the tree branches. 
Georgia: Secret Cemeteries of Savannah
How does a city become haunted? It starts with disease, like Yellow Fever. The first Yellow Fever epidemic occurred in 1820, killing 666 people. The second epidemic in 1854 killed 1,040. People who had enough money to leave, fled the city, while others stayed behind.
What happened with Yellow Fever to create secret cemeteries? When someone succumbed to Yellow Fever, they'd fall into a comatose state. Believing their loved ones were dead, families buried them, but some weren't actually dead. They woke up in their own coffin, buried six feet below, only to die from suffocation.
It's said that the people who were buried alive came back to haunt Savannah. 
Hawaii: Waipio Valley
Hawaii's home to luaus that visitors have come to love. When visitors are hiking in the Waipio Valley on the northern shore of Hawaii, they may come across ghosts of armed ancient warriors marching through the island. 
It may sound like a luau, but it might actually be these ancient warriors eternally marching to battle instead. Locals have heard their chants and pounding beats throughout the valley during the night. 
Idaho: Shoshone Ice Caves
A big tourist attraction, the Shoshone Ice Caves can be over 1,000 feet long and the temperatures frequently drop below freezing, even during the summer.
Legend has it that a Shoshone Indian Princess, Edahow, haunts the cave. Buried centuries ago, Princess Edahow haunts the cave to be freed from her icy tomb. Visitors and staff have heard footsteps and hushed whispers as they explore the cave.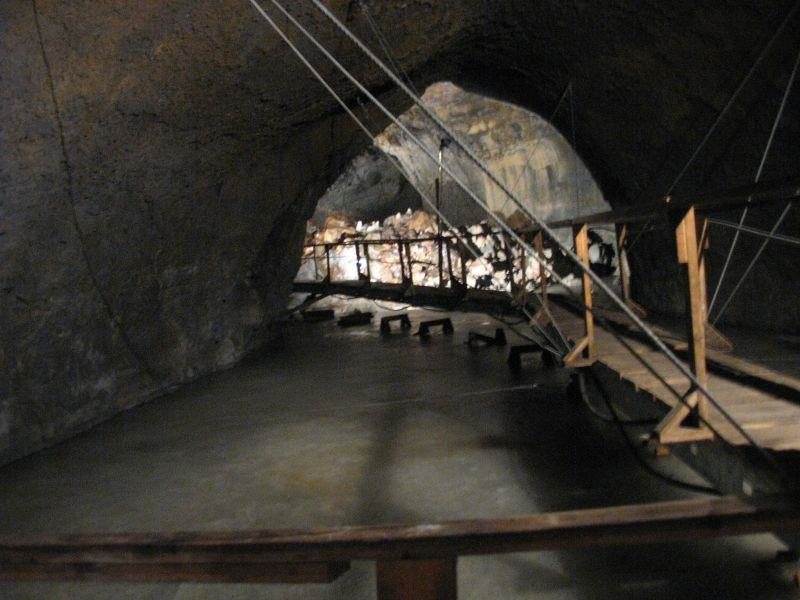 Illinois: Devil's Cave, Aurora
This legend is a tale of an Indian Brave who was banished from his tribe for stealing. To get his revenge, he covered himself with a blanket and glowing fungus and tried to scare the tribe by acting like a ghost on dark nights.
One night, the tribe found his footprints and waited for him to return. When he came back another night to scare them, they chased him into Devil's Cave and smoked him out. He was able to escape and jumped into a river. But he didn't know how to swim so he drowned.
He's said to still be seen around Devil's Cave, which is easy to get to from the Red Oaks Nature Center.
Indiana: Hell's Gates
Hell's Gates is a pretty normal-looking bridge, but according to myth, if you walk under the bridge back and forth six times, on the way back on the sixth time, there will be an extra pair of footsteps. People think these extra footsteps are Satan's. 
One student tested the myth himself and wrote his account. He said the bridge is in Fountainet, which was fairly close to his brother's place. There were four of them who visited the bridge. On the sixth time back, they thought they might have heard an additional pair of footsteps, but they think it could have been the rain. Who knows.
Iowa: Stony Hollow Road, Burlington
We never thought a road could be haunted until we started researching the scariest outdoor spots in the United States. According to the locals, don't go on Stony Hollow Road at night.
This road, while avoided by the locals, is popular among ghost hunters. Supposedly, a woman named Lucinda threw herself off a nearby cliff after her husband left her. If you say her name three times (Lucinda, Lucinda, Lucinda), her ghost will appear on top of the cliff. If she lays a rose at your feet, legend has it that you'll die the next day.
Kansas: St. Jacob's Well, Clark County
Thousands of years ago, cowboys and Native Americans used St. Jacob's Well as a water source. First seen in the 1890's, there's a cowboy who still visits the well, and there are bodies that float within the well, so the locals say. 
This is a popular legend in Kansas, and according to locals, St. Jacob's Well is bottomless, never dries up, and is said to kill anyone who is brave enough to jump into its water. 
Kentucky: Mammoth Cave National Park
(Trigger Warning: Slavery)
According to National Parks Traveler, "Over 100 years before Mammoth Cave became a national park in 1941, Dr. John Croghan purchased the cave for $10,000 in 1839. Among the 'property' Dr. Croghan received for that price were several slaves, including a cave guide named Stephan Bishop. The National Park Service website describes Bishop as 'one of the greatest explorers Mammoth Cave has ever known.'"
In 1856, only a year after Stephan Bishop gained his freedom, he mysteriously died. They buried him in the Old Guide Cemetery near the labyrinths. To this day, park rangers believe that Mr. Bishop returns to the cave from time to time to check on how the new guides are doing. 
Rangers have been pushed, grabbed, and touched by something they can't see. Visitors have seen figures on top of rocks and rangers have seen ghosts at the back of the group. 
Louisiana: The Manchac wetlands
Besides sunstroke, alligators, and branches, visitors need to also be aware of the curse of local voodoo priestess, Julia Brown. According to local legend, she was known for her charms and curses, and for singing creepy songs on her guitar from her porch. One of her more famous lines was, "One day I'm going to die and take the whole town with me."
And she eventually did. She laid a curse upon the town before dying and on September 29, 1915, a hurricane demolished everything and nearly everyone in sight.
But speaking with a present-day voodoo priestess, Bloody Mary, thinks Julia Brown was more of a healer and tried to prevent the storm instead. She thinks if you have to fear anything in the swarm, it'll be the alligators, not Julia.
Maine: Maiden Cliff Trail, Camden Hills State Park
According to Flavorverse, "The maiden cliff is haunted by a little girl who died after accidentally falling on the rocky surface. She was trying to chase her windblown hat when the mishap took place. Presently there is a white cross right at the spot. Hikers often hear the mourning of a young child while hiking."
Maryland: Coffin Rock, Near Burkittsville
If you've seen The Blair Witch Project, you may recognize Coffin Rock, in the Black Hills
Forest, 20 minutes west of town. Legend has it, an entire search party went missing in 1886 when they were looking for a lost 8-year old. Eventually, he returned to town, but none of the search party did.
Another search party was sent out to find the original search party. They happened upon Coffin Rock, only to find disemboweled bodies, bound at their hands and feet. The search party went back to town to get more help and when they returned, all the bodies were gone. Everyone blamed it on the Blair Witch.
Massachusetts: Freetown Fall River State Forest
The Freetown Fall River State Forest, also known as the Cursed Forest of Massachusetts, is full of death and ghosts. One story says in November of 1978, Mary Lou Arruda's body was found tied to a tree in the woods. She was a 15-year old girl abducted and killed by James M. Kater.
Another story is from 1980 when police were investigating another murder, they were approached by a group of people who claimed to have seen Satanic cult activities in the woods. Around the same time, there were stories about "Fall River Cult Killings" where hikers would find suspicious clearings stained with animal blood as well as cattle carcasses oddly arranged.
According to Only In Your State, "The supernatural reputation of this forest is equally formidable. The woods have allegedly been the site of blood sacrifices, UFOs, ghosts, black helicopters, mysterious orbs of light, strange disappearances, giant snakes, poltergeist activity, and even rumored abductions."
We don't suggest going camping out there. 
Michigan:​​ South Manitou Island, Leland
Just 16 miles offshore sits South Manitou Island. Among the two cemeteries and a forest where weird voices are heard, there are two known haunting stories about this island.
Once, there was a ship of passengers plagued with cholera. The ship stopped at the island in order to bury the bodies in a mass grave, but some were still alive.
Another story goes about the shipwreck of the SS Francisco Morazan. Rumor has it, a young boy went exploring the ship by himself and ended up dying. No one knows how.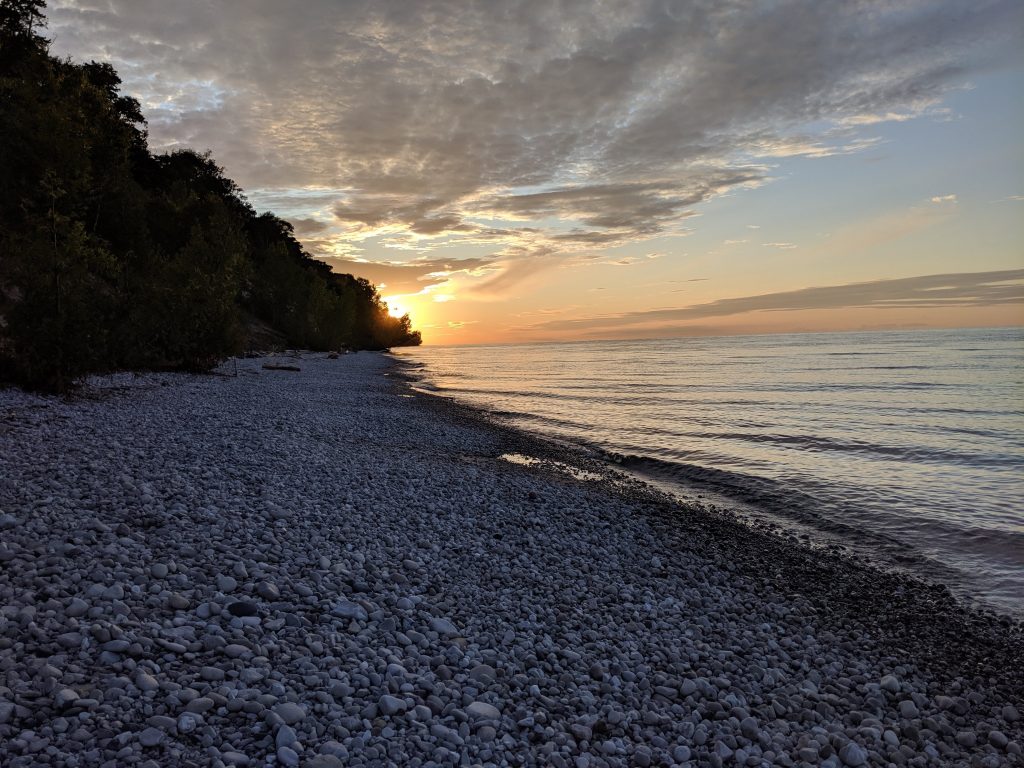 Minnesota: Holbrook Park
It's not surprising we found a haunted playground in our search for the scariest outdoor spots in the United States.
So the story goes, there is a little girl who vanishes into thin air if you get too close to her. If you stay around long enough, she'll eventually return… with her father. While this may seem like nothing to be concerned about, if you get too close to them again, the father will lash out and attack.
Mississippi: Deer Island, near Biloxi
Back in 1922, an article by A.G. Ragusin stated two fishermen heard something in the bushes. They assumed it was some animal, but the sound continued. They went to find out what the sound was, only to be met by a headless skeleton. The skeleton then chased them off the island, giving it the nickname, "Ghost of Deer Island."
The article also mentions a bright blue light, known as "Firewater Ghost," that's been spotted moving across the bay between Biloxi and Ocean Springs. Mind you, this was long before electricity. Some people believe it's a ghost patrolling the area with a lantern in its hand.
Missouri: Smallett Cave
First appearing toward the end of the Civil War, the "Headless Cobbler" has been seen (and heard) in and around Smallett Cave. As rumor has it, you can hear a staccato tapping from within the cave, which is the Headless Cobbler's shoemaking hammer.
Locals say he never appears before dusk, but you can see him walking along the road and banks next to Spring Creek. Where his head should be, is, instead, a dangling clump of shoes. No one knows why he's headless and so far, it doesn't sound like he's hurt anyone yet.
Montana: Bannack State Park
Bannack, now a ghost town, with spooky stories, was once home to the Montana Vigilantes, a civilian group who captured and hung members of the Innocents during the gold rush of the 1860's.
The Montana Vigilantes accused Henry Plummer, the sheriff of Bannack, of leading the Innocents gang. Then inevitably hung him from the same gallows he previously had built. Some park rangers believe it may be Henry Plummer haunting the park.
Nebraska: Seven Sisters Road, Otoe County
Over a century ago, a man took his seven daughters to separate hills and killed them. The road is actually marked as County Road L on the map, but is known as "Seven Sisters Road" for the girls who were murdered by their father.
So it goes, car headlights may dim as you drive down the road. Your car may even experience electrical failure and get stuck on the side of the road. Or, you can hear the daughters screaming in the night.
Nevada: Gold Hill's Yellow Jacket Mine
On April 7, 1869, an uncontrollable methane fire broke out at the mine's 800-foot level. It collapsed timbers and spread to neighboring mines, trapping the miners below. The fire burned for days on end, killing 35 miners.
As legend has it, eleven miners haunt the mine. People have seen lights and blue and white orbs near the mine shaft's entrance. Explorers deep inside the mine have also heard faint cries.
On the anniversary of the fire, people have seen ghosts walking around the town.
New Hampshire: Madame Sherri's Castle
Back in the early 1900s, a socialite, Madame Antoinette Sherri, built a mansion where she hosted extravagant parties. After years of neglect, a group of local vandals set a fire which burned the mansion to the ground.
Hikers have felt feelings of dread as they climbed up the remaining stone staircase and others have seen ghost-like figures throughout the area. 
New Jersey: Pine Barrens
Spanning over 1 million acres and seven counties in New Jersey, rumor has it that the Jersey Devil resides in the forest. According to legend, the Jersey Devil was born 1735 with leathery wings, a goat's head, and hooves. As soon as it was born, it flew out of the family's home through the chimney.
Locals believe it still haunts the Pine Barrens, surviving off livestock and legends.
New Mexico: Holy Ghost Campground
Considered the Bermuda Triangle of New Mexico, Holy Ghost Campground, within Santa Fe National Forest, is home to unusual activity. People have disappeared without a trace. UFOs sightings have been reported. Visitors have seen strange shadows and heard voices. So, when are you going to get a reservation?
New York: Big Moose Lake
As the story goes, Grace Brown worked at a skirt factory, where she met Chester Gillette, nephew of the company's owner. They started secretly dating and soon enough, Grace became pregnant. She begged Chester to marry her so she wouldn't be an unwed mother.
He supposedly told her he would and took her on a trip, her thinking he'd propose. They paddled out to the middle of the lake, when Grace told Chester she couldn't swim. All of a sudden, he started beating her with a tennis racket. She fell into the lake and drowned.
Legend has it, Grace Brown's ghost still haunts Big Moose Lake.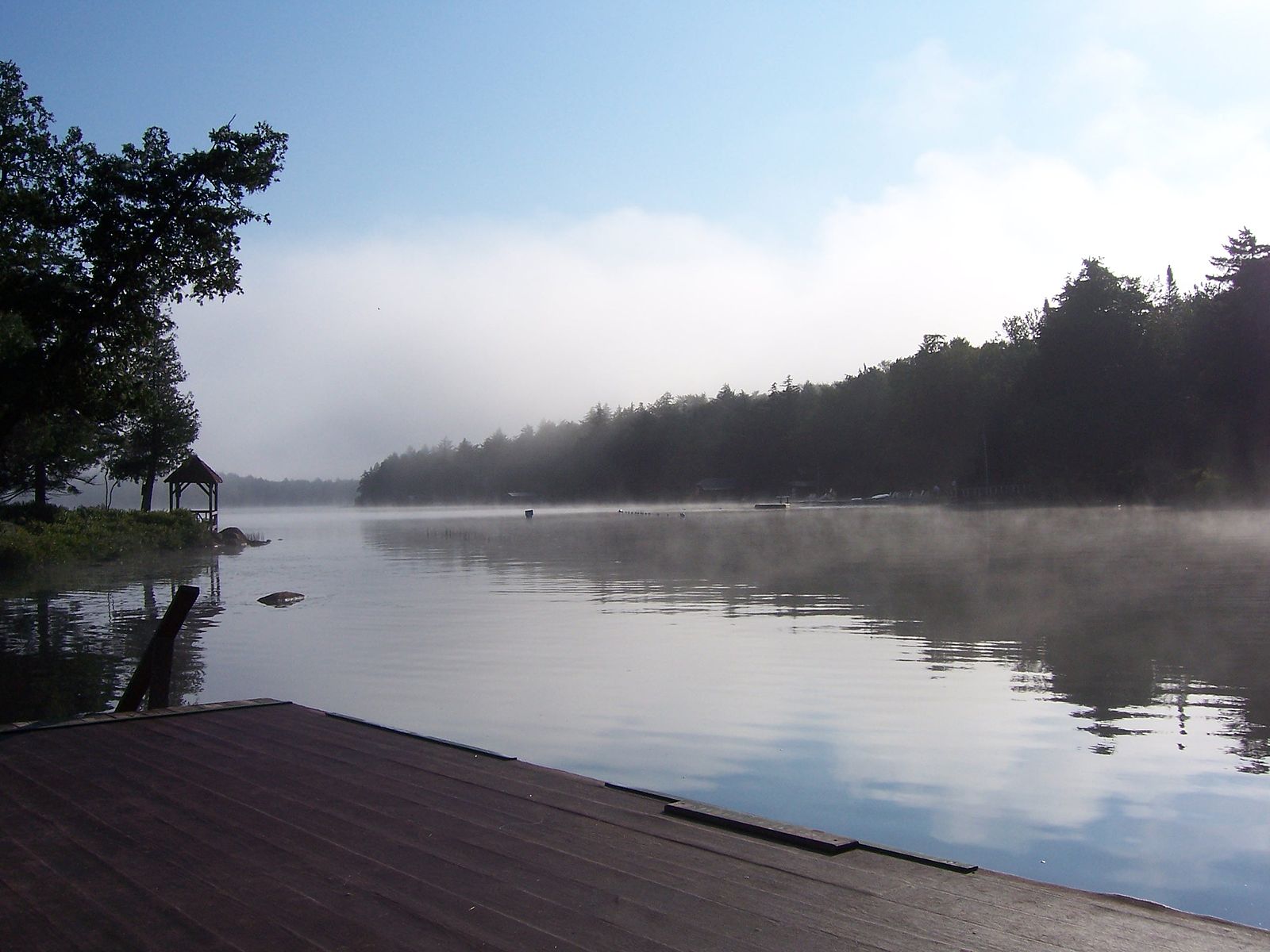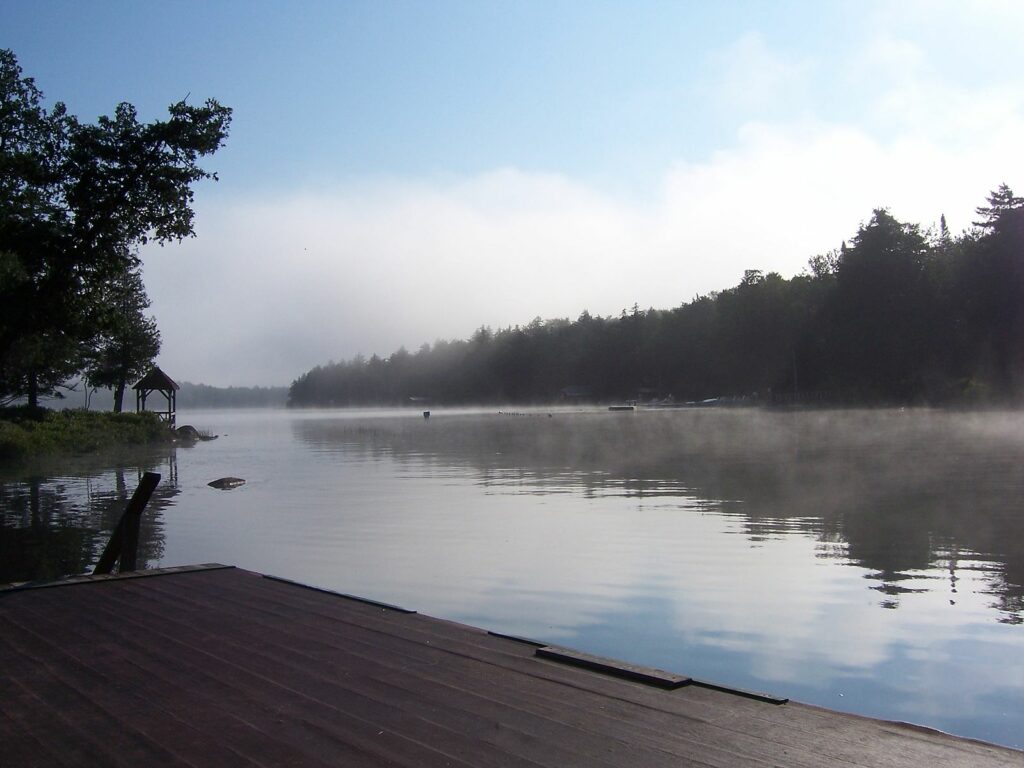 North Carolina: Norton Creek Trail, Great Smoky Mountains
Norton Creek Trail starts at the north shore of Lake Fontana, where it's said that a witch's spirit haunts the woods surrounding the lake.
There are tales of Spearfinger, an old witch living high up in the mountains. She had one finger made of stone, sharpened like a knife. She lured children to her home who ventured too far from their village. Once they came inside, she'd rock them to sleep. Once asleep, she'd cut out their liver with her sharpened finger, and eat it.
North Dakota: Devils Lake
According to Ghosts of North Dakota, "There are published accounts from as far back as 1894, and Native American legends going back much further, about a Loch Ness-style serpent in Devils Lake, North Dakota's largest natural body of water, named in an approximate translation of the Lakota name, 'Lake of the Spirits.'"
Stories of the Devils Lake Monster describe it as having alligator jaws, glaring red eyes, and slimy green skin with black scales. People have said it's fifty to sixty feet long and one to two feet in diameter.
Ohio: Beaver Creek State Park
While Beaver Creek State Park is a popular destination for hiking and camping, it's also riddled with ghost stories. In the early 1800s, before it was a state park, Beaver Creek was once part of a canal system. They would use canal locks to close off sections of waterway to raise or lower the water level to let boats pass through. To this day, some canal locks remain
Two of these locks are supposedly haunted. "Jake's Lock," named after a canal worker who was struck and killed by lightning. According to locals, his ghost returns to finish what he started with a strange light around him, believed to be a lantern.
The other lock is called "Gretchen's Lock," haunted by a canal worker's daughter. The father put her coffin inside the lock while they waited for a boat to arrive. After her coffin was loaded onto the boat and sailed away, they later learned the boat never made it to the mainland. On the anniversary of her death, Gretchen returns to the lock every year.
Oklahoma: The Parallel Forest
During the Dust Bowl, the government planted over 20,000 red cedar trees exactly six feet apart in all directions over 16 acres, creating a creepy, uniformed forest.
When you stand in the forest, the sun is typically blocked from the canopy above, giving the forest a creepy vibe in the first place. If you travel to the middle of the forest, you will find an altar, where some believe was used for satanic rituals.
It's not just the middle of the forest you need to be scared of. Hikers have supposedly seen ghosts with no heads, weird noises, orbs, and feeling like something touched them.
Oregon: Candy Cane Park
Candy Cane Park is nicknamed 'Hatchet Park' because its past includes a homicide using an axe. 
Rumor has it, Dana Lynn DuMars, who in 1983, worked at a local bar and was violently killed at Candy Cane Park, by Bart Cochran. Bart, a local man, was kicked out of a bar for threatening to decapitate a woman. As he stumbled home, he was Dana walking herself home after her shift.
When authorities found her body, she had seven lacerations across her neck as if someone tried to decapitate her. Locals believed it was Dana throwing people off the merry-go-round until the city had it removed in 2003. You can see her ghost at the park to this day.
Pennsylvania: Gettysburg National Military Park
The Gettysburg National Cemetery was built for Union/Federal deaths during the Battle of Gettysburg during the Civil War. There are over 6,000 interments for veterans from the Spanish-American War, World War I, and many others.
When walking through the cemetery, guests have seen countless floating balls of light, strange figures marching up and down hills, and the sounds of gunfire, cannons, and the dead's shrieks.
To see the most paranormal activity, visit Devils's Den, Little Round Top, and Spangler's Spring.
Rhode Island: Colt State Park
A farm once owned by Samual P. Colt back in 1905 has now become known for its scenic biking trails, historic sites, and ghosts.
There have been a few deaths at Colt State Park, like the stable hand who died in the barn at the farm. Another time, two sisters drowned in the water in the 1970's. Now, the park's staff sometimes hear the giggles of the girls near the park, and some have even seen them.
Some park visitors have claimed that they've seen the two little girls walking near them, but when the visitor approached, they disappeared. The staff has also been known to come back to lights on and doors open after having turned them off and closed.
South Carolina: Lucas Bay Light, Conway
According to Westgate Resorts, "Local legend claims that the mysterious Lucas Bay Light that can frequently be seen in the swamp off Gilbert Road in Conway emanates from the ghost of a Civil War-era mother searching desperately for her lost child, who disappeared during a flash flood."
No one knows if this is true, but it hasn't stopped ghost hunters from exploring the area searching for paranormal activity. 
South Dakota: Sica Hollow State Park
The Native Americans named it "Sica" which means "evil" or "bad." It's understandable they'd name the park that when iron deposits in the water turn the rivers red, making some believe they were witnessing blood and flesh of their ancestors flowing through the water.
More recently, park visitors have heard drums and war whoops, seeing campfires in the distance that they can never find, or seeing some kind of Bigfoot, and ghosts. If you don't mind the hauntings, you'll be able to enjoy the beautiful changing leaves.
Tennessee: The Bell Witch Cave, Adams
Not to be confused with the Blair Witch, the Bell Witch lived in a cave behind the Bell Family's home. She pinched, pulled hair, taunted anyone who visited the home, and even tried to joke John Bell.
Ghost hunters can now pay $12 to tour her cave, which has been placed on the National Historical Register. Visitors have felt like they were being pushed, touched, or held down by some kind of weight. Even Andrew Jackson hightailed it when the wheels on his carriage stopped all of a sudden.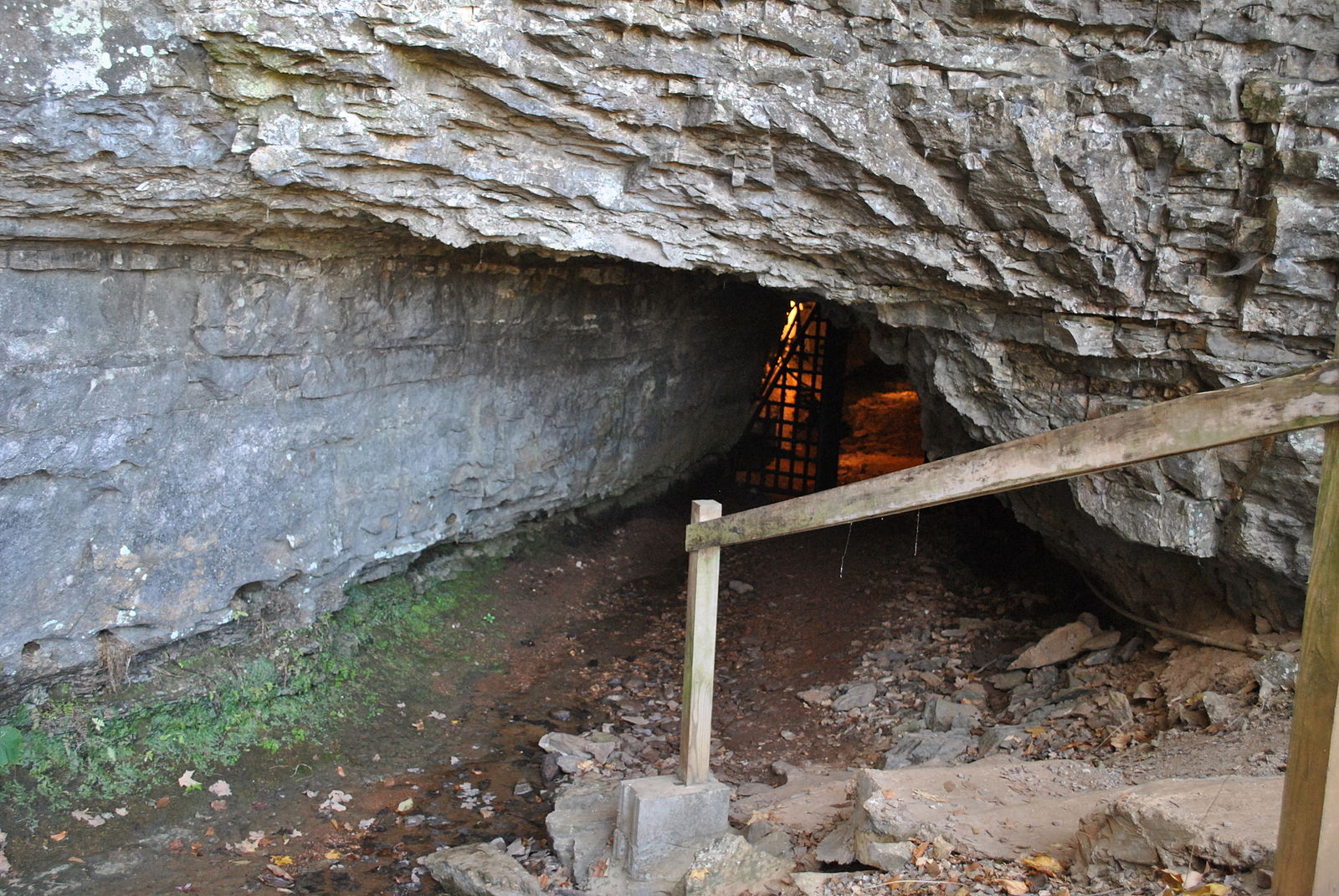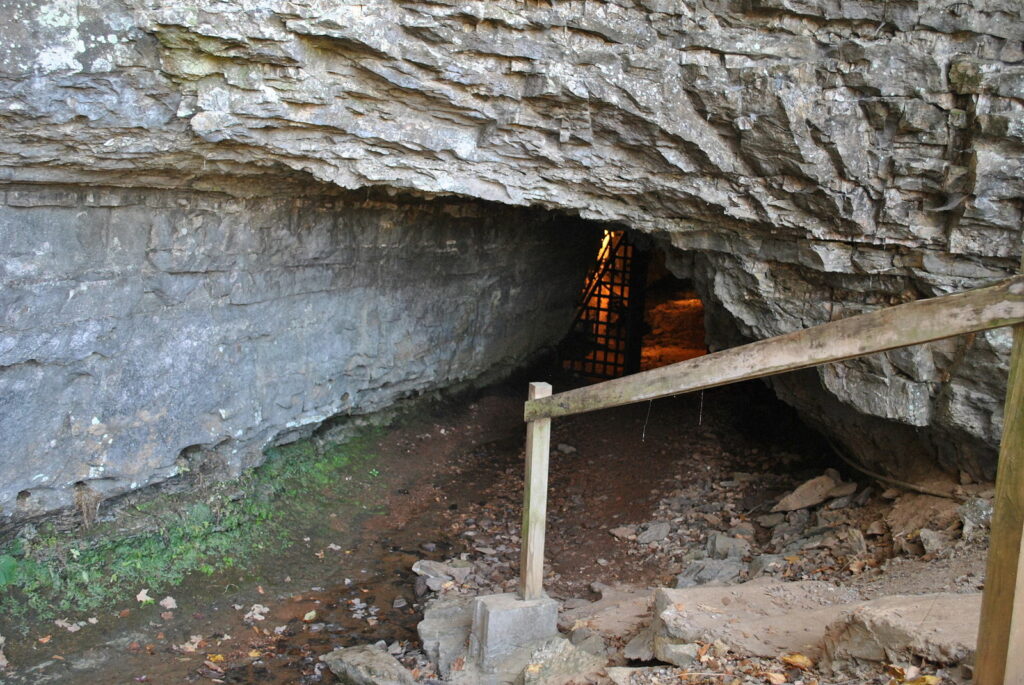 Texas: Demon's Road, Huntsville
We have another haunted road for you:Demon's Road:and it doesn't take much guessing with a name like it either. When you drive or walk towards Martha Chapel Cemetery, you may see strange red lights, handprints on cars, ghosts of children, or even hitchhiking ghosts that follow you back home. 
Some people have even claimed to see shape-shifting demons known as Jinnat along the road.
Utah: Moon Lake, High Uintas
Rumor has it, a young, dripping wet and shivering girl, with bluish skin may come up to you looking for help. As soon as you turn away to call for help and turn back, she'll be gone. Locals call her The Blue Lake Ghost.
Some have seen her during daylight and nighttime hours. Others have heard her crying in the woods while some have seen her running through the campground at night.
Vermont: Lake Bomoseen State Park, Castleton
What was once a bustling town is now left with ghostly residents making up their own rules. For instance, stories by locals claim to have seen a boatman rowing across the lake, leaving no ripples in his wake. 
Virginia: Braley Pond
According to The Dyrt, "On May 22, 2003, 19-year-old Christopher S. Kennedy was murdered at Braley Pond by local gang members. Two of the members lured Kennedy to the site, stabbed him 13 times in the chest and back, and then dumped his body into the water, according to a court document. Kennedy's body was discovered by police partially submerged in the pond. The Augusta County sheriff at the time stated, 'there was a lot of violence at the crime scene.'"
You can say that again.
Two paranormal investigators visited the pond to see what they could find. Not only did they see green orbs in the sky, but heard a splashing in the pond as if an adult-sized human was swimming toward them. For a few weeks after the incident, one of the investigators felt "off." It wasn't until four years later, when she returned to the pond, that she felt like herself.
Washington: Fort Worden State Historical Park
Before Fort Worden became a historical state park, it was a military base and then a juvenile detention center for about ten years. Below the campground, there are buried tunnels, dead ends, and rooms. Ghost hunters have seen glowing orbs floating around and high electromagnetic readings. 
West Virginia: Lake Shawnee Amusement Park
Before the now-abandoned Lake Shawnee Amusement Park opened, it was a site of carnage. There was a terrible fight between Mitchell Clay and the local Shawnee Indian tribe, after Mitchell Clay's three children were brutally murdered by the Shawnee Indian tribe. Mitchell Clay enacted his revenge by killing several tribe members.
Once the Lake Shawnee Amusement Park was open to the public, a young girl died on the swings and a young boy drowned in the pond. Some nights throughout the park, you can hear Native American chants. Now, only the amusement park can be visited during ghost tours. 
Wisconsin: High Cliff State Park
There is a lot of history behind High Cliff State Park, but we're here to tell the ghost stories behind it.
Around the effigies in the state park, there's an intense energy felt. People report feeling "warm wind" and "cold wind," even on days with zero wind.
Another myth is about the haunted kiln. Back in 1903, a rock fell from the ceiling and killed seven Hungarian stone masons at once. It's said that the old kiln is haunted by these men who once worked there.
The final story is about the Lake Winnebago Water Monster, that's described as being a long serpentine creature with horns and an armored back. One time, a man recorded this "monster," but most skeptics rejected it on the spot, saying that it's mostly reflections in the water. Who knows?
Wyoming: Cedar Mountain
Native American legends say that some of the mountain ranges in Wyoming are inhabited by "little people." Some think they eat people and others say they have healing powers. Two little mummified bodies were found in the mountains over the centuries which strengthened the myth among the locals.
Hikers claimed to have heard footsteps behind them, but when they turned around, no one was there.
Do you have a ghost story of a place you explored outdoors? Tag us on social media (@exploreorigin) so we can read about your experience.