New Orleans is a vibrant city with lots to see and do from the historic French Quarter to its many jazz clubs, great restaurants, rich history, and more. But if you're looking to escape the city streets and connect with nature, the Big Easy is also home to some great New Orleans hikes and nature walks.
I spent almost three weeks exploring the trails, boardwalks, and nature areas around New Orleans and while the flat landscape doesn't allow for 'hiking' as we typically know it, there are some beautiful and scenic trails that are definitely worth exploring, especially for birders and wildlife watchers. In this post, I share my favorite hikes and walks around NOLA.
Discover the best New Orleans hikes and nature walks for outdoor lovers and birding enthusiasts.
Important Reminder: As it goes in all of the destinations we share, please practice good trail etiquette and remember to Leave No Trace. This means packing out all of your garbage (including toilet paper), being respectful to others on busy trails, and following the established rules.
New Orleans Hikes – Mapped
---
Best New Orleans Hikes & Nature Walks
Please note that many of the natural areas around New Orleans were severely affected by Hurricane Ida in August 2021. Many trails and structures were damaged and crews are still working to get them cleaned up and rebuilt. You may also notice that trees and vegetation have been thinned out due to the hurricane-force winds.
Audubon Park
Length: 1.9-mile loop
Difficulty: Easy
Day-use fee: None
Pets: On-leash
Audubon Park is located in the Garden District of New Orleans and is home to many majestic live oak trees, beautiful lawns and gardens, and a peaceful lagoon. There's a 1.9 mile paved walking and biking path that circumnavigates the park, which is great for getting some exercise and fresh air. You can also explore the network of dirt paths that branch off from the main loop and criss-cross throughout this beautiful park.
Another highlight of Audubon Park is the many elegant and historic homes and estates that you can admire during your walk.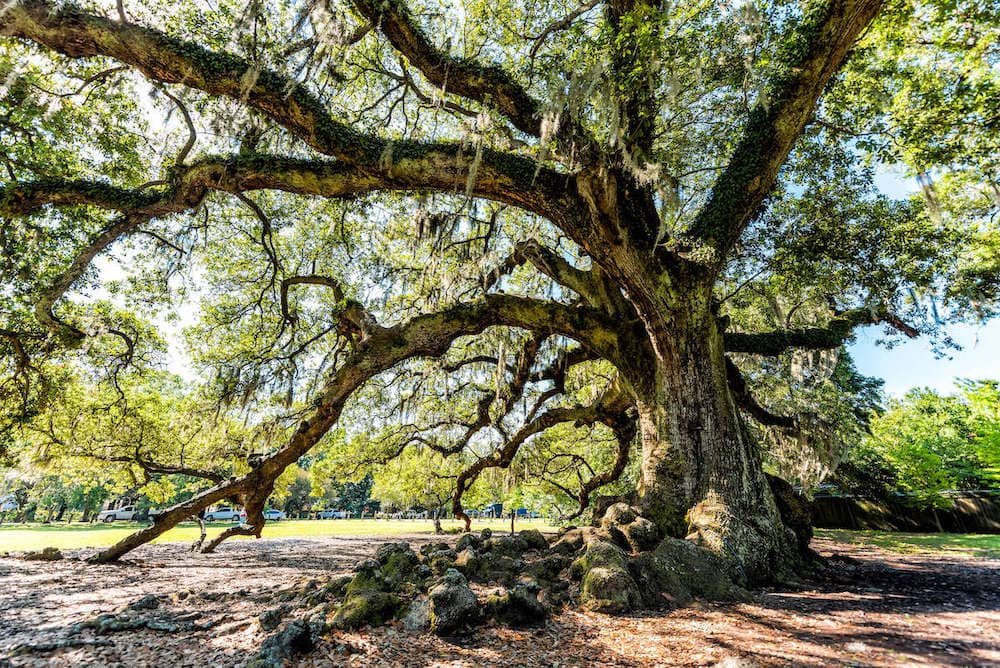 City Park
City Park is a 1,300-acre public park that sits about 3-miles north of the French Quarter. It's 50% percent larger than Central Park in New York City and offers lots of great New Orleans hikes and walking opportunities. You can easily get to the park by bike, taxi, streetcar, or walking along the car-free Lafitte Greenway. Here are three great ways to explore City Park on foot:
Couturie Forest
Length: 1.1 mile loop
Difficulty: Easy
Entrance fee: None
Pets: On-leash
Located inside City Park, Couturie Forest is a 60-acre respite from the hustle and bustle of city life. While it's not the most extensive of these New Orleans hikes, Couturie Forest is worth a visit if you're looking to get away from the crowds. You can view wildlife, grab a picnic table by the river, or stroll along one of the many forested paths off the main loop.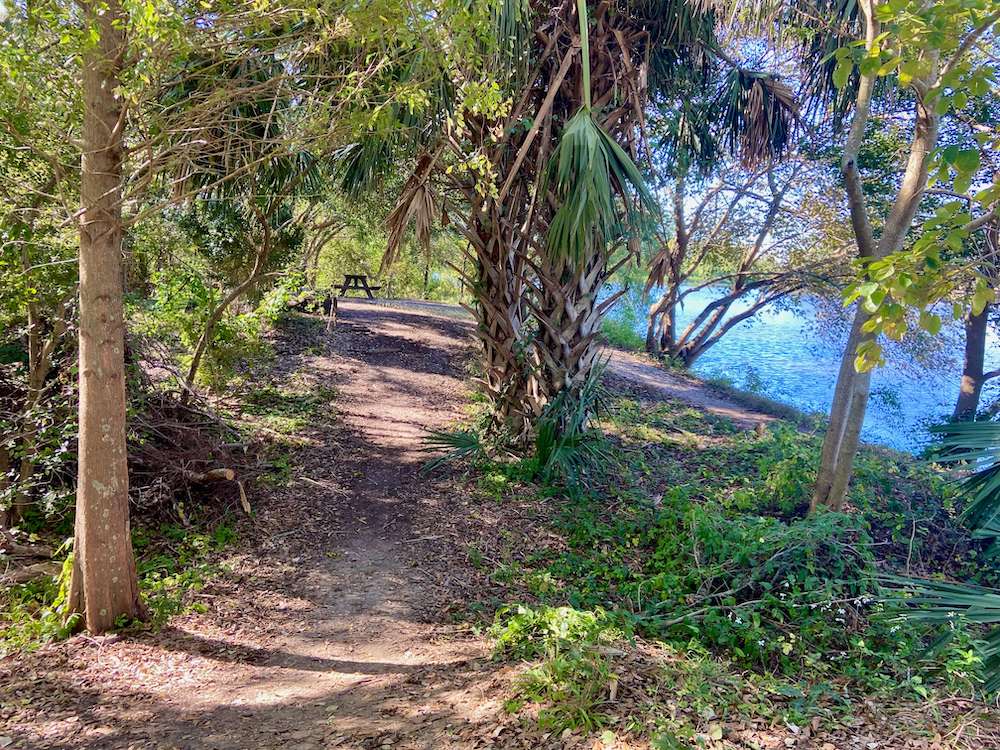 Besthoff Sculpture Garden
Length: NA
Difficulty: Easy
Entrance fee: None (donations accepted)
Pets: No
The 11-acre Besthoff Sculpture Garden is home to over 90 works of art by modern and contemporary artists and is consistently cited as one of the best sculpture gardens in the world. Take a break from the French Quarter and spend an afternoon here walking the paved footpaths and enjoying the extraordinary display of sculptures and art.
For information on hours and location, visit the Besthoff Sculpture Garden website.
City Park Botanical Gardens
Length: NA
Difficulty: Easy
Entrance fee: $10
Pets: No
If you enjoy spending time surrounded by nature and plants, be sure to visit the New Orleans Botanical Garden in City Park. Set amid 10-acres, this exhibit features over 2,000 plants from around the world and offers something special no matter what time of year you visit.
The Botanical Gardens are also home to the Enrique Alferez Sculpture garden. Alferez was a New Orleans artist who created sculptures in the 1930s until the late 1990s and this park is a commemoration of his work.
You can find more information on City Park's New Orleans Botanical Gardens website.
Bayou Sauvage NWR Ridge Trail
Length: ¾ mile boardwalk loop and 6-mile out-and-back levee trail
Difficulty: Easy
Day-use fee: None
Pets: On-leash
For bird-lovers, the Bayou Sauvage National Wildlife Refuge is a great place to see over 350 species of native and migratory birds. This 23,000-acre refuge is home to a diverse range of habitats including hardwood forest, scrub/shrub, fresh marsh, and tidal marsh. The area was severely impacted by Hurricane Katrina in 2005 and much of the vegetation is still regenerating, but it's a nice place to take a hike outside of the city limits.
The ¾ mile boardwalk has interpretive plaques identifying native tree species as well as facts about the ecosystem. Once you're finished walking the quick boardwalk loop, head down the crushed-stone levee trail for more opportunities to spot birds and other wildlife.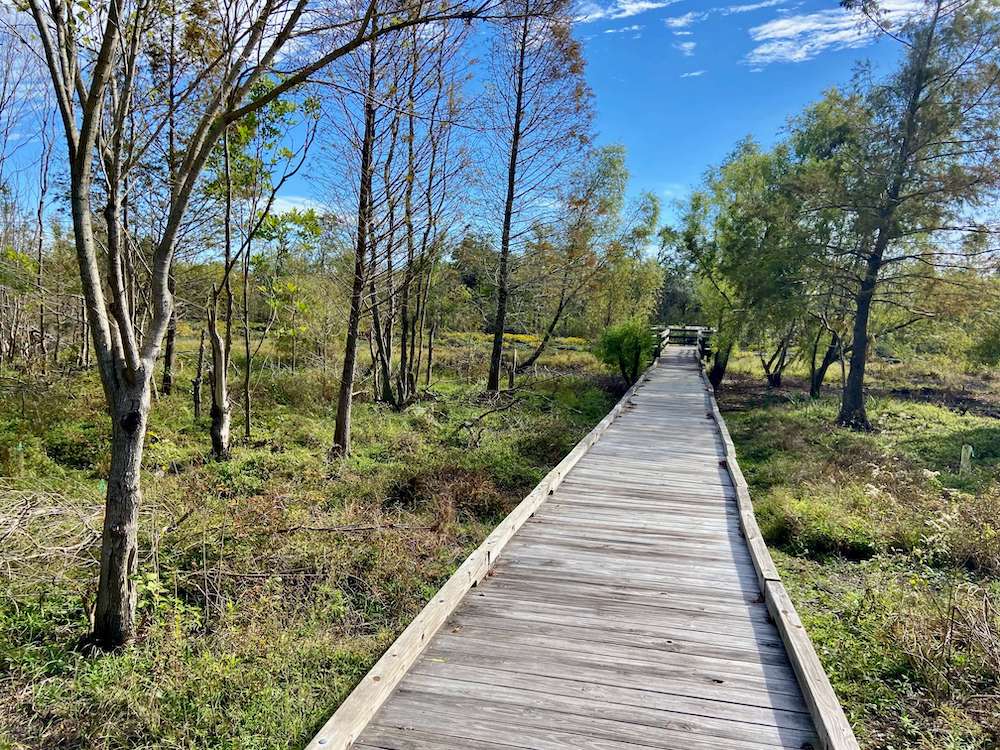 Barataria Preserve at Jean Lafitte National Park
Length: 8 miles of trail
Difficulty: Easy
Day-use fee: None
Pets: No
The Barataria Preserve is a National Historical Park and Preserve located just south of New Orleans. It's home to some of the best New Orleans hiking trails with great opportunities to spot wildlife including alligators, armadillos, birds, and more.
There are about 8 miles of trails inside the park including long sections of boardwalk through swamps and marshes.
For your first time visiting, start at the Visitor's Center and string together the Visitors Center Trail, Palmetto Trail, Bayou Coquille Trail, and Marsh Overlook for a beautiful and educational 4-mile out-and-back hike.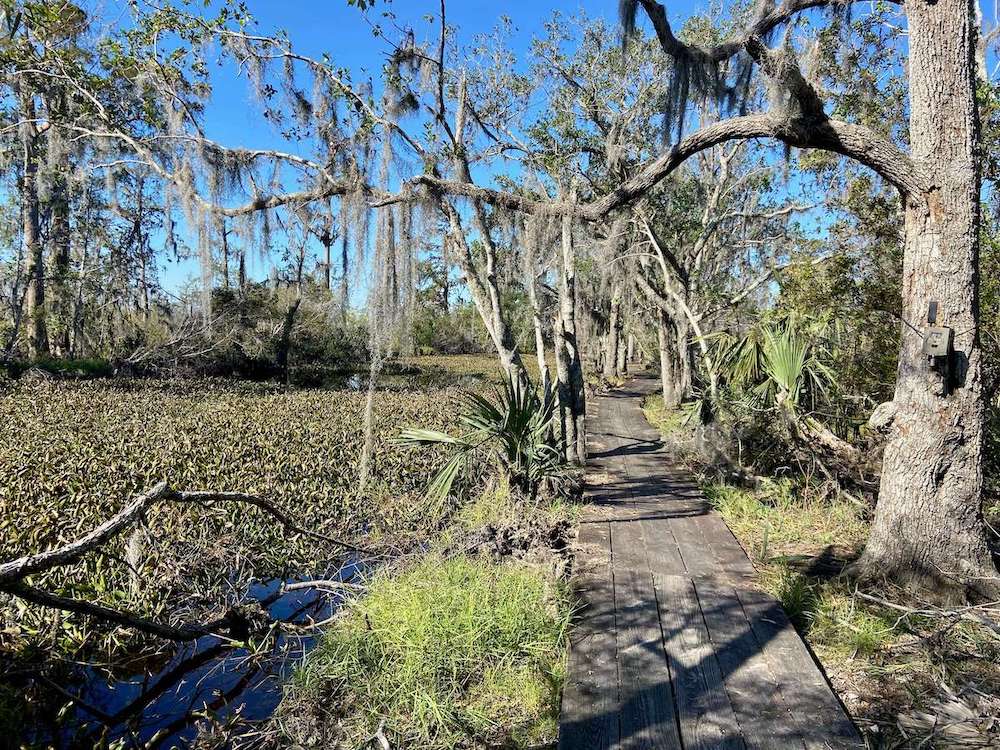 Boy Scout Road at Big Branch Marsh Wildlife Refuge
Length: 5 miles out-and-back
Difficulty: Easy
Day-use fee: None
Pets: On-leash
Located north of New Orleans in the Big Branch Marsh Wildlife Refuge, the 5-mile out-and-back Boy Scout Road offers great opportunities for viewing wildlife and a glimpse into different Louisiana ecosystems. From pine savannah habitat to marsh wetlands, hikers can catch sight of thousands of different bird species, alligators, otters, deer, and other wildlife.
The trail begins as a wooden boardwalk and then turns into a well-maintained gravel road. It's also open to cyclists.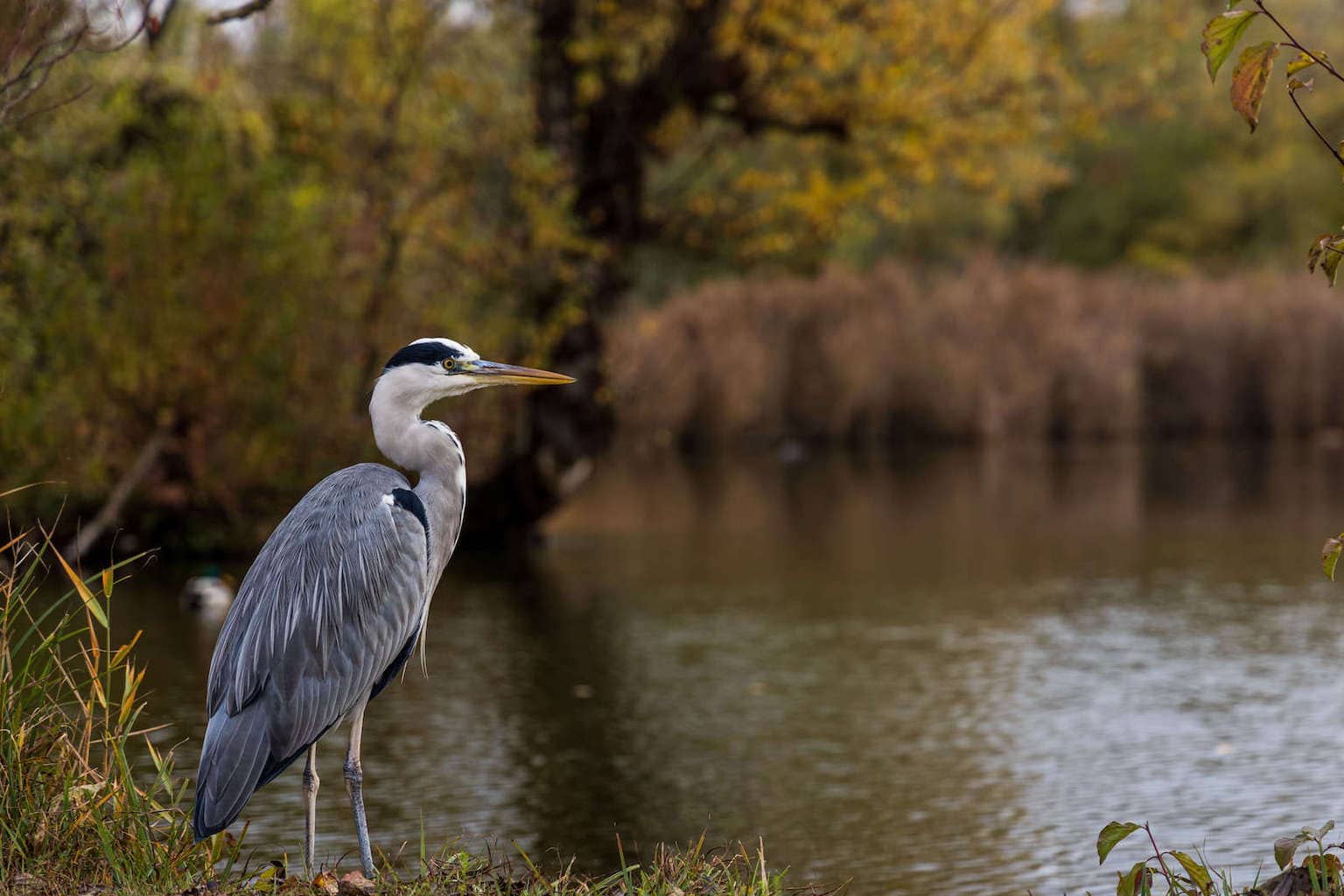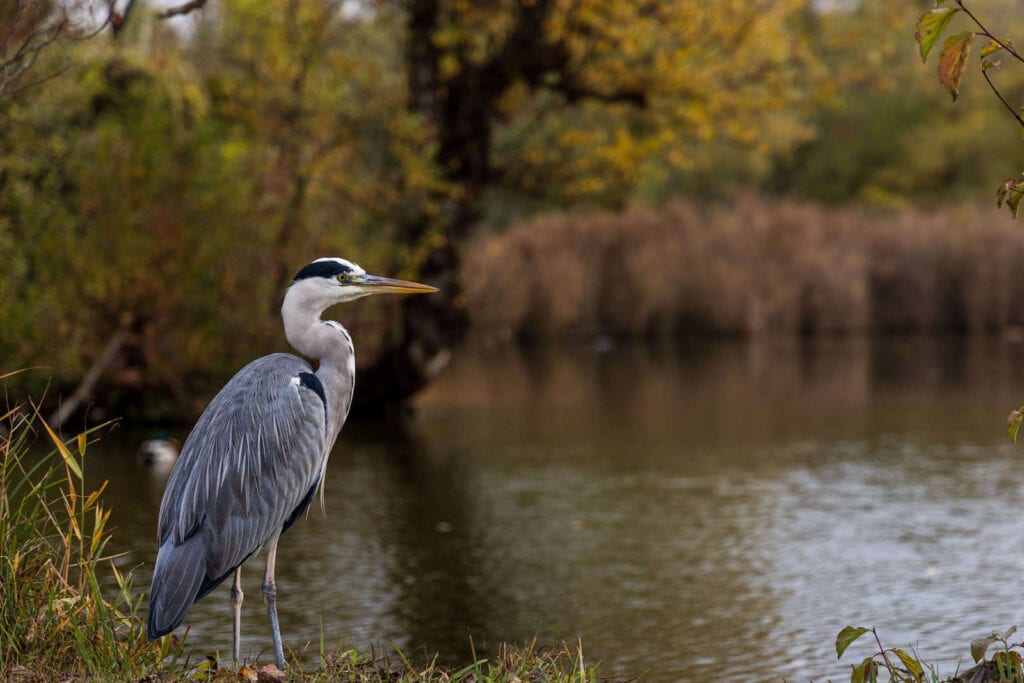 Tickfaw State Park
Length: 4.5 miles of trail
Difficulty: Easy
Day-use fee: $3 per person
Pets: On-leash
If you're looking to explore farther afield, Tickfaw State Park is a great place for outdoor enthusiasts. Located about an hour northwest of New Orleans, the park has four different ecosystems that can be viewed from its 4.5 miles of boardwalks and trails. Visitors can enjoy the sights and sounds of a cypress and tupelo swamp, a bottomland hardwood forest, a mixed pine/hardwood forest, and the Tickfaw River.
After you're done walking the trails, rent a canoe to explore the Tickfaw River up close. Camping is also available or you rent one of their fully-equipped cabins.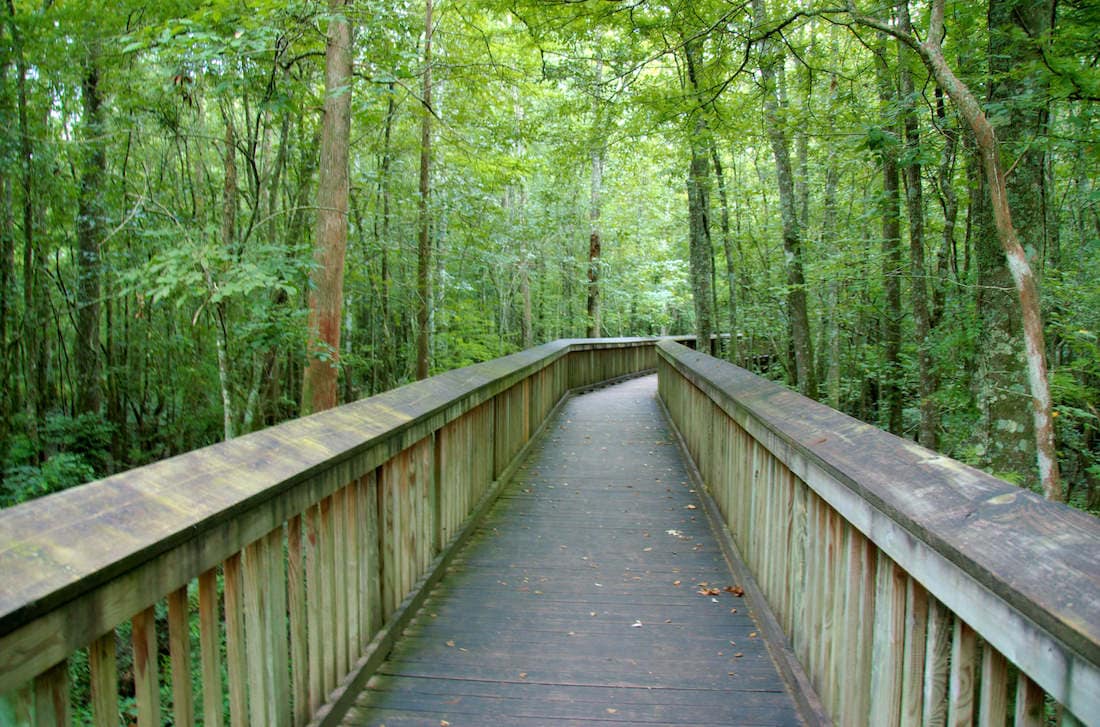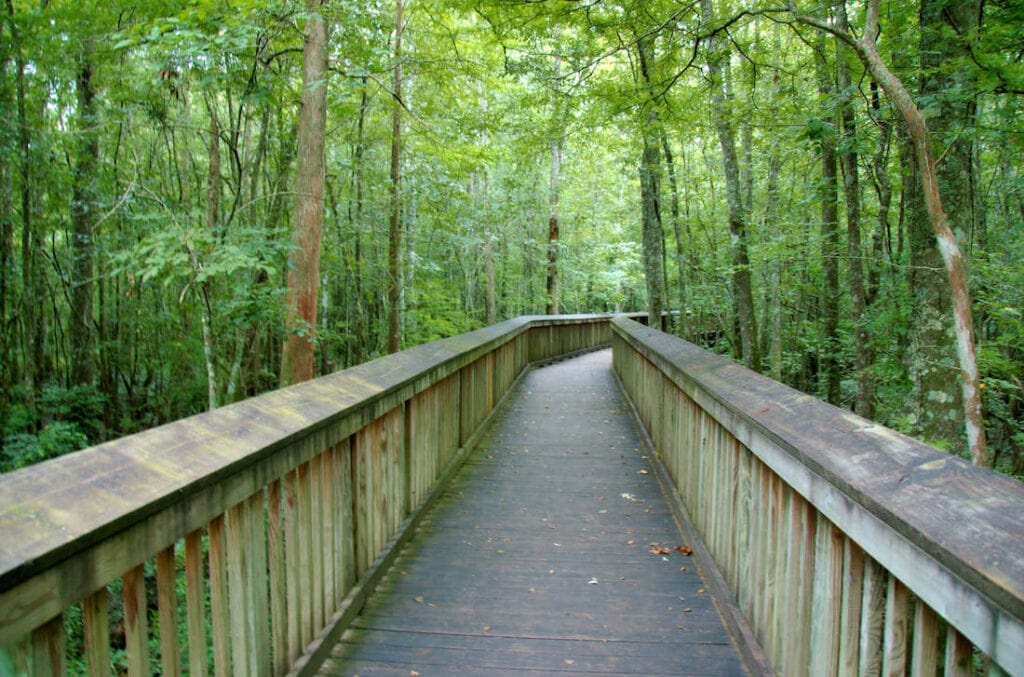 Looking for more ways to get active in New Orleans? Check out my New Orleans biking guide over at my blog, Two Wheeled Wanderer.
---
Have you explored any of these New Orleans hiking trails? Which ones are your favorite? Do you have any other hikes or walks to add? Let us know in the comments!