Nestled in the heart of the Sonoran Desert and surrounded by four different mountain ranges, Tucson, Arizona offers visitors one of the most iconic landscapes in the country.  From sprawling vistas full of ancient saguaro cacti to seemingly secret deserts oasis' and high elevation forests, Tucson has a wide variety of options for hikers looking to get outside.
I've spent plenty of time in Tucson but my absolute favorite time of year to visit is in the winter when the desert cools down but is still much warmer than most of the country.  When it's cold and snowy elsewhere, Tucson is a great place to get some sun, do some hiking, and eat a few too many tacos. 
Here are 6 of my favorite Tucson hiking trails to get outside in Southern Arizona.
All photos courtesy of Jono Melamed
Important Reminder: As it goes in all of the destinations we share, please practice good trail etiquette and remember to Leave No Trace. In the desert, this also means learning how to protect cryptobiotic soil and how it has a huge impact on our ecosystems.
Honey Bee Canyon North
Length: 2.3 miles out-and-back
Difficulty: Easy
Day-use fee: None
Pets: Yes, on leash
I originally made my way over to Honey Bee Canyon to check out the petroglyphs but have found myself revisiting it several times as a place to get the dog out on mornings where I need something a bit quick and easy. The hike takes you up a sandy wash with interesting rock formations and saguaro cacti of all shapes and sizes.
About a mile up you'll come to a small rock wall and just a bit further you'll find some petroglyphs on a rock to your left.  They can be very easy to miss while walking up the trail, In fact, I completely blew past them my first time out there and only noticed them on the way back. It being a dog-friendly trail is a huge plus as a lot of the more well-known trails in Tucson don't allow canine companions to use them.
Note: Please respect the area and do not touch the petroglyphs.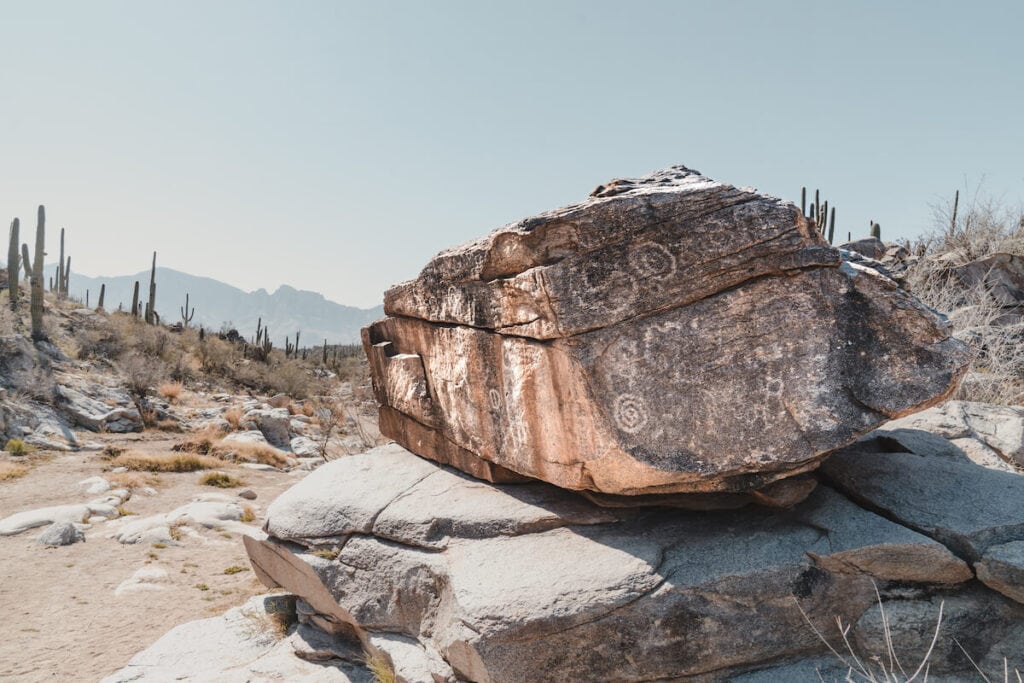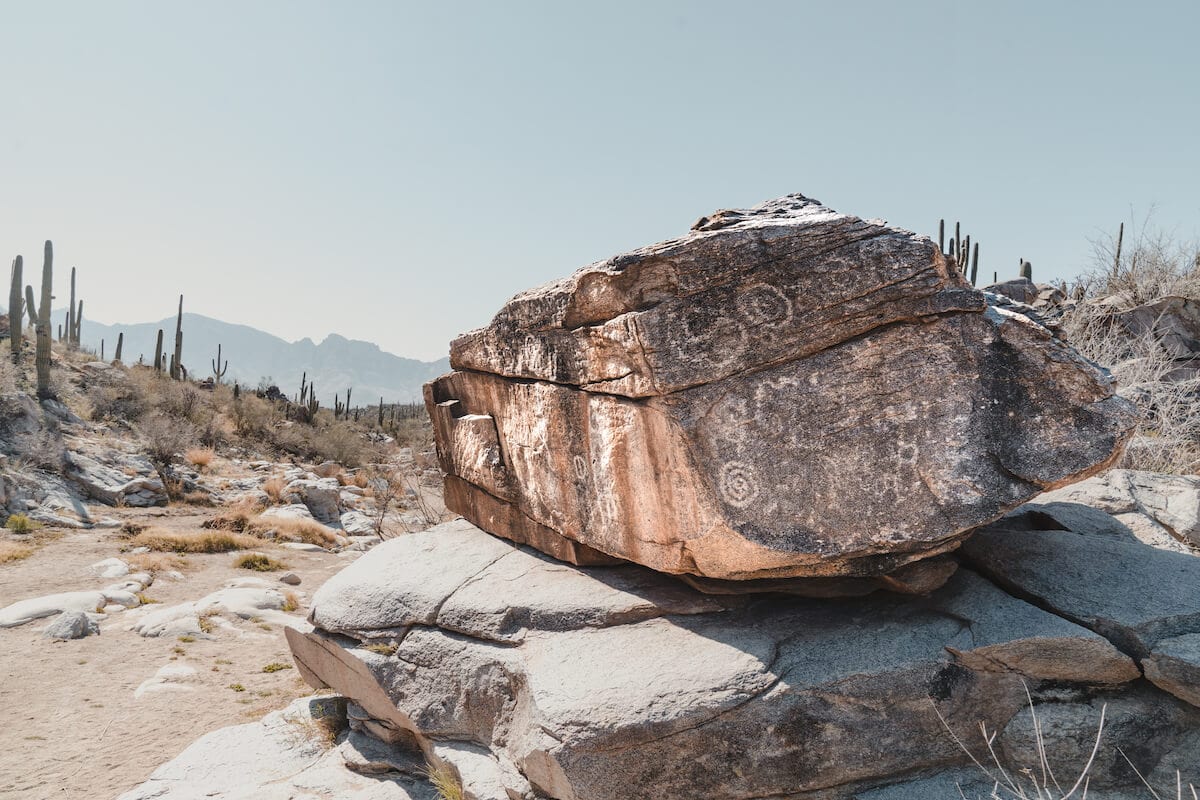 King Canyon 
Length: Varies – 2.4 or 7.8 mile loop
Difficulty: Moderate
Day-use fee: $25 per week or use your National Parks Pass
Pets: No
I'm a big fan of trailheads with multiple hiking options which is why I like the King Canyon area in Saguaro National Park, my go-to National Park for Tucson hiking.  From the trailhead, you can take the King Canyon trail or the lower King Canyon Wash trail to the first junction where they meet and then decide how long of a hike you'd like to do.
From the junction, continuing up the King Canyon Trail to Wasson Peak will give you great views of the sprawling saguaro lowlands.  If you decide to head up there, you can come back down via the Hugh Norris Trail and then loop back around by taking the Sendero Esperanza and Gould Mine Trails which would put your hike at around 7.8 miles.
If you don't want to make the climb up the peak and would prefer to stay lower and closer to the saguaros, you can also get on the Sendero Esperanza Trail from the first junction and then use also use the Gould Mine Trail to loop back, which would put you in at 2.4 miles.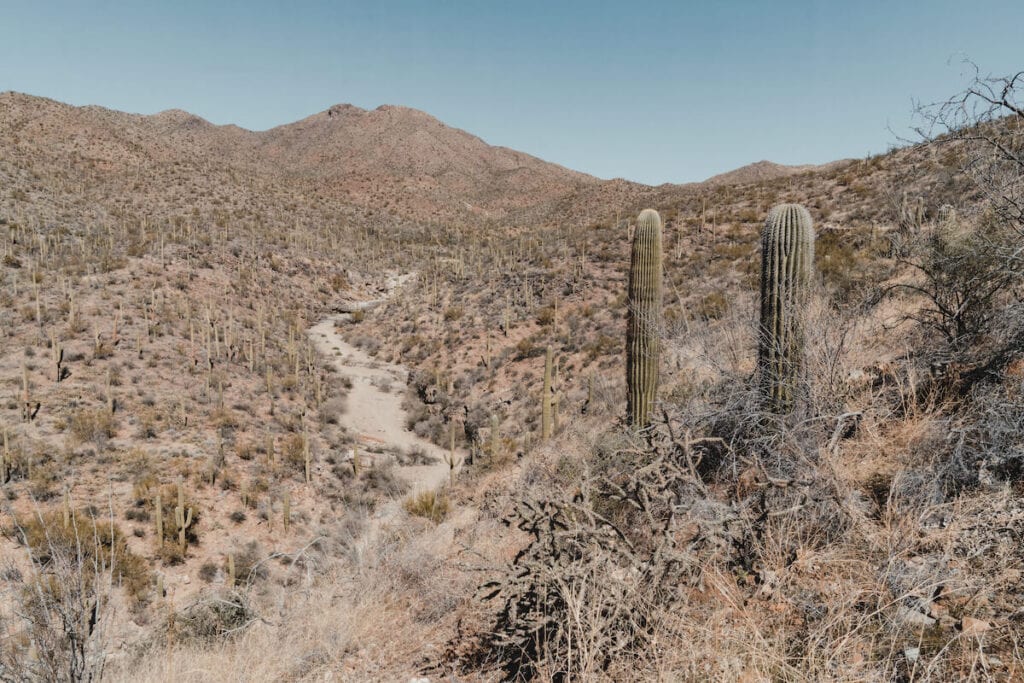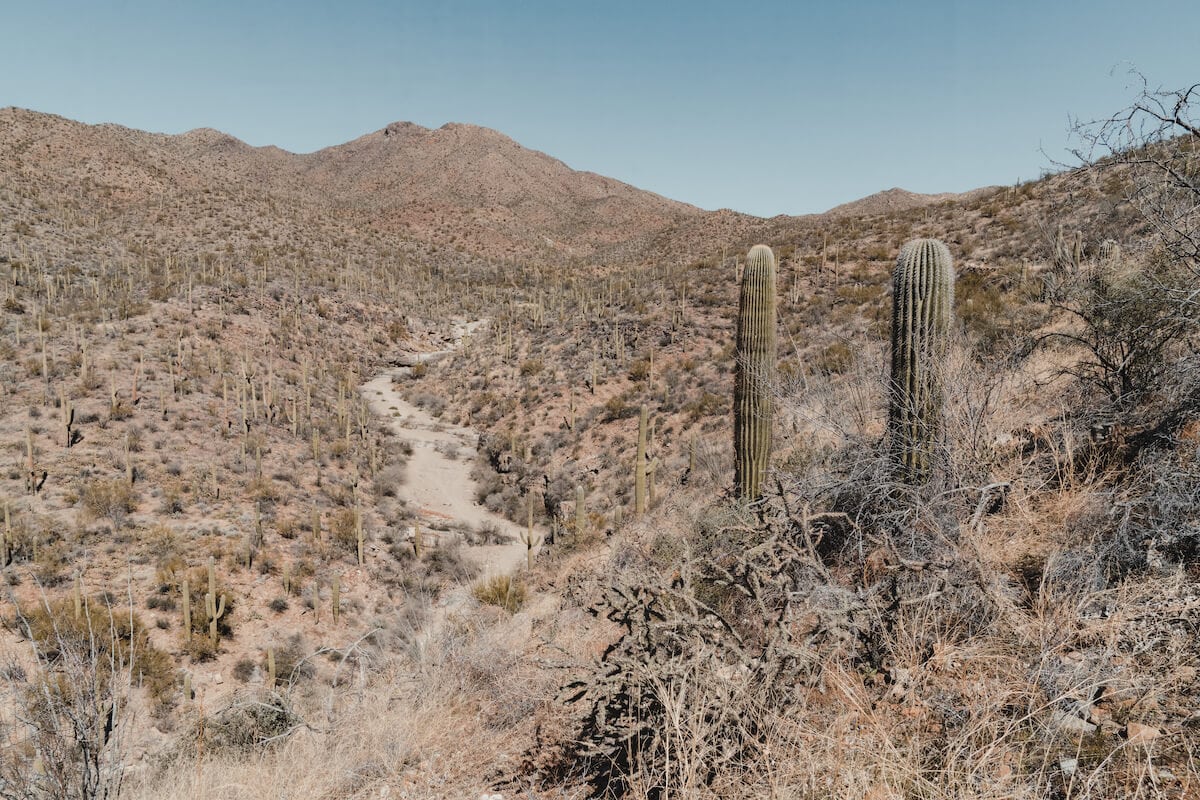 Tanque Verde
Length: 1.9 mile out-and-back
Difficulty: Easy
Day-use fee: None
Pets: Yes
Located on the east side of town, the Tanque Verde Falls Trail is an out-and-back trail that features a series of waterfalls that flow through a jagged and saguaro-lined canyon.  As you move up the canyon, you're treated to streams and pools of all sizes, some of which are large enough for a swim, especially during the wetter months.
The trail ends at a beautiful 80-foot waterfall where the stream throws itself over a ledge and down into a deep pool – a true desert oasis.  This trail can get pretty busy but I've had good luck with an early start — this is a truly special place to have to yourself.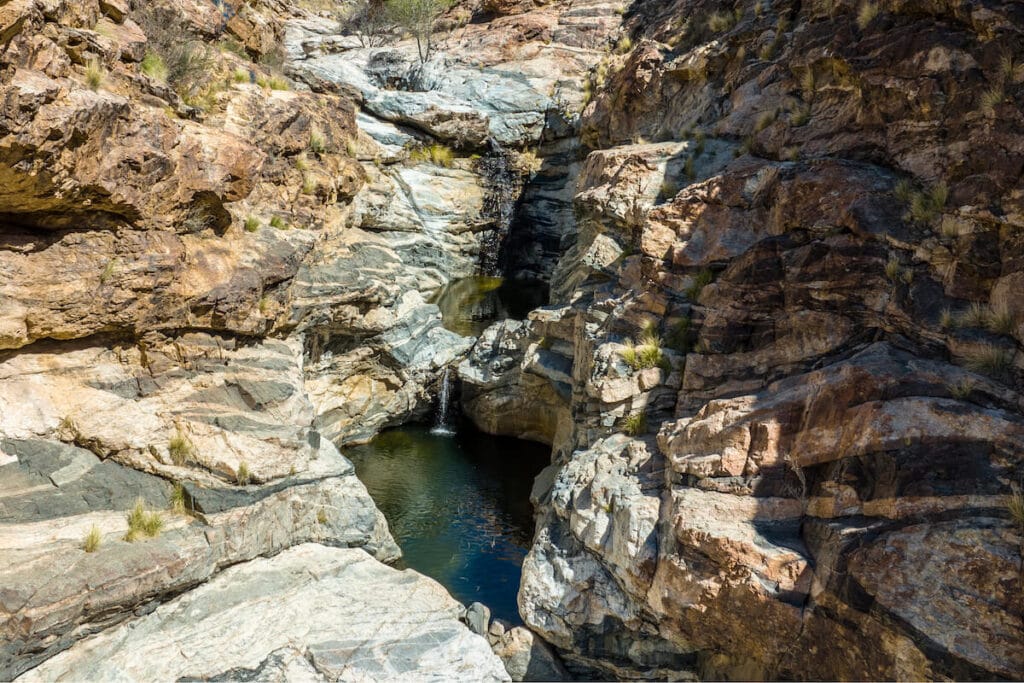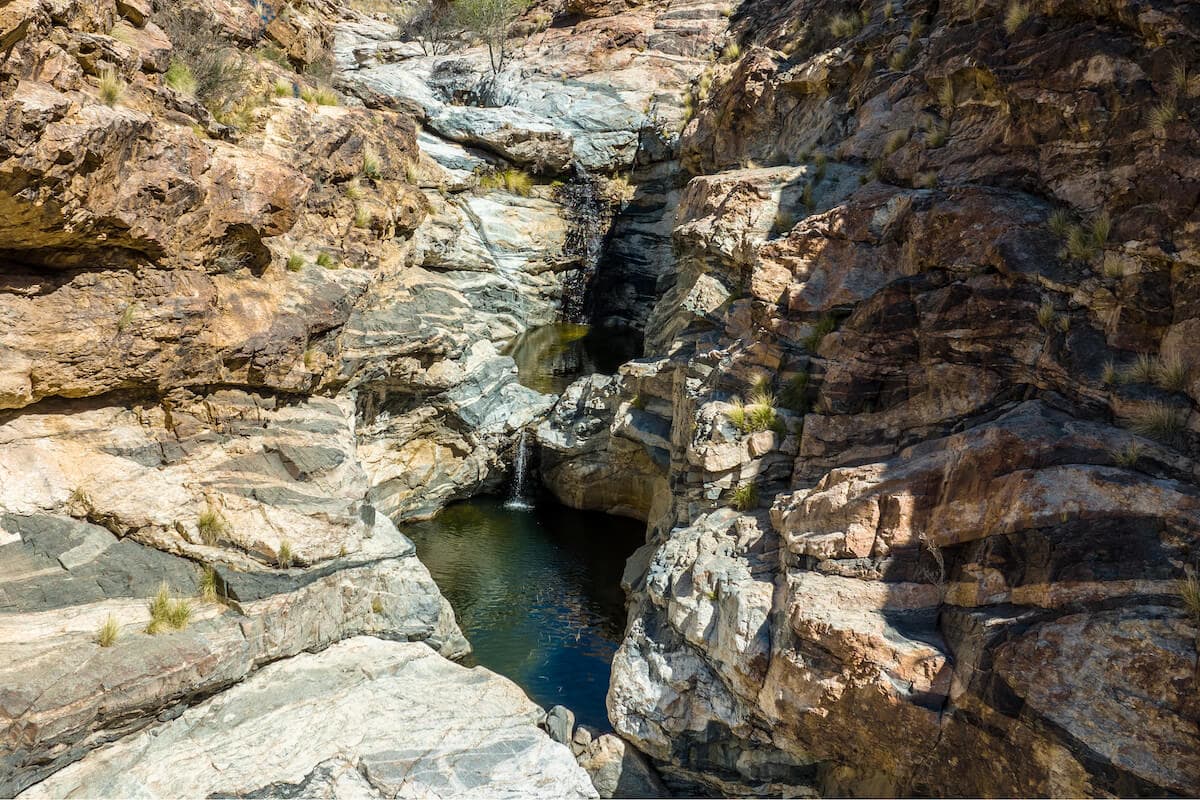 Desert Loop
Length: 1 mile loop
Difficulty: Easy
Day-use fee: $25
Pets: No
I'm a really big fan of learning about ecosystems that I hike in which is why I love the Desert Loop located at the Sonoran Desert Museum.  This short loop works its way through a collection of exhibits, interpretive sites, and educational displays that give visitors a crash course in what makes the Sonoran Desert such an interesting and unique ecosystem.
Along your hike, you can see larger Sonoran animals like javelinas, coyotes, and mountain lions, or dip into one of the indoor exhibits like the reptile, amphibian, and invertebrate hall to get an up-close look at some of the smaller critters that run around the desert.
As you continue around the loop be sure to look out for the informational plaques near the cacti, trees, and flowers that tell you everything you need to know about the Sonoran's plentiful collection of flora.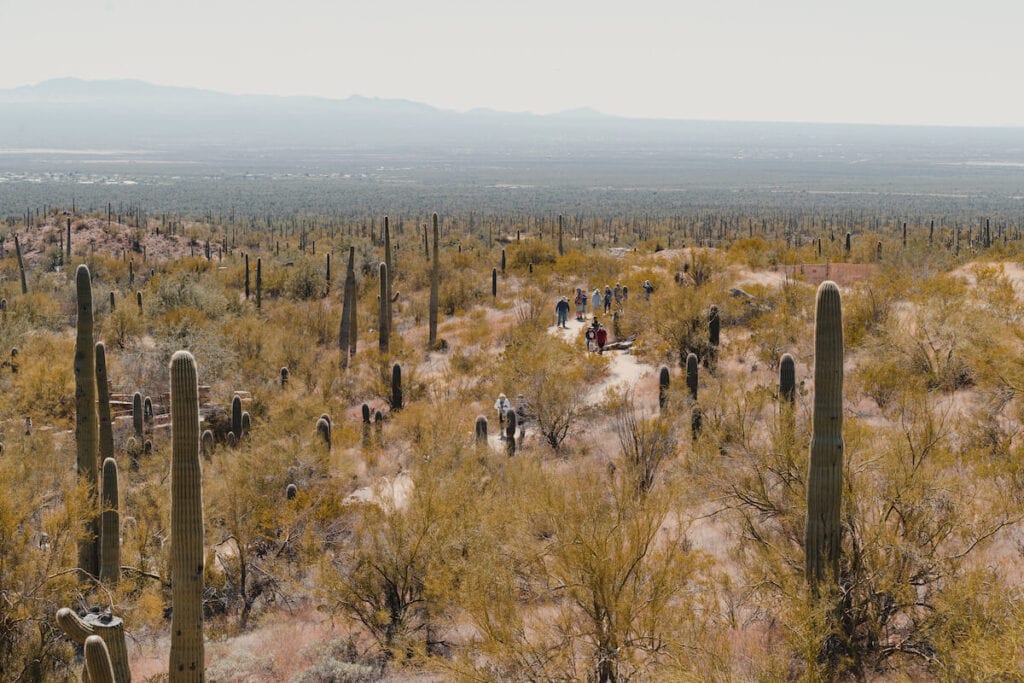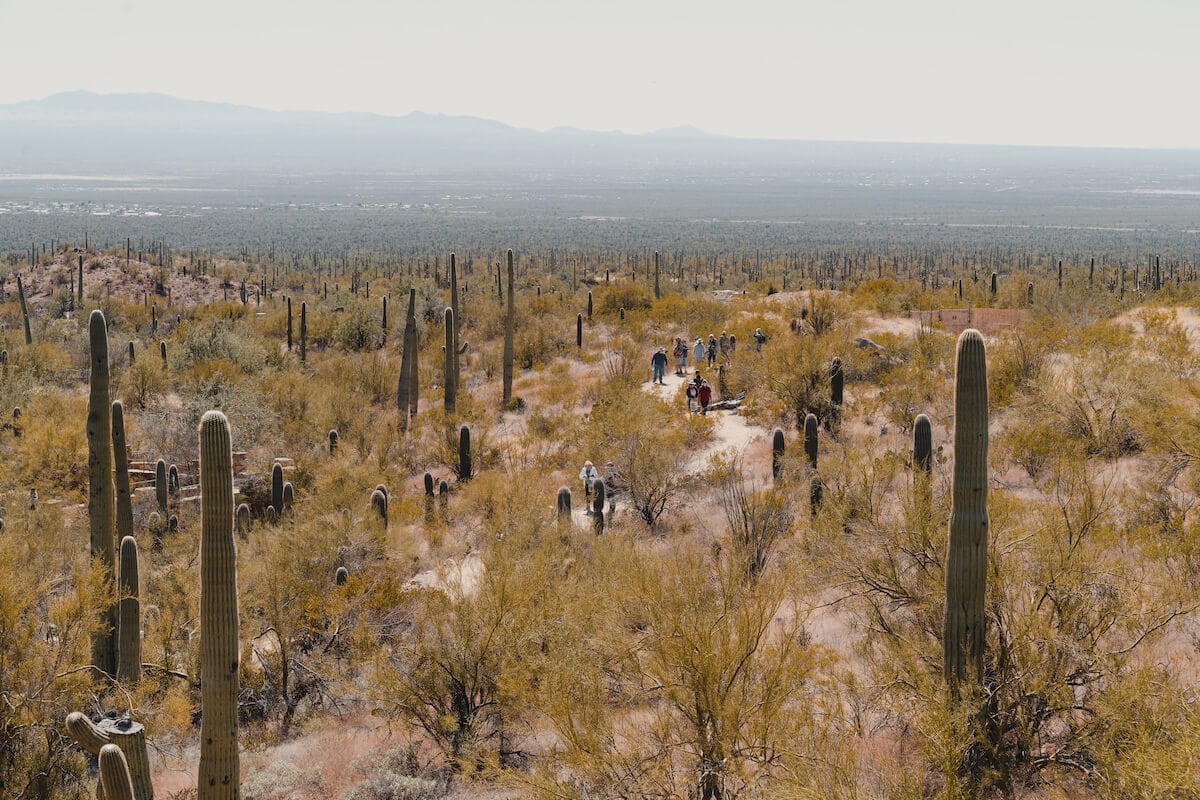 Seven Falls Trail 
Length: 8.2 miles out-and-back
Difficulty: Moderate
Day-use fee: $8 day-use fee per vehicle or a weekly $10 fee per vehicle. Annual passes are also available for $40 per vehicle.
Pets: No
I've heard Seven Falls referred to as "the most classic hike in Tucson" and it isn't hard to see why. With 7 waterfalls and just as many water crossings, the trail offers a distinct hiking experience and has plenty of opportunities to stop for a snack, picnic, or just to marvel at how beautiful the desert can be.
Since the trail does require crossing the water, be sure to wear appropriate footwear. The crossings can be easier in the drier months and require a bit more of a balancing act when there's more water in the canyon.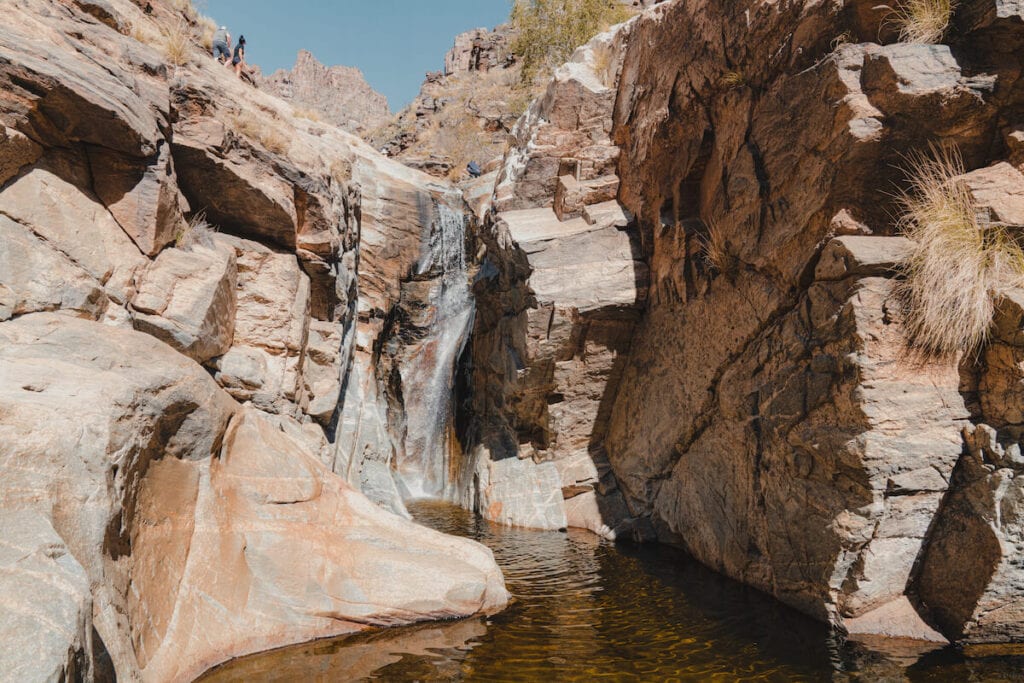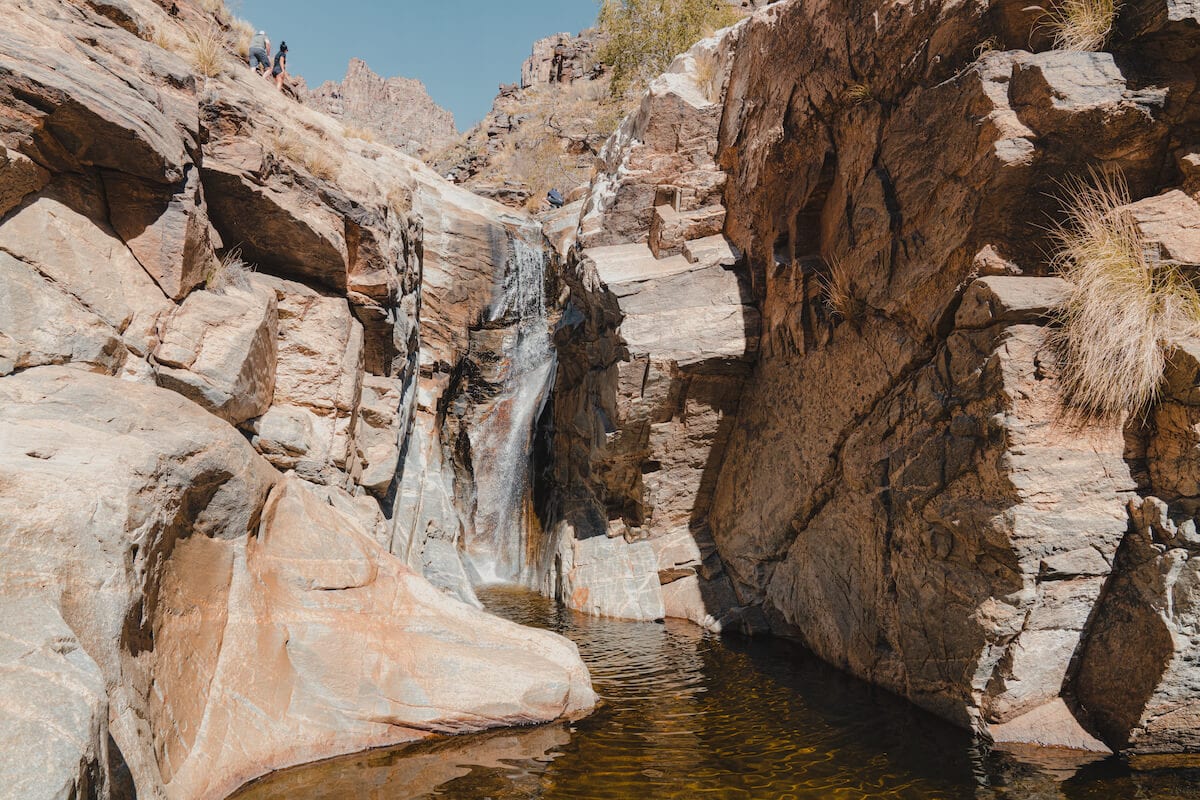 Romero Canyon Trail to Romero Pools
Length: 5.4 miles out-and-back
Difficulty: Hard
Day-use fee: $7/vehicle. Visitors entering on foot or bicycle are $3.
Pets: No
It's taken me a long time to decide but I think I feel ok saying that the Santa Catalina Mountains are my favorite Tucson area range. Catalina State Park sits at the base of the Catalinas and offers everything from a quick stroll to multi-day backpacking. 
The Romero Canyon Trail is a bit of a climb but the pools at the end are worth it, I promise. You're treated to beautiful canyon views the whole way up along with views of the mountains. Parts of the trail can be a bit of a scramble so make sure you take your time.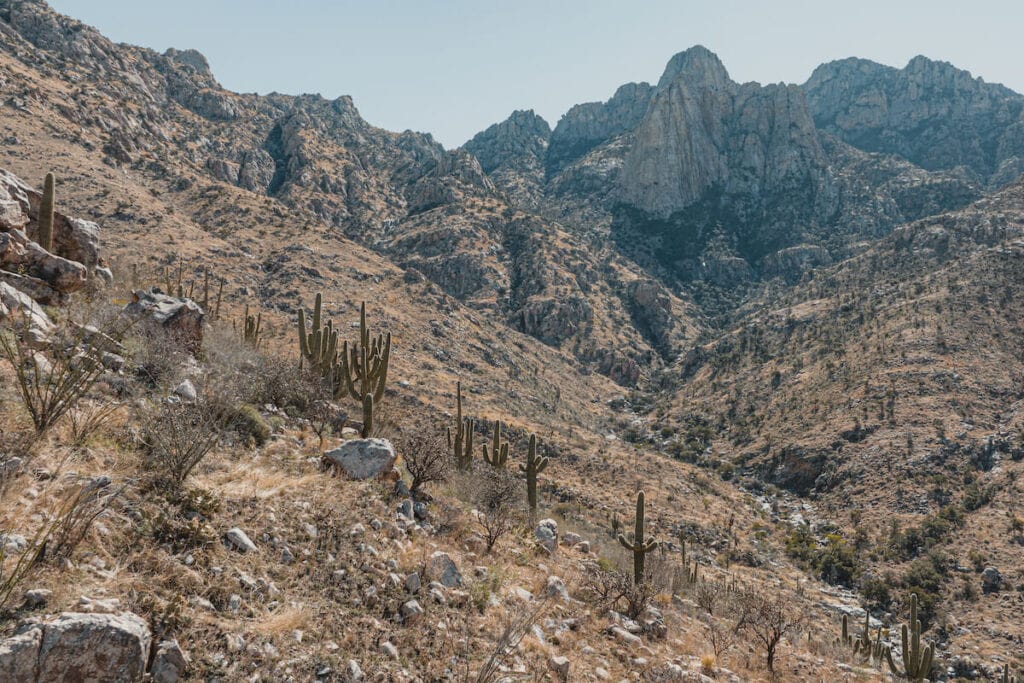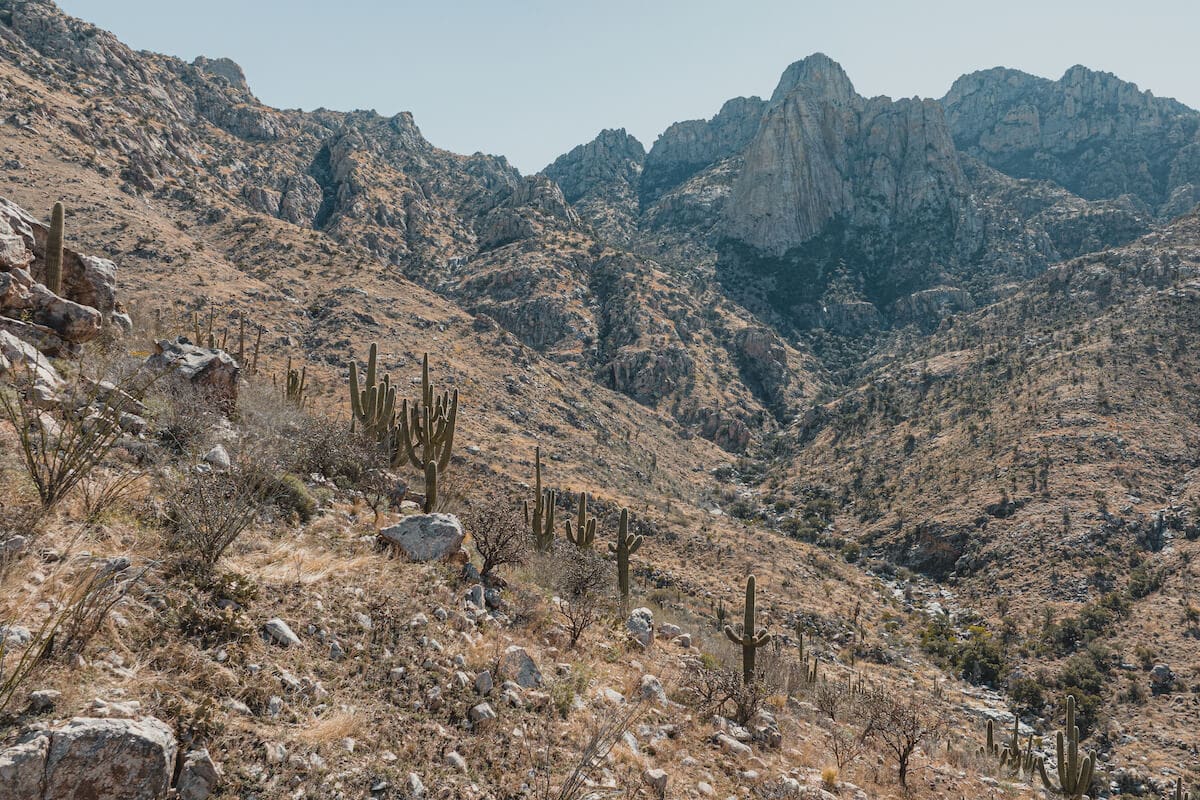 Important Note: As with most desert locations, hiking in Tucson during the hotter months can be dangerous if you are not prepared. Before leaving for the trailhead make sure you have at least 2L of water per person and that you have adequate sun protection.
Do you have any favorite Tucson hikes that we missed or anything to add about these trails?  Let us know in the comments!