Bear Hunting with Crossbows
With black bear numbers rising across the country, more and more people are taking up this fantastic outdoor sport. Permits are easier to come by with the increased bear populations, and states that have not had a bear season for decades suddenly have one. Many hunters are accustomed to hunting whitetails, turkeys, and other species with crossbows. Those new to crossbow hunting often ask themselves if the gear they already have is suitable for bear archery hunting. The answer is probably yes.
Black bears might be one of the easiest animals to harvest with archery equipment. With a well-placed shot, bears won't typically cover a tremendous distance, but of course, that relies on the hunter to be proficient with their equipment to make a clean, ethical shot when bear archery hunting.
Shot Placement
If you have hunted big game animals in the past, you probably know where to aim for a quick kill with most game. With bears, you need to approach things a bit differently. A bear's vital organs sit further back than deer, elk, and other cervids. For this reason, it's best to aim about mid-way up the body vertically and about 2-3 inches behind the front leg instead of tight to or through that front shoulder. Of course, this is considering a direct broadside shot. If the bear is quartering, I aim just inside the opposite front leg. This placement will ensure vital organs are hit. After the shot, and if the hit was good, it's best to sit tight for about a half hour to an hour before you begin tracking your animal.
Best Crossbow for Bear Hunting
When deciding to bear archery hunt, you might ask, "is there such a thing as a bad crossbow these days?" Probably not. With all the advancements in archery technology and engineering, even a bargain crossbow is still a lethal weapon – as long as the hunter gets to know the weapon.
Bear Archery Bows
These are a few of my favorite picks for bear archery bows.
The Ravin R29X Predator Dusk Camo Crossbow is all the talk right now amongst crossbow hunters. Sending a bolt at more than 450 FPS and its compact size, it is a perfect choice for bear archery hunting. The last thing a hunter wants to do is fumble a bulky crossbow when a bear steps out. Measuring just six inches axle to axle, this lightweight bow is easy to handle as it shoots rockets toward the intended target.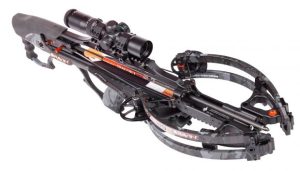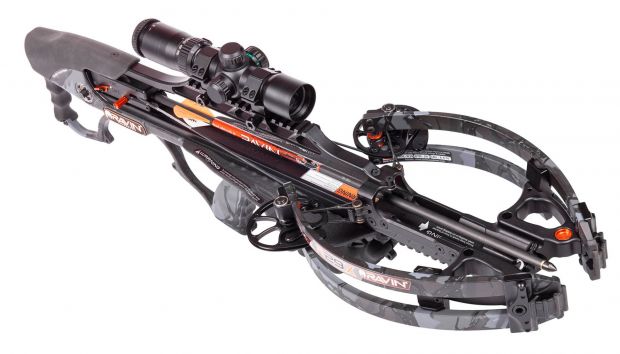 Ravin R29X Predator Dusk Camo Crossbow
Another crossbow getting some rave reviews is the Viper S400. Measuring just 32 inches in length, it delivers speeds up to 400 FPS and is sold as a crossbow package. This package includes the NEW revolutionary ACUslide silent cocking and a safe de-cocking system. This ultra-compact hunting crossbow measures an ultra-narrow 7.2 inches wide and features a 3.5-pound, 2-stage, zero-creep S1 trigger that delivers a crisp, consistent break.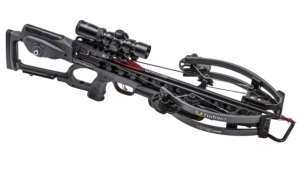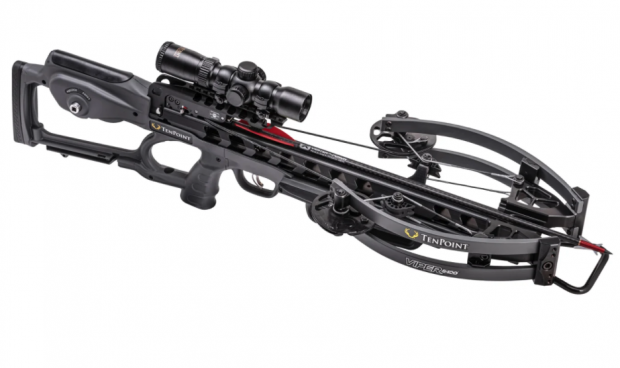 Viper S400
I would be remiss if I did not mention Ten Point Crossbows. Ten Point is a leader in the crossbow world. The Ten Point Crossbow Titan M1 Pro-View 3 Scope Rope Sled is an excellent package at an affordable price. Like all Ten Point products, the Titan M1 is a solid crossbow with unmatched performance.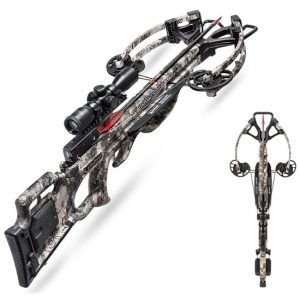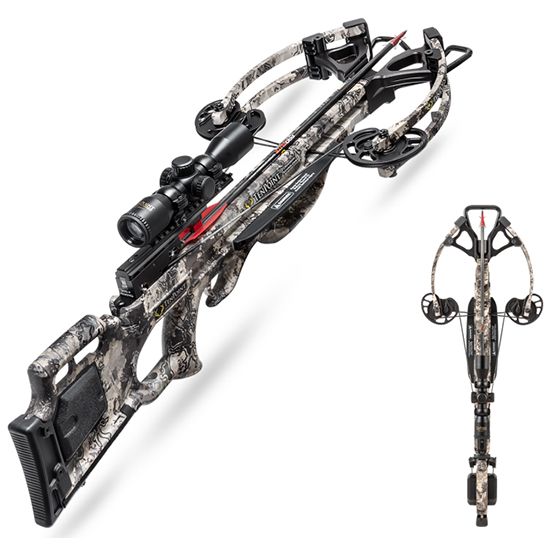 Ten Point Crossbow Titan M1 Pro-View 3 Scope Rope Sled
Best Broadheads for Bear Hunting
Is there such a thing as a bad broadhead? Unfortunately, yes, there is. Why do some broadheads perform poorly? It's all about sharpness. A broadhead has to be scary sharp. I don't care how good of a shot you are or how fast your gear is; if that broadhead is not razor sharp, you will not cause significant blood loss and be in for a long day of tracking. I don't think anyone wants to track a wounded bear through the dense vegetation they call home. Check all your broadheads before heading out on a hunt. Even new broadheads straight out of the package should be inspected to ensure they can do the job ethically.
A quick and easy way to check if the broadhead is sharp enough is to take a rubber band and hold it between your thumb and index finger. It should be less than floppy in your fingers, not stretched. This is about the consistency of veins in an animal's body. Lightly run the broadhead across the rubber band. Your broadhead is good to go if it instantly cuts the rubberband in half. If not, sharpen them up before you go hunt. In fact, a good sharpener should be packed with your gear. I recommend a Smith's Broadhead Sharpener with Wrench. Smith's Broadhead Sharpener is specially designed to sharpen broadheads and knives. This sharpener features two pre-set tungsten carbide blades to ensure the perfect sharpening angle every time. It is lightweight, durable, and features a built-in broadhead replacement wrench, making it easy to remove three, four, and five-bladed broadheads.
Broadheads
The Crimson Talon G2 Broadheads feature a V-Lock Blade Attachment System that solidly secures the blades into the ferrule for rock-solid performance. These broadheads come in three sizes, 100, 125, and 175 grains. With their six blades, the Crimson Talons are some of the most accurate and lethal broadheads for bear archery hunting. The G2 line incorporates Spintite airfoil technology, which spin-stabilizes bolts from the front. Three rigid airfoils on the blades achieve high-speed spin, which keeps your arrows flying true. These airfoils cause the bolt to screw through the target like a drywall screw, producing a spiral wound channel and massive hemorrhaging and unmistakable blood trail results.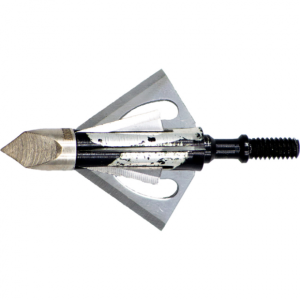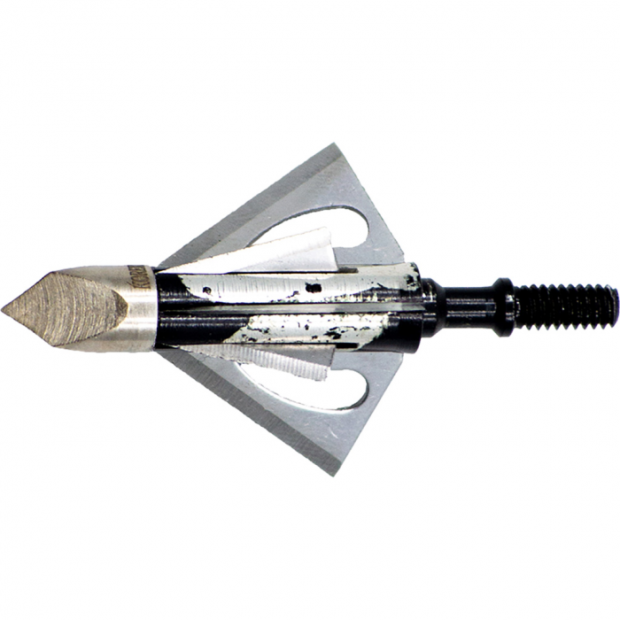 Crimson Talon G2 Broadhead
Best Crossbow Scopes for Bear Archery
When bear archery hunting, it doesn't matter how fast your bow is or how fast your arrows fly. If you don't have a quality scope that you can depend on, everything else is all for nothing.
The TRUGLO 4 x 32 crossbow scope has a unique range finding and trajectory compensating reticle. This scope features a generous 4″ eye relief plus fully-coated lenses that provide maximum brightness, clarity, and contrast. You'll also appreciate its rubber eye guard, fingertip windage and elevation adjustment with durable leaf springs under screw-down caps, and one-piece tube made of aircraft quality aluminum with a durable, scratch-resistant, non-reflective matte finish.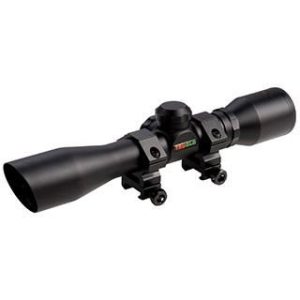 TRUGLO 4 x 32
For the last couple of seasons, I have been using the Hawke Crossbow Scope 3×32. Hawke Sports Optics specifically designed and engineered their 3×32 XB Crossbow Scope and XB MAP reticle for crossbows using bolts traveling at 315 ft/s for optimum accuracy and ease of use. The objective is intentionally on the small side to maintain a low profile, reduce snag points, and keep the weight down. The post arrangement forms an inverted trapezoid target gate in the middle, with aiming points from 20 to 60 yards at 10-yard intervals. It is calibrated for 315 fps speeds and offers 6″ and 12″ brackets on its 50-yard line.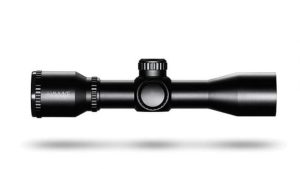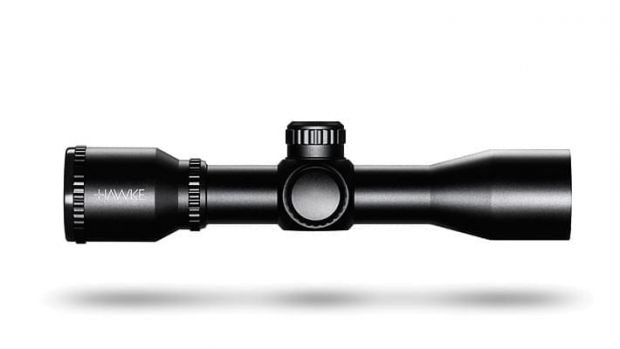 Hawke Crossbow Scope 3 x 32
Best Target for Crossbows
The average archery target intended for compound and traditional bows will not withstand the power of a crossbow. Crossbow bolts will likely zip completely through such a target. Manufacturers realize this, and many are now making targets intended for crossbows.
The Hurricane H21 Crossbow bag target features high visibility aiming points, an off-center deer vitals design, and a heavy-duty handle. Designed for crossbows and high-speed bows, the Hurricane archery targets feature highly visible shooting "eyes" (with bright orange centers) that are easy to see against the brightly colored background, even at longer ranges.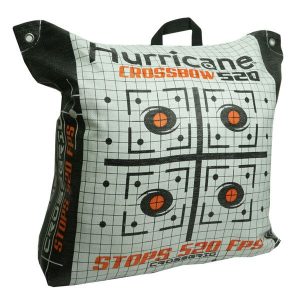 Hurricane H21 Crossbow
Conclusion
As you can see, the equipment needed for bear archery hunting is not that complicated. Many of the identical archery setups for other big game animals will work just fine for the toughest black bear. The key to a successful bear archery hunt is understanding the animal you are hunting and being proficient with the equipment you choose.
I hear all the time that crossbows are accurate out to 100 yards and further. That is primarily true when out on the range. Please do not attempt such a shot in a hunting situation. Too many things can go wrong on shots at that distance. An unseen twig could pop up and deflect your arrow, or your target could take just a step or two, causing a less-than-ideal hit. Shoot ethically and enjoy the hunt!