Adam Scepaniak   11.11.21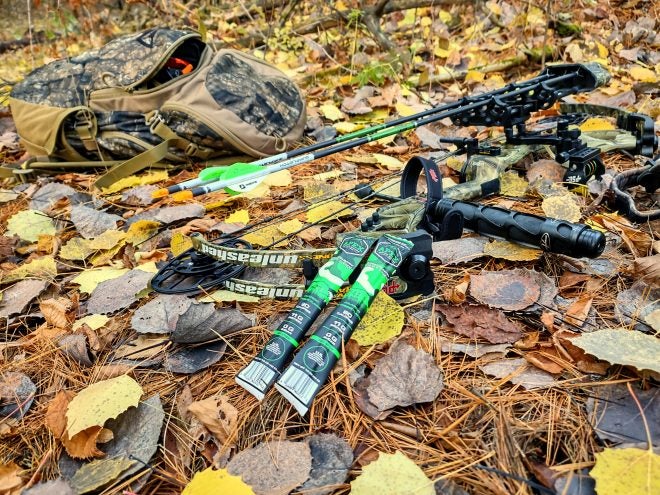 When it comes to being in the outdoors we often have imaginative planning for our exploits that is so grand we catch ourselves outside all day long without an easy way to sustain ourselves. That's where packing snacks that are healthy, loaded with energy, and will satisfy your hunger are important. You don't want to eat a sugary candy bar that will have you crash in an hour, and you definitely don't want to bite off some jerky that will dehydrate you from its salt content. Where is the best balance?… Possibly in the form of Apex Protein with their BackCountry Jalapeño & Cheese Boar Sticks.
Nutrition and Food in the Outdoors
Nutritional Facts – Apex Protein BackCountry Jalapeño & Cheese Boar Sticks
I typically am from the crowd of outdoor and hunting enthusiasts who rely on beef jerky to keep them out in the field when their stomach starts growling to head home towards the kitchen. Meat is great because of its protein content to curb satiety until we get back to civilization. You need that balanced though so it has some healthy fats and is not overloaded with sodium because that will only dehydrate you, and cause a cascading effect of problems (fatigue, cramping, light-headedness, etc).
We at AllOutdoor were afforded the opportunity to try out some of Apex Protein's BackCountry Jalapeño & Cheese Boar Sticks so I jumped at the chance. My grandmother always said never turn down a free meal, and these honestly looked pretty tasty from their outward appearance and their related nutritional facts. They offer Biltong-style snacks as well as sticks in a variety of flavors: Original, Jalapeño, Jalapeño & Cheese, Teriyaki, and Kansas City Barbeque. These also come from an assortment of protein sources being beef, boar, bison, elk, and whitetail deer. The nutritional facts for most of these protein sources and flavors are listed below:
9g-11g protein
0g-3g sugar
90-105 calories

 

Gluten Free

 

Less than half the ingredients of most snack sticks

 

Zero fillers

 

What is appealing about the Apex Protein snacks is their high protein content (great for curbing hunger) plus them being sugar-free, gluten-free, and keto diet friendly for anyone with special dietary requirements. If you are curious the specific nutritional facts for the Apex Protein BackCountry Jalapeño & Cheese Boar Sticks we are reviewing here today can be read below.
Featuring high protein levels expected out of a snack stick, made with wild game meats, no filler ingredients, and zero sugar, Apex BackCountry Sticks are truly fit for adventure! Conveniently packaged in individual units, Apex BackCountry Sticks are the ultimate portable protein snack!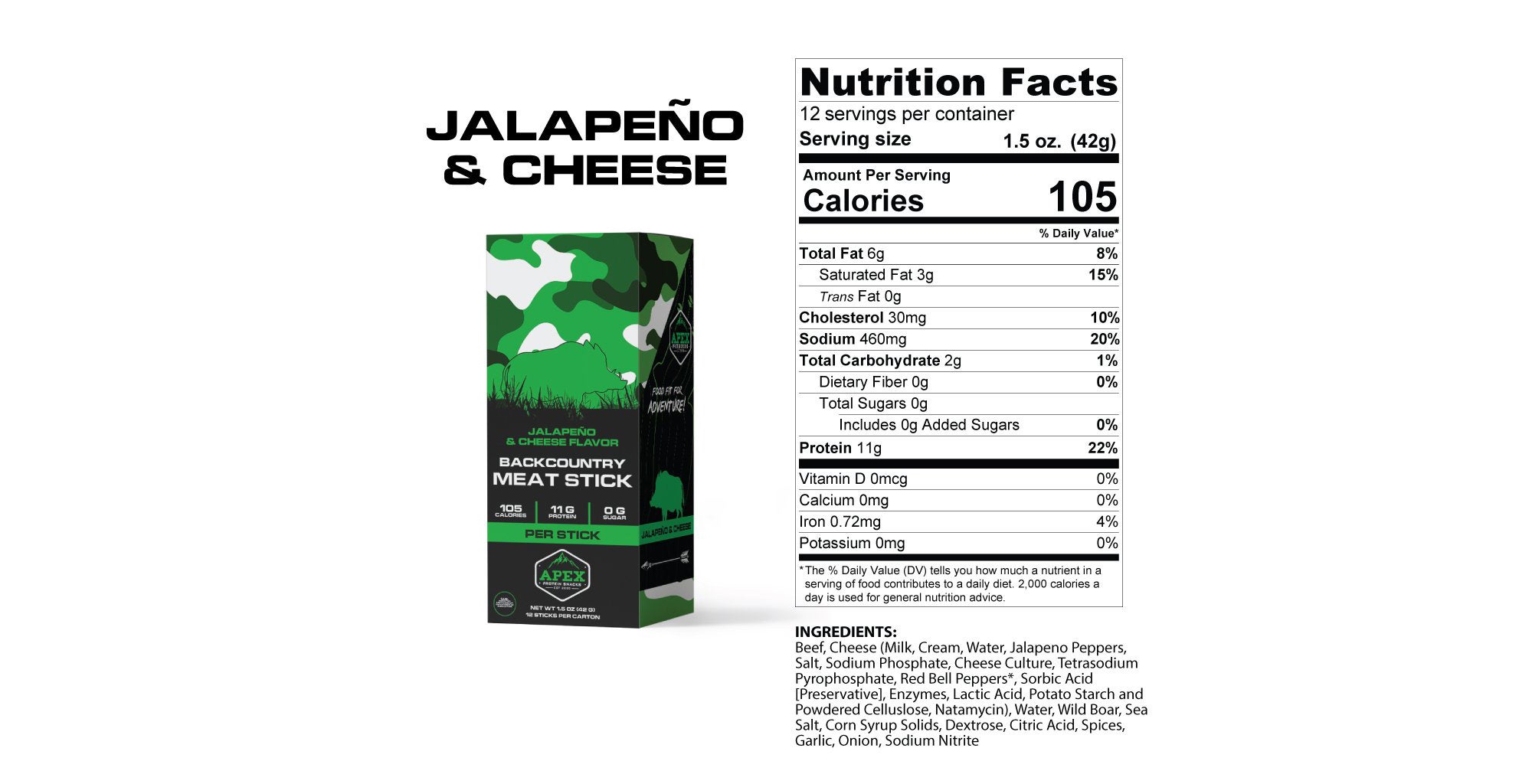 Field Use – Apex Protein BackCountry Jalapeño & Cheese Boar Sticks
So, how did these fare out in the field?… For me, the better question is how did they fare in my treestand. I do a lot of archery hunting in the fall for whitetail deer in Minnesota and that can often times mean long days in a tree playing the "waiting game" for a nice deer to come by. You don't want to get out of your treestand because Murphy's Law states the moment you do you will unexpectedly (and while you're unprepared) see a deer. So, patiently I wait to fill my tag while munching an Apex Protein snack stick like an archery ninja.
What I look for in food I take with out in the field is something that will satisfy me. It must have high protein content so my stomach growling doesn't scare away deer. Also, I would prefer it to be light so I'm not packing in a ton of extra weight, and it doesn't have "nature calling me" to use the restroom when there are no convenient restrooms out in the forest.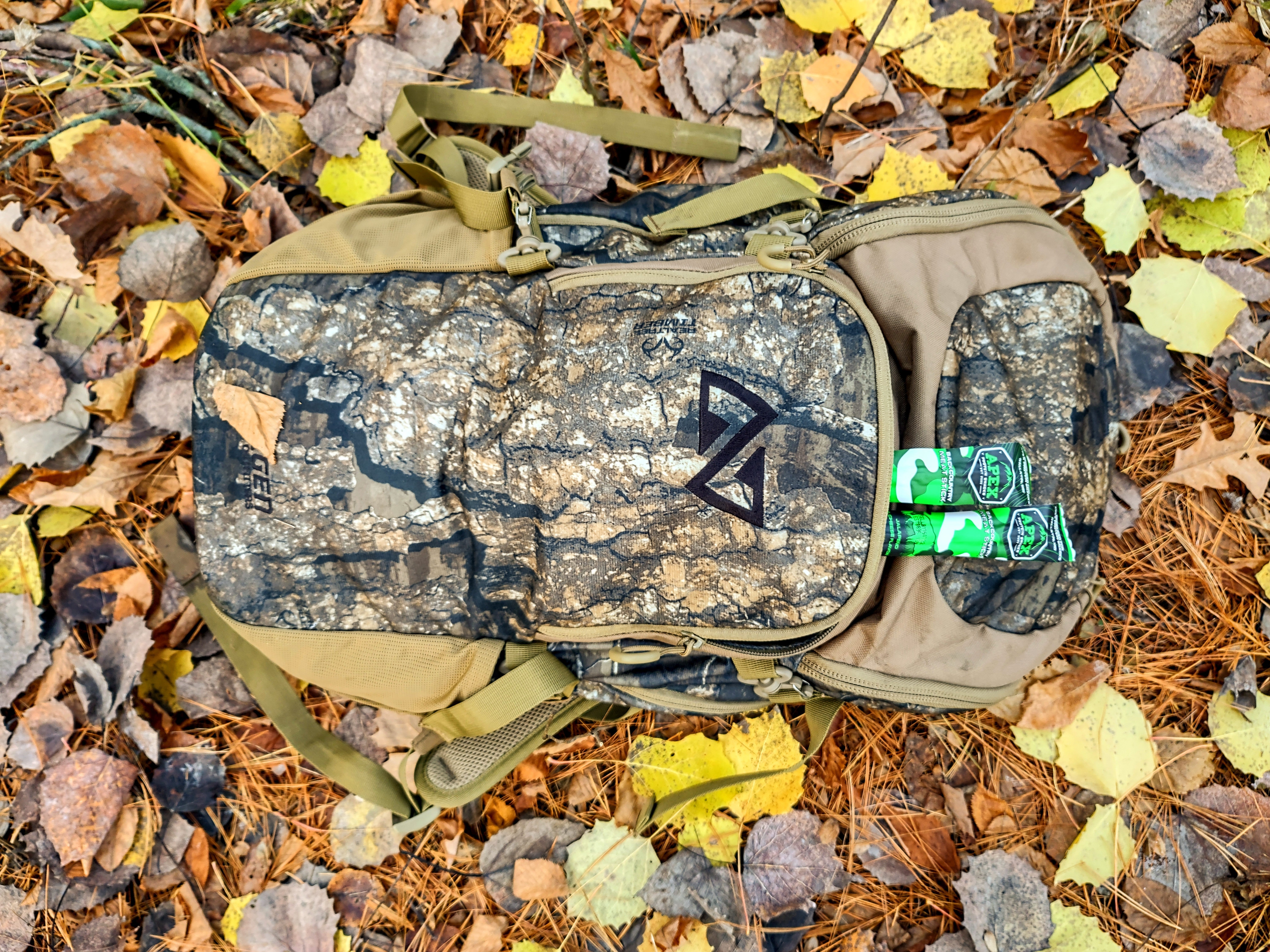 Something else I personally look for in food I bring with hunting is that it is lower in sodium. Most meat/jerky products have extremely high salt content which forces you to drink a lot of water. This is bad all around because either you cramp while hiking or dragging a deer out, or you bring the necessary water and then you have to urinate a lot which detracts from the success of your hunt.
Apex Protein with their BackCountry Jalapeño & Cheese Boar Sticks surprised me because they have relatively low sodium – a healthy amount. One of their competitors that we won't call openly by name – we'll dub them Lack Jinks – has nearly twice the sodium content in a comparable snack stick. That's really, really bad if you are a hunter, hiker, or general outdoor enthusiast.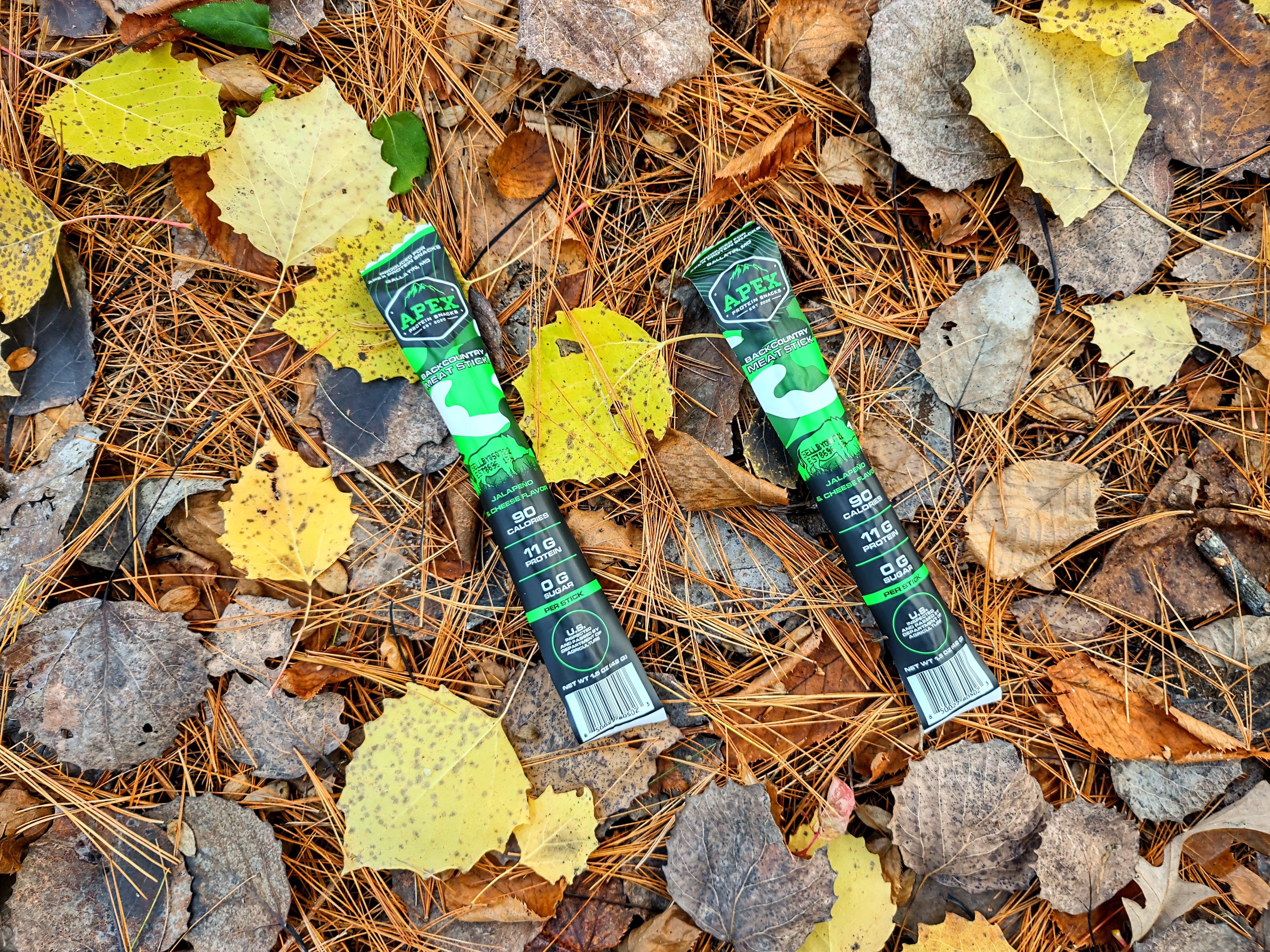 Final Thoughts – Apex Protein BackCountry Jalapeño & Cheese Boar Sticks
So, what are my final thoughts on the Apex Protein BackCountry Jalapeño & Cheese Boar Sticks?… Overall, I enjoyed the taste of the sample we received. The cheese was good, the jalapeno had a light kick; nothing overly spicy. I would eat 2 sticks for every 6 hours I would sit in my archery stand deer hunting and that was enough to satisfy my hunger and keep me going. They are light to toss in with my gear and low in sodium. I don't authentically have any constructive criticism other than I'd like to try more flavors from them now because I am impressed. If you need a healthy, satisfying outdoor snack for yourself this is a good one to try. At a price of $24.99 for a 12-pack on their website, I whole-heartedly recommend them.
In closing, I want to say thank you to Apex Protein for allowing AllOutdoor and myself the opportunity to try out their BackCountry Jalapeño & Cheese Boar Sticks. That is greatly appreciated. Also, we would like to know what all of you guys and gals think? Do you believe that the Apex Protein BackCountry Jalapeño & Cheese Boar Sticks is something worth spending your money on? Would you put some in your day-pack when you go hunting? As always, let us know all of your thoughts in the Comments below! We always appreciate your feedback.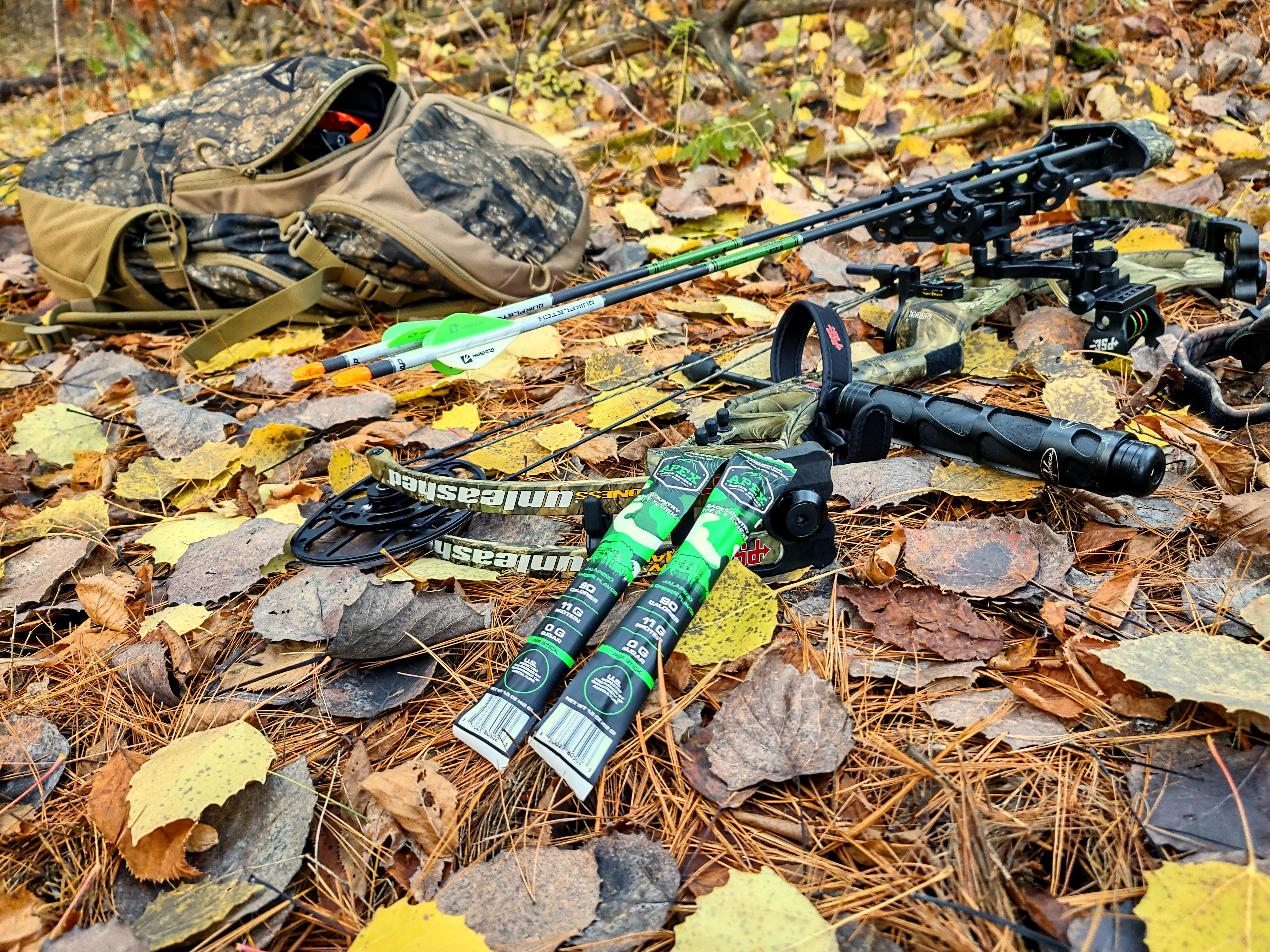 Source Link