If you're interested in having a better view of wildlife on your outdoor adventures big and small, getting a pair of hiking binoculars is a must! From birdwatching in camp with your morning coffee to getting an up-close view of a bison (safely!) at Yellowstone, binoculars open up a whole new view into the wild places you adventure.
Some argue that compact, lightweight binoculars are the way to go, but keep in mind that larger binoculars can deliver a much higher-quality image — which makes them much more interesting to use!
How To Choose Hiking Binoculars
Magnification and Objective Lens
What do the numbers on binoculars mean?
Every pair of binoculars has two numbers in its description, like 8 x 42. The first number is the magnification, or power — 8 x 42 has a magnification of 8, meaning what you see through the binoculars will be magnified to be 8 times larger than what you see with the naked eye. I would recommend a magnification of 8 or 10 for hiking.
One good thing about hiking binoculars with a magnification of 8 or 10 is that they typically (though not always) have a wider range of view, which makes it easier to find what you're looking for when you use your binoculars. If you use a high magnification like 15, what you see through the binoculars is very zoomed in, which can be difficult to use if your wildlife isn't far away. To get a feel for this, open your phone camera, zoom as far in as you can, and try to locate a bird in a tree — it can be difficult! Binoculars with a high magnification also tend to be heavier and thus shakier when you use them.
The second number is the diameter of the objective lens at the end of your binoculars. 8 x 42 binoculars have a 42 mm diameter at the end. Larger objective lenses let more light into your binoculars, which allows you to see a brighter, crisper image. This is especially important if you want a good view during dawn and dusk, times when wildlife and birds can be especially active.
The downside to a larger objective lens is that the binoculars are larger and heavier, so it's important to take weight and size into consideration when you're hiking or backpacking and every ounce counts. I recommend an objective lens diameter between 25 and 42 for hiking, depending on how important weight and size are to you.
Eyecups
You'll want to try out the eyecups on your binoculars to make sure they fit your eyes well. These usually expand with either a twist-up, pop-up, or fold-down eyecups that help the user see the entire field of view the binoculars provide. If you wear glasses when using binoculars, you can leave the eyecup down.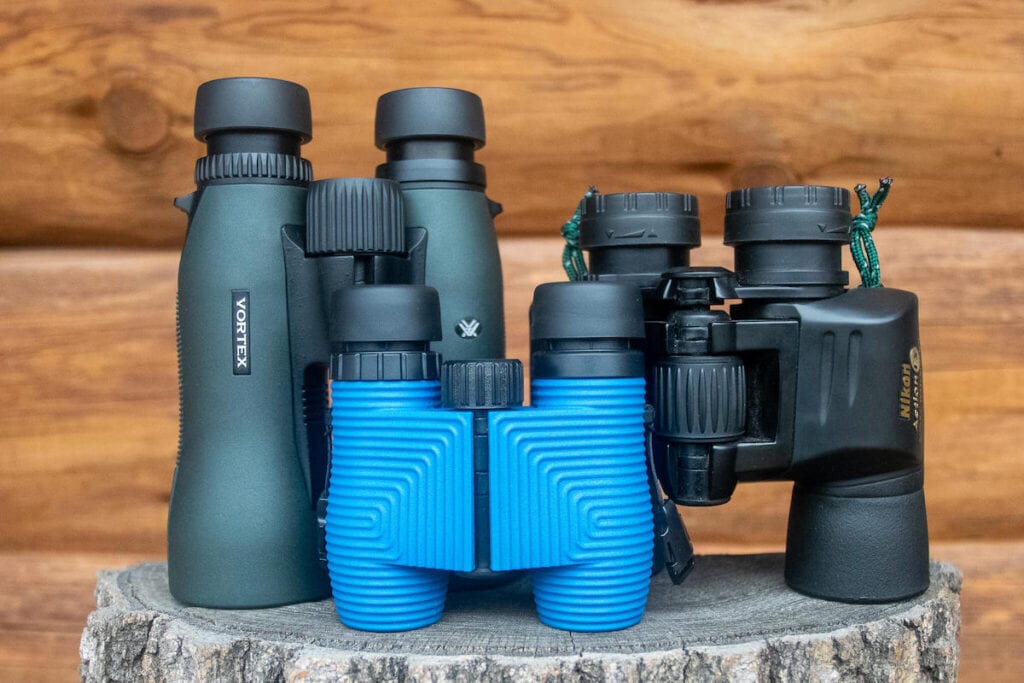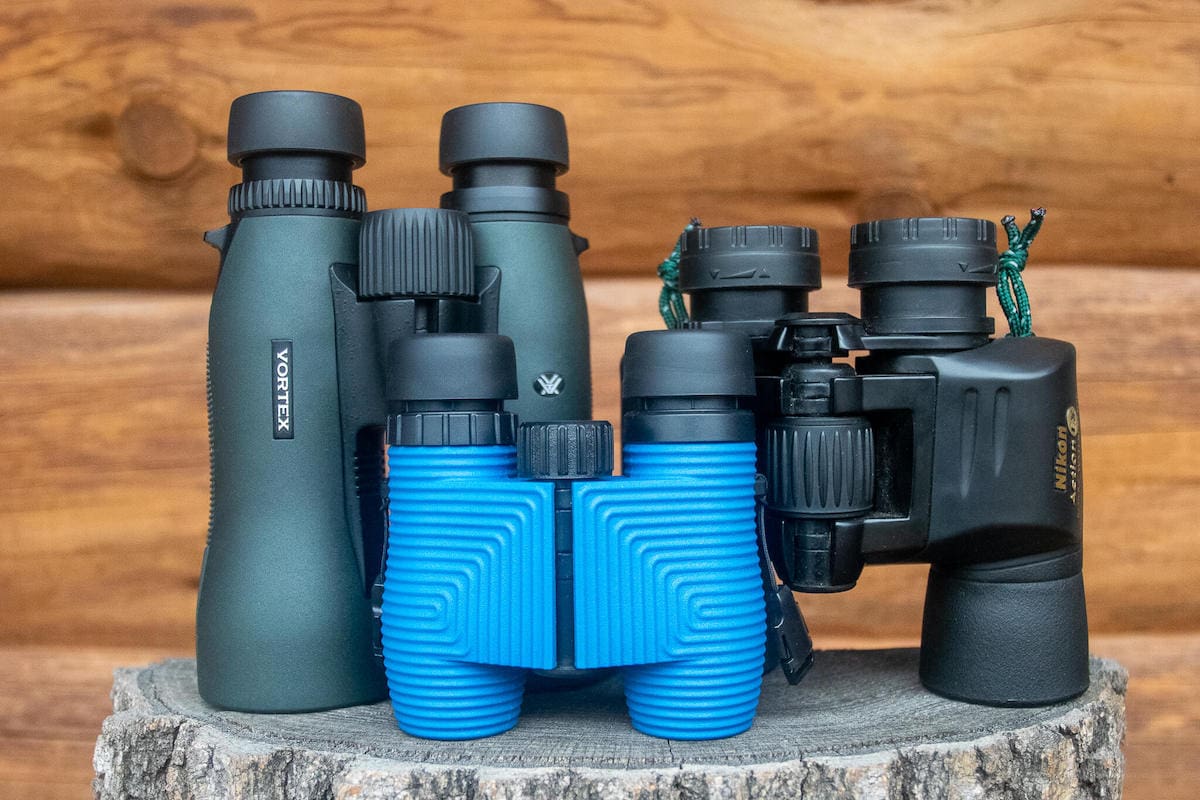 Weight and Size
Size and weight count a lot when you're hiking, so it's important to recognize the tradeoff of larger/heavier binoculars that produce a higher-quality image and how much room and weight they take up in your pack. If wildlife watching is the primary objective of your hike, it's probably worth it to you to get a larger objective lens on your binoculars.
If you're just planning to use your binoculars every once in a while, getting a compact pair of binoculars is probably best. In most cases, 8 x 25 binoculars are great for shoving in your pack and using once in a while. 10 x 42 are great if you're planning to use them a lot and really want to prioritize watching wildlife.
Image Quality
Image quality comes down to many factors inside the binoculars, but in general, more expensive binoculars have more advanced optics that make for a brighter, crisper, higher-quality image. It's what's inside the binoculars that counts, and while we could share several blog posts about prism technology, focus systems, etc., the main takeaway is that advanced optics are pricey but make a big difference in what you see.
Finding the right balance between price and quality is specific to each person, so don't be afraid to try out a few different models before you settle on a pair of binoculars.
Other Considerations
There are a few other features you'll want to look for when purchasing binoculars.
A rubber coating will make your binoculars more durable and scratch-resistant.
Waterproof or water-resistant binoculars are also a big benefit for hikers and backpackers since you're exposed to the elements and can't quickly escape from a downpour. A waterproof pair will give you peace of mind if you plan to use your binoculars on the water while SUPing, kayaking, or canoeing.
Anti-fog models are great for colder weather so that the lenses don't fog up from your body heat. This also applies if you're taking them out of a warm vehicle into the cold.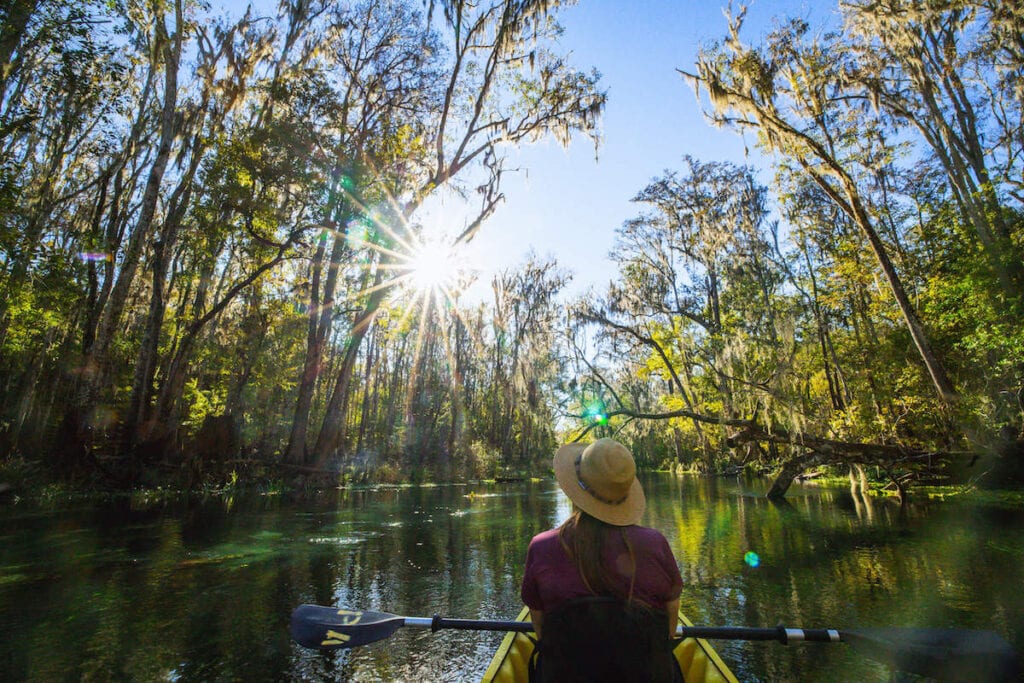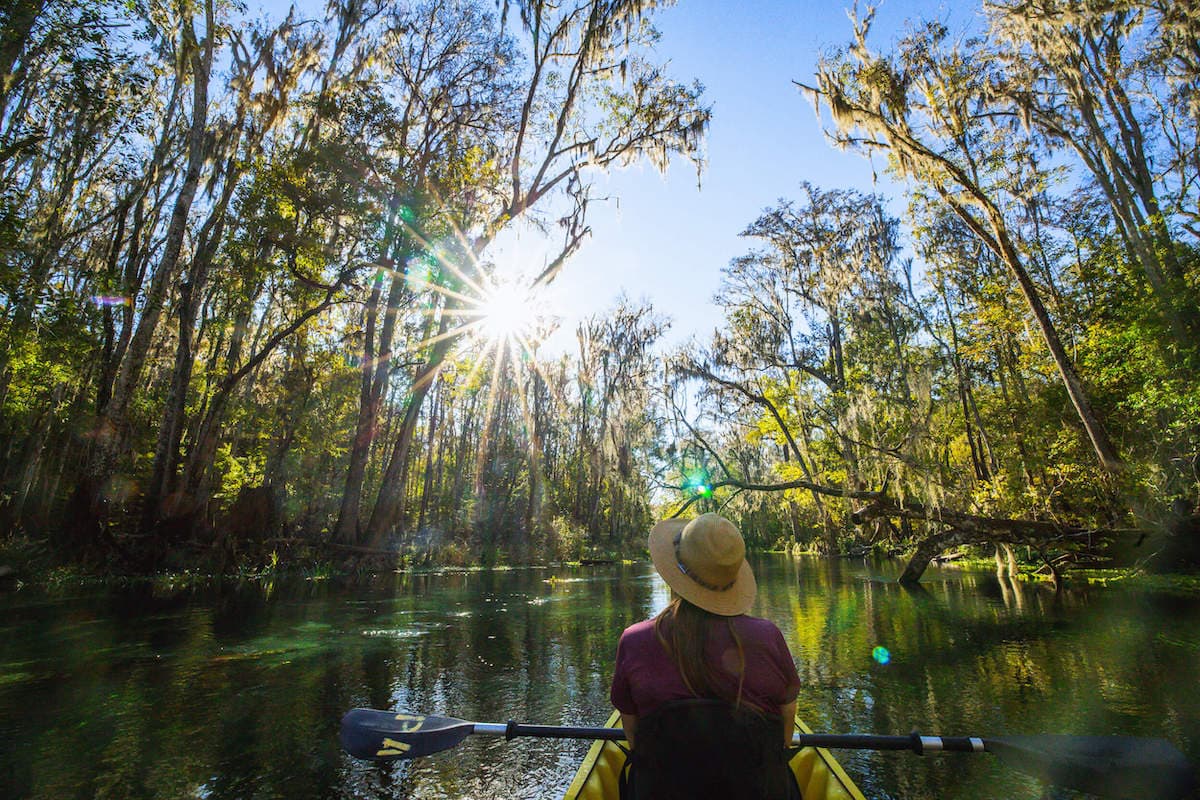 ---
Best Binoculars for Hiking
Best Budget Buy: Nocs Provisions Standard Issue 8 x 25 Waterproof Binoculars
*Compact, Budget-Friendly Option: The Nocs Standard Issue Binoculars are compact hiking binoculars that pack a punch! Since they're so small and light, it's super-easy to stash these in your day pack when you're headed out on the trail. They're coated in rubber for durability and for a great grip, they're waterproof and can withstand submersion in water up to 1 meter deep for 30 minutes, and the internal chamber is filled with Nitrogen to prevent fog formation.
The eyecups do twist out, but they're on the smaller side since they're compact, and the binoculars might not be a perfect fit if your eyes are closer together. Overall, these are a great, no-regrets pair of binoculars that will keep you light and nimble on the trail without sacrificing a great image. Plus, they've got plenty of trendy colors to choose from that look and feel great, which is a big plus in my opinion.
Key Features:
MSRP: $95.00
Weight: 11.8 oz (0.74 lbs.)
Waterproof
Covered under Nocs "No-Matter-What" lifetime warranty
Pros:
Most lightweight & compact option
Easy to pack & use
Budget friendly
Cons:
Eye cups are on the smaller side
Check price: REI / Backcountry / Nocs Provisions
Best Value: Nikon Action Ex 8 x 40
*Best Bang-for-the-Buck, Beginner-Friendly Binoculars: While I love throwing compact hiking binoculars in my bag for quick hikes, I can't help but change them out for the Nikon Action Ex Extreme 8 x 40 Binoculars when I think I'll see something interesting. While the size and weight don't make these binoculars nearly as convenient as the compact binoculars above, I find the larger objective lens to make a much brighter image. That counts for a lot when you're trying to pick up on smaller details (necessary for birding) or if you find yourself watching wildlife at dawn or dusk when the light is low.
I like the eyecups of this pair much more than the smaller Nocs eyecups, but unfortunately, the fog-proofing has worn off these Nikon binoculars since I bought them in 2013. These remain my go-to pair of binoculars for hiking or peeping birds from my van and they also have a persuasive low price considering their quality.
Key Features:
MSRP: $146.95
Weight: 1 lb. 14.1 oz
Waterproof
Pros:
Higher-resolution and brighter images
Great value for image quality
Budget friendly
Cons:
Heavier than other hiking binoculars
Check price: Amazon
Best for Wildlife Viewing: Nikon Monarch M5 8 x 42 Binoculars
*High-Quality Binoculars for Wildlife-Focused Hikes: When spotting wildlife is a top priority on your hike, the Nikon Monarch M5 Binoculars are the binoculars to go with. Coming in at $289.95, this pair of binoculars has superior prism technology that produces brighter images, more natural colors, and a high-resolution view compared to the options above. The focus knob spins like a breeze, and the binocs are rubber coated, waterproof, and fog proof, too.
Key Features:
MSRP: $289.85
Weight: 1 lb. 6.4 oz
Waterproof
Pros:
Superior optics with vivid images and colors
Great for wildlife far away
Cons:
Not as compact as other binoculars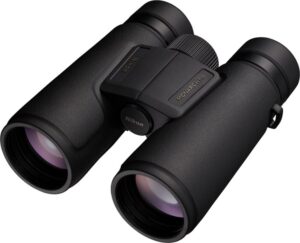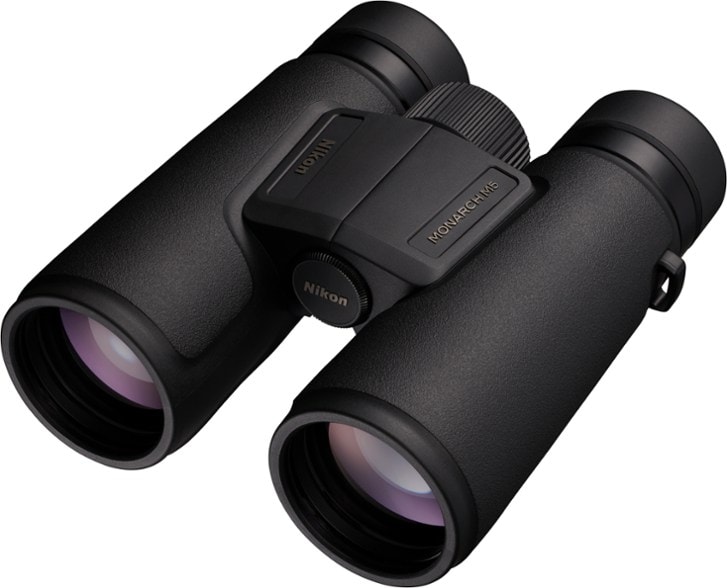 Check price: REI
Best for Long Distance Viewing: Vortex Optics Diamondback HD 15 x 56
For High-Quality, Longer-Distance Viewing: If you want a superior, crystal-clear image when using your binoculars, the Vortex Optics Diamondback HD 15 x 56 binoculars are a great choice. The higher magnification on this pair makes it ideal for when you expect to see wildlife from farther away — say, mountain goats at Logans Pass in Glacier National Park or bison in Yellowstone National Park.
Despite the advanced optics and larger optical lens on these binoculars, they're lighter than you'd expect and don't take up as much room in your pack. The advanced features on the Vortex Diamondback are immediately noticeable — the image is bright, colors are natural and unmuted, and focusing is a breeze. While they are pricier than other binoculars on this list, you get a much clearer, high-definition image that is well worth the price.
Key Features:
MSRP: $349.99
Weight: 2 lbs. 2.8 oz
Tripod adaptor included for distant viewing
Pros:
Higher magnification for distant wildlife
Superior high definition image quality
Cons:
Most expensive pair on our list
Heavy and bulky
Check price: Amazon
---
How to Use Binoculars
Using binoculars is a fairly straightforward activity, but some tips and experience will give you a much easier time while using them.
The two main things you'll need to learn are how to find an object using binoculars and how to focus the binoculars to see it clearly.
How to find an object
I first became comfortable using binoculars when taking a birding course in college. My professor took us into the field and taught us the trick of first locking on to an animal with your naked eye, then raising your binoculars to your eyes to see it. It's much easier to find an animal using this method than first raising your binoculars to your eyes, then scanning the landscape to find the animal. Sure, scanning is still necessary to find the animal sometimes, but you'll be much more accurate if you start with your naked eye first.
How to focus binoculars
To focus your binoculars on your subject, simply spin the focus wheel between the two lenses on the binoculars. It helps to look at smaller details like tree leaves or strands of grass when setting your focus. It takes some practice to focus your binoculars quickly, but you'll get the hang of it quickly.
Your binoculars might also come with a diopter adjustment ring, which is like a focus wheel on one of your eyepieces. This is used to focus on the barrel of the binoculars only to compensate for a difference in vision between your eyes. You'll typically set this once, then leave it alone when you're in the field.
Setting the focus of your diopter ring isn't difficult: if it's on your right lens, start by covering the right lens of your binoculars with a lens cap. Look through the binoculars (your right lens will be covered by the lens cap, but you can still see through your left lens), then use the focus wheel of the binoculars on an object. Once the focus is sharp, move the lens cap to the left lens, look through the right lens at the same object, and spin the diopter adjustment ring – not the focus wheel – until the right lens is in sharp focus. Your diopter ring is now set, and you'll be able to leave it alone and use the focus wheel to focus on different subjects.
---
Binocular Accessories
If you want to add a little style to your binoculars strap, Nocs makes a great Woven Tapestry Strap for scoring some style points. If you don't have a compact pair of binoculars, I'd highly suggest getting the Nikon Prostaff Binoculars Harness. This harness takes the weight of the binoculars off your neck and onto your shoulders, which not only makes them much more comfortable, but it has the added benefit of stopping your binoculars from bouncing on and off your stomach with each step. You can also get a Vortex Optics GlassPak Binocular Harness which has housing to keep your binoculars in good shape.
If you want to get some better wildlife photos, there are plenty of phone mounts to attach your cell phone to your pair of binoculars. The image quality of these photos won't compare to a camera with a telephoto lens, but they're a great way to document the wildlife you do see in the wild. I snapped a quick photo of a bison in Theodore Roosevelt National Park this November, and while the image quality isn't phenomenal, it certainly made for a much better photo to share with friends and family.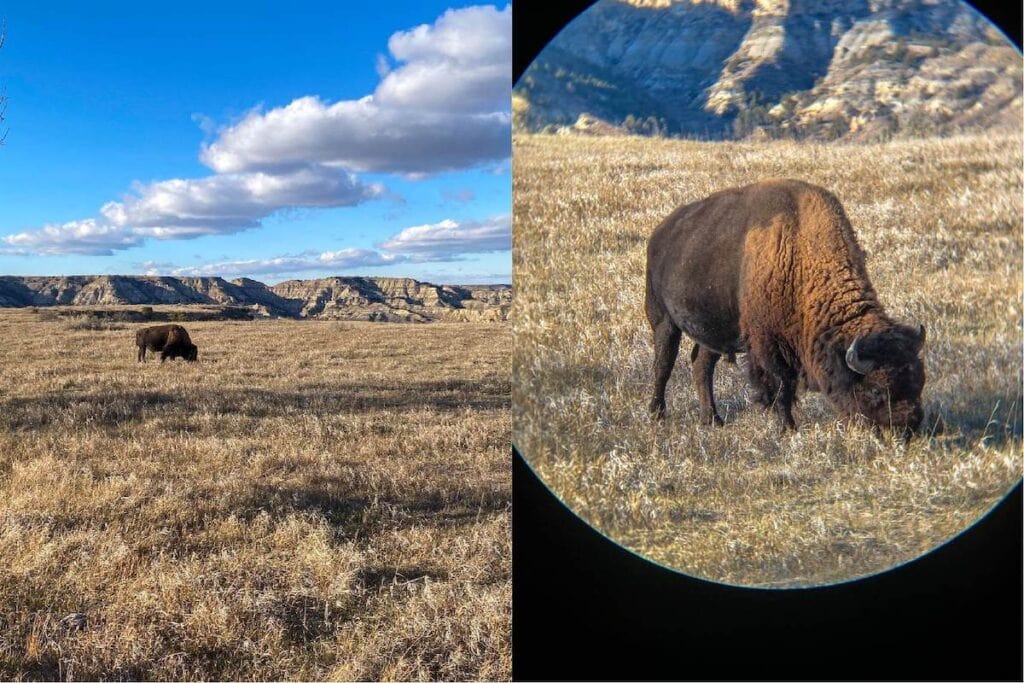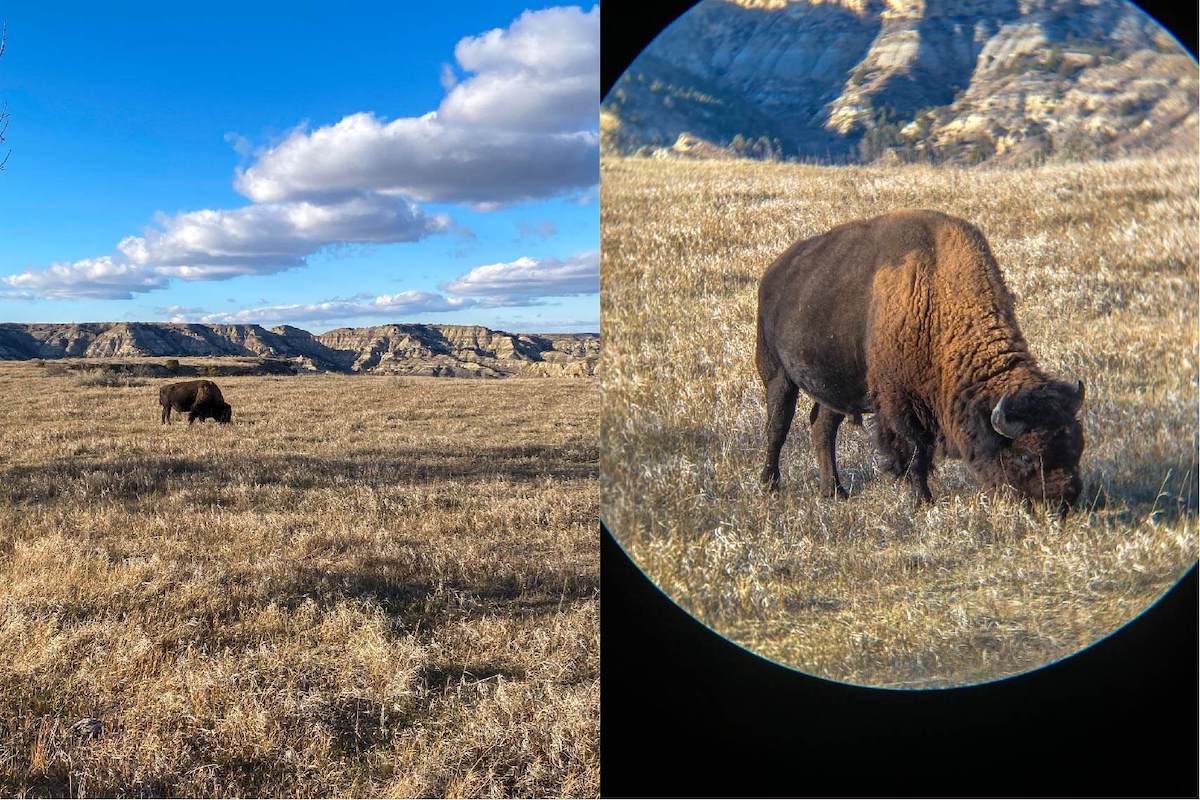 ---
What have you found are the best binoculars for hiking? Do you have any additional tips or recommendations? Let us know in the comments!