The snow has begun to fall, unique snowflakes dancing in the air as the fall, and ski resorts have gotten running as winter is in full swing. Time to break out the skis, snowboards, and snowshoes and find some outdoor recreation to explore and play in. 
For the brave few that will challenge themselves to stay in the colder weather, there will be cool gear to help keep you warm and dry. This article will cover shelters, cooking items, survival techniques, and equipment that can turn a potential bone-chill drag into an enjoyable trip in a winter wonderland. 
The Effect Geography Has On Winter Snows
We start in the southwest region of the North American Continent; Colorado is known for the Rocky Mountains that run up the state's spine. For the sake of having differing conditions, we will be in the Rocky Mountain National Park, speaking about the lower levels of snowfall; the area is known to average between three to twenty inches of precipitation in the form of snow.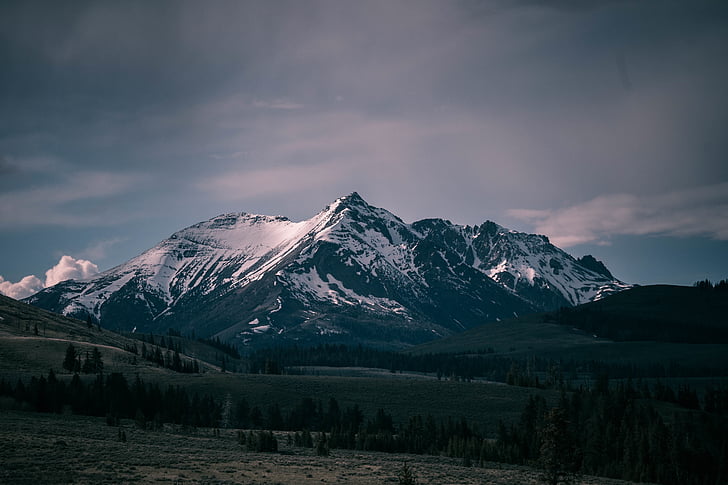 This will make the snow challenging to build with and will require more creativity with winter structure materials and tent-like gear. We will start with a familiar brand tent, North Face, with dome tents designed to withstand the sub-zero temperatures in the elevated Nepali region near the Mountain of Everest. A structure like this with a sub-zero sleeping bag, a down-filled pad, and, if needed, a heated blanket will provide a camping experience similar to the trips held in the warmer months. 
Next, we visit the state of New York, near Buffalo, up in the Northeastern region of the United States. This area is known for having massive snowfall totals and mild winters in the thirties. In this example, we will discuss one technique of building a snow fort and some cool gear that can be used inside to keep you warm. The first step will be to dig out an outline of the snow structure and begin piling all the snow into the middle of the design, be sure to use enough to create the desired height for the installation. Doing it in this fashion will pack down the snow, making a densely packed material to carve into and design a custom structure to camp in for the weekend. 
There are many examples of what to put inside; even full-sized beds and entertainment centers can be placed if the structure is big enough. These structures will be best viewed as temporary or short-term stay lodgings because of the wet and heavy snows that fall in the region; the weather is warmer than in the other areas further north, which can lead to unexpected melting. 
Moving into the Canadian regions, we find ourselves just south of the artic circle, where the snow is layer and makes for suitable brick materials. Consider building a tent using thick canvas and snow brick to outline the bottom of your tent, along with constructing a few places to cook and stay during the day. 
Here the temperatures will not be as cold as further north but will reach sub-zero, which makes for a solid snowpack that will not melt on you in the middle of the winter season. That being said, this will be another region prime for making a week-long stay snow structure to stay in. 
Lastly, we visit the arctic circle, the home of the Inuit, where you will need help finding something to use as materials to build with. The North Face tents mentioned in the article will work in this climate and provide adequate shelter for many demanding and experienced cold-weather explorers. 
But nothing can compete with the igloo design of the Inuit tribes that live in the frozen wastelands in the Arctic. A tribesman can craft a single hunter's igloo in a few hours, though more prominent family-sized structures are known to take a few days to construct.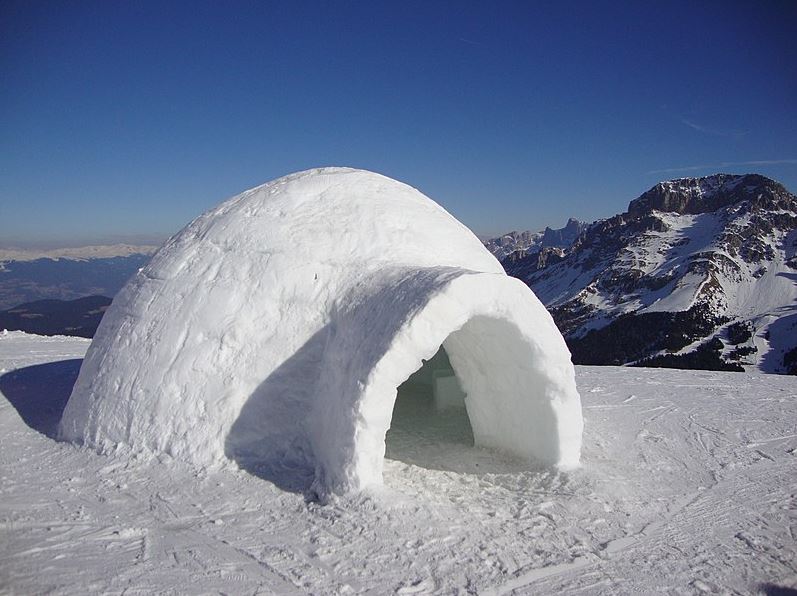 Each construction holds the patented low entrance, platformed rooms, and raised sleeping quarters to efficiently use the available heat. Some more modern designs will incorporate cooking areas and even wood stoves for heating, using ventilation tubing to funnel smoke out of the inner chambers. Many of these structures can last for up to a few months but are not meant to be permanent fixtures but instead used temporarily. 
Gear To Take With You
We will split this section into four types of gear that can be taken on a winter camping trip: Clothing, Cooking, Structure, and Gadgets. 
Clothing – Nothing makes up for a good coat, coming with different fillers (down and synthetic) but also with new technologies like Columbia's Omni-Heat lining, which compares to the materials of NASA space blankets. Keeping exposed skin to a minimum is very important in a winter camping situation, be sure to have a solid pair of gloves with thermal shielding, snow pants, and solid boots. Another addition to your winter camping wardrobe will be a balaclava or similar garments designed to protect your face from the wind. 
Cooking – There are many new-age cooking pieces of camping equipment, from portable gas cooking stoves to custom wood stove designs for igloos and glamping tents, but more importantly, it comes to cookware. If you can find room in your pack, consider bringing a cast iron pot, pan, and teapot. Each of these items is perfect for use with fire-heated cooking surfaces. Be sure to bring seasoning items and oils for the cast iron pieces after cooking to prevent rusting. 
Structures – Camping in winter has become almost a luxury, and snow structures have become all the rage in today's winter season. The most famous is the Ice Hotel in Jukkasjärvi, Sweden, built from scratch every winter in November when temperatures dip below zero. Building snow structures and igloos will be a fun way to spend a weekend but consider purchasing North Face tents designed to handle the mountain extremes or canvas tent sets with wood stove options. 
Gadgets – Technology has changed the game when it comes to staying outdoors during the colder months, from hand warmers to goggles to snowshoes. Campers will be able to use GPS when the surrounding snow-covered landscapes begin to blend, but also, there are heating blankets and foldable cots that might be useful when taking along the honey for the trip. Specialized lighting can be just the thing to make the mood, be sure to focus on traditional lamps for the outside of your tent or snow structure.
Some Safety Tips To Keep In Mind When Winter Camping
Never travel alone — This might be one of those commonsense things, but, when possible, travel with at least one other person. Camping in the best weather conditions can be challenging, but when faced with the added dangers of staying out in the winter cold, it is best to have another person around in case of an emergency. This could mean having a dog or horse accompany the trip; a GPS and map will be some other items to have ahead in case of getting separated or emergency situations arise. 
Stay dry – The threat of hypothermia is real but can be easily avoided; wintertime colds will make this even more of a threat to the campers. Avoid streams or overworking oneself to dripping sweat; if moisture does make it into your clothing, use a fire to dry them; being wet will also drain energy and heat from the body. This excessive fuel burning will use up calories, causing the camper to become hungrier and possibly fatigued. 
Pack enough food – Water will be easy to find, and melting snow for morning coffee or afternoon tea will not be difficult, but finding food will be. This will leave the campers with only the food they are willing to pack in, and as a warning, similar to the one above, there will be excessive burning of calories during the trip. Requires those going to bring adequate nutrition and food; to replace and provide enough calories for the body to produce heat and have the energy to perform survival tasks as necessary but also enjoy the fun activities associated with being in the outdoor environment. 
Final Thoughts
Winter snow is a fun tool and toy; building snow forts and squaring off in epic snowball battles are what childhoods are made of in the colder climates of the earth. Young and old children will find ways to play with this unique form of water, either sledding downhills or skiing around the mountain trails. There are added dangers to camping in winter snow, but there are also ample creative opportunities to use certain snow for buildings. 
Remember to have enough layers to stay warm, plan for inclement weather or worsening conditions while out there, but most importantly, pack extra clothing and warm, dry blankets and towels for emergencies or other needs. Camping in the wintertime can be challenging, even dangerous, but the suitable clothing and equipment, plus a few good friends, will make this adventure all the more enjoyable and potentially memorable.