Camping is a timeless pastime, with methods of lodging almost as countless as there are destinations. One thing nearly all outdoor trips have in common, though, is the need to cook. Whether for three full meals each day or only a quick cup of instant camp coffee in the morning, bringing a camp stove is almost unavoidable.
For decades, the choices were few. Nearly every outdoor household had a folding camp stove resembling the Coleman classic propane workhorse. The field was pretty homogeneous; there was never really a need for an outdoor stove buyer's guide. But that's all changed, as the two-burner camp stove is no longer the only game in town.
Depending on their experience level, someone in the market for a camp stove today might have a lot of questions, like what are the options, and how do I choose? What will work best for me and fit my budget, a single burner stove, a grill stove combo, or something else? Propane camp stove vs. camping grill: what's the difference?
These questions and others are answered when considering a camp stove's characteristics, strengths, and potential weaknesses. Then it becomes clearer which stove — or stoves — will fit an outdoorsmen's needs.
Camp Stove Options
The Single Burner Propane Camping Stove
Often called "backpacking stoves" or "pocket camp stoves," these versatile little tools have exploded in popularity since the turn of the 21st century. They can still be considered a "propane camping stove," but are lightweight, take up little room, and can be used for multiple cooking applications.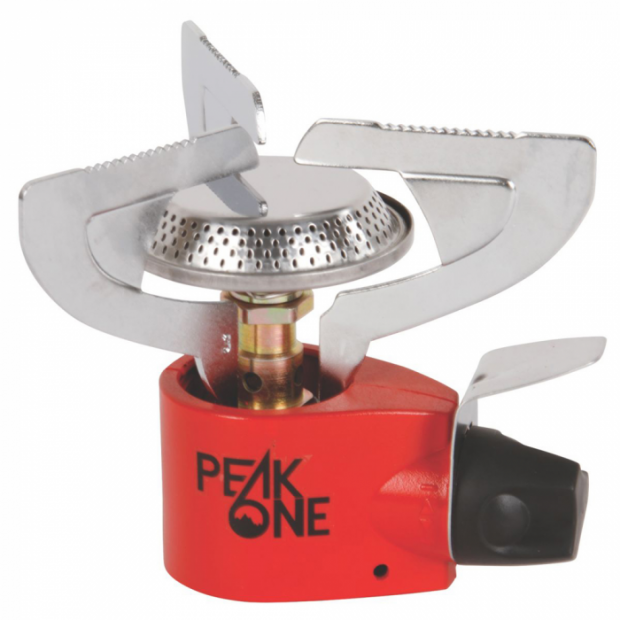 The Peak 1 Butane and Propane Stove
The Peak 1 Butane and Propane Backpacking Stove from Coleman, is an inexpensive but easy-to-use example. It is a single-burner stove that has earned praise for being easy to ignite. It also weighs less than 7 ounces and has sturdy pot supports that fold for easier packing.
Backpacking stoves screw into the top of their fuel containers, which usually contain propane, isobutane, or blends of similar fuels. One of the benefits of the fuel canisters is that they are relatively compact and lightweight, which appeals to backpackers and others who want as little bulk as possible. They are also fuel efficient and usually last many days. Another benefit is that this fuel is readily available online and in almost any store where outdoor goods are sold.
While backpacking stoves offer more minimalist solutions for cooking needs, they generally don't support large cookware and can be unstable/tippy. The best advice for campers is to use these with lightweight cookware rather than large pots or cast iron. Their burners are typically small with limited heat output. What's more, the fuel is more expensive than other options.
Fuel Line Camping Stoves
Another time-tested class of camping stoves connects a burner, which is typically bigger and more stable, to its fuel source. Such stoves can run on fuel like propane, "white" gas, kerosene, and alcohol.
One advantage is that some, like the MSR Whisperlite, are manually pressurized by the user and can be used at very cold temperatures. That is something that cannot be said about canister stoves.
Some, or even most that run on propane, can use 1-pound cylinders or a hose to connect to much larger propane tanks. A benefit is that fuel savings begin to add up. The Coleman Cascade 18 1-Burner Camping Stove fits that description perfectly. It's sturdy, easy to use, and rated for up to 12" in diameter cookware.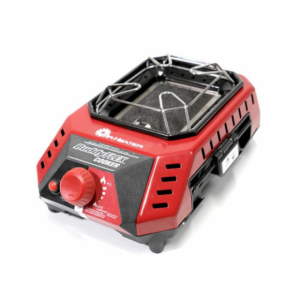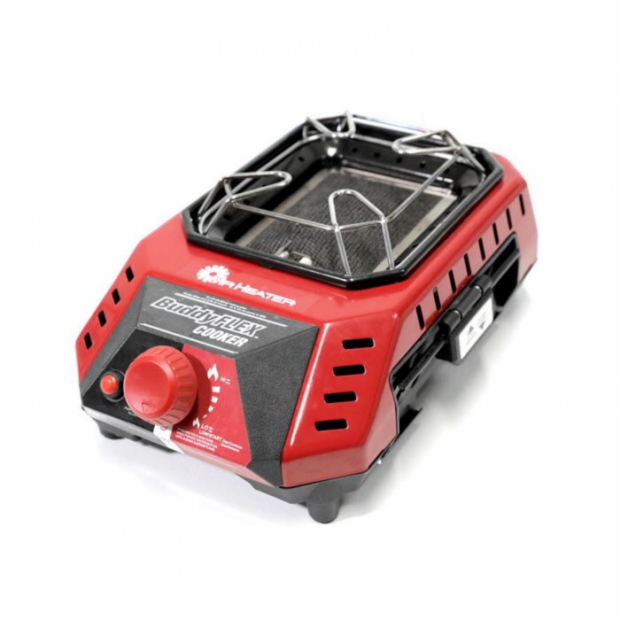 The Buddy Flex Cooker
The Buddy Flex Cooker, made by Mr. Heater, is similar. It is sold as an accessory for their BuddyFlex Heater, making it a convenient way to add cooking capabilities to a heater you may already use for cold-weather camping, tailgating, or ice fishing.
Fuel line stoves come in many forms, including more than one burner. While that is often useful, it also means fuel line stoves are heavier and bulkier, which makes them better suited for car and RV camping.
Wood Stove Options
Yet another class of camping stoves, which is like a compromise between a stove and a campfire, is the wood-fueled stove. There are many on the market desired by minimalists and survivalists alike for their gear collections. They may appeal to the seasoned camp chef who likes a smoky flavor infused into their dishes. Cooking over open flames can also offer a unique photo op.  If nothing else, a wood stove outdoor experience is a fun way to shake things up.
Though the array of options includes many different designs, they generally have a few things in common: lightweight metal construction, a firebox with good airflow, and the ability to collapse for easy transport.
Some, like the Vargo titanium Hexagon Wood Stove, have sparingly few components and weigh only a few ounces.
Others, like the Unigear Camping Folding Wood Stove, are slightly more complex but offer a sturdier and more versatile cooking surface.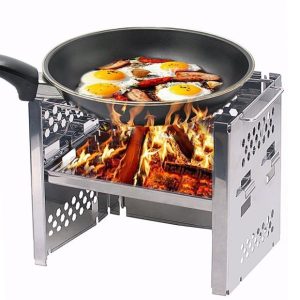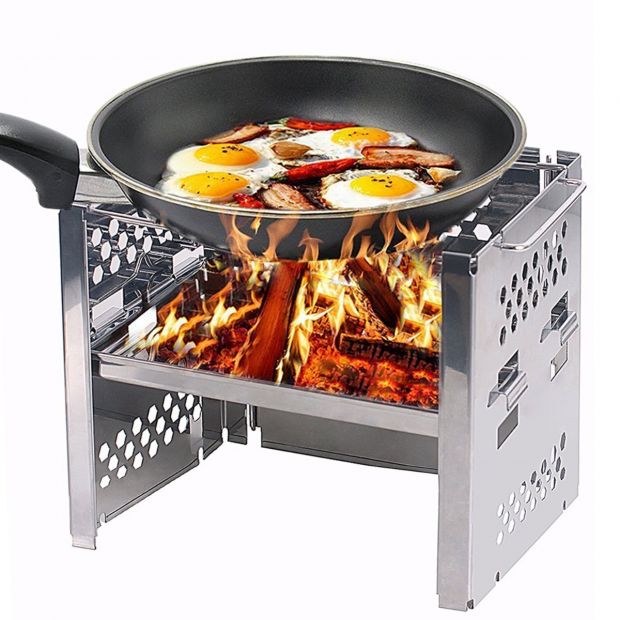 Unigear Folding Wood Stove
The most significant advantage of a wood-burning stove is that you do not need to bring any fuel along for the trip, which can shave pounds off one's load. This appeals to serious backpackers and other trekkers, like canoeists.
There are, however, some downsides.
Burnable materials can be hard to come by in wet conditions, and it can be time-consuming to gather enough fuel to cook an entire meal. Wood stoves also generate a lot of soot, affecting the stove itself and any cookware used.
As a matter of safety, wood stoves should be used only on non-flammable surfaces. And because of their design, they should not be used when and where there is great danger of wildfire or where open fires are prohibited.
Camping Grills
Cooking over a campfire was a staple of the camping experience, which involved grilling and frying. For those who wished to grill, the choices were limited for a long time to campfire grills (grates) that could be suspended over the fire, which led to difficulties related to variable heat, flare-ups, wind-blown ashes, and other perils. As with camping stoves, times have changed.
What is a Camping Grill?
Camping grills essentially run on propane and are much like their household counterparts — only smaller. They can be a cleaner, more compact solution for grilling, and there is no need to get charcoal from a store or spend time and energy creating the perfect fire. Plus, it can offer a more healthful way of cooking in camp than frying in a pan or griddle.
The Portable Camping Gas Grill
Like camping stoves, camping grills have evolved for decades and come with various specifications and features. They may be a single or a double burner model.  They may come with or without covers, and sides that shield the flame and food against the wind, sit on a table/tailgate or have legs to stand on the ground.
Schwank Portable Infrared Grill
A premium example is the Schwank Portable Infrared Grill, a tabletop model that runs on a propane tank. Instead of heating from below, it utilizes infrared 1500-degree heat from above to avoid flare-ups and grills the perfect steak in a few short minutes. If pricing is less of a concern, there may be no better item to your gearbox than this grill; reviews are overwhelmingly positive.
A Camping Stove/Grill Combo
Something like a hybrid of the camping stove and gas BBQ grill is the Coleman Fold-n-Go Grill, which is compatible with either the included grill or the available griddle accessory. Even a casual outdoor chef should find this item handy for their cooking needs.
How to Clean a Camping Grill
After turning off the heat while the grill is still hot, scrape loose food and char from the cooking surfaces. Leftover grease and oil residue should not be burned off because they will help make a non-stick surface for subsequent uses.
Cleaning can be accomplished with various implements, which may use abrasive pads or bristles. There are even wood paddles designed for this process. Brushes with metal bristles are not recommended because bristle tips can break off and embed in food during future grilling sessions.
Carrying bags are often available, which keep cooking residue from soiling camping gear as well as keeping unwanted materials off camp grills. Some manufacturers may supply cleaning tools specific to their products, or recommend different procedures, so be sure to consult product instructions.
*Hot Tip: How to Clean a Grill with an Onion
A "hot" new trend is cleaning a grill with the cut side of half an onion instead of other tools and cleaning chemicals. It deals with residue and grit effectively. Cut an onion in half, skewer it with a meat fork, and scrub away. The onion releases juices, which aid in releasing cooked-on residue. This effect can be enhanced if done while the grill is still hot. After some scraping, the onion also conforms to the grill, which helps clean the harder-to-reach spaces and nooks.