Rolling Adventures May 2023: Exploring the Van Life Lifestyle
Living out of the back of a van sounds like a dream to many and more like a nightmare to others. For some, it is a means to travel full-time, pursue dreams, and save money. Others prefer the luxuries of a stable home and location and may find it hard to wrap their minds around why someone would want to live in a ten-by-six metal room.
Van life is no new phenomenon– people have been converting their vehicles into homes on wheels for decades. It was first popularized by surfers and hippies living out of Volkswagen vans in the 1950s and 60s. While the image that comes to mind with this may still be the common stereotype attributed to van lifers, the breadth of people that enjoy the lifestyle has since greatly expanded.
Today there are over nine million posts with the #vanlife hashtag on Instagram and thousands of people in the United States live out of vans and other vehicles. Van life saw an exceptional boom during the pandemic when people, frustrated and unable to travel, turned to vans as a means to see the country and keep their sanity. This was combined with a rise in remote jobs that made doing so more practical.
It is not hard to notice this boom in van lifers while driving around in day-to-day life– keep an eye out for vans with solar panels and fans on top and you'll start to notice they are everywhere! No longer a fringe lifestyle, van life is for anyone and everyone who is willing to step out of their comfort zone and take the leap into the unknown. 
So why do people give up the comforts of living in a home for the uncertainty and inevitable challenges of living in a van? The answer is multifaceted.
For as many people as there are living the van life, there is just as much variety in their motivations for pursuing the lifestyle. Let's take a dive into some of the different reasons people like to live in vans down by the river.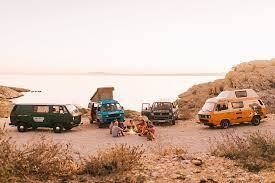 Freedom of the Road
Freedom is the number one draw to van life for most people. The ability to pick up and go, anywhere and everywhere, at the drop of a hat is appealing to many people who crave spontaneity and adventure and feel dissatisfied with the monotony of modern life.
Having a van is essentially like having a tiny home with access to any location you can dream of. Buying a van is a lot cheaper than having a mountain home and beach house! The dream of waking up next to a beautiful desert vista and ticking off all the items on your adventure bucket list suddenly becomes attainable with a camper van.
Many people living out of vans are willing to trade comfort and stability for the adventure and freedom that comes with living on the road. It all depends on your priorities, ideals, and the experiences you crave in life.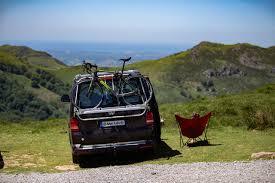 Outdoor Adventure
Another one of the most prevalent reasons people commit to van life is to pursue their outdoor passions. If you are a climber, hiker, mountain biker, skier or enjoy anything in this realm of activities, you probably know the challenges of finding the time to travel to all the places you want to in order to hike, ski, etc.
Living out of a van presents the opportunity to constantly be in the places best suited for your outdoor activity. Let's take rock climbing as an example. Go to any popular climbing area and you will see countless camper vans packed into the parking lots. Climbing is a seasonal sport– there are areas that are best in the winter like St George, Utah, and spots that are better in the summer, like Ten Sleep, Wyoming.
If you live in a house in New York City it may take a lifetime (and cost a fortune) to visit all the spots on your climbing bucket list. Being in a van, however, you can plan your year around visiting these areas and travel from one destination to the next– no plane tickets, no hotel rooms, and everything you need in the back of your car. Spend the winter climbing in the sun in El Salto, Mexico, and travel up to Montana to chase cool weather in the mountains during the heat of the summer.
How about skiing? Living in a ski town like Breckenridge and riding the same mountain all winter is great, but with new passes like Ikon and Epic, you can get access to countless resorts for the same price as a one mountain pass. If you bring a van into the equation, suddenly it becomes easier and more affordable than ever to bump from one mountain to the next and ski all kinds of terrain the whole winter through.
If you have an outdoor passion that you feel you've never been able to pursue to the extent that you would like to, living out of a van can be a game changer. Even just giving a year or two of your life to fully chase this dream is something that you will never regret.
By living out of a van it becomes possible to fit a lifetime of adventure into a single year. Imagine the possibilities that come out of following this lifestyle for several years on end– certainly some great stories!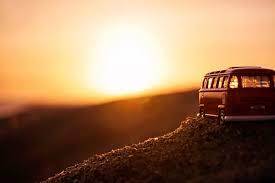 Financial Advantage
Another motivation for van life is the financial benefits that come along with it. The cost of entry can be anywhere from relatively cheap for a small used van to quite expensive for a fancy decked-out sprinter van or anywhere in between.
Whatever van you choose, however, will quickly pay itself off when you consider all the money that is no longer going to monthly rent and utility payments. Also, if you would be traveling regardless, you save loads of money on things like hotel rooms and restaurants. Your hotel room is on wheels and with you wherever you go and with a kitchen in the back of it, you can cook just like you would at home.
Of course, there are new expenses that come along with it like paying for laundry and probably more gas than usual; however, these pale in comparison to things like rent payments.
How about income? There are still many options for making money while living in a van. Van life is very popular among remote workers, as it is possible to work from anywhere with internet access. This is easily found in coffee shops, wireless hotspots, or most recently Starlinks. Starlinks are a new development of satellite internet devices that can provide fast connection in even the most remote locations. Imagine clocking into work on the coast of Baja or while camping out in the Rocky Mountains. Sounds almost too good to be true right?
Another option here is seasonal work. Many people living in vans work seasonal jobs (guiding, ski resorts, parks, etc.) to save up money for part of the year and then spend the remainder traveling full-time. This is somewhat of a mindset shift from the traditional paradigm of working the first half of life to retiring for the second, to splitting each year into half work and half retirement. This is totally possible with mindful saving and frugal spending!
Community
This one may come as a surprise to many– the idea of living in a van may sound like it will come with social isolation, like a hermit venturing into the woods. In 2023, however, this is no longer the case in the slightest.
There is a huge community of like-minded people living the van life and being a part of it can be a rich and fulfilling experience. Many van lifers travel on similar circuits throughout the year, and you are likely to see the same people time and time again throughout the country. Even beyond the happenchance of running into people, many people will form caravans and travel as groups throughout the country,
This is amplified if you are part of an outdoor recreation-focused community. For example, many rock climbers on the west coast will spend the winters in Joshua Tree and the summers in Squamish. Taking part in these circuits over the course of a year (or many) will certainly result in some meaningful friendships and connections.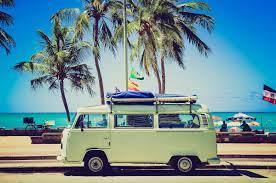 Are You Ready for Four Wheels?
Living out of a van has its pros and its cons. For some, these benefits outweigh the disadvantages that come with living in a metal box on wheels. For others not so much. However, for those that do choose to chase the dream of the road, it can be incredibly fulfilling.
Some do it for the freedom and outdoor adventure that comes with it. Others enjoy the financial benefits that come along with escaping monthly rent or mortgage payments. Many fall in love with the community found among the traveling circus of van lifers.
Whatever their motivations may be, many find a plethora of unexpected gratifications, as well as challenges, from taking the leap into van life. At the end of the day, it is impossible to know without trying.
Do you live out of a van? Let us know what motivated you to pursue this lifestyle and what keeps you going in the comments below.