The sky darkens, and I huddle halfway in my minuscule tent, waiting for a pot of water to boil for dinner. Overhead, a thick blanket of clouds threatens rain; it's been like that all day, but only a few drops have fallen.
I glance at my bike—laying in the dirt a few yards off—and wonder if there's any way to cover it in case the clouds decide to downpour overnight.
Nope, I guess it'll be fine. I really just hope it doesn't decide to snow.
Looking down at my feet tucked underneath me, I roll my eyes. What kind of idiot wears sandals on a bikepacking trip in the mountains in May?
Well, I guess I would be that kind of idiot.
Understanding Bikepacking and Dirt Road Touring
Sandals or not, I sure love adventuring off the beaten path on my bike. Bikepacking is an off-shoot of bicycle touring: traveling on a bike for multiple days while carrying everything you need for the trip in bags or on racks attached to your bike.
Bikepacking (and the similar "dirt road touring") takes this to the next level by leaving the pavement behind to explore more rugged terrain: fire roads, overgrown double track, and singletrack trails. Instead of staying in hostels or motels, you have a tent, sleeping bag, and everything you need to survive outdoors.
Preparing for my first bikepacking trip was intimidating, and I was unsure of where to start. I quickly found it isn't as complex as it seems. I'll share what I learned along the way and teach you what you need to know to get out on your own two-wheeled adventure.
The Intimidation Factor
I first came across the idea of bikepacking the way most people find anything these days: scrolling through posts online.
I've been active in the outdoor community most of my life. Hiking, climbing, trail running, and skiing are all integral parts of my existence, and I was immediately intrigued by the idea of throwing a bunch of gear on a bike and heading into the backcountry for days on end.
If you've spent any time searching online for bikepacking-related information, you've likely seen impressive images of expensive-looking mountain or gravel bikes loaded up with an astonishing array of color-coordinated bags and gadgets. It's a great way to get gear envy, but not a great way to actually get out riding.
Everything I read or watched about bikepacking and dirt road touring was pretty intimidating. I found extensive gear lists, long discussions on what spare parts and repair tools you need, and heated debates comparing one bike with another.
Heading out on a bike with camping gear sounded fun, and I wanted to try, but I was having a hard time wrapping my head around the apparent complexity and difficulty of this new challenge.
Finding a Way Out There
Bikepacking seems complicated and challenging when you look at the impressive gear setups and epic trip reports people post online, but ultimately, the concept is very simple: carry camping gear on your bike, ride out somewhere, and spend the night outside. That's it.
You don't have to be an ultra-endurance athlete or obsessive gear junkie to do that. Anyone who can ride a bike and has access to a sleeping bag can go out for an overnighter on a dirt road or trail.
After an embarrassing amount of time spent researching online, I realized that ultimately, if you want to try a new thing, at some point you're going to have to jump in and do it.
In the spring of 2021, I decided to get out of the pandemic craze and head out on my first overnighter with my bike. I typically like to obsess over details of gear and trip planning, but for this excursion, I chose to keep it simple.
My first trip would be an impromptu overnighter on a dirt mountain road. I bought no extra gear, didn't make any modifications to my bike, and brought some ramen packs and peanut butter sandwiches to keep me going.
Gear
This may irritate some people, but here's the truth: you don't need a "bikepacking bike", you don't need bikepacking bags, and you don't need a bikepacking tent. As with most outdoor sports, it's easy to buy into the myth that you need highly specialized gear for bikepacking and dirt touring, but that just isn't true.
If you have a mountain, gravel, or hybrid bike that you'd feel comfortable pedaling on a dirt road, you don't need a different rig to bikepack. Heck, you can go bikepacking on a beach cruiser if that's what you have.
When it comes to additional gear, there are some things you'll definitely want to have, but I think you'll be surprised by how little you actually need. Here is my honest, no-nonsense list of what you should bring on your first bikepacking trip.
Bike, ideally with wheels, pedals, handlebar, and brakes
Lightweight tent, bivvy, or tarp (or sleep under the stars if the weather looks dry)
Sleeping bag or quilt
Sleeping pad
Clothing and layers for the conditions
Water bottle (and filter if you won't be carrying all your water with you)
Food prep kit including pot, stove, fuel, and spoon for cooking meals (or bring a big bag of PB&J sandwiches. Seriously, you can live for days on those alone.)
Bike repair kit (no need to go overkill. Tire levers, spare tube, mini air pump, and a basic bike multitool should cover it.)
Miscellaneous small items include a flashlight, toiletries, a map or phone for navigation, sunscreen, and sunglasses.
Some way of carrying all this stuff on your bike or your body. Use whatever bags, straps, and packs you have.
It really doesn't take that much; if you have a decent set of lightweight camping gear, you are already set. You probably could even do without some of these things.
(Also, I wouldn't recommend bikepacking in sandals. I've busted my toes enough times now that I don't ride in sandals anymore.)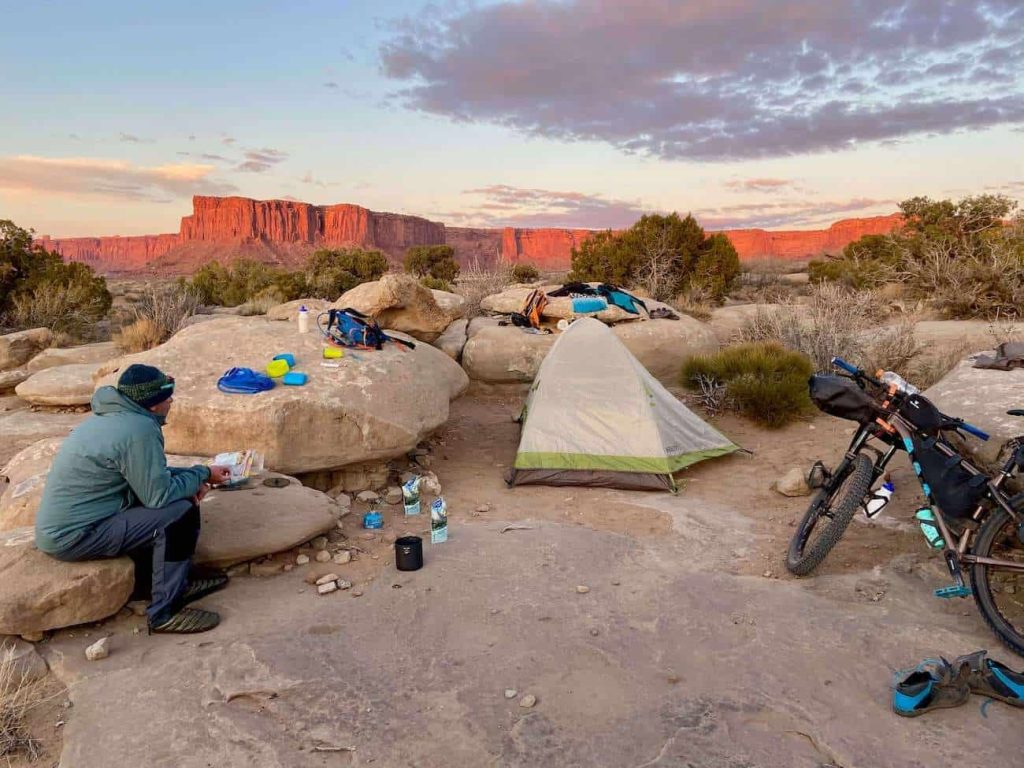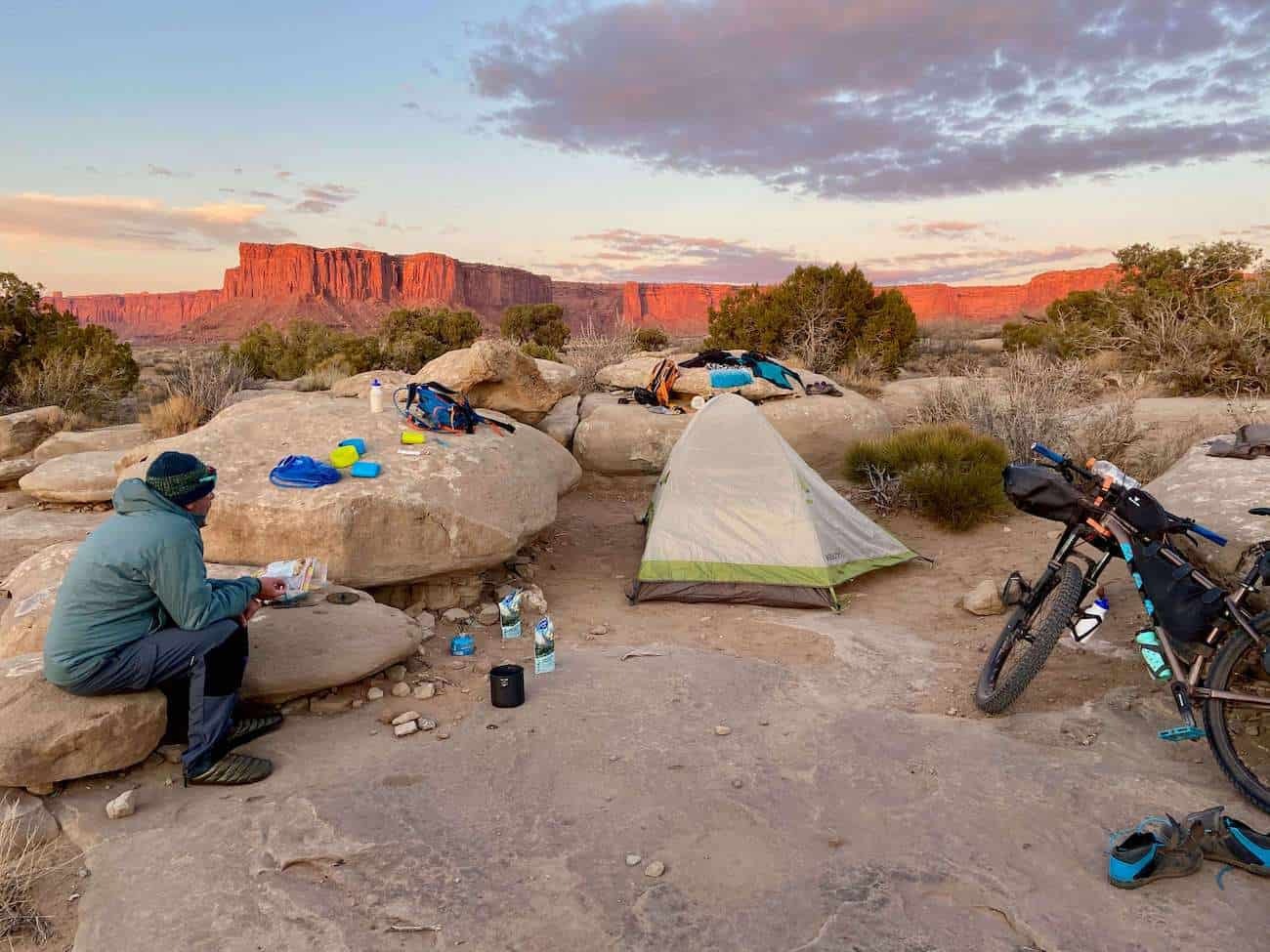 Loading Up
The most challenging part will be carrying all the gear. You can load up one big backpack, but riding with a lot of weight on your shoulders isn't much fun.
That said, you don't need to go out and buy a full range of expensive bikepacking bags. Here is the approach I would use to get started:
Find two stuff sacks or compression sacks. Somewhere between 10L and 20L is a good size.
Pack both stuff sacks with as much food and equipment as will fit. This may take some trial and error to get the balance right.
Use some simple velcro straps or, even better, Voile Straps (I love these things) to strap one bag to your handlebars and one to the back of your seat post under the saddle. Again, this may take some fiddling, but don't worry about making it pretty.
Anything that doesn't fit in the two stuff sacks will go in a backpack. I like to use this for lightweight, bulky items like my sleeping bag and pad.
Is this a perfect solution? Definitely not. But it's cheap and easy. The goal should be to get out riding rather than spending time researching, buying, and configuring expensive and complicated setups.
On my first bikepacking trip, I went even simpler. I strapped my tent to my handlebar, carried two water bottles in my bike's bottle cages, and put everything else in a 35L backpack. It would have been nice to have less weight on my back, but hey, it worked.
Choosing Your Route
Once I realized I had everything necessary to go bikepacking, I willed myself to stop scrolling through gear specs online and choose a route.
For my trip, I had chosen a weekend in mid-May, so I knew I would have to avoid high elevations where there would still be snow. I still wanted to do something in the mountains near where I lived though.
I ended up riding a relatively low-elevation dirt road that follows the bottom of a canyon thirty minutes from where I live. In summer this area is busy with hikers, horseback riders, and dirt bikes, but the gate at the bottom of the canyon is closed until Memorial Day. That means that riding in May, I'd have it to myself.
If you are venturing out on your first bikepacking or dirt road touring trip, here are a few things you should keep in mind as you consider the route.
Riding Surface
When planning your trip, the surface you ride on is one of the most important things to consider. Since we're talking about bikepacking and dirt touring, you will be riding on dirt, but there is a huge range of riding conditions available from smooth gravel roads to rough and rocky singletrack trails.
Your bike will be a major factor when choosing the riding surface. A gravel or hybrid bike will limit you to smoother roads and doubletrack, while a full-suspension mountain bike will open you up to rougher terrain.
No matter what bike you have, my advice is to stick to relatively easy terrain for your first trip. Even if you're an experienced mountain biker, riding a bike loaded with gear is a totally different experience. Find a maintained dirt road, wide doubletrack, or very smooth singletrack trail.
Your first trip should be about enjoying the new experience and getting out into nature, not necessarily pushing yourself to the limit.
Duration and Mileage
The time distance you ride is going to depend on your fitness, the difficulty of the trail, the bike you're riding, and how much time you have.
For a first trip, I would choose an overnight out-and-back route. This keeps things simple and makes it easy to bail if you have to.
As far as riding distance, I recommend choosing a daily mileage that is close to what you would do on a typical day ride. If you don't get out on a bike much, less than 10 miles is a good distance to test the waters, or less than 20 miles on easy, flat conditions.
I commute 10 miles by bike every day, and I frequently do trail rides in the 15-25 mile range. For my first bikepacking trip, I kept it pretty easy with a 15-mile ride up the canyon.
Camping Availability
Since you'll be setting up camp for the night, it's important to choose a route where camping is allowed. Your best bet is going to be on National Forest or BLM land. In these areas, camping is typically allowed unless specifically prohibited.
Once you find an area you think will work, do some quick research online to find out if and where camping is allowed.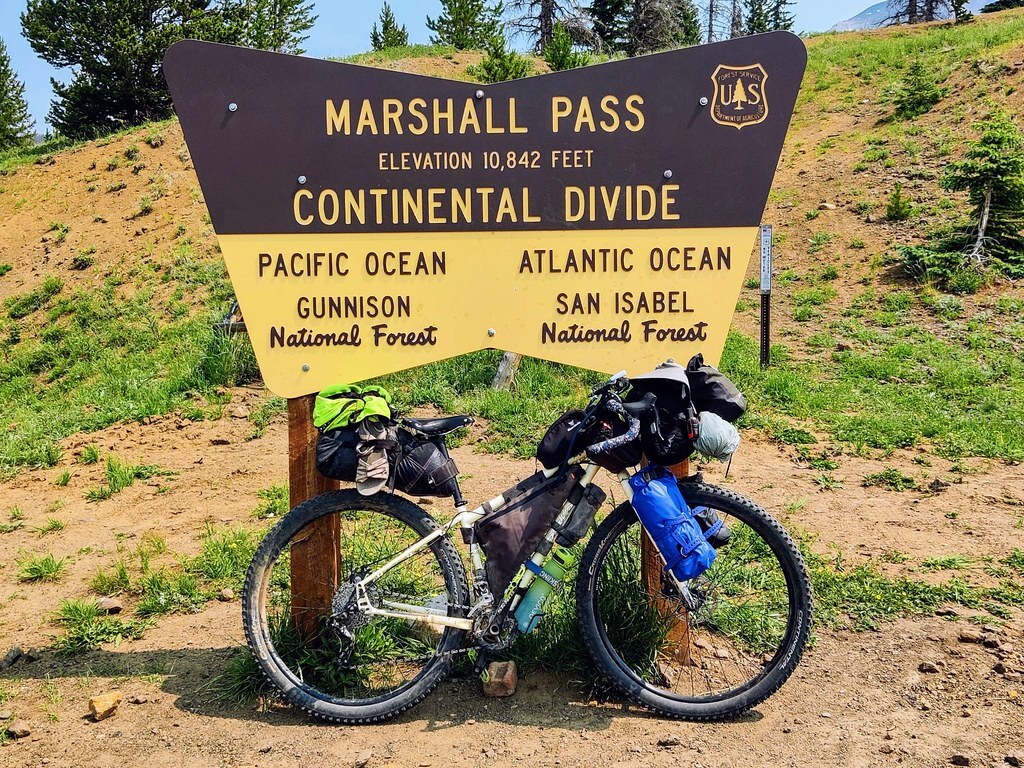 Getting Out There
Ultimately, research, preparation, and packing are all just helping you get to the point of putting your wheels on dirt.
On a cool afternoon in May, I strapped on my backpack, threw a leg over my bike, and started pedaling. I'd spent so much time researching bikepacking gear and routes, and it felt good to finally be out here. The wind on my face felt good, and soon my legs settled into a steady rhythm.
As I left the pavement farther behind, everything grew quieter, the dirt road grew steeper, and maples and cottonwoods gave way to dark pines and then just-budding aspens.
I breathed in, I breathed out, I pedaled. It really wasn't so complicated.
If you enjoy riding a bike and are looking for a new challenge or experience, I highly recommend giving bikepacking a try. It is an incredible way to do and see more on your bike. It doesn't require tons of specialized gear, and you don't have to be an elite athlete or hardcore adventurer. You just have to know how to ride a bicycle and enjoy exploring the outdoors.
Have fun out there!