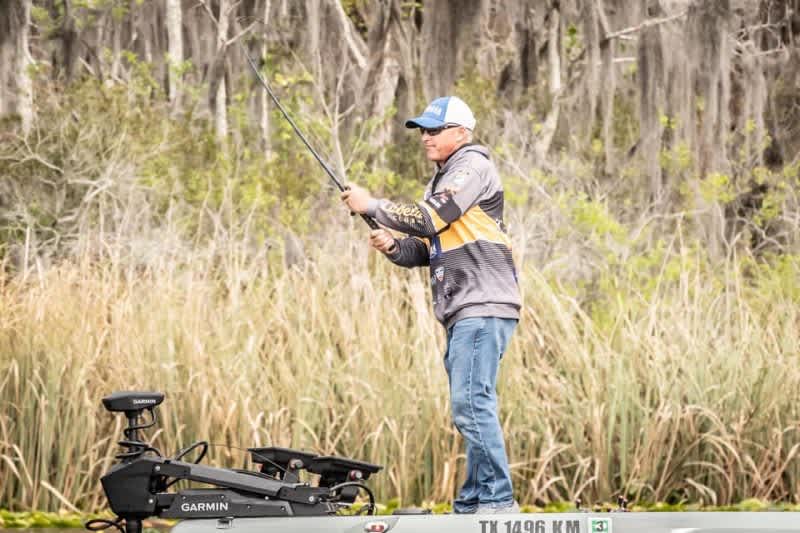 +
–
Table of Contents

What kind of rod is best for bass fishing?
Medium-heavy rods are said to be the best all-around bass fishing rods to use. Since bass are enticed by larger bait, the increased mass of the rods can be taken advantage of for precise, heavy weighted casting and are also capable of handling much heavier fish. You'll also find that a lot of bass fishing rods are made from lightweight but strong graphite which makes tournaments like the Bassmaster Classic more comfortable due to the extended nature of the competition.
If I want to compete in a small tournament, how many rods do I need?
You'll see the decks of the boats during the Bassmaster Classic absolutely littered with rods, however, you likely don't need this many rods at a smaller tournament or if you're just out with your buddies on the lake. In general, about three types of rod should get you into and out of almost any bass fishing situation.
A long heavy fishing rod is perfect for use to get big fish out of heavy cover, meanwhile, a long medium-heavy fishing rod is your jack of all trades giving you good control and power for everything but the biggest of fish. Lastly, a medium fishing rod can round out your entire roster by giving you better control with lighter topwater baits. With these three you will cover basically 95% of all bass fishing situations you'd find on a lake.
What kind of materials should I avoid in my bass fishing rods?
Basically, anything that is sensitive to corrosion or rust. Stainless steel is heavy but makes for great line guides as line guides are both small and can be easily bent it is made from lesser materials. Rod bodies are basically all made from graphite which is very strong and lightweight but sometimes can be considered to be too fragile as graphite can splinter and crack when overstressed.
Fiberglass is also another popular option but is much more popular for those looking for a softer action than graphite. There are a lot of construction options but if you see some odd materials included that aren't Cork, Stainless steel, Silicon Carbide, IM6, IM7 or anything else made by Hexcel, you should probably do your research on that particular rod before buying.
We are committed to finding, researching, and recommending the best products. We earn commissions from purchases you make using the retail links in our product reviews. Learn more about how this works.