Lets Start with the Basics
What is a Crossbow?
A crossbow is essentially a horizontal bow mounted on a frame. The bow part is called the prod, and the frame on which it rests is called the tiller. A crossbow works like a structure that holds the draw weight of the prod and makes aiming much more effortless. The crossbow also provides an opportunity to increase draw weight since you will be "drawing," called cocking, with both your hands or a mechanical device that significantly diminishes the force needed.
The prod, also called lath, which is the bow part, can be a recurve bow or a compound bow.
How Does a Crossbow Work?
Every crossbow you see on the market right now is a modern crossbow. There are three types of crossbows available on the market: recurve crossbows, compound crossbows, and repeating crossbows.
Like compound crossbows, recurve crossbows have multiple cams. The key difference is a recurve crossbow requires more drawing force, and it is noisy. You need to load the arrow on the flight track, and once you place the arrow, you need to pull the string and cock the crossbow. This will tense up the bowstring. When you release the bowstring by pressing the trigger, it will fire the arrow with high kinetic energy, much like how a gun works.
Who Invented the Crossbow?
Crossbows originated in ancient China, where they were invented during the Zhou dynasty, around the year 700 BC. The Zhou Dynasty was the longest-lasting of ancient China's dynasties. It came after the Shang Dynasty and was dismantled when the Qin army attacked and captured them around 256 BC. A man named Mr. Ch'in of Ch'u is credited for the invention. When it was invented, the crossbow had a horizontal mount bow, stock, and trigger mechanism. The crossbow would shoot up to 650 feet, more than 200 yards. He invented a crossbow with complicated shooting and trigger mechanisms so the enemies would find it very difficult to copy.
Crossbow vs. Compound Bow
The advantage of the crossbow vs. a compound bow is that they shoot a faster arrow and can provide a more consistent shot. However, crossbows require time-consuming reloading with a separate cocking device and tend to be much heavier than compound bows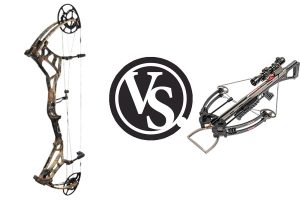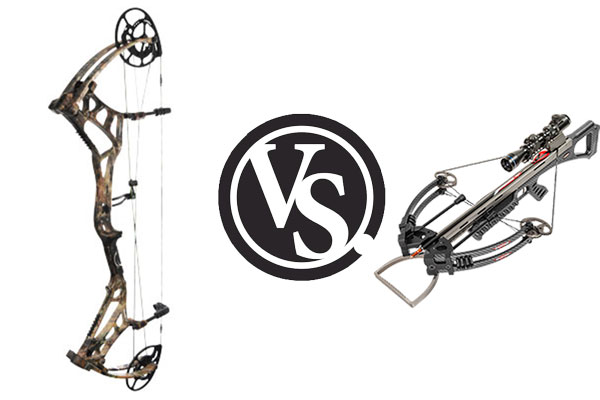 On the other hand, the crossbow is designed to be loaded and fired mechanically. The bow is oriented horizontally rather than vertically and is mounted on a frame similar to a gun. This can make learning easier, especially for people who are already experienced with a rifle or a shotgun.
Best Crossbow Broadheads
Essentially, any broadhead will work when shooting a crossbow. The only exception would be some mechanical heads that might open during flight when fired from a powerful crossbow. Most broadhead packages are labeled for either crossbows or compounds.
The 2-blade 150-grain Hypodermic Trypan Crossbow broadhead from Rage features the same needle-like, streamlined ferrule and impressive features as its predecessor. Still, it is now built with stainless steel and at a heavier weight. In flight, the resting .039-inch-thick razor-sharp stainless-steel blades measure just 3⁄4-inch; upon impact, the patented SlipCam™ Rear Deploying system effortlessly expands the blades to an ultra-wide 2-inches that administer massive slap-cut entry holes. The sweptback blade angle and added weight of this 150-grain point deliver unprecedented penetration and exceptional performance on even the largest big game species.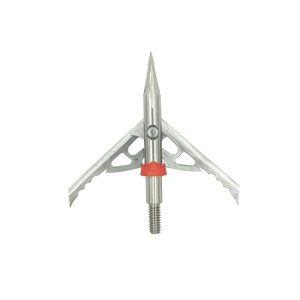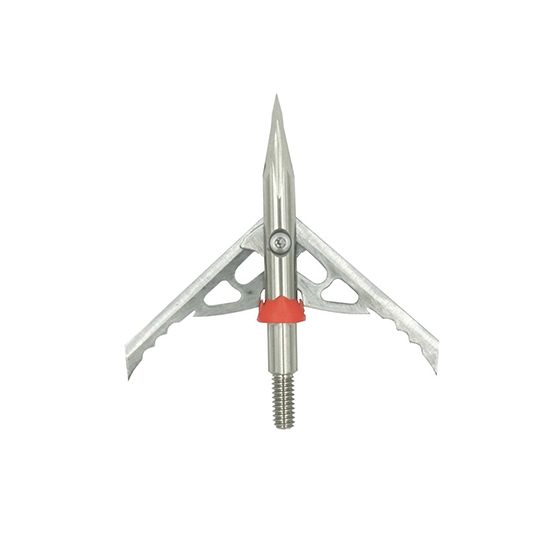 150-grain Hypodermic Trypan Crossbow Broadhead
The Trocar HBX features 0.35-inch-thick surgically sharp stainless steel mechanical blades that stay tucked in tight to the solid-steel ferrule in flight, but they deploy reliably with a 1 5/8" expandable cutting diameter.  The fixed blades are also 0.35-inch thick and have a cutting diameter of 1". They have an offset for increased accuracy and stability. The total cutting diameter of the HBX is 2 5/8". The Trocar HBX features a bone-crushing chisel tip. The Rage Crossbow X Broadhead 125 Grain 3pk has a 2″ cutting diameter and Shock Collar blade retention system. It features Ferrule Alignment Technology for improved accuracy and tough .035″ stainless steel blades.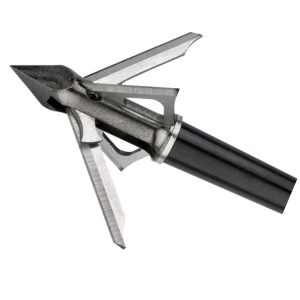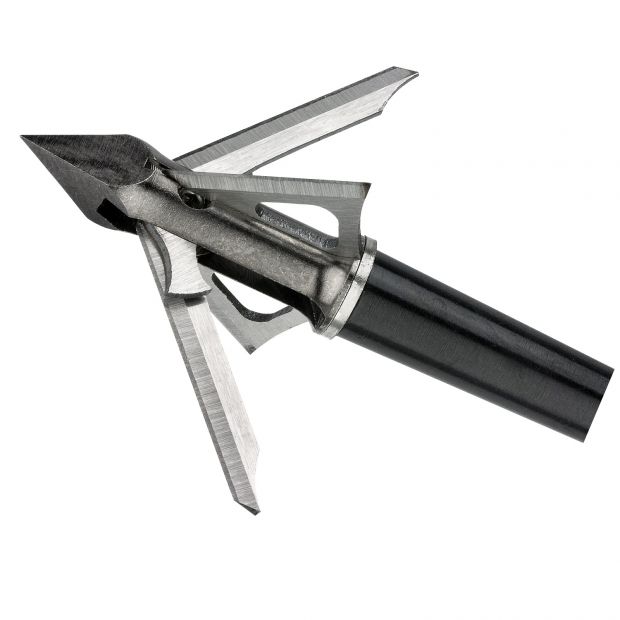 Trocar HBX
How to Cock a Crossbow
Manual cocking is perhaps the quickest method of loading a crossbow for firing. For manual cocking, you must first position your foot in the foot stirrup at the front of the bow and ensure that the safety switch is in its position to prevent any accident.
As soon as your foot is in the stirrup firmly, draw back the crossbow string equally over both sides of the barrel with both your hands until it cocks. Once you are done, please make sure to re-engage the safety switch carefully.
If you fail to use equal force on both sides, the bow will be unbalanced, costing you a faulty shot. Once you perform all of the above actions of cocking a bow correctly, the results of your shots will dramatically improve.
How to Load a Crossbow
Once you are done cocking the crossbow successfully and safely, the next step is the loading process which is quite simple. However, it is essential to do it properly to get a perfect shot.
Most crossbow manufacturers recommend specific lengths and grain weights for different models. Others also suggest different materials, specific nocks, and fletching range, determined through extensive research and testing and based on the power stroke of a model, draw-weight, and what works best to sustain the stable projectiles.
The best way to ensure fast and controlled arrow flight is by using an arrow that flies at the speed specified by the manufacturer in their manual.
Using lighter arrows or arrows not advised by the company may increase the likelihood of injury and void the manufacturer's warranty. Lastly, before using it, give every bolt a spin test to test for straightness.
How to Sight a Scope on a Crossbow
Items you will need to sight in your crossbow scope accurately are items you already have, including a stable shooting surface, a bench or shooting rest, a screwdriver to change the dials on the scope, and a good crossbow target. Inspect your scope and make sure that it is correctly mounted on the shooting rail of your crossbow and that the mounting screws are tightened. If you are not shooting from a stable platform, it will be hard to sight in your crossbow as you will not have an exact aiming point with every shot.
You will want to begin to sight in the middle red dot at a distance of thirty yards from the target. Shoot two or three bolts before adjusting the scope. If the scope needs to be changed, adjust the middle red dot toward the error. For example, if your three shots form a pattern that is below and right of the intended zero, move your middle red dot to the right and down to the shot pattern.
Not all scopes are the same when adjusting the dials, but a good rule of thumb is to turn the elevation adjuster clockwise to move the red dot up. Turn the horizontal adjuster clockwise to move the red dot right. Again, not each scope is to be alike, so be sure to check out the owner's manual. Also, most dials will have arrows indicating how your dots will move with each turn.
Sighting in the middle dot of a three red dot scope at thirty yards should sight-in the upper red dot at twenty yards and the lower red dot at forty yards. But don't take things for granted. Be sure to shoot the bow at various yards to see how it is shooting. The ten-yard increments for the three red dots will allow you to make quick adjustments in shooting distances. Forty yards is plenty to have your scope sighted in for when it comes to shooting at game animals.
Shoot bolts in groups of two or three until your shot pattern consistently hits the desired target.
At What Yardage Should You Sight In a Crossbow?
As a hunter, you should have limitations as to how far you would shoot at a deer. A lot of different factors come into play here.
How far you can effectively shoot on the range, how the deer is acting, and open vs. tight terrain are just some things that should be considered when taking a shot.
When on the range, it is great to practice at distances you feel comfortable shooting a deer at and closer. But you should also be proficient at shooting at longer distances, even if you would not shoot at a deer at that distance.
How Much FPS Should a Crossbow Shoot?
Crossbow manufacturers continually strive to push the speed envelope. You make a crossbow faster by increasing the draw weight. That's why the above point is so important. How fast is fast enough? I like my crossbows to shoot a hunting-weight arrow with an initial velocity of at least 300 feet per second (fps.) That will give your arrow enough kinetic energy (K.E.) to cleanly take any big-game animal and reduce arrow trajectory at longer ranges, making accurate shooting easier. Some crossbows are beginning to push 400 fps.
Best Archery Crossbows
The R26 is Ravin's most compact and lightweight crossbow to date. Weighing only 6.5 pounds, the R26 has an amazing axle-to-axle width of 5.75 inches when fully drawn- making it the most compact crossbow on the market. Don't let the size fool you- the R26 shoots an incredible 400 FPS with 142-foot pounds of kinetic energy. The Ravin R26 features an ergonomic grip, making it a more tactical option for shooters and hunters. Available in Predator Dusk Camo, which is exclusive to Ravin Crossbows. Included: HeliCoil Technology, Fully Assembled/Pre-Tuned, 6-Ravin .003 Arrows & Field Tips (400 Grain Total), 1-Removable Draw Handle, 1-Quiver/Mounting Bracket, 100 Yard Illuminated Scope, Anti-Dry Fire/Auto Safety, Built-in Sling Mounts. The R26 comes in both camo and grey versions.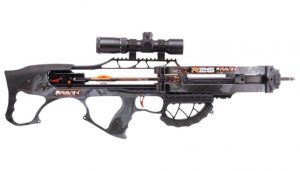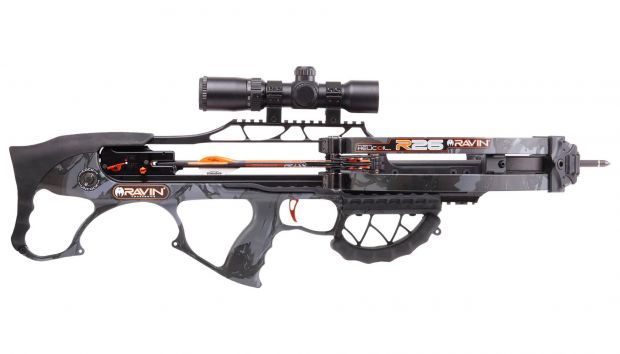 R26
The SA Sports Empire Punisher 420 uses cutting-edge technology to provide powerful hunting performance. Serious power and accuracy come standard with this crossbow that uses reverse cams and an ultra-narrow profile for a longer power stroke to achieve astounding results. The Punisher 420 dials up excessive force to flatten big game with 158 ft-lbs in every shot. The maximum speed of 420 feet per second is the tip of the iceberg in this bow that offers pinpoint performance and incredible consistency. Long-distance shots that most bow-hunters are forced to pass up are child's-play with the Punisher 420.
Effortlessly launch bolts out beyond 100 yards, and every perfectly placed shot will inspire confidence in the bow's abilities. The unrivaled maneuverability and surprising silence of the Punisher also excels in tight quarters found in the thickest woods. The bow measures a mere 12 inches from axle to axle at rest and an astoundingly slender 7.5 inches when cocked and ready to rock.
All the equipment needed for deadly results is included courtesy of SA Sports. Every Punisher 420 ships with a 4×32 illuminated multi-reticle scope, quiver, u-sled rope cocking device, and sling. The first three bolts are included as well. The SA Sports Punisher 420 outperforms crossbows that cost twice as much and redefine the possibilities of a crossbow; this bow is the beginning of a new era in archery performance.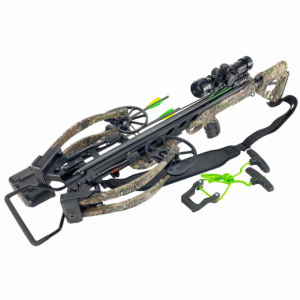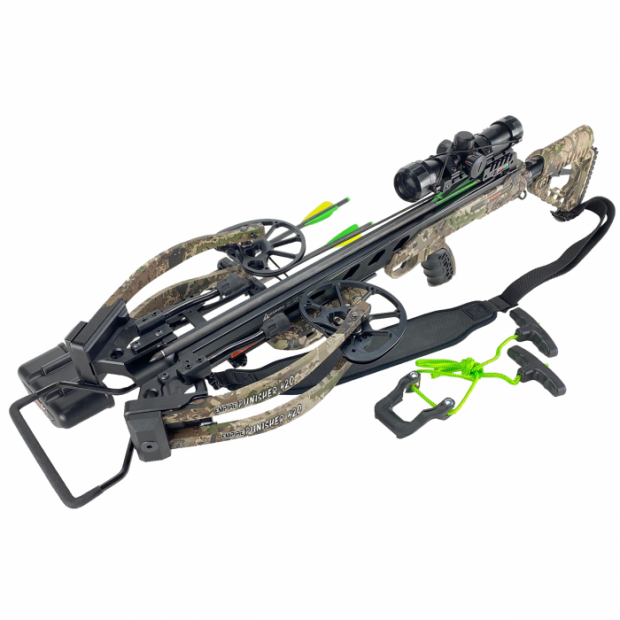 SA Sports Empire Punisher 420
Best Crossbow Enhancements
The Ravin Shoulder Sling is an adjustable 2.5" wide padded neoprene design that fits all Ravin Crossbow models. It has a soft, durable no-slip backing and quick-detach swivels for easy sling removal. The sling has a built-in thumb loop designed for carrying comfort and is water-resistant for inclement weather.


You can find a good assortment of crossbows and crossbow sights in the Everest Marketplace.  New products from new sellers are being added daily.