Evolution Outdoors, makers and distributors of high-quality outdoor adventuring gear have just announced the introduction of their new Drift Series 3600 Tackle Sling Pack. Traditional tackle boxes are very functional but when you're fishing in hard-to-reach locations or just out for a casual stroll with your rod and reel, it helps to keep your hand free while you walk. The Drift Series 3600 Tackle Sling Pack is a backpack-style tackle box featuring an open access design, tons of tool storage, and tons of convenient features that make it both comfortable and useful for the angler on the go.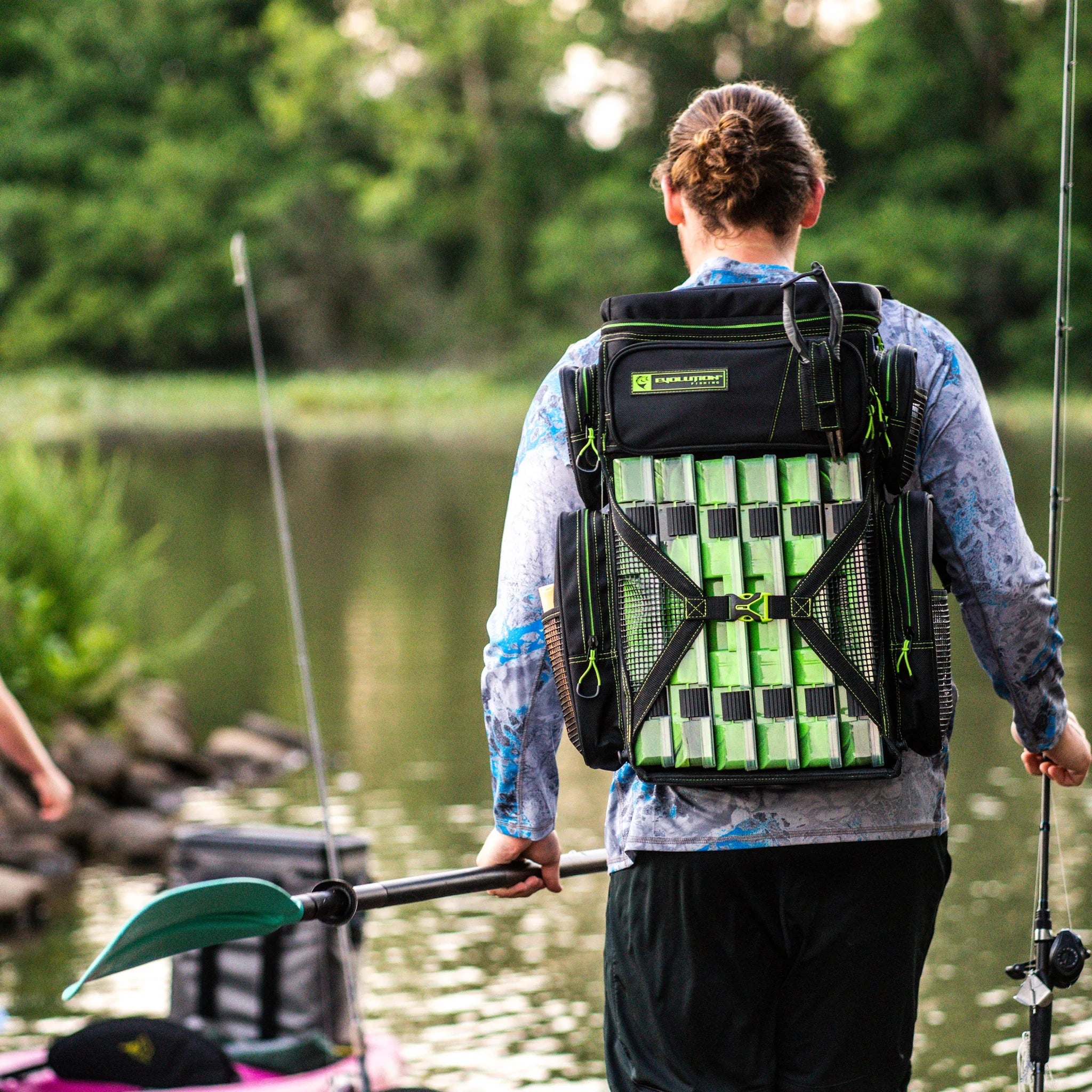 Evolution Outdoors' New Drift Series 3600 Tackle Sling Pack
Evolution Outdoor is excited to announce the addition of the Drift Series Tackle Sling Packs to the Evolution Fishing line of quality and functional fishing tackle bags and products. The sling pack design allows the user to carry all fishing essentials on their back for the convenience of being able to swing gear to the front when needed.

"Products that are lightweight and convenient are becoming the standard as fishing gear continues to evolve," said Colt Fadal, Evolution Outdoor's Executive Director of Sales and Marketing. "Our Drift Series Sling Packs were designed with these factors at the forefront.  And because of that, this tackle storage solution delivers the quality, usability, and functionality of all Evolution Fishing products."

The Drift Series Sling Packs include an innovative quick access feature that provides convenient, easy access to all storage trays. The integrated tie-down Y-Strap secures the trays in the pack, and in case of stormy weather, these sling packs are equipped with an integrated rain fly that can store away when not in use. With its large exterior storage pocket, 2 gusseted side pockets, 3 rubber mesh slip pockets, and zippered storage pocket on the strap, there is plenty of room to store accessories.
The Drift Series Tackle Backpack Features
Innovative and Convenient Open Access Design
Extremely Rugged Wear-Resistant 1680D Construction
"Lid-less" Design for Easier Access
Secure Trays with the Integrated Tie-Down Y-Strap with Adjustable Side-Release Buckle Closure
Integrated Rain Fly for Stormy Weather
Zippered Gusseted Side Pockets
3 Rubberized Mesh Slip Pockets
Built-In Line Spool Feed in Side Pocket
Adjustable, Heavy-Duty Padded Strap
2 Pliers Holsters: Front Plier Holster and Additional Plier Holster on Shoulder Strap
Holds Up to 3 Trays in the Open Access Compartment
Includes 3 Drift Series Matching Color Trays
Size: 3600
Colors: Blue, Green, Seafoam
The Drift Series 3600 Tackle Sling pack isn't quite out in full force yet. By that, we mean that the Tackle Backpack is currently only available in two colors: Green and Blue. however, one additional color variation, seafoam, will be available and ready for order beginning in March of 2023. For more information or to check out Evolution Outdoors' extensive line of hunting, fishing, hiking, and outdoor gear you can visit evolutionoutdoor.com.