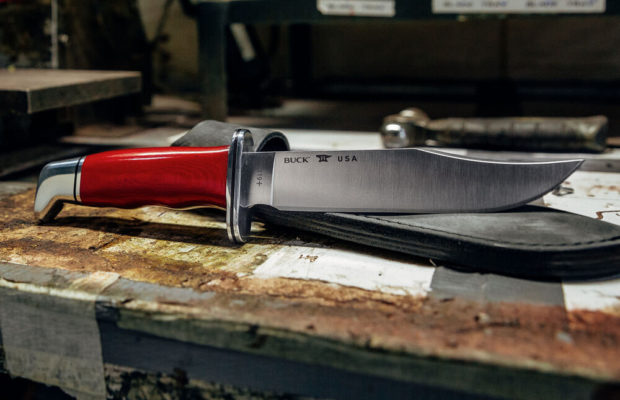 Fixed blade fans, you're in luck: the July Buck of the Month is a limited edition flavor of Buck's classic 119 Special. The Buck of the Month 119 Special boasts a new handle material, new sheath color, and an upgraded blade steel and grind.
The Buck 119 – what can you say about this classic? This is the fixed blade companion piece to the 110 Folding Hunter, a knife so ingrained in our culture that even non-knife people will recognize it. While the 110 was totally redefining what people could expect from a modern folding knife, the 119 Special showed what modern production fixed blade could be and do. Before it was a production knife superstar, however, the 119 had been doing the rounds for more than 20 years; Hoyt Buck himself designed the original 119 as a military fixed blade for the Army during WWII. It was alongside other classics like the KA-BAR USMC that the 119 established the reputation Buck would later build on for its second life as a retail hunting/outdoors knife.
The BoTM 119 has the 6-inch blade we all know and love, looking like a scaled-up version of the 110's California clip. Today you can get the 119s with or without the fuller; the BotM version forgoes it for an unbroken satin finish across its blade – which, in an unusual twist, is full flat ground. In combination with the S35VN steel, this should be a pretty potent slicer if it gets pressed into service and not simply preserved on the collector's shelf.
The blade has a few unusual flourishes compared to the non-limited stablemates, but the BotM 119's handle sticks to the playbook. The guard and pommel are made from brushed aluminum, while the main handle portion (with its standard, very mild, finger grooves) is crafted from red canvas Micarta, contoured and finished to give it an almost wood-like grain and gloss. A leather sheath is standard for any 119, but the one included here, to celebrate this limited edition, is itself a limited edition gray color.
The BotM knives vary wildly in their pricing relative to the standard models they're based on. The BotM 119 Special is actually five dollars less than the 119 Special Pro, which also has S35VN and a Micarta handle (albeit a green one).
The July Buck of the Month 119 Special is limited to 750 pieces, and is available now.
Knife in Featured Image: Buck of the Month 119 Special