Stretching 760 miles south from the US/Mexico border, the Baja California Peninsula is a jaw-dropping international road trip destination that's easily accessible from the US. Split into two states – Baja California (North) and Baja California Sur (South), the northern region is famous for its wine while the south is known for its incredible beaches and marine life.
With the Sea of Cortez to the east and the Pacific Ocean to the west, the Baja Peninsula offers endless opportunities for exploration – everything from waterfall hikes, hot springs, surfing, street tacos, UNESCO World Heritage marine sites, and colorful small towns – all at a much slower pace of life.
But planning a road trip – let alone an international one – can be stressful with navigating border crossings, language barriers, and unfamiliar roads and scenery, so that's why I've put together this Baja road trip guide. I spent two months doing van life in Baja and gathered all the info you'll need to have a safe and fun time in Mexico.
Want to go on a Baja California road trip? Learn everything from what to expect crossing the border, camping info, how to get internet, what to pack, and more.
US/Mexico Border Crossing
There are two main border crossing options that people take when starting their Baja California road trip: San Ysidro and Calexico/Mexicali. The San Ysidro border crossing takes you into Tijuana and down the western route which runs through Ensenada along the Pacific Ocean before heading inland through a number of small agricultural towns. The Calexico border crossing takes you into Mexicali and down the eastern route which runs along the Sea of Cortez and passes through San Felipe.
The route you choose will be up to you and based on your itinerary. I chose to cross into Mexico at Calexico/Mexicali because the drive along the Sea of Cortez is more scenic and less hectic than the western route.
Crossing the border into Mexico isn't nearly as intimidating as it seems. When you arrive at the border, agents will either wave you through or ask that you pull aside for inspection. I was directed to pull aside and the agent asked to open my side and back van doors. He quickly looked around and the inspection took less than 5 minutes. Because I was planning on staying in Mexico for more than 7 days, I then pulled into the small parking lot to go inside to get my FMM visa (more on that below). From arrival to departure, it took about 20 minutes total to drive through the Mexicali border. 
Note that crossing from Mexico back into the US generally takes much longer. On my return to the US, the wait to get to the border took about 1.5 hours at Mexicali, but it can take much longer than that, especially if returning via the Tijuana/San Ysidro border (which tends to be the busiest). I wasn't pulled aside for inspection when crossing back into the US although that is something that could happen.
Documents You'll Need to Drive to Mexico
Passport
Along with your physical passport, I recommend bringing a few copies of your passport to stash in your vehicle. Once you cross the border, you should never need to hand over your physical passport again. Always present a copy if you are asked.
FMM Tourist Card
If you plan to stay in Mexico for more than 7 days, you are required to get a temporary tourist visa, which costs $35 USD and allows you to stay in Mexico for up to 6 months. You can apply online ahead of time, or get it in person at the border. If you apply online, be sure to print out BOTH the receipt and the tourist card. If you do not print both documents, you will have to pay again at the border. It's important to note you cannot use a credit card to pay for your FMM at the border – it is cash only, but they accept USD.
Even if you apply online, you still have to stop to get your visa stamped inside at the border. I highly recommend skipping the online application and just getting your FMM card at the border. I applied a week before crossing but my visa was never processed, and I had to pay again at the border. This happened to the entire group I was traveling with and I've heard of other travelers having issues with the online application as well. Save yourself the headache and money and just buy your FMM at the border.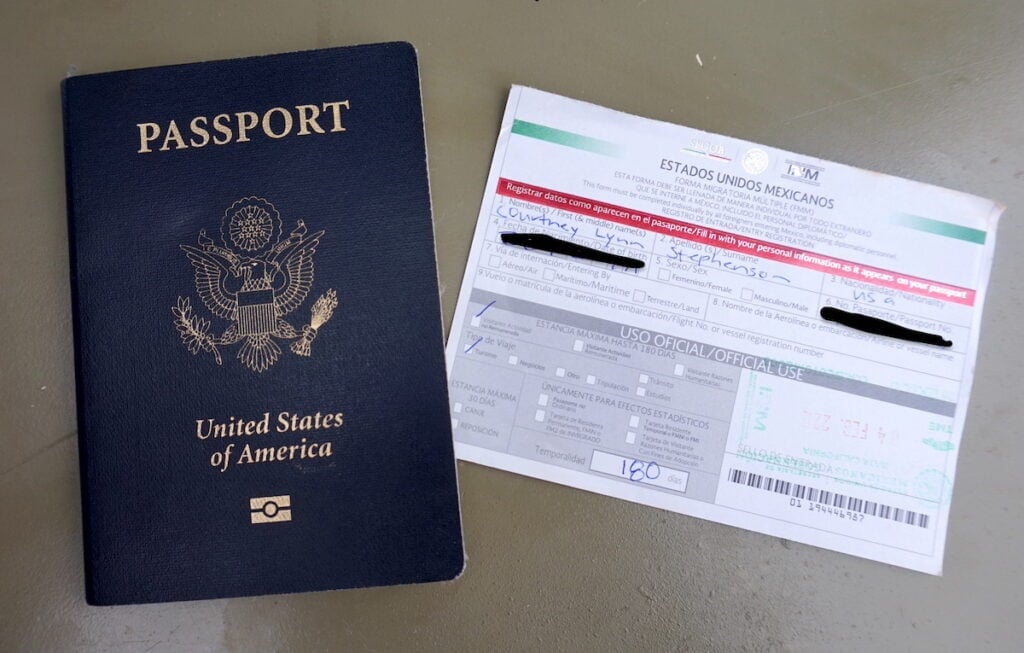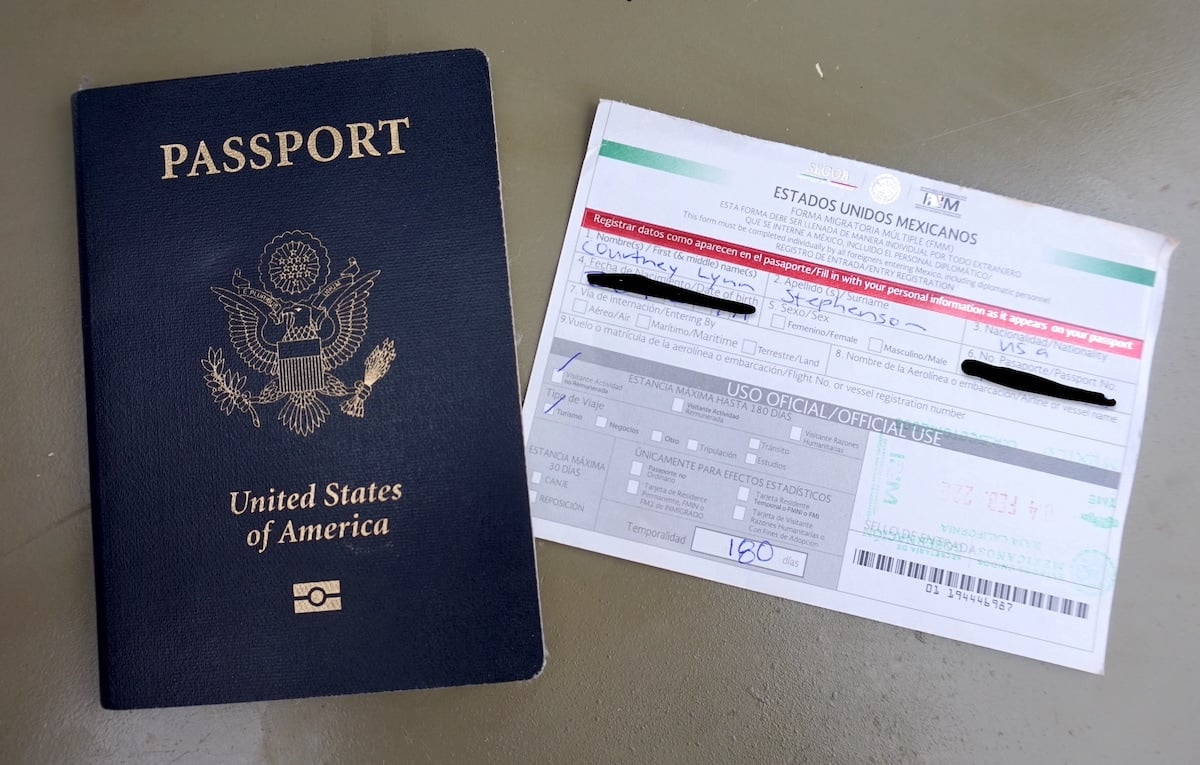 Mexican Auto Insurance
Car insurance is required by Mexican law because US policies cannot prove your financial responsibility to the Mexican authorities – your US car insurance will not work in Mexico. There are many companies that you can get car insurance through, but the most highly recommended (and what I went with) is Baja Bound.
Pet Vaccinations Records
If you are bringing your pet(s) across the border, you will need to have their vaccination records handy. In speaking with multiple dog owners, none of them were asked for any records at the border, anytime during their stay, or upon re-entry to the US. However, it is best to have them on hand just in case. Get more tips on road tripping with pets here.
Best Time for a Baja California Road Trip
The best time to do a Baja road trip is between November and March. The highs range between 70s-80s with lows in the 60s, and combined with the ocean breeze, it's close-to-perfect weather. It starts to heat up in April, but as long as you are near the water, it doesn't start to get uncomfortably hot for camping until May.
Winter and early spring are also the prime whale-watching seasons in Baja. Grey whales, blue whales, and humpback whales migrate along the Baja Peninsula each winter from November to March as they make their yearly journey from Alaska down to their winter homes in the Sea of Cortez.
I was in Baja from early February until the second week of April and had near-perfect weather. It did start to get really hot inland by mid-March, and the temperatures driving north were 95F+ in early April, but as long as you are prepared for heat and mostly stick to the coast for camping if visiting during the summer shoulder season, it is manageable.
I would avoid driving to Baja during the summer months because of the scorching heat, humidity, and high chance of tropical storms from August until October.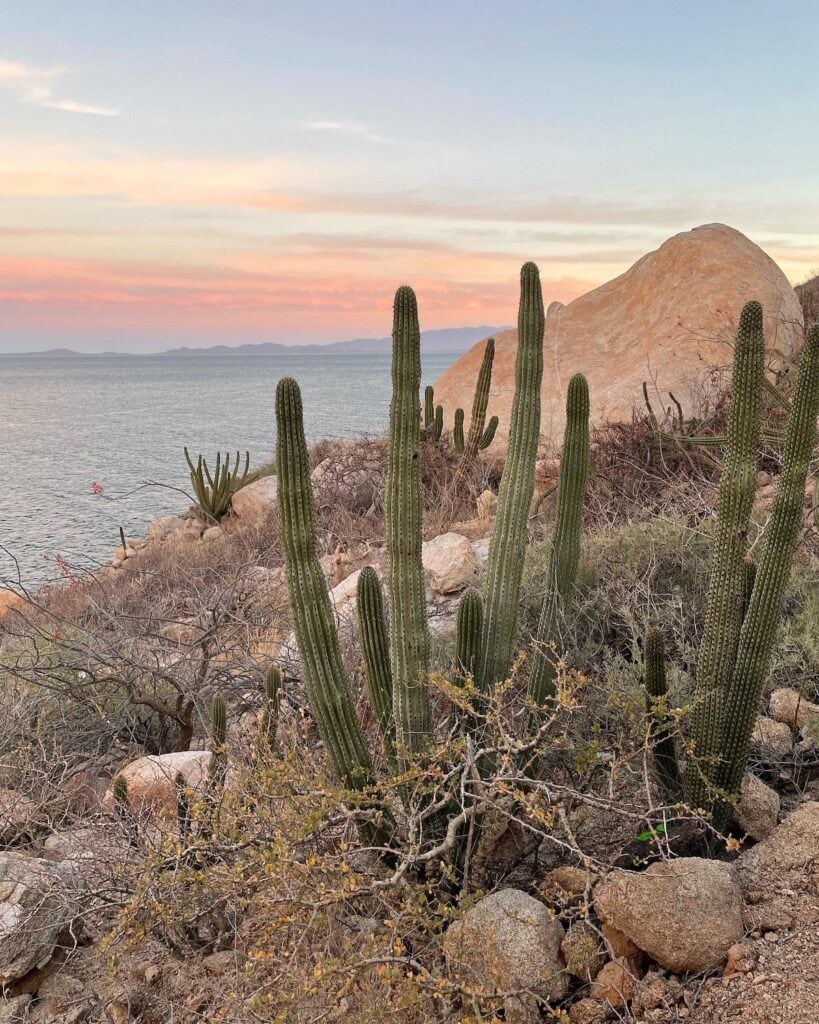 Driving in Baja
There are basically two major roads that run through Baja: Highway 1 (crossing from Tijuana all the way south to Cabo) and Highway 5 (crossing from Mexicali). The roads are quite narrow with potholes and minimal shoulders, so be sure to take it slow and pay attention while you're driving. 
Military Checkpoints
There are approximately 6 military checkpoints along the highways in Baja all the way down to Los Cabos. These are usually quick checks to make sure you do not have any drugs or guns with you, and they will usually ask questions like "¿de dónde vienes?" (where are you coming from?) and "¿adónde vas?" (where are you going?).
It can be intimidating seeing men with large guns, but they are typically friendly and non-confrontational. Sometimes they will wave you through the checkpoint, and sometimes they will ask to look inside your vehicle – I was asked to open my side door about 50% of the time. I highly recommend keeping your valuables out of sight and staying in the vehicle or standing right alongside to watch as they search your van, just to be safe. I personally did not have any issues during these checkpoints.
Tips for Driving in Baja
Avoid driving at night: this is not a personal safety issue, this is because there are typically cows and other roadside hazards that are hard to see.
Fuel up often: Gas stations can be few and far between on the long stretches of road and sometimes they run out of gas. Be sure to fill up often.
Bring a spare tire: Baja has tons of bumpy dirt roads and the chances of getting a flat are high. Make sure you have a spare tire and it's aired up.
Beware of speed bumps: Baja is notorious for sneaky speed bumps as you get closer to towns. Sometimes they're signed as "Tope", but many times they are not and they can really test your vehicle's suspension.
Have pesos on hand: Some gas stations are cash only, so be sure to have enough pesos in your vehicle.
Save the Green Angels number: The Green Angels are a government-funded patrol crew that acts similar to AAA in Baja. Save this number: 01-800-987-8224 in case of emergency. They can assist with mechanical issues, towing, accidents, and more.
Know common driving etiquette: Drivers will flash their hazards to signal you to slow down, typically because there is a road hazard (usually cows or goats) ahead. When drivers turn their left-hand turn signal on the highway, it means it's clear/OK to pass (this is usually done by semis or slower vehicles).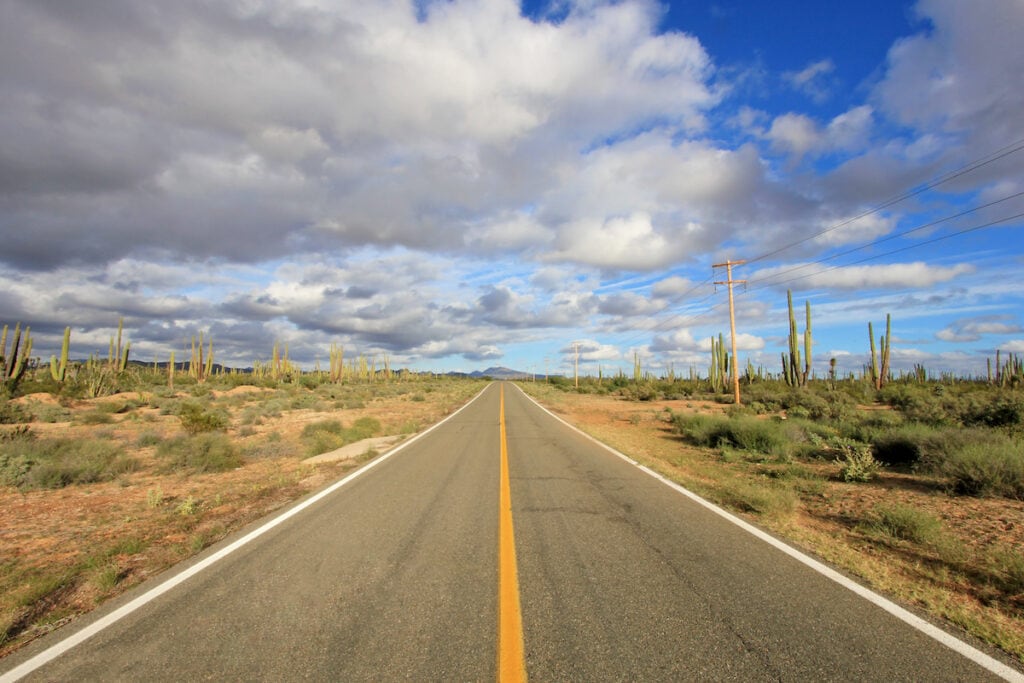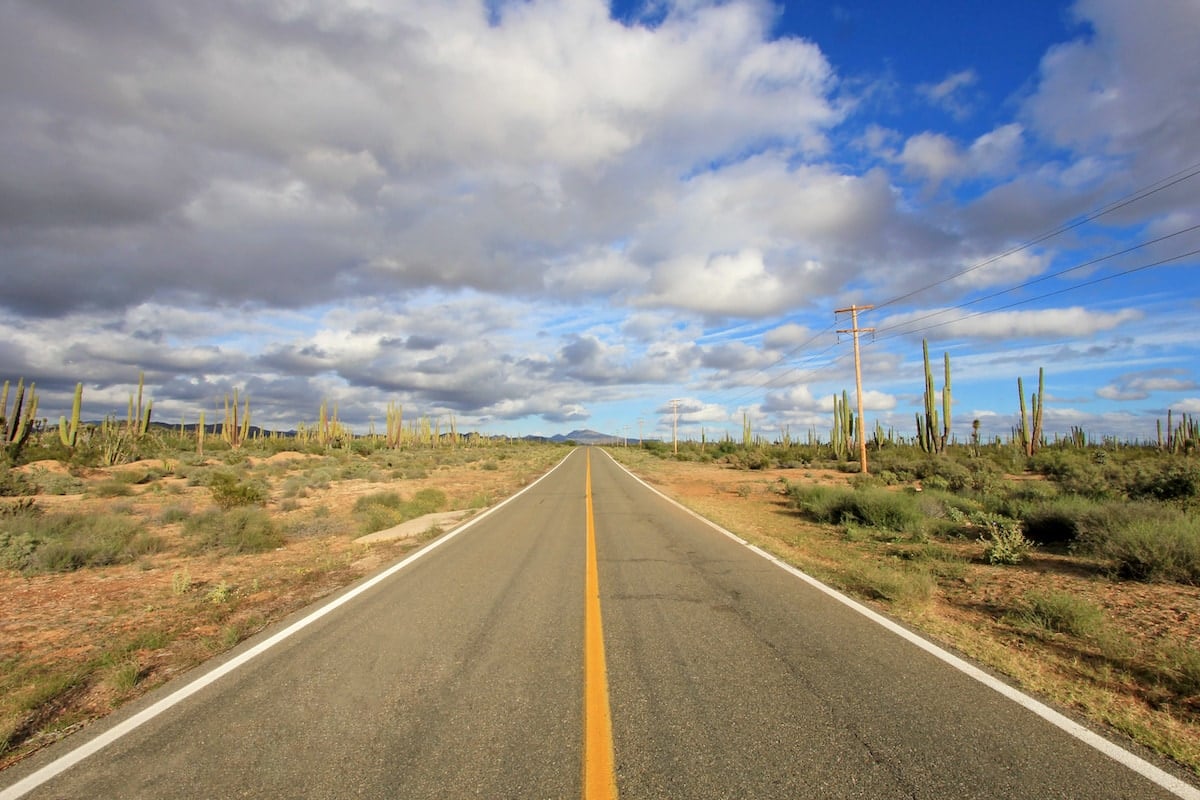 What to Pack for a Baja California Road Trip
A Baja road trip requires a little more preparation and packing than most other road trips. If you are heading down to Mexico with friends, make sure you have all the essentials covered between you. For example, I didn't personally bring recovery boards or an air compressor, but a few of my travel companions had those items. This list is tailored to those planning on car camping in Baja and/or traveling in a van, so keep that in mind if you are renting a car or staying in hotels/Airbnbs.
Here are the essentials to pack for a Baja road trip:
Max Trax – to get unstuck from soft sand beaches. Recovery boards are a must for Mexico!
Foldable shovel – also essential to dig yourself out if you get stuck.
Tire deflator – if you plan to spend a lot of time beach camping or offroading, being able to deflate your tires to a set PSI easily and quickly is really convenient.
Portable air compressor – to be able to refill your tires to the proper PSI when you hit pavement again
Tow strap – another way to help you get unstuck
Spare tire – there are lots of bumpy, dirt roads in Baja so make sure your spare is aired up just in case.
Walkie-talkies – essential if you are caravanning. This is the easiest way to communicate about military checkpoints, road hazards, gas station stops, and just passing the time on long drives! There is limited cell signal on many sections, so walkie-talkies are a must.
Extra water jug or adapter – there are "agua purificada" water refill stations everywhere in Baja, but if you have a hose fillup (especially one that screws on), you may have a harder time finding places to get water. Either bring an extra water jug, funnel, or find an adapter to make refilling water a breeze.
Sand-proof mat – sand is inevitable during a Baja road trip, but a sand mat makes it a lot easier to manage.
Shade structure – my van has an attached awning which came in handy on hot, sunny days. If you don't have one, we recommend the portable MoonShade since it fits on a variety of vehicles and is budget friendly (use the code "BEARFOOTTHEORY" to get 10% off and find our full review here).
Snorkel gear – there are tons of awesome snorkeling spots right from the beaches so I highly recommend bringing your own gear!
Inflatable SUP or raft – bring your favorite water toys because there are incredible paddling opportunities, especially on the Sea of Cortez side of the peninsula.
Prescriptions and personal care items – make sure you bring enough meds to last you the duration of your trip, and maybe extra if you're not quite sure how long you'll be staying since not all prescriptions can be filled in Mexico. I'd also recommend bringing along digestive enzymes if you have a sensitive stomach.
Specialty food – it was hard to find great vegetarian/vegan options at the grocery stores in most towns (outside of major cities like La Paz and Cabo). I recommend stocking up on your favorite dry/non-perishable foods and items such as tofu, shelf-stable oat milk, snacks, plant-based meats/cheeses, etc.
Dog food – stock up on your favorite brand (and bring extra!) because you will likely not be able to find your favorite brand in Mexico.
Jerry can – I personally didn't bring a jerry can for extra fuel and instead made sure to fill up anytime I saw a gas station, but bring one along if you want peace of mind or plan to go serious off-roading.
Inflatable lantern or string lights – Some beach campsites have adjacent palapas (shade structures) and it's nice to create a little ambiance for your outdoor living space. I loved having the inflatable MPOWERED Luci Solar Lantern which lit up our entire palapa in the evenings.
Portable toilet – dispersed camping in Baja is not like dispersed camping in the US. Most of the time you are on exposed beaches or around lots of other campers, and public toilets aren't as common. In order to keep the beaches clean (no one wants to see a beach overrun with poop and/or toilet paper), I recommend figuring out a #2 bathroom solution, like the foldable Go Anywhere Toilet.
Portable shower – without easy access to gyms or truck stops, it's handy to have a way to easily rinse off salt & sand at the end of the day before climbing into bed. The compact Geyser Systems Portable Shower provides hot water to rinse yourself and your gear (read our full Geyser review here).
What Not to Pack for A Baja California Road Trip
There are a few items you are not allowed to cross into Mexico with – here are a few of the big ones:
Produce – fruits, vegetables, meat, or cheese. There are plenty of grocery stores and markets in Baja for fresh produce.
Guns or ammunition
Drugs (including CBD)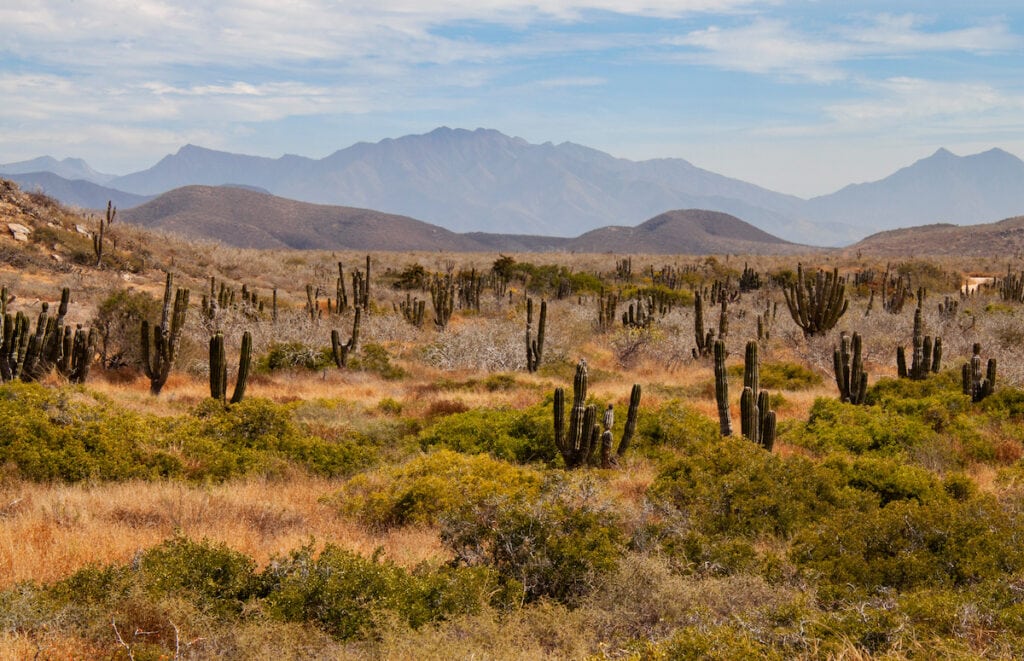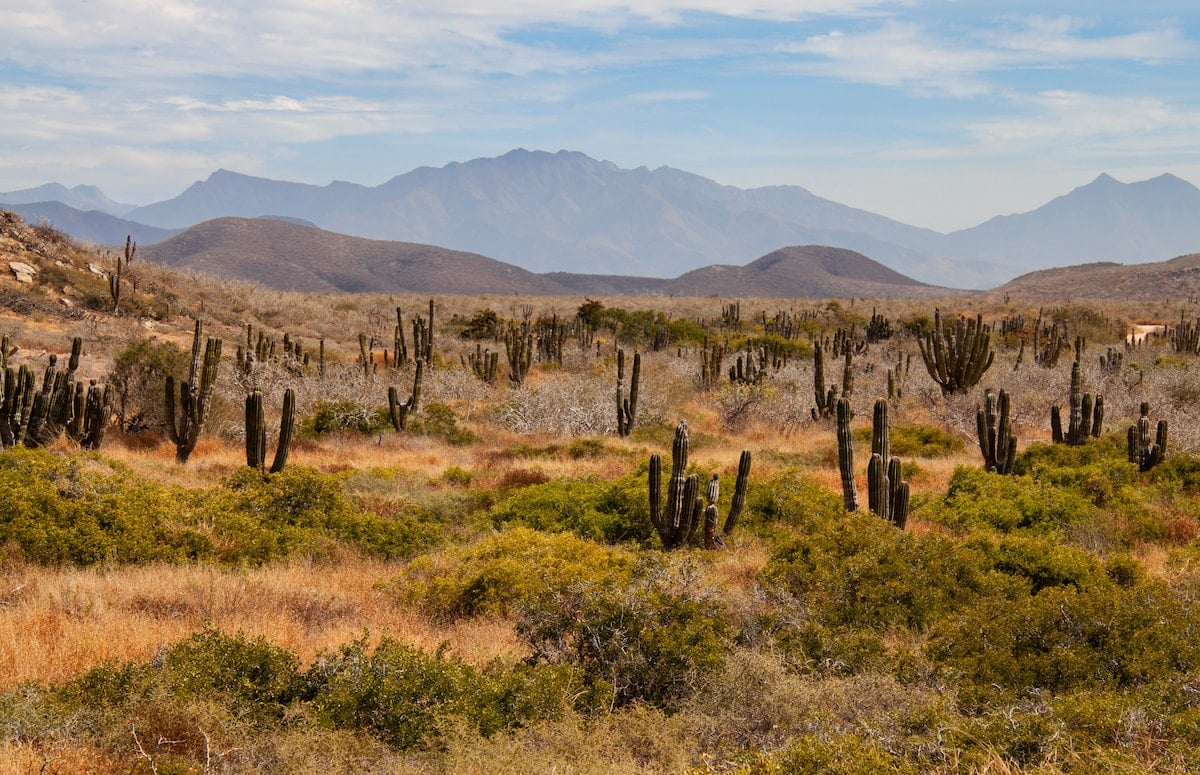 Camping on Your Baja California Road Trip
As I mentioned previously, I was doing Baja van life and camped for the majority of my time there. There are tons of amazing campsites in Baja, including beach spots, lagoons, RV parks, and more. iOverlander is a great resource for finding both free and paid campsites. Here's what you need to know about camping in Baja:
Beach Camping in Baja
Most beaches are public (free), but some require a small fee that goes toward maintenance, trash collection, and (sometimes) pit toilets.
Average paid price: 100-200 pesos/night ($5-10 USD). Some spots will charge extra if you want a palapa (shade structure). Cash only.
Fees are usually collected in the afternoon, but sometimes there is someone who will collect the fee upon arrival.
Beware of soft sand – it's a rite of passage getting stuck in sand in Baja. Be sure to be prepared with recovery boards and a tow strap.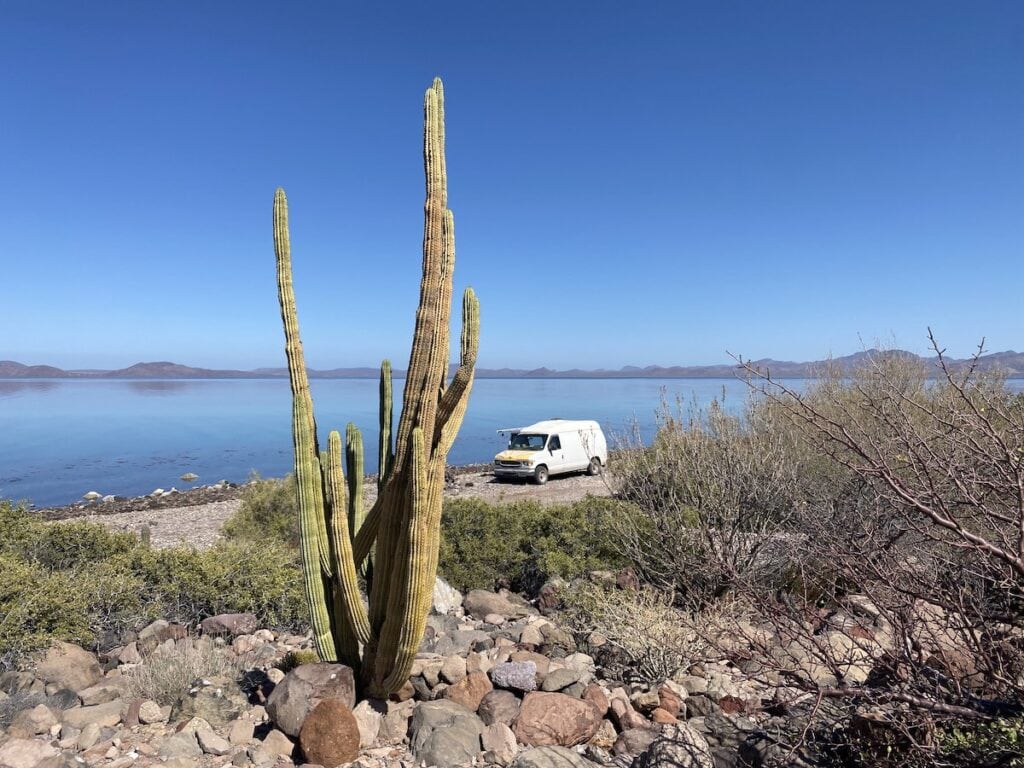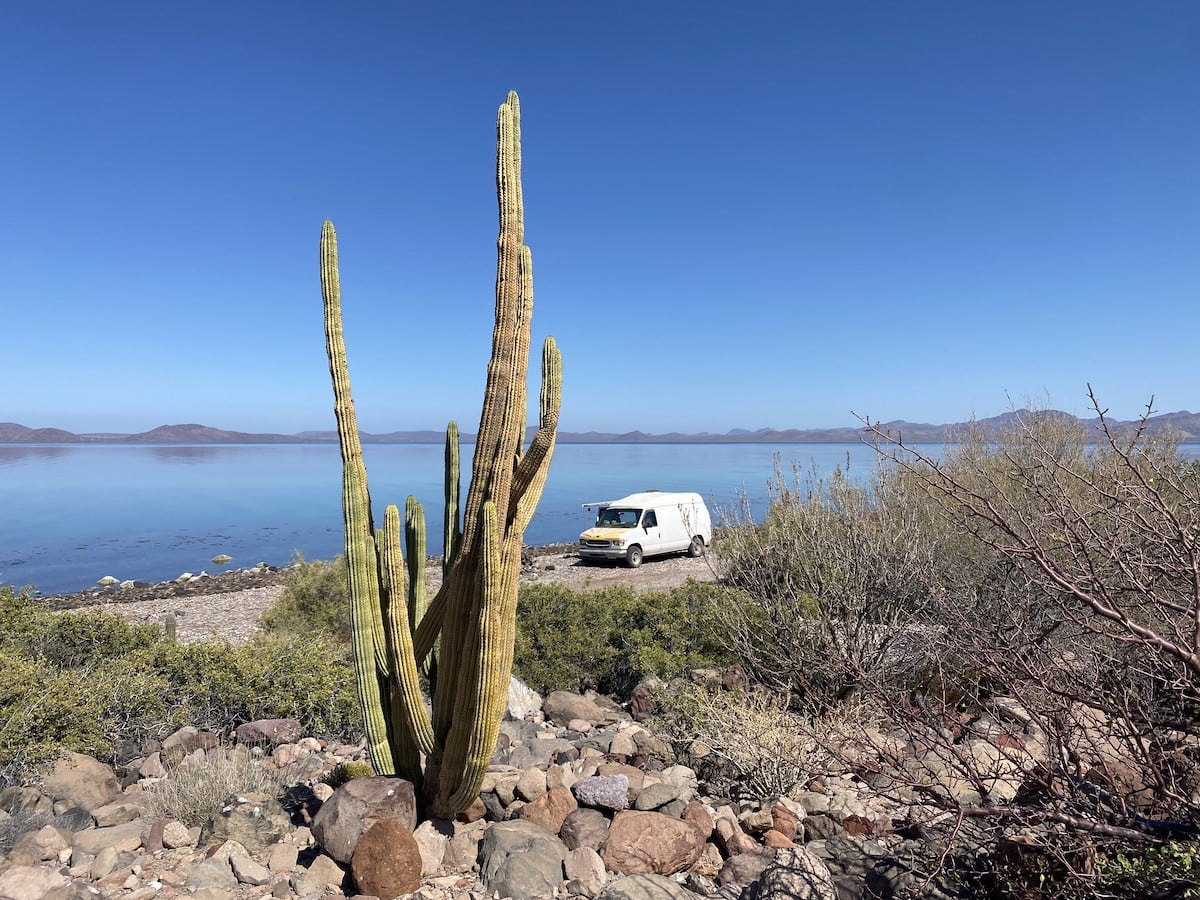 RV Parks and Paid Campgrounds
Average price for dry camping: 160-600 pesos/night ($8-30 USD). Typically cash only.
Many RV Parks are first-come, first-serve and do not accept reservations.
Most charge a different price for hookups vs. dry camping, so be sure to ask for what kind of spot you need.
Typical amenities include on-site laundry, showers, and Wi-Fi (although Wi-Fi is often very slow and unreliable).
Some RV parks will allow you to shower even if you don't stay overnight. I paid 50-100 pesos ($2.50-$5) to shower at RV parks, and would reach out via Whatsapp ahead of time.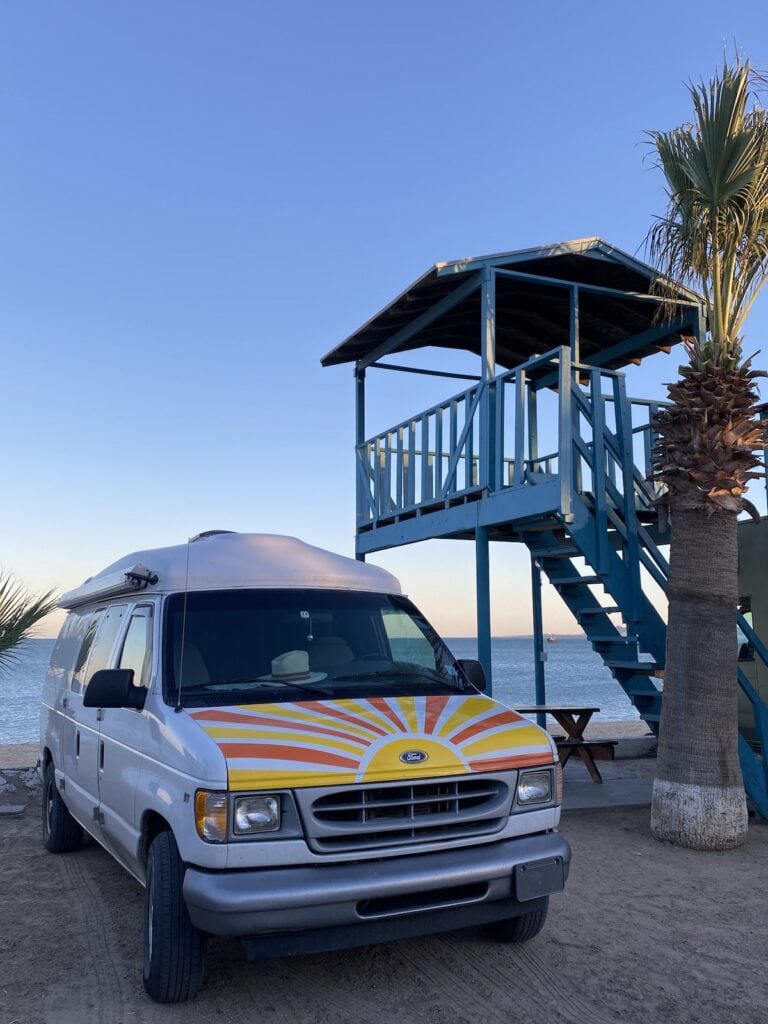 Cell Phones + Wifi in Baja
Some cafes in larger cities will have strong Wi-fi, but in general, Wi-fi is hard to come by and pretty slow in Baja. It's much easier to stay connected if you either bring your existing T-Mobile plan with you to Baja (they use local Telcel towers) or buy a local Telcel SIM card in Mexico. 
If you do not require strong cell signal or unlimited data, you can get by using T-Mobile or potentially another US carrier, although most people I spoke with had very spotty connection with Verizon and AT&T.
If you want the fastest, most reliable service, I highly recommend buying a local Telcel SIM card from any OXXO store (similar to a 7/11). You will need an unlocked phone in order to use Telcel. Even though T-Mobile uses the same towers, the signal was never as strong as those with Telcel plans. I initially paid USD $7.50 + $2.50 activation fee for a SIM card with 4.5GB of data that lasts up to 30 days. Since I work remotely, I needed more data than the plan provided, but with a Tecel plan, you can also buy unlimited data at 2 hours for $.75 and top up when needed. This is by far the best and most economic way to get reliable internet in Baja if you're working remotely and/or staying for an extended period of time. 
Roaming Rivers put together a working in Baja e-book that I bought ahead of time that helped guide me step-by-step through the process of getting a SIM card and setting up unlimited data that I highly recommend. I also recommend turning on "Low Data" mode as soon as you cross the border and leaving your phone on airplane mode anytime you're not using it to ensure you preserve your data.
In addition to getting your phone set up, here are a few helpful apps to download:
iOverlander: great for finding campsites, water refill stations, dump stations, laundromats, mechanics, restaurants, showers, and more.
Google Maps: be sure to download maps for offline use ahead of time.
Google Translate: you can download Spanish for offline use.
XE Conversion: easily convert pesos to USD.
Libby: link a library card to download e-books and audiobooks for your trip.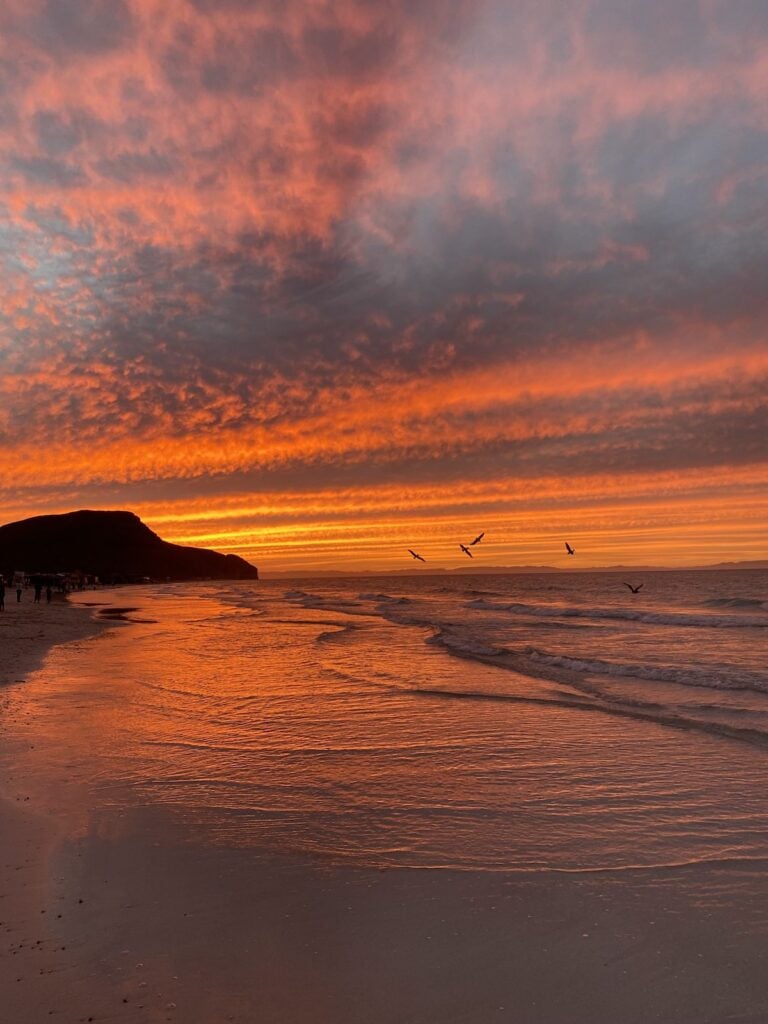 I hope this blog post makes planning your Baja California road trip a breeze! If you have any questions or want to share any Baja tips, please leave a comment below.