Red dot scopes are a basic type of scope that have no magnification ability. Red dot sights are what you would think they are – optics containing a red dot in the center of the optic.  All you need to do is adjust that red dot to lie in the target at range and then pull the trigger. Usually, there is also a wide range of brightness settings for most red dot sights. You may not need to adjust these settings for the places where you have enough light.
Experts Gave Us Their Opinions on the Best Red Dot Sights for Rifles
The combination of ample magnification, low light capability, and long eye relief make the Trijicon ACOG the scope of choice for many experts. The ACOG scope features Dual illumination amber horseshoe/dot .223 ballistic reticle and a 3.25 MOA RMR type 2 red dot sight.
Best Red Dot Sight for Crossbows
There are several great red dot scopes on the market for crossbows. Almost every scope manufacturer offers red dot scopes for crossbows.
The Firefield Agility 1×25 Dot Sight with Multi-Dot Reticle scope works great with crossbows. The Firefield® Agility 1×25 with Multi-Dot Reticle is a good candidate for a quality hunting, sporting, or competitive shooting scope. The weaver mount design enables this multi-dot reticle sight to be mounted to nearly any firearm with a weaver or picatinny rail. The multi-colored red or green dot sight and low-profile design make the Firefield Agility 1×25 among sporting enthusiasts across the globe.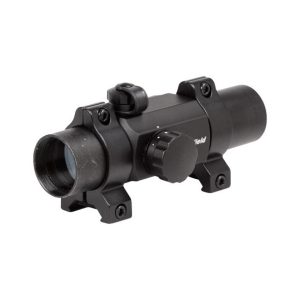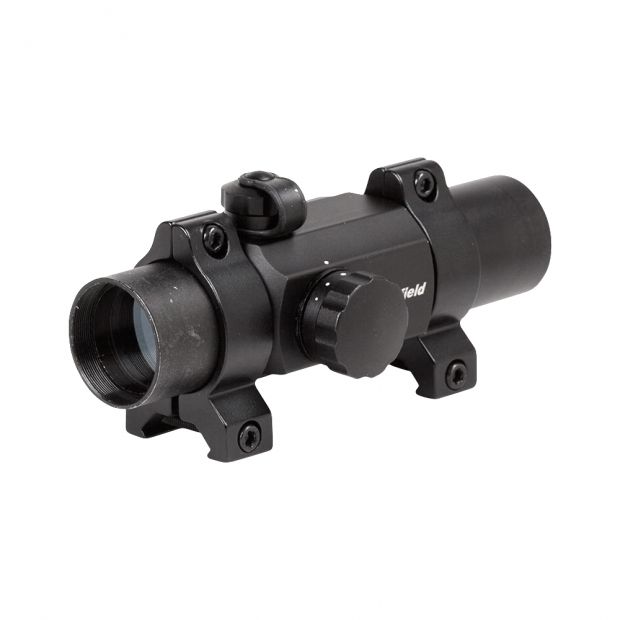 Firefield Agility 1×25 Dot Sight
Five of the Best Deer Hunting Crossbows on the Market
There are a lot of great crossbows on the market for deer hunting.  Let's take a look at a few.
The Ten Point Crossbow Titan M1 Pro-View 3 Scope Rope Sled is nine and a half inches narrower and 30 fps faster than its well-known predecessor. Utilizing VX-5 inverted cams that improve power stroke and rotation, the Titan M1 also includes an ACUdraw cocking device and can shoot arrows up to 370 fps.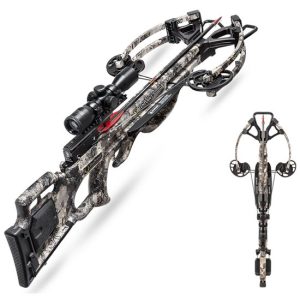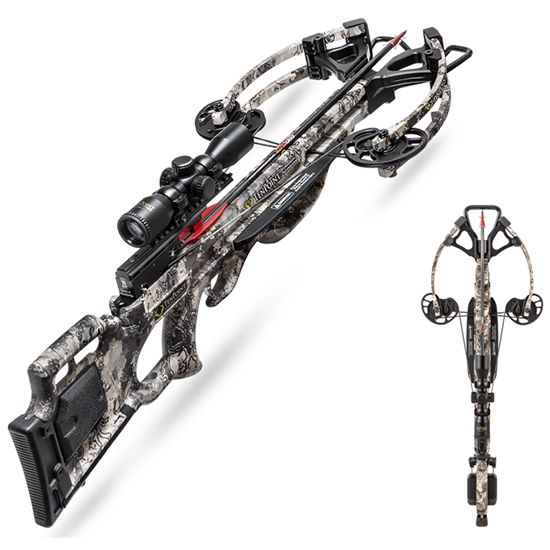 Ten Point Crossbow Titan M1 
CenterPoint Archery has raised the bar in design and performance by introducing the innovative CP400 Crossbow. Utilizing licensed HeliCoil technology with a custom-designed riser, CNC-machined cam system, and adjustable stock, CenterPoint Archery combines cutting-edge technology with affordability in one package. The CP400's extremely narrow axle-to-axle width is an incredible six-inches when fully drawn, produces speeds of up to 400 fps, and generates a knock-out punch of up to 142 fps. This evolutionary design delivers amazing power and downrange accuracy and is lightweight and compact enough to handle easily or carry into your favorite hunting spot. It features anti-dry fire and auto safety, a unique dual-purpose folding stirrup/bipod, a 3x32mm illuminated scope, and CenterPoint Archery's 5-year limited warranty. This hybrid crossbow will surpass your expectations in the 3D range and in the field.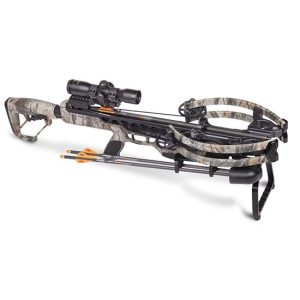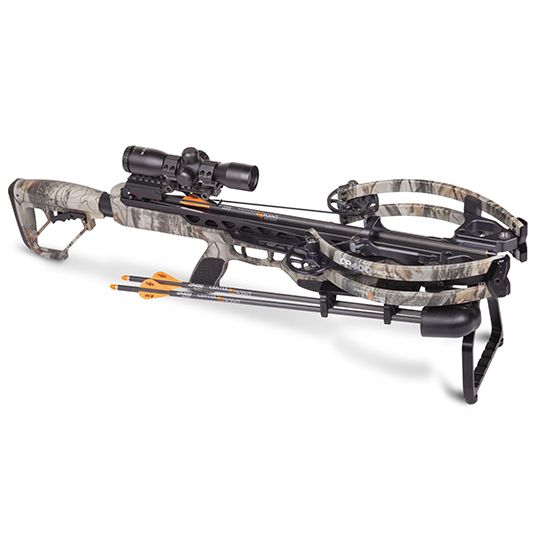 CP400 Crossbow
The new R29X, complete with a new fully-integrated Silent Cocking System, hits a new pinnacle of speed at an incredible 450 FPS. The length remains 29 inches, and when fully drawn, the R29X is 6 inches axle-axle and weighs a light 6.75 pounds. Including an ergonomic grip, this crossbow is easy to maneuver in tight spaces and gives hunters and shooters great control without sacrificing comfort.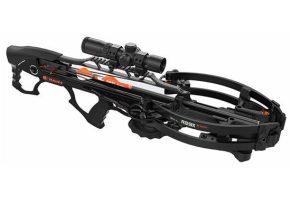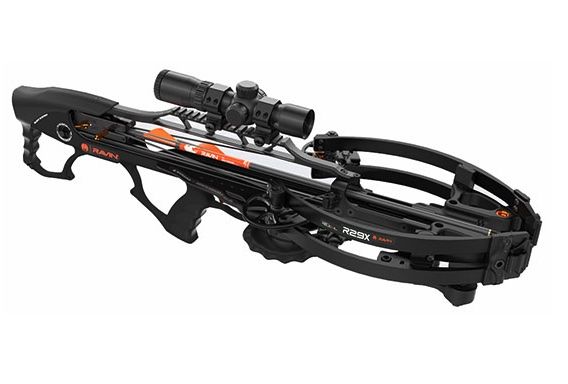 R29X
The SA Sports Empire Punisher 420 uses cutting-edge technology to provide powerful hunting performance. Serious power and accuracy come standard with this crossbow that uses reverse cams and an ultra-narrow profile for a longer power stroke to achieve astounding results. The Punisher 420 dials up excessive force to flatten big game with 158 ft-lbs in every shot. The maximum speed of 420 feet per second is the tip of the iceberg in this bow, offering pinpoint performance and incredible consistency. Long-distance shots that most bow-hunters are forced to pass up are child's-play with the Punisher 420. Effortlessly launch bolts out beyond 100 yards, and every perfectly placed shot will inspire confidence in the bow's abilities. The Punisher's unrivaled maneuverability and surprising silence also excel in tight quarters found in the thickest woods. The bow measures a mere 12 inches from axle to axle at rest and an astoundingly slender 7.5 inches when cocked and ready to rock. All the vital equipment needed for deadly results is included courtesy of SA Sports. Every Punisher 420 ships with a 4×32 illuminated multi-reticle scope, quiver, u-sled rope cocking device, and sling. The first three bolts are included as well. The SA Sports Punisher 420 outperforms crossbows that cost twice as much and redefines the possibilities of a crossbow; this bow is the beginning of a new era in archery performance.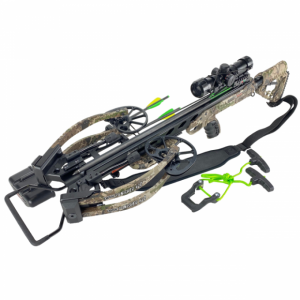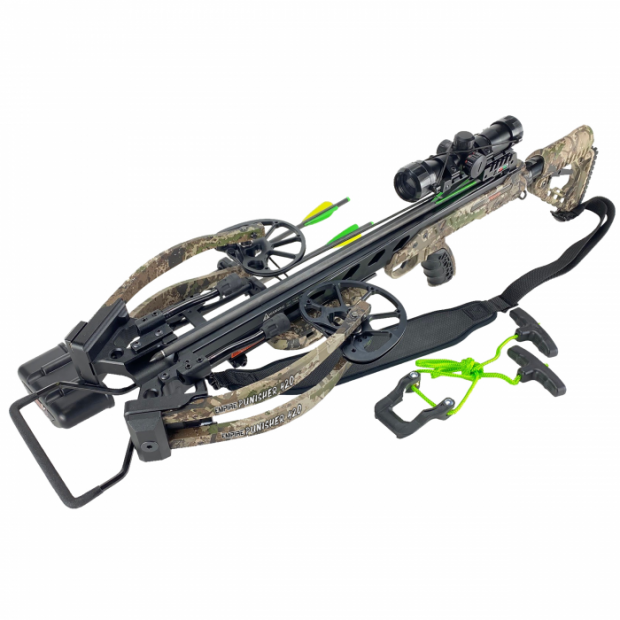 SA Sport Empire Punisher 420
A complete makeover of TenPoint's all-time best-selling model, the Titan M1 is an incredible 9.5-inches narrower and 30 feet-per-second faster than its legendary predecessor. Powered by VX-5 inverted cams that elongate the power stroke and increase rotation, it delivers lethal accuracy shot after shot. Available with or without the legendary ACUdraw cocking device, the cost-effective Titan M1 is the best value on the crossbow market.
You can find more crossbows, red dot sights, and other hunting gear in the Everest Marketplace.  New sellers are adding new items daily.