Wildlife Warriors May 2023: Your Monthly Guide to Harnessing the Power of Conservation
With the summer season quickly approaching in the Northern Hemisphere, this also means the season of intensified conservation work. The winter is known for controlled burns, and the summer is known for hot days running chainsaws and swinging pick mattocks. This winter has brought much more snowfall and colder temperatures across the Western United States, bringing forth an interesting conservation season.
The 2022-2023 winter season was one of the coldest and snowiest to date West of the Rocky Mountains, with a snowfall of over 700 inches recorded this winter, compared to an annual average of just under 400 inches in the Sierra Nevada mountains. The snow precipitation in many areas in the Western states has nearly doubled this year compared to the yearly average. Similarly, the Arizona Snowbowl ski resort in Flagstaff, Arizona, has clocked in at 398 inches this season, compared to their average of 260. This can be seen as a blessing and a curse for these areas.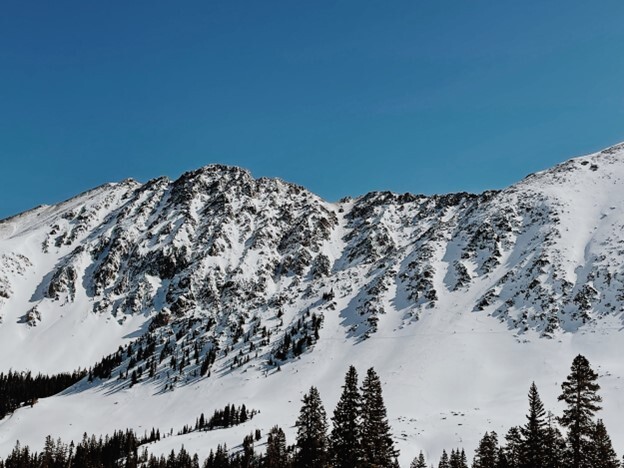 The wildfire management crews have been put to work this winter season, as it is the perfect time to conduct controlled burns. With snow providing more moisture to actually control the burns, crews are able to get rid of many wildfire hazards, like deadfall or undergrowth. One of the major contributors to deadfall across the United States is the Engelmann Spruce beetle which has infested Engelmann Spruce trees across the entire nation. These things spread faster than wildfire; they are only a quarter of the size of your thumbnail, but they can take out an entire army of spruce trees. The major concern with the beetle infestation is that they create billions of acres of dead spruce trees, leading to deadfall that is quite prone to catching on fire. Entire forests, or states, could be taken out by wildfires in these areas. They have turned lush pine mountains into gray dry areas.
Natural wildfires can be extraordinarily beneficial for biomes, as they promote revegetation and new growth, however, wildfires that are caused by humans are not as healthy unless they are controlled and prescribed by fire mitigation crews. We must let Mother Nature take her chosen path and not interfere. In relation to the major beetle infestations, many campgrounds, hiking trails, and Wilderness areas have had to shut down due to the unsafe nature of the area. Trail crews are having to go through old hiking trails and clear all of the fallen trees on the trail, as well as overhanging trees feet over the paths. These are major safety concerns for both the trail crews and recreational users of the areas. Additionally, if any of these infested areas light on fire, the whole forest will go. Fire mitigation practices are getting more intensive and rigorous due to the beetles.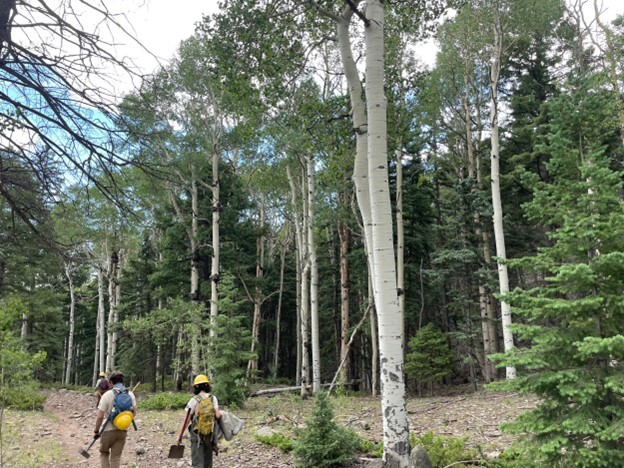 Many people ask how to stop the beetle infestations, and unfortunately, there aren't many secure tactics. The main reason the spread has been nationwide and hasn't kept to one area is because cold temperatures are the only thing that really kills off the beetles. Although this most recent winter has been historically colder than in the past, the preceding winters haven't been cold enough to shut down the infestations. One anomaly winter isn't enough to shut down the reproduction and infestation of the beetles. The US Forest Service has attempted to conduct larger controlled burns to try to slow down the infestations, but they have proven to not be successful in slowing down the spread. Unfortunately, warmer temperatures can very much be tied to anthropological behaviors.
The spruce beetle infestation has threatened forests nationwide, as well as the species that use Engelmann Spruce trees for their food supply or shelter. Another terrifying act of the beetles is that they have taken control over so many Engelmann Spruce, that they have mutated and are now attacking the wider and thicker Douglas-fir species. We should be concerned that they keep mutating and threatening other species of pine trees, similar to how COVID-19 has mutated to affect humans differently.
Personally, I have worked on trail crews where our main focus has been working on areas that have been affected by these beetles. We have helped to prepare piles of deadfall for fire mitigation crews to come in and practice prescribed burns, but there is no way to burn all of the deadfalls in a forest. When I was working in these regions, we were mainly focusing on National Forest campgrounds, day-use recreational areas, and hiking trails. Many of these places have had to shut down because of the beetle infestation, as it is too unsafe for us to be recreating here. It is also much more manageable for crews to work in these designated areas to hopefully protect future recreational users, rather than an entire forest. If we can protect these more heavily trafficked smaller spaces, we can hopefully save more human lives, but we will never be able to prevent the spread of a wildfire in a forest of deadfall.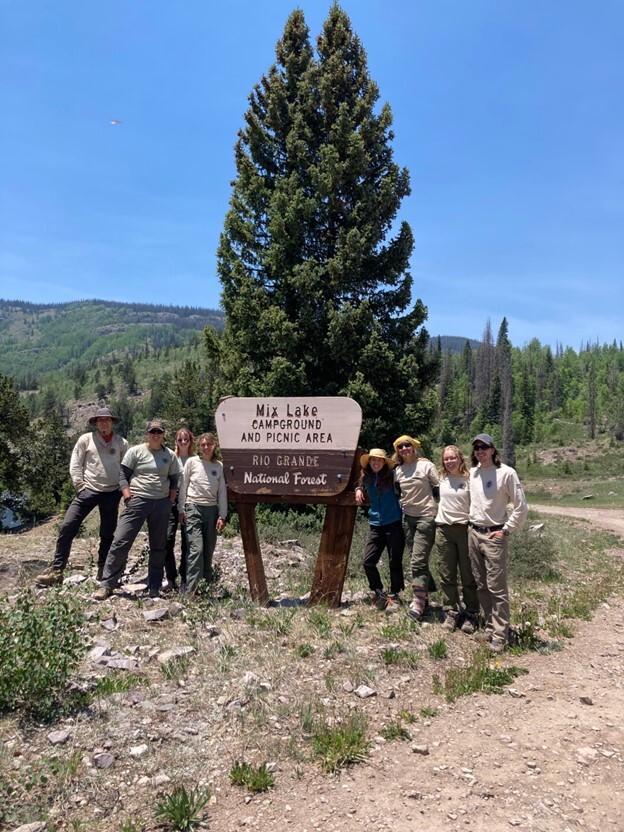 Although these beetles have created immensely wildfire-prone forests, I'd like to highlight the very beautiful outcome of the deadfall in these areas. When a one-hundred-foot tall Engelmann Spruce dies to the beetles, they drop thousands of pine needles onto the forest floor, creating room for many more baby Engelmann Spruce to soon rise. We may be saddened to see what was once a thick green mountainous forest now is a dry and colorless region, those that are around in one hundred years will expose their eyes to a beautiful and lush range, so long as we protect it. It's always important to remember how these tragic events are all part of the cycle of life, and we just need to make sure we, as humans, are positively adding to these cycles, not making them worse or irreversible.
As mentioned earlier, the tremendous snowfall can be a blessing and a curse for the wildfire seasons this summer and fall. In the Sierra Nevada mountains of Eastern California, residents are relieved to see this heavy precipitation. Although it will be more difficult to do summit hikes in the Sierras, the slowly melting snow has already started rising the rivers, in both depth and rapid intensity. California has been in a severe drought for tens of years, and the snow in the Sierras will, hopefully, provide easier access to water, as well as limit the drought by at least a little. Many people are hopeful that for the first time in years, this will be a safe fire season in the Sierras.
The likelihood of a strong fire season in the Sierra Nevadas is slim compared to recent years, which gives conservation crews a chance to focus less on wildfire prevention, and more on wildfire restoration. The Dixie Fire in 2021, also known as California's largest single wildfire in history, affected nearly one-million acres, mostly in the regions surrounding the Lassen Volcanic National Park. I will personally be working on a Wilderness Crew in the areas adjacent to Lassen. We will be focusing on fire mitigation after the losses of the Dixie Fire, as well as trail mitigation where there have been affected burn areas. Although we are hopeful we will get to focus on our primary goals of fire restoration with the safety blanket of that increased snowfall in the Sierras, the severe flooding has caused some room for dramatic concern.
In terms of the precipitation being a curse, the desert areas of California, specifically in the North Eastern region, have seen astounding flooding. There is nowhere for the water to go, the old dried-up lake beds are overflowing, and the brittle and cracked Earth floor doesn't know how to soak up all the water. Similarly, central and Southern Arizona are seeing comparable problems. As I have been traveling around Arizona this Spring, I've been astounded by the bright green colors surrounding me. However, I know this isn't normal.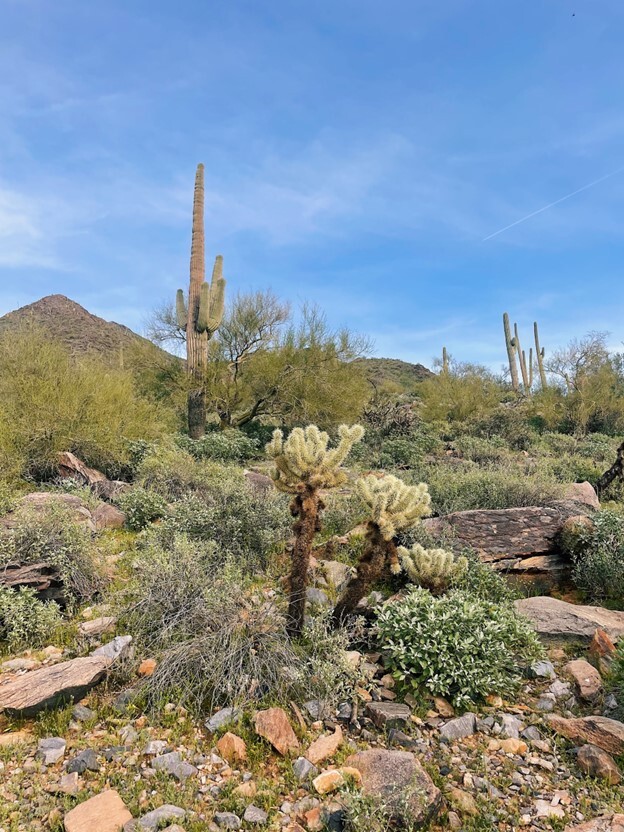 Heavy rain means easier access to safe drinking water, as well as some more discrete problems. The excessive amount of water in the soil, which the dry desert ground can't properly absorb, limits the access of oxygen to the roots of the plants. This, in turn, inhibits plants from further growth and will eventually dry up the plants. For example, the Saguaro cactus has adapted to a hot dry climate by having a single deep taproot to reach water far underground, as well as a set of smaller widespread roots near the surface to absorb maximum rainwater. Many other plants in the desert behave with a similar type of root system, but it is still not enough to take in all the water. The dry cracked Earth's surface can't absorb all the water, which leads to increased flooding and waterlogged roots. As mentioned earlier, this limits the amount of oxygen that can reach the plants' roots, inhibiting growth and eventually leading to dried-up plants. The extreme increase in precipitation across the Southwest region of the United States has brought up some anxieties for wildfire conservation crews.
The fire crews in Colorado are quietly cheering at the above-average winter precipitation, glad that they are able to implement more mitigation and prevention techniques in the early season, however, the windy Spring has already brought upon some smaller wildfires. As I was moving out of Colorado Springs at the end of March, heading West of Pikes Peak, I encountered my first fire of the year. I drove through thick smoke with low visibility and my asthma got increasingly worse as I got closer to the fire. I knew there were fire crews currently on the scene, but my anxiety started to get worse. It seems like the Colorado fire season starts earlier every year, especially as the Spring wind gets increasingly stronger sooner.
As we enter the Wilderness to hike, mountain bike, backcountry ski, or perform whatever recreational outdoor sport you're interested in, it's important to recognize the work that goes on behind the scenes in these areas. With fire crews operating all year round, doing different tasks that accompany each changing season, or trail crews that operate only in the warmer months, we must take into account what types of work allow us to use different types of spaces. It's easy to get wrapped up in our own personal joys of the outdoors, but it's just as important to remember those that allow us to use these areas. Conservation work is never ending and rapidly changing with the flow of climate change and its concerns. We must recognize and thank those that put their lives down for the benefit of others and the natural world, and realize that conservation work will never end. Trails don't magically appear in the wilderness, and wildfires don't magically stop. Who put in the work to allow this to happen?