Above all else, October is the month for scary things, but Kizer's kicking it off with something noble – Raffir Noble, that is. The company is bringing this singular material into its lineup for the first time with a flight of five popular models renovated with Raffir Noble.
Knife steel is the material we talk about most when it comes to new releases. That makes sense, obviously, as steel is the hardest-working part of a knife. However, handle material can have an impact on performance as well, and it certainly has a huge impact on a knife's aesthetics – and, let's be honest, we enthusiasts aren't buying knives out of sheer necessity. We look at knives like works of functional art, and that's where advances and experimentation in handle material really pays off.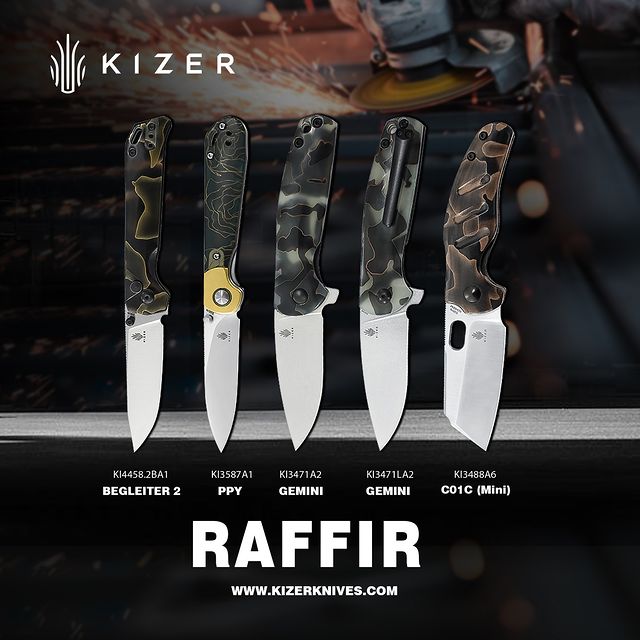 Enter Raffir, a Danish company; Raffir Noble is their flagship product. Like damascus or carbon fiber, it comes in a suite of different varieties, but the fundamental recipe remain the same: bronze and brass meshes suspended in a transparent resin. In the hand, Raffir Noble is somewhat similar to C-Tek or the resins used on some GEC knives, but visually it has a character entirely its own. Raffir Noble is most often seen on custom knives, with the Spyderco Chaparral is probably the most well-known production knife made from the stuff, and possibly the only one – until now.
There are five different Kizer models on the way with Raffir Noble: the Begleiter 2, PPY, the C10C Mini, and two Geminis, one right-handed, the other set up for lefties. Also worth noting is that this particular C10C Mini is the variation without the flipper tab. All five of these Raffir Noble knives come with S35VN blade steel too.
Kizer says to expect the Raffir Noble family to hit the shelves in early October. Knowing the company, they're probably also planning something creepy and collectible for the Halloween month.
Knife in Featured Image: Kizer C10C Mini Raffir Noble
---
The information provided by KnifeNews.com (the "Site") is for general recreational purposes only. The views and opinions expressed on the Site are those of the author or those quoted and do not necessarily reflect the views of any entities they represent. All information on the Site is provided in good faith, however, we make no representation or warranty of any kind, express or implied, regarding the accuracy, adequacy, validity, reliability, availability, or completeness of the information on the Site. Under no circumstance shall we have any liability to you for any loss or damage as the result of the use of the Site or reliance on any information provided. Your use of the Site and your reliance on any information on the Site is solely at your own risk.