For some people, wintertime means staying inside and putting a pause on outdoor activities until the next spring. I can assure you though, a day on the slopes can make wintertime the favorite time of year for any outdoor enthusiast. You might have seen people on TV in the winter Olympics flying through the air on a snowboard and been scared to pursue such a daunting task. I can assure you though there is enough room on the slopes for everyone, from the complete beginner to the Olympic Gold Medalist! In this brief article, I will take you through all things snowboarding. All the way from the gear needed, location, and what to expect, to the culture and philosophy of snowboarding and what it means to me.
Deciding to try snowboarding or skiing for that matter, for the first time can be overwhelming. You could be afraid of falling in front of others, getting hurt, what you'll need, or how to get access to a resort. This article will fix all those problems and have you excited to start planning your trip. First, you need to figure out where you're gonna go on your first snowboarding adventure. There are hundreds of options to choose from, and which option you choose will most likely depend on your location. Now let me run you through what to expect to find when looking at most ski resorts, and some other key points.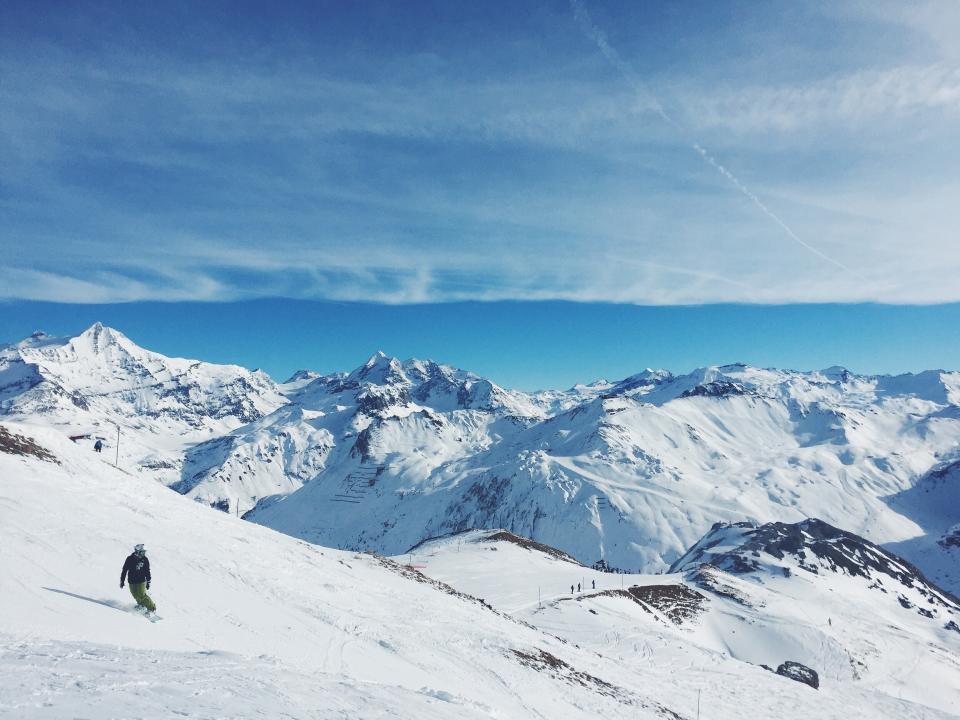 Ski resorts will typically have a few different things. This will include trails, a lift, lodging, food, lessons on how to ski/snowboard, and a place to rent or buy gear. The number of trials you have access to will depend on the size of your resort. These trials will range from learning/practice to green, to blue, to black. Green being the easiest, blue being a little more difficult, and black being the most difficult. The lift simply is a system of carts that will take you from the bottom of your trail back to the top. You will have to buy a ticket to ride the lift and this acts as the price paid for using the trails. Lodging accommodations can range from a simple hotel in a nearby town to beautiful homes that allow you to never leave the resort and ski in and out as you wish.
Food will be available to you at your resort, and if you go to a popular resort they also may have live music and other types of entertainment at night. Most resorts will offer lessons for beginners on the slopes. If you are nervous about going or are afraid you might not pick it up smoothly, these lessons might be for you. Typically, they are not free, and you will have to pay a fee for them. The last perk a resort might offer is a place to rent or buy gear from while you are there. These shops can either be at the resort or in the nearest town. Renting vs buying gear will all depend on how much you plan on using it.
The most basic gear required is a snowboard, boots, snow pants, gloves, helmet, and goggles. Obviously, layers of good warm clothes will also be essential if you plan on spending some significant time on the trails. A snowboard is your most important piece of equipment and will cost you the most money if you choose to buy your own. If you plan on spending a good amount of time snowboarding this would be a good investment and save you the hassle of renting every time you go. There are many online sites that sell gear or an outdoor recreation store should sell your basic stuff.
Renting would be a better option if you only plan on going sparingly. Renting the basic equipment will cost you between $50-$100 depending on where you rent the gear and for how long. If you live in an area where it gets cold you should already have basic layers that will keep you warm when you're riding. I would highly recommend a helmet if you are a beginner and just learning how to snowboard. Goggles will help you see better and protect your eyes. A face covering of some sort is also very helpful in protecting you from windburn.
Now that you have decided where you're going, know what gear to get, and where you can get it, it's time to hit the slopes. You should be excited and honestly, probably a little nervous. Personally, I love that feeling and enjoy feeling it whenever I am about to go snowboarding. Previously we discussed snowboarding lessons that can be offered by resorts, and you can choose this route if you wish. I preferred to learn on my own and some would say maybe the harder way but to each their own. I enjoy struggling to learn something new, and then learning it and eventually trying to master it.
Now, I wish I could give you a step-by-step guide on how to snowboard and what to do, but I can't. I started out as a complete beginner and learned through personal experience and trial and error. I'm sure you could look up some youtube videos that would be very helpful if you wanted to speed up the learning curve. While I can't share specific advice on snowboard techniques, I would like to share with you my own experience while learning how to snowboard.
The first time you step on the board is going to feel very foreign and you will more than likely fall down shortly thereafter. I can't speak for everyone because everyone is different and learns at different paces. I have friends who learned it faster than me, but I become a better snowboarder than them in the long run because of the way I snowboarded after I got the hang of it. The most important thing I can say is to be patient and not get frustrated, even though you likely still will. You're going to fall a lot at first, and sometimes those falls can hurt. I encourage you to continue to practice and know that eventually, you will get it. There's an old Japanese proverb "Nana korobi ya oki" which translates to "Fall down seven times, stand up eight". This is a fantastic metaphor for snowboarding, and also for life.
You're a snowboarder now, you've taken a few trips, you're comfortable on your board, and the humdrum life you used to live is now filled with excitement and anticipation for the next trip. This is a wonderful feeling and one that never seems to fade no matter how many times you hit the mountain. Everything you seem to do now has more meaning, you eat healthier so you can ride better, you enjoy your job more because it funds these trips, and you are happier and healthier all because of snowboarding. This is truly a beautiful effect and while we are talking about snowboarding specifically here, this thought process can be applied to any hobby you might have a passion for.
Snowboarding can have so many positive effects on your life that you never knew were possible. This whole journey that you've gone on to this point was simply started by trying something new that you thought you might like and then sticking with it. You're a better person because of it, a better brother, a better sister, a better husband, a better wife. It's important to see and talk about all these positive changes that can happen in your life simply because you discovered you have a passion for a hobby and then you pursued it. You can become a shining example for other people in your life. Showing them by example the benefits of trying new things and finding their own passion. They will also become better people because of it.
I think the purpose of this article has not been to get you to go out and snowboard. Its purpose was to get you to see how hobbies and recreational activities can impact your life, and the lives of others. Once you understand that they have that immense power, it doesn't just seem like you're wasting time anymore. It should be easier to look past any fears or doubts you have about going out and trying new things. Knowing that on the other side of any new thing you try, could be a fulfilling passion that benefits you and everyone around you, for the rest of your life.