Whether you're trying to embrace full-time "van life" or just taking occasional cross-country road trips with the family, large vans such as the Mercedes Sprinter, Ram Pro Master, and Ford Transit offer a great way to live comfortably off the grid. They provide plenty of room for sleeping, cooking, and storing gear such as mountain bikes or kayaks, but aren't as cumbersome as traditional RVs. Front Runner recently released a new modular roof rack system that expands these vans' carrying capacity even more. The Front Runner Slimpro Van Rack is lightweight and low-profile with adjustable slats that are compatible with the company's existing cases, bags, and accessories.
The Slimpro system's adjustable slats are especially valuable on van applications, since many of these adventure vehicles have roof-mounted A/C units, air vents, and skylights. The slats can be moved forward or backward to create space for these items, or to provide optimal support for other gear such as solar panels and hard cases.
Front Runner offers variants of the new Slimpro rack for various van lengths, makes, and models. The system is compatible with the '07-current Mercedes Sprinter, '13-current Ford Transit, and '14-current Ram Pro Master, as well as a few European models that aren't offered stateside (Citroen Jumper, Fiat Ducato, and Peugot Boxer).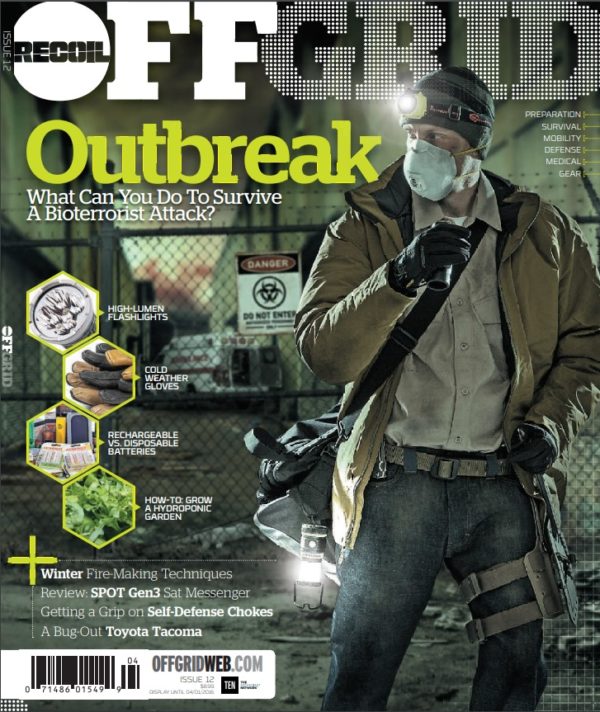 Subscribe Today and Save!
A wide range of Front Runner rack accessories are already available, and the Slimpro system is designed to accommodate them. This includes awnings, spare wheel mounts, cases, dry bags, recovery gear mounts, lights, and much more.
MSRP for the new Front Runner Slimpro van racks ranges from $1,105 to $2,135. These racks are available through FrontRunnerOutfitters.com or through the company's facility in Agoura Hills, CA.
---
Prepare Now:
Disclosure: These links are affiliate links. Caribou Media Group earns a commission from qualifying purchases. Thank you!
---
STAY SAFE: Download a Free copy of the OFFGRID Outbreak Issue
In issue 12, Offgrid Magazine took a hard look at what you should be aware of in the event of a viral outbreak. We're now offering a free digital copy of the OffGrid Outbreak issue when you subscribe to the OffGrid email newsletter. Sign up and get your free digital copy Click to Download!
---