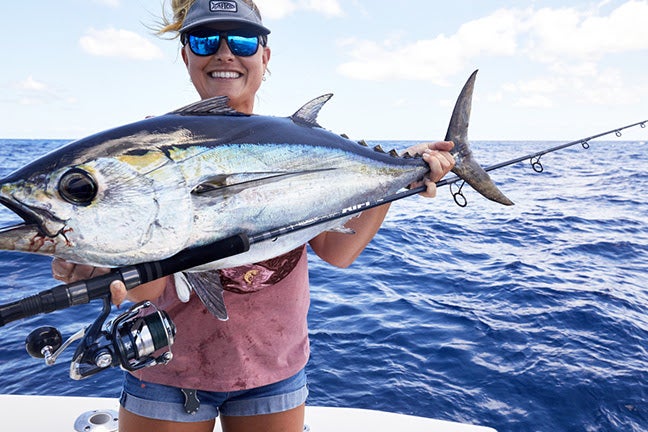 The St. Croix Rift line of saltwater fishing rods was introduced just two months ago at ICAST 2022. They encompass 16 distinct boat models (Rift Salt) and 12 jigging models (Rift Jig) and were designed in direct response to saltwater anglers demanding thinner and lighter rods that still had great strength and durability.
St. Croix's New Rift Salt rods consist of 16 models of thin and powerful conventional and spinning rods. These rods form a comprehensive line-up that will work for you from the back bays to the bluewater. The expansive Rift rod lineup has you covered from pitching crabs at permit, chasing cobia off the beach on the sand bar, to throwing irons and poppers at tunas around the oil rigs. The materials and design mated with St. Croix technologies make for a rod series that minimize fatigue and maximize fun on the water.
Specifically engineered to help with the physical stresses associated with high-speed vertical jigging, the new Rift Jig rods are made to be an extension of the angler's body. The line consists of 12 conventional and spinning models from 5'6" to 6'6" in length with moderate, parabolic actions and medium through extra-extra heavy powers. The rods are tip-tuned and beefed up in the butt section, optimized for battling fish in specific weight classes.
Each of the gunmetal grey Rift rods starts with a premium SCIII carbon fiber blank matched with St. Croix's Fortified Resin System (FRS). This gives them unparalleled flexural strength and durability. St. Croix also uses its Advanced Reinforcing Technology (ART) to further increase strength without adding weight to the rods. This results in an incredibly powerful and durable rod, that are thinner and lighter in the hand.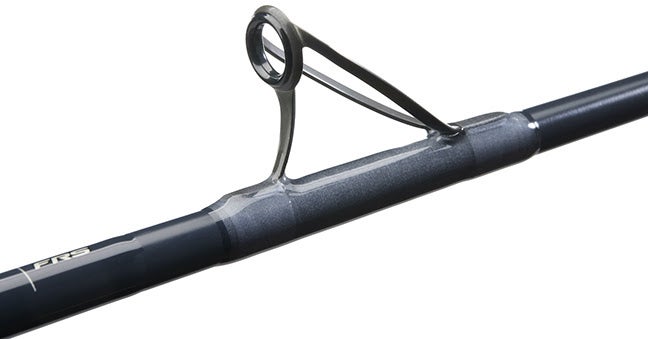 The Rift rods are completed with finely crafted ergonomics and use components that further enhance the angling experience. The rods use angler-preferred lightweight K-style guide platforms that are corrosion-resistant, durable, and trouble-free. Where the angler holds the rods there are premium and slim EVA handles that are engineered and contoured for comfort. Ergonomic reel seats with double locking nuts provide worry-free and rock-solid security, while non-marring rubber gimbles hold the rods securely in stand-up belts and rod holders.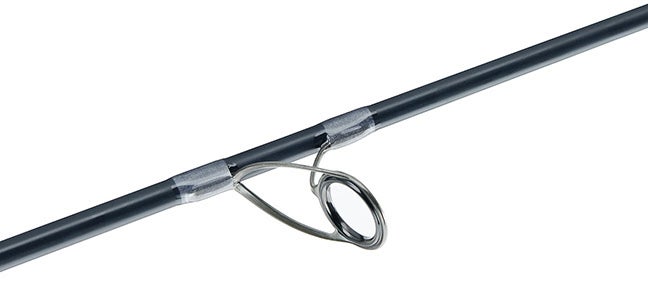 St. Croix Rift Features

28 lightweight and durable Rift Salt (Boat) and Rift Jig models – conventional and spinning – that support high-performance angling in any nearshore saltwater application
SCIII carbon fiber for unparalleled flexural strength and durability, matched with Fortified Resin System (FRS) technology reducing weight
Advanced Reinforcing Technology™ (ART™)
Integrated Poly Curve® (IPC®) mandrel technology
K-style stainless-steel guides with Alconite rings
Nylon reel seats with double locking nuts
Rift Salt models feature contoured premium-grade full EVA handles
Rift Jig models feature contoured premium-grade modified split-grip EVA handles
Non-marring rubber gimbals
5-year transferable warranty backed by St. Croix Superstar Service
Designed in Park Falls, U.S.A. and handcrafted in North America (Fresnillo, Mexico)
Retail price: $290-$350 USD

St. Croix 

Rift Salt

 Models

Rift Salt RIFSC66MHF – 6'6", medium-heavy power, fast action, conventional / Retail $300
Rift Salt RIFSC66HF – 6'6", heavy power, fast action, conventional / Retail $300
Rift Salt RIFSC70MF – 7', medium power, fast action, conventional / Retail $300
Rift Salt RIFSS70MF – 7', medium power, fast action, spinning / Retail $300
Rift Salt RIFSC70MHF – 7', medium-heavy power, fast action, conventional / Retail $310
Rift Salt RIFSS70MHF – 7', medium-heavy power, fast action, spinning / Retail $305
Rift Salt RIFSC70HF – 7', heavy power, fast action, conventional / Retail $310
Rift Salt RIFSS73MLMF – 7'3", medium-light power, moderate-fast action, spinning / Retail $305
Rift Salt RIFSC73MMF – 7'3", medium power, moderate-fast action, conventional / Retail $320
Rift Salt RIFSS73MMF – 7'3", medium power, moderate-fast action, spinning / Retail $310
Rift Salt RIFSC73MHMF –7'3", medium-heavy power, moderate-fast action, conventional / Retail $320
Rift Salt RIFSS73MHMF – 7'3", medium-heavy power, moderate-fast action, spinning / Retail $315
Rift Salt RIFSS76MF – 7'6", medium power, fast action, spinning / Retail $330
Rift Salt RIFSS710MHMF – 7'10", medium-heavy power, moderate-fast action, spinning / Retail $340
Rift Salt RIFSS710MHF – 7'10", medium-heavy power, fast action, spinning / Retail $345
Rift Salt RIFSS710HMF – 7'10", heavy power, moderate-fast action, spinning / Retail $350

New St. Croix Rift Jig Models

Rift Jig RIFCJ56XXH – 5'6", extra-extra-heavy power, 200-lb. fish, conventional / Retail $320
Rift Jig RIFSJ56XXH – 5'6", extra-extra heavy power, 200-lb. fish, spinning / Retail $310
Rift Jig RIFCJ58XH – 5'8", extra-heavy power, 150-lb. fish, conventional / Retail $315
Rift Jig RIFSJ58XH – 5'8", extra-heavy power, 150-lb. fish, spinning / Retail $310
Rift Jig RIFCJ58H – 5'8", heavy power, 100-lb. fish, conventional / Retail $310
Rift Jig RIFSJ58H – 5'8", heavy power, 100-lb. fish, spinning / Retail $305
Rift Jig RIFCJ60MH – 6', medium-heavy power, 50-lb. fish, conventional / Retail $310
Rift Jig RIFSJ60MH – 6', medium-heavy power, 50-lb. fish, spinning / Retail $305
Rift Jig RIFCJ66MH – 6'6", medium-heavy power, 50-lb. fish, conventional / Retail $320
Rift Jig RIFSJ66MH – 6'6", medium-heavy power, 50-lb. fish, spinning / Retail $305
Rift Jig RIFCJ66M – 6'6", medium power, 35-lb. fish, conventional / Retail $295
Rift Jig RIFSJ66M – 6'6", medium power, 35-lb fish, spinning / Retail $290