Man's obsession with fire dates back thousands of years. You can imagine the fascination of those who first realized their ability to harness it. We're sure it caused conflict between those who had it and those who wanted it. Whether that looked like a scene from Quest for Fire is debatable. Fire was and still is primal, and in the survival space, fire is just as important now as it was back then. It's a technology that lets us treat water, heat our shelters, harden our tools, signal for help, and more. To those who've ever spent a cold and wet night in the woods, you've probably wished you could trade places with those sitting comfortably by a roaring fire. The fire starters and tinder in this article can help you avoid being in that uncomfortable position in the future.
Fire Starters & Tinder Buyer's Guide
You're only as good as your skillset and the tools you carry. You should have strong fundamental knowledge of how to build fire paired with the best modern tools you can afford. Primitive friction-fire starting skills are invaluable if you have nothing else but compact, reliable, and durable fire starter tools that shorten the time you need to prep and start your fire are the better option if you remembered to pack them before you left home. While the traditional skills earn you cool points, making fire by any means is the goal and there's absolutely no such thing as cheating. If you need to use the butane torch from your garage to get the backyard fire going or a road flare in the middle of the wilderness, as long as you survive, don't worry about what others will say.
We've come a long way from the primitive technology that caught our attention generations ago. There's a long lineup of modern fire starters available today that pack serious capability in the palm of your hand. We've assembled a collection of fire starters that early man would've clubbed someone over the head for.
EXOTAC TinderZIP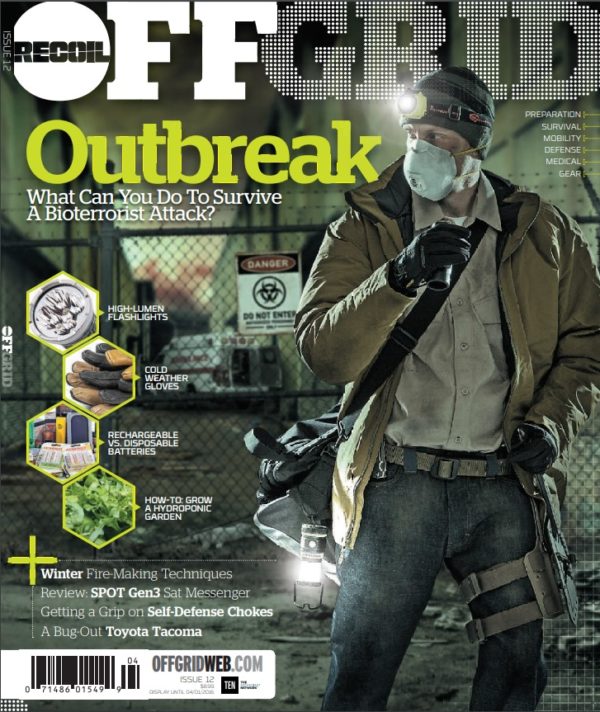 Subscribe Today and Save!
Dimensions
3 inches long
Weight
0.1 ounce
MSRP
$9
URL
exotac.com
Notes
We love multi-purpose gear. Swiss Army Knives, duct tape, peanut butter … some things work well in multiple roles. The boys over at EXOTAC came up with an ingenious way to carry tinder in the TinderZIP. At first glance, this looks like a normal zipper pull with a plastic cord lock at the end. TinderZIP can attach to your zipper pulls and help you open or close your jacket, to your pocketknives as a fob for easy retrieval, or it can be used in its alternate role — fire starting. All you have to do is free the cord from the plastic endpiece, pull out the tinder found inside the outer braid of the cordage, and fluff the end with the spine of your knife. It'll take a spark or a flame and once it lights, it'll burn for about a minute. TinderZIP burns like a candlewick and can save the fuel of your lighter. Each package comes with five units that'll let you replace the main zipper and hand warmer pockets, leaving you with a couple to practice with.
Pros:
1-minute burn time
Easily forgotten until needed
Water resistant
Cons:
Clothing dependent
Requires prep before use
Shomer-Tec Fire Buttons
Dimensions
3/4-inch diameter, 5/32-inch thickness
Weight
0.1 ounce
MSRP
$10 magnesium, $16 ferrocerium
Notes
You probably have owned a magnesium fire starter bar at some point. You probably either wore through the ferro rod glued in place or the glue broke off. The magnesium bar has fallen out of popularity, but it's still an effective tinder if used correctly. Shomer-Tec Fire Buttons caught our eye for their ingenuity and innovation. These buttons can be sewn into your clothing and forgotten about. They scream escape and evasion kit since that was the idea behind their design. These buttons are made from magnesium and ferrocerium and work just like the traditional magnesium bar. Of course, you'll get a fire started better with both, but if you lose the mag button, you can still use the ferrocerium button on its own.
Pros:
Easily forgotten about until they're needed
Discreet design
Cons:
Small size makes it difficult to use with cold hands
Not easily transferred between garments
Awkward scraping technique needed
Live Fire Gear Live Fire Original / Sport
Dimensions
3.11 inches (original) / 1.89 inches (sport)
Weight
0.9 ounce (original) / 0.5 ounce (sport)
MSRP
$10 (original) / $7 (sport)
Notes
Live Fire is a really interesting product that can be reused over and over. Instead of burning once or in a single way, Live Fire can be used with varying amounts of flame by regulating the amount of tinder exposed. All you have to do is open the container exposing the fabric inside that's impregnated with a proprietary blend of fuel. We like the fact it can be lit with just about anything including a paper match, butane lighter, or ferro rod. Once it's lit and used to ignite your natural tinder or kindling, you retrieve the Live Fire, close the lid, wait for it to cool, and throw it back into your kit. This lightweight little fire starter fits perfectly in small emergency kits and can even be rubber-banded to a knife sheath for use with a ferro rod also carried there. Available in larger original size or smaller sport size.
Pros:
Adjustable flame size
Easily reusable
Will ignite with flame or spark
Cons:
Easily lost in a pocket
Reusable after lighting but closing and pocketing too soon can burn the user
Zippo Emergency Fire Kit
Dimensions
4 inches by 1.13 inches
Weight
0.1 pound
MSRP
$13
URL
zippo.com
Notes
Zippo has a well-deserved reputation in the fire starter community, thanks to generations of use by soldiers and outdoorsmen. In addition to its recognizable shape, the sound a Zippo makes when it opens immediately gives away its presence in the dark. Zippo has expanded their lineup beyond their classic and slimline series of lighters. The Zippo Emergency Fire Kit works much like the flint wheel of a traditional Zippo lighter. The paraffin wax-coated tinder is stored in a waterproof container to keep it dry; it ignites with the spark and burns long enough to get your campfire going. All you have to do is remove a small wrapper around the tin and unroll it. This fire starter can be dummy corded with the molded-in lanyard hole, and it can be operated with a single hand.
Pros:
This fire starter floats on water!
Up to a five-minute burn time per tinder piece
Cons:
Flint wheel isn't protected if dropped
Contains moving parts that may be fragile
UCO Gear Titan Stormproof Match Kit
Dimensions
4.125 inches long
Weight
2.9 ounces
MSRP
$11
URL
ucogear.com
Notes
Sometimes, it makes sense to carry a fire starter most people know how to use. Since they can be found in most homes, matches fit the bill, but standard paper or box matches are flimsy and burn out fast. Titan Stormproof matches are not your average box matches. To reference the popular internet meme, if you're standard matches, Titan matches are the guy she tells you not to worry about. We're not kidding, these matches are about the diameter of a ballpoint pen, and they burn aggressively with large match heads. They're like miniature road flares, and they'll burn underwater if temporarily submerged. The name "stormproof" is appropriate, as they'll continue to burn in the strongest winds.
Pros:
Up to 25-second burn time
Easy to use just like standard-size matches
Extremely wind and water resistant
Cons:
Fragile match heads
Each match is single use and takes up space quickly
S.O.L. Fire Lite Fuel Cubes
Dimensions
6.29 inches by 8 inches by 1.77 inches
Weight
0.2 ounce per cube, total weight per package 6.88 ounces
MSRP
$8
Notes
S.O.L. Fire Lite Fuel Cubes are great multi-purpose fuel tabs. They burn exceptionally well, can be used in the campfire, or they can be used with solid fuel tablet stoves. They're made with an ethanol jelly that will actually burn on extremely damp surfaces. We like the ability to cut these down into smaller fire starters to extend the number of fires you can make from a single package. Even the package the cubes come in can be used to carry tinder scavenged off the land, and it has enough capacity to house a ferro rod and lighter too.
Pros:
8-minute burn time
Burns clean; nontoxic and odorless
Works with most solid fuel folding stoves
Cons:
Bulky
Boil time listed on package is possible in ideal conditions, not all conditions
Prometheus Design Werx Ti-Fire Steel MK2
Dimensions
5.325 inches overall, 4-inch Ferrocerium, handle diameter 0.618 inches
Weight
2.5 ounces
MSRP
$49
Notes
Prometheus Design Werx is always on the cutting edge of product designs. The Ti-Fire Steel MK2 takes fire steels to a new level. The handle of the Ti-Fire Steel MK2 is made from titanium, and the texture of it will remind you of a pineapple grenade. The inside of the handle is hollow and is revealed by a threaded cap. It can easily hold petroleum cotton balls or similar tinder until it's needed. Perhaps one of the best aspects of this fire rod is the threaded rod that can be replaced when it gets worn down. That said, a ½-inch ferro rod will last thousands of scrapes and even more if you use it sparingly.
Pros:
½-inch rod produces exceptional sparks.
Handle texture offers great grip, even with cold and wet hands
Cons:
Potential to lose the handle cap
Doesn't come with a dedicated scraper
---
Prepare Now:
Disclosure: These links are affiliate links. Caribou Media Group earns a commission from qualifying purchases. Thank you!
---
STAY SAFE: Download a Free copy of the OFFGRID Outbreak Issue
In issue 12, Offgrid Magazine took a hard look at what you should be aware of in the event of a viral outbreak. We're now offering a free digital copy of the OffGrid Outbreak issue when you subscribe to the OffGrid email newsletter. Sign up and get your free digital copy Click to Download!
---