Welcome to today's Photo of the Day! Here we have one of the rarest Colt double-action revolvers. This is a Colt 1877, but the thing that makes it rare is that it is chambered for the .32 Colt cartridge. Its more considerable and much more common brothers are dubbed the "Lightning" – which is a .38 caliber revolver – and the "Thunderer" – which was a .41 caliber revolver. This little .32 Colt 1877 is lovingly named the Rainmaker. Out of roughly 166,849 Colt 1877 double-action revolvers, only 200 Rainmakers were produced. Last year, I had the great pleasure of seeing one at the Cody Firearms Museum in Cody, Wyoming. The Model 1877 as a whole had a sort of tumultuous production run and today is regarded as a bit of a mechanical folly.
"This example is marked with the two line Hartford address on the top of the barrel and "COLT D.A. 32" on the left side. The frame is marked with the three line patent information on the left. The matching serial number is marked on the frame, trigger guard, and back strap. "8" and "94" are on the rear cylinder face. The assembly number "174" is on the loading gate. It is equipped with a round blade front sight, frame groove rear sight, no ejector, and a pair of checkered Rampant Colt grips. The revolver comes in a fitted hardwood case with navy blue lined interior. The case has a 13 round cartridge block, compartment with a "TAYLOR" marked key, oiler, screw driver, and cleaning rod."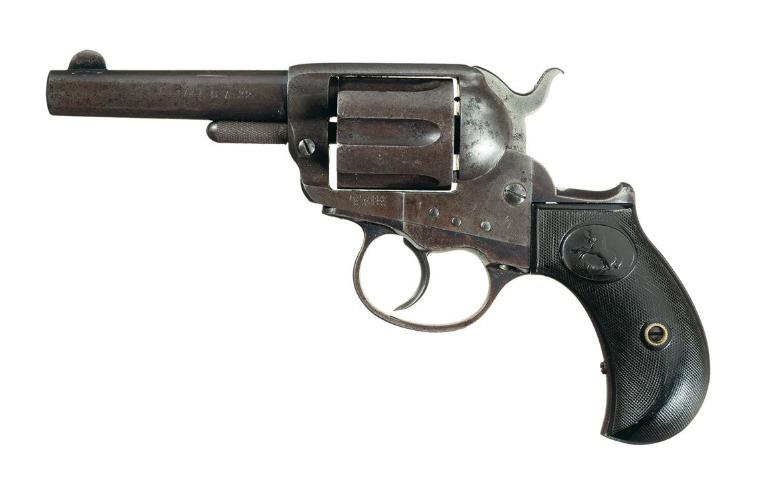 Lot 331: Colt 1877 Revolver 32 Colt – Scarce Cased Colt Model 1877 .32 Colt Caliber "Rainmaker" Double Action Sheriff's Model Revolver. (n.d.). Rock Island Auction Company. photograph. Retrieved July 31, 2022, from https://www.rockislandauction.com/detail/65/331/colt-1877-revolver-32-colt.