Let's Hunt Elk!
Elk are on the bucket list of a lot of hunters. However, it can be expensive, especially if you are a nonresident hunter. Guide fees, licenses, and permits can be hefty. The success rate is lower than a lot of other big game hunts. But, with the proper research and preparation, success can be had.
The best advice is to plan thoroughly and prepare for the season. Check with states with large elk populations offering an elk hunting season. Almost all states will have permits available for late-season cow elk hunts.
Depending on the state, some permits are reserved for non-residents. Make sure to research and check for application deadlines before the season. Some states require that you apply before January 31, and others do not begin accepting applications as late as July.  If you are unable to draw a tag through the lottery, most states will have leftover tags available. These tags will typically be for private ground, so make sure you have permission to hunt before purchasing one.
Best Crossbows for Elk Hunting
Do not let the size of an elk intimidate you. The same crossbow you are using for deer will do just fine. There are a lot of crossbows on the market that are perfect for your next elk hunt. I prefer the Ravin R26.
The R26 is Ravin's most compact and lightweight crossbow to date. Weighing only 6.5 pounds, the R26 has a fantastic axle-to-axle width of 5.75 inches when fully drawn- making it the most compact crossbow on the market. Don't let the size fool you- the R26 shoots an incredible 400 FPS with 142-foot pounds of kinetic energy.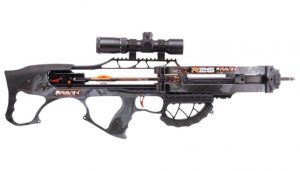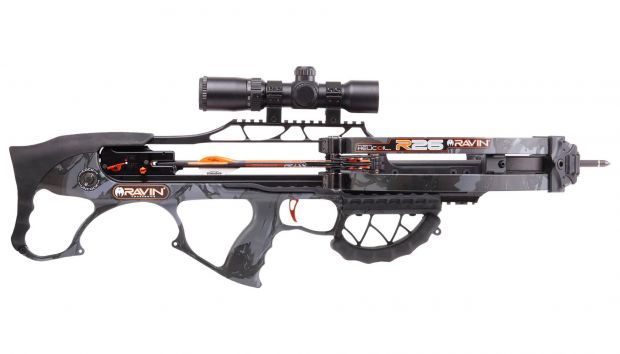 Ravin R26
The Ravin R26 features an ergonomic grip, making it a more tactical option for shooters and hunters. Available in Predator Dusk Camo, exclusive to Ravin Crossbows.  Included: HeliCoil Technology, Fully Assembled/Pre-Tuned, 6-Ravin .003 Arrows & Field Tips (400 Grain Total), 1-Removable Draw Handle, 1-Quiver/Mounting Bracket, 100 Yard Illuminated Scope, Anti-Dry Fire/Auto Safety, Built-in Sling Mounts. The R26 comes in both camo and grey versions.
Best Crossbow Broadheads
Elk are no different than other big game. Their size is impressive, but it does not take a bigger broadhead to put one down. Your shot must hit the vitals with a razor-sharp broadhead for a quick clean kill for any big game animal. Two broadhead options I recommend are the HME Fixed Blade Broadhead and the Muzzy One Crossbow head.
The HME Fixed Blade Broad head has an aluminum ferrule and Teflon-coated blades that deliver a devastating entry wound. The hardened steel tip provides a powerful impact upon strike.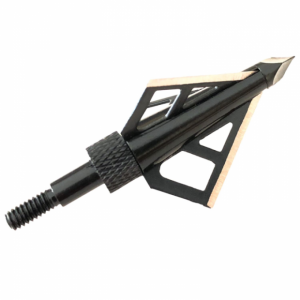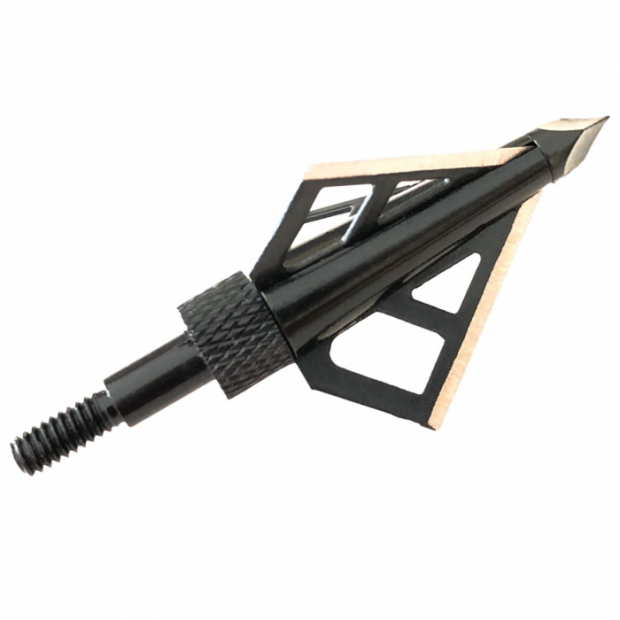 HME Fixed Blade Broadhead
With an innovative approach to one-piece broadhead design, the Muzzy ONE Crossbow head stands head and shoulders above the competition. The ONE Crossbow head is machined from a single piece of premium stainless steel, giving Muzzy the ability to precisely control all tolerances and deliver a truly Bad to the Bone broadhead.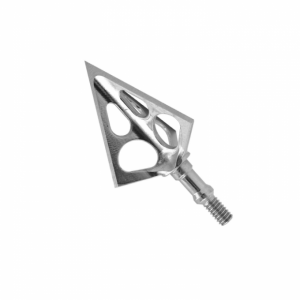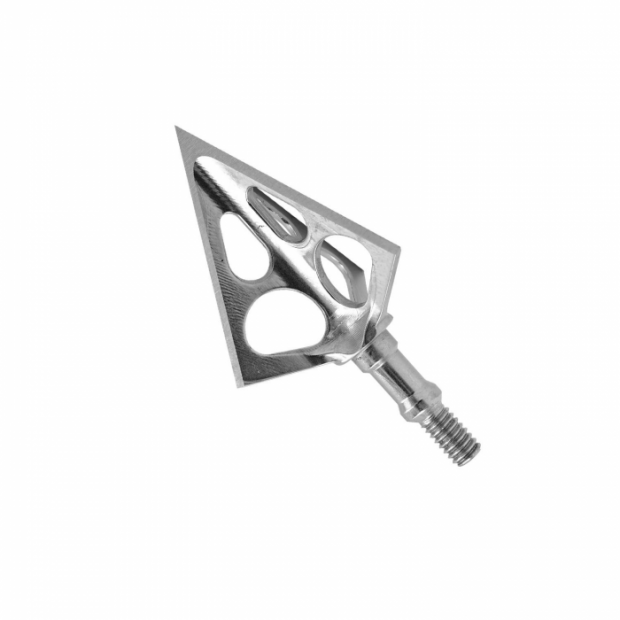 Muzzy ONE Crossbow Broadhead
The hybrid chisel/cut-on-contact tip blasts through bone for incredible penetrating power, while precision-positioned vents on the blades ensure the ONE flies with the accuracy Muzzy is known for. This solid 100-grain head features three deadly .046" thick blades with a 1 1/8" cut that leaves nothing to chance. Honed to perfection, the dependable Muzzy ONE can be easily resharpened on a flat stone, ensuring this broadhead is not only easy to care for and effortless to tune but also offers performance and peace of mind bowhunters demand in the field.
Best Targets
Do not expect the same target you use with your compound bow to be strong enough for the power delivered by crossbows. An arrow shot from a crossbow will completely pass through a standard target and keep going. Crossbow targets have extra strength to stop crossbow arrows before they completely pass through or bury up to their fletchings.
The Hurricane H21 Crossbow Target features high-visibility aiming points, an off-center deer vitals design, and a heavy-duty handle.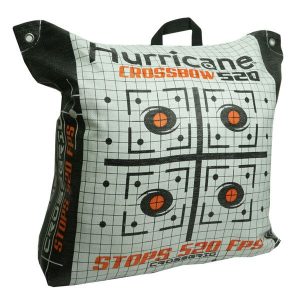 Designed for crossbows and high-speed bows, Hurricane targets feature highly visible shooting "eyes" (with bright orange centers) that are easy to see against the bright-colored background, even at longer ranges. Features include two sides for practice shooting, high visibility aiming points, off-center deer vitals designed for crossbows, and heavy-duty handles.
Best Scope for Crossbows
Quality scopes are required when hunting any big game animal. Most crossbow packages include a scope, but many hunters want to upgrade. This might happen immediately after the purchase or later down the road after you've had time to practice shooting your crossbow. Scopes for today's crossbows are top-of-the-line and are a valuable accessory for any crossbow.
The TRUGLO 4 x 32 crossbow scope has a special range finding and trajectory compensating reticle. Among the TRUGLOW 4 x 32 scopes features include a generous 4″ eye relief, fully coated lenses that provide maximum brightness, clarity, and contrast, a rubber eye-guard, fingertip windage and elevation adjustment under screw-down caps, a durable leaf spring for windage and elevation adjustments, a one-piece tube made of aircraft-quality aluminum, durable, and a scratch-resistant, non-reflective matte finish.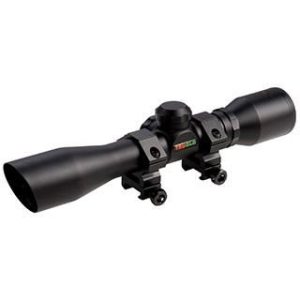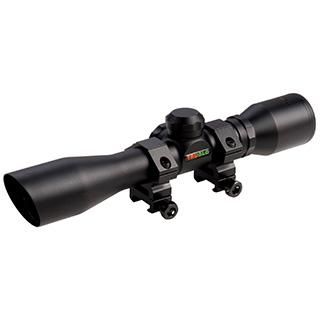 TRUGLO 4 x 32
For the last couple of seasons, I have been using the Hawke Crossbow Scope 3×32. Hawke Sports Optics specifically designed and engineered their 3×32 XB Crossbow Scope and XB MAP reticle for crossbows using bolts traveling at 315 ft/s for optimum accuracy and ease-of-use. The objective is intentionally on the small side to maintain a low profile, reduce snag points, and keep the weight down. The post arrangement forms an inverted trapezoid target gate in the middle with aiming points from 20 to 60 yards at 10-yard intervals. It is calibrated for 315 fps speeds and offers 6″ and 12″ brackets on its 50-yard line.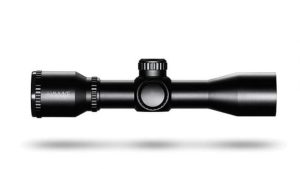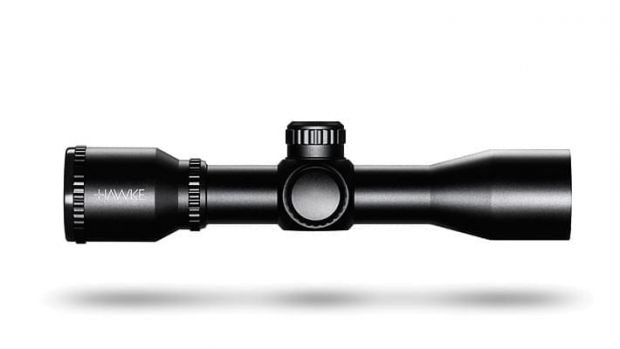 Hawke Crossbow Scope 3 x 32
Conclusion
Do not let the sheer size of an elk intimidate you. Elk hunting, like hunting whitetail deer, requires you to be comfortable and confident with your shooting equipment. Confidence begins with careful preparation, researching products, and becoming comfortable with the equipment well in advance of any hunt.
You can find a good assortment of crossbows and crossbow sights in the Everest Marketplace. New products from new sellers are being added daily.