When it comes to camping, there is no one way to do it right, especially in 2023! There are countless types of camping options that reflect various types of destinations, experience levels, and desires for adventure. Equipment lists vary accordingly, however, one piece of equipment is almost always required: the camp stove.
Unless campers wanted to cook over an open flame, there used to be very few cooking equipment options. However, many different stoves, grills, and modern campfire grill tools exist. It's tough to narrow the field to the five best camping stoves of 2023. The good news is there is such a variety of camping stoves on the market that no one should have to order anything but the best stove to fit their needs. The following are the top choices on Everest's shelves to help you get the most out of your equipment and camping trips.
To help understand the various types of camping stoves on the market, you may read the Camping Stove Buyer's Guide.
Best Camp-On-The-Go Stove
Backpackers, day hikers, canoe trippers, and others who mind the weight of their gear gravitate toward options like the Coleman Peak 1 Backpacking Stove. It is the smallest on this list and by far the lightest at under half a pound. Part of a class of stoves that runs on compact, lightweight fuel canisters, it can provide days' worth of cooking needs without adding much weight or bulk to your pack.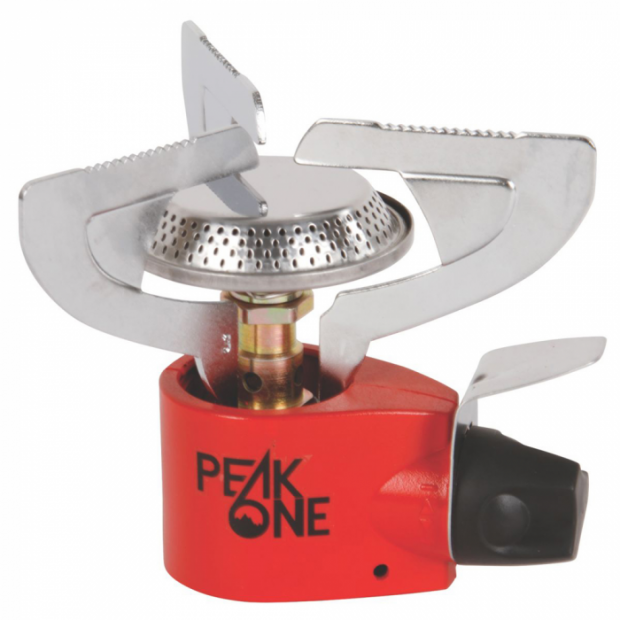 Coleman Peak 1 Backpacking Stove
The Peak 1 Backpacking Stove's simple, durable construction is meant to last a long time and has earned praise for its ease of use. Many reviewers have noted its quick lighting and easily-adjusted heat control. To top it all off, its price point helps it land within just about any budget.
The Peak 1 Backpacking Stove runs on propane/butane fuel canisters which are widely available where camping supplies are sold.
Pros:
-Under 7 ounces in weight
-Folding pot supports and small overall size
-Fuel is easy to obtain
-More stable than most stoves of its type
Cons:
-Practical only for smaller cookware
-May be underpowered for some applications
A Mini-Campfire Grill
While most camping stoves on the market run on petroleum-based fuels, not all do. The Camping Folding Wood Stove by Unigear is a standout example, which can be added to anyone's gear list with a modest investment.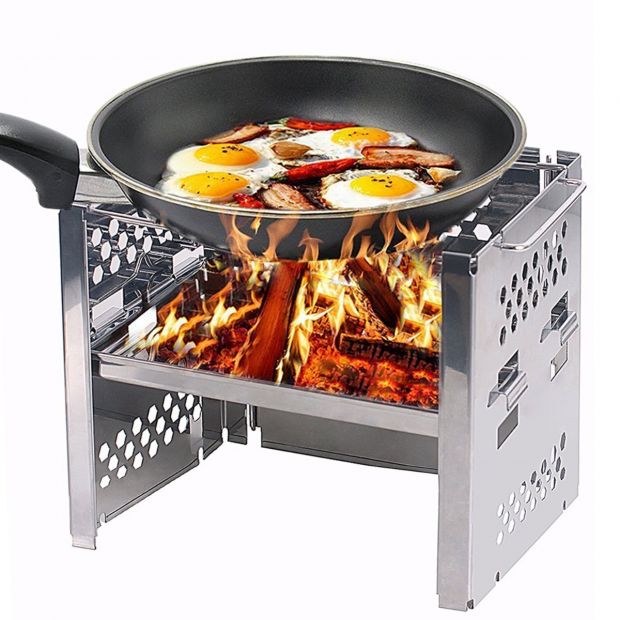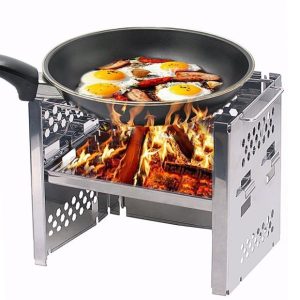 Camping Folding Wood Stove by Unigear
The challenge of cooking over a campfire has a certain timeless appeal that some find challenging. For others, a stove that doesn't require fuel that has to be bought offers a degree of certainty, especially when far removed from civilization or when preparing for emergencies.
No matter the need, this stove's small size and versatility make it worthwhile. According to Unigear, the Camping Folding Wood Stove is compatible with wood, twigs, leaves, charcoal, solid fuel tablets, and spirit burners and sets up in just three steps. It can be used for cooking, boiling, or direct barbecuing. It disassembles just as easily and comes with a carrying bag.
Pros:
-Can run on many kinds of burnable material
-Does not require the user to carry any fuel
-User can cook at no cost as long as fuel is available
Cons:
-Heat may be difficult to regulate
-Usable fuel may be hard to come by in wet conditions
-May accumulate soot on stove and cookware
-Requires a high level of wildfire prevention
A Versatile Cooker
Here's a camp stove with a twist. The Mr. Heater BuddyFlex Cooker runs on propane, like most camping stoves, but is designed as an accessory to another propane appliance: the high-output Mr. Heater BuddyFlex Heater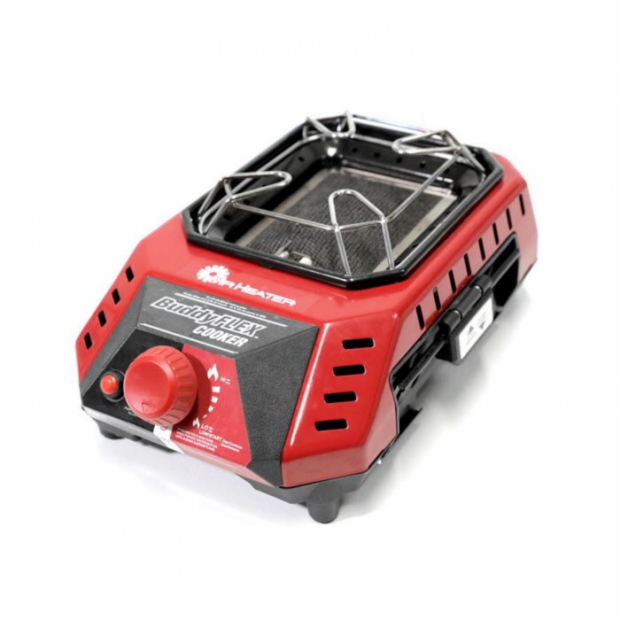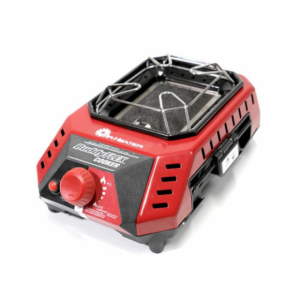 Mr. Heater BuddyFlex Cooker
If you already own the BuddyFlex heater, the BuddyFlex Cooker is a must-have item; its compact size and quick-connect system make it more convenient than hauling an entirely separate camp stove. If not, the combination is one to consider because it will prove useful in all kinds of settings, like cold-season camping, tailgating, ice fishing, and cool evenings on the patio.
The BuddyFlex Cooker has easy electronic ignition and is fully adjustable between 4,000 and 8,000 BTUs. It connects to the BuddyFlex heater via a secure, custom-fitting, 28-inch hose. The cooking grate supports up to a 10-inch pan and up to 5 pounds of whatever you crave.
When you're done, the hose stows conveniently into the bottom of the unit. Then the BuddyFlex Cooker attaches directly to the BuddyFlex heater for easy carrying.
Pros:
-Super convenient plug-and-go deployment
-Cooking surface accommodates larger cookware
-Fully adjustable heat control offers precision
-BuddyFlex system saves space and weight
Cons:
-Requires BuddyFlex heater
Beyond the Campfire Grill Grate
There were no camping stoves for a long time, and those who ventured to the wilds cooked directly over a fire on the ground (think: cowboy stirring a kettle of beans hanging from a tripod).
Cooking over a fire can be thought of as falling into two categories: grilling and other cooking functions (frying, boiling, simmering). Camping stoves long ago took up the mantle with the latter cooking functions, while grilling was largely undeveloped. That has changed in recent decades with the evolution of camping grills.
What is a Camping Grill?
Camping grills usually run on propane and are smaller than their household counterparts. A camping grill can be a cleaner, more compact solution for grilling without the need to haul charcoal or spend time and energy creating the perfect fire. Plus, it can offer a more healthful way of preparing food while camping than frying.
Cook All Types of Meals on This Grill
One product that bridges the gap between a camping grill and a camping stove is the Coleman Fold N Go Propane Grill.
Perfect for camping, tailgating, and picnics, this compact unit can simultaneously grill several brats, burgers, or steaks. The Fold N Go comes standard with push-button ignition and an adjustable burner with up to 6,000 BTUs. It runs on standard propane cylinders; one can provide up to three and a half hours on high heat. Cleanup is made easy with the removable grill and grease collection tray, both dishwasher safe.
The Fold N Go is not limited to grilling but sets it apart in the camping grill market. It can also fry eggs, pancakes, bacon, and more by swapping out the grill top to install the griddle accessory. This way, the Fold N Go has the potential to cook an entire day's menu, all in one highly portable package.
Pros:
-Among the most compact of grills
-Ability to fry on the griddle top
-Easy-to-clean surfaces
Cons:
-Relatively small grilling area
A Grill That Can Handle Steaks and Pizza?
For those who like to take their camp cooking up a notch—or elevate it to an art form— the Schwank Portable Infrared Grill is just the ticket.
Schwank Portable Infrared Grill
The Schwank Portable Infrared Grill relies on propane and ignites with the push of a button. It employs overhead heating at temperatures up to 1500 degrees Fahrenheit to produce the perfect golden brown crust without overcooking the inside. Such red-hot energy accomplishes a "Maillard reaction" between amino acids and sugars to produce intense flavors and juicy steaks in only a few minutes. The stainless drip tray collects juices to re-apply to foods before serving if desired. The grill, drip tray, and other components are easily removed for cleaning afterward.
This stainless steel beauty is a showstopper wherever it goes. In addition to making perfect steaks, pork chops, and more, it becomes a pizza oven with the addition of an optional pizza stone. Fresh, perfectly done pizza paired with a glass of wine is sure to elevate everyone's camping experience-no reservations required.
Pros:
-The Schwank Portable Infrared Grill uses the same technology as top steakhouses
-Can be used to grill vegetables in addition to perfectly done steaks
-Great for camping, home grilling, tailgating, picnics, and other occasions
-Stands apart from most other grills with the ability to cook pizzas
Cons:
-May prove bulky for camping trips
-The price point is above most portable grills
New curated sellers are onboarding daily into the Everest Marketplace – many adding cutting edge camping stoves into their storefronts.  Be sure to check them out before your next adventure into the wilderness.