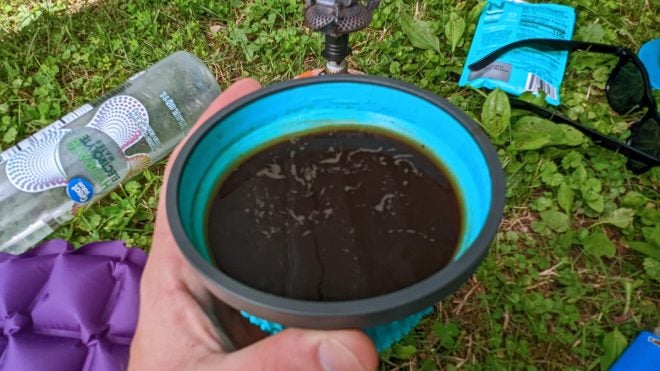 Preferences in camping gear is a lot like opinions, everybody has one. Luckily, there are a plethora of products made by Sea to Summit from their camp cooking essentials line that you can choose ways to heat, drink, and dine with some refinement while out in the woods. In today's post, we'll be covering four products sent to me by Sea to Summit:
---
Welcome to our recurring series of "The Path Less Traveled." In this series, we want to take you along for our exploits out in the wilderness while hiking, camping, exploring, and general adventuring. This will include our small daily victories, foibles, tips, tricks, and reviews of gear we authentically appreciate and frequently utilize. While a well-worn trail can often be the pathway to a leisurely day, the paths less traveled can often spur on some of the greatest memories, misadventures, and fun we could imagine. Join us in the Comments as we share our travels and hopefully, we can all come together for a greater appreciation of the outdoors.
---
Like cooking? Check out more of our tasty posts:

Company Info – Sea to Summit
Sea to Summit is an Australian corporation with Colorado based headquarters. Known in my circles mostly for their wicked light inflatable pads and other sleeping gear, they make much more! Roland Tyson started Sea to Summit as a cottage brand in his garage in 1983 while not even being 18. He has taken the philosophy of making things better than what is currently out there and ensuring useful innovation. Roland was joined by Penny Sanderson in 1993 and their traveling of every type has further developed the brand's journey into making quality products.
Social Media
Product Info – Essential Camp Cooking Gear
For your camp kitchen, Sea to Summit primarily focuses on making ultra portable gear that focuses on weight and space saving. By using lightweight materials and collapsible gear, space saving increases the ease of packing and bringing gear on long distances.
Gyros are my favorite fast food. Definitely going to have to try a variation of what they show here!
The X-Brew Coffee Dripper is a no-nonsense coffee brewer using a traditional straining methodology. Data states it can make up to two cups of coffee, but remember that's twelve ounces of joe. That's like half a coffee you get at Sheetz or Wawa, right?
It's made from heat resistant food grade silicone which makes it BPA free. Being made from silicone, it is flexible and folds down to 3/4″ tall and 4″ wide when collapsed. It has a wide flange on the bottom to fit many cups and mugs.
Best thing about it is not needing paper filters or a method of percolation. The stainless steel mesh is reusable and pops out for easy cleaning. Both this and the 16oz X-mug fit in the X-pot kettle to save space when packing your bag.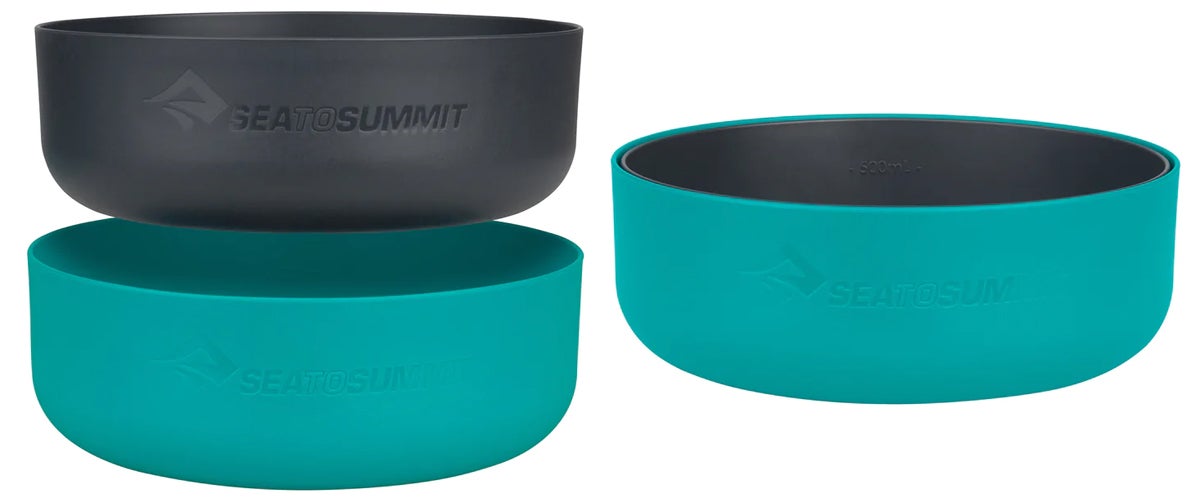 The Delta Light bowls have a unique focus compared to your typical eating vessels; they pack inside the 1.9L Alpha or Sigma pots or the Large 2.7L pot sold by Sea to Summit. This benefit of space saving is in an intentional benefit of a S2S cooking ecosystem.
The bowls are BPA free, lightweight, and fit an entire camp meal – even a Mountain House 2-person meal inside of them. They're made from a glass reinforced polypropylene which means they're going to be more durable than most other camp cooking wear, or even your mother's old Tupperware at a lighter weight. Colors match many of Sea to Summit's other dining gear.
A collapsible mug with that ribbed texture, for him or for her. I mean, it's 2022, right? Who doesn't enjoy hot beverages on the trail! By adding cool grip fins on the mug, it reduces temperature sensation and heat transfer to your hands. Being able to hold 480 ml/16 ounces means you're able to make a big cup of coffee with the X-brew coffee dripper and still have space for a dash of cream, your whey protein powder, or whatever kids are adding to their morning brew these days.
The rigid top ring helps the mug keep it's shape if you're inattentively grasping the cup while waking up making it less likely to squeeze drink out on the rest of your gear. The mug folds down to 15mm/5/8″ and fits with the coffee dripper inside the kettle below, or others.
A collapsible kettle. With your collapsible cup and coffee dripper in this, and your pot in the not yet mentioned Delta Bowl, you have a matryoshka doll style setup of cooking gear all in one container! The X-pot Kettle is BPA free, and made from food grade, heat resistant silicone. The base of the pot is hard anodized 6063-T6 aluminum. There are two colors for the 1.3 liter pot I reviewed; Sand and Lime Green. I like ostentatious colors like the lime green because I lose things too easily.
The pot acts as a kettle with nylon handles that fold out of the way, as well as a built in spout to easily pour things. This works well with the coffee dripper to bloom the coffee, wait, then continue brewing.
The provided lid is clear, sturdy, and lets you see whether your water or food is ready without having to frequently take it on and off. The pot comes with a silicone band to ensure everything stays together. (pretty sure I lost the band though…)

Observations
I've used other camping coffee makers in the past that were not worth my time due to their fragility, required filters, or size. The simplicity of the X-Brew Coffee Dripper makes this something that I could consider using on more than just an overnight trip.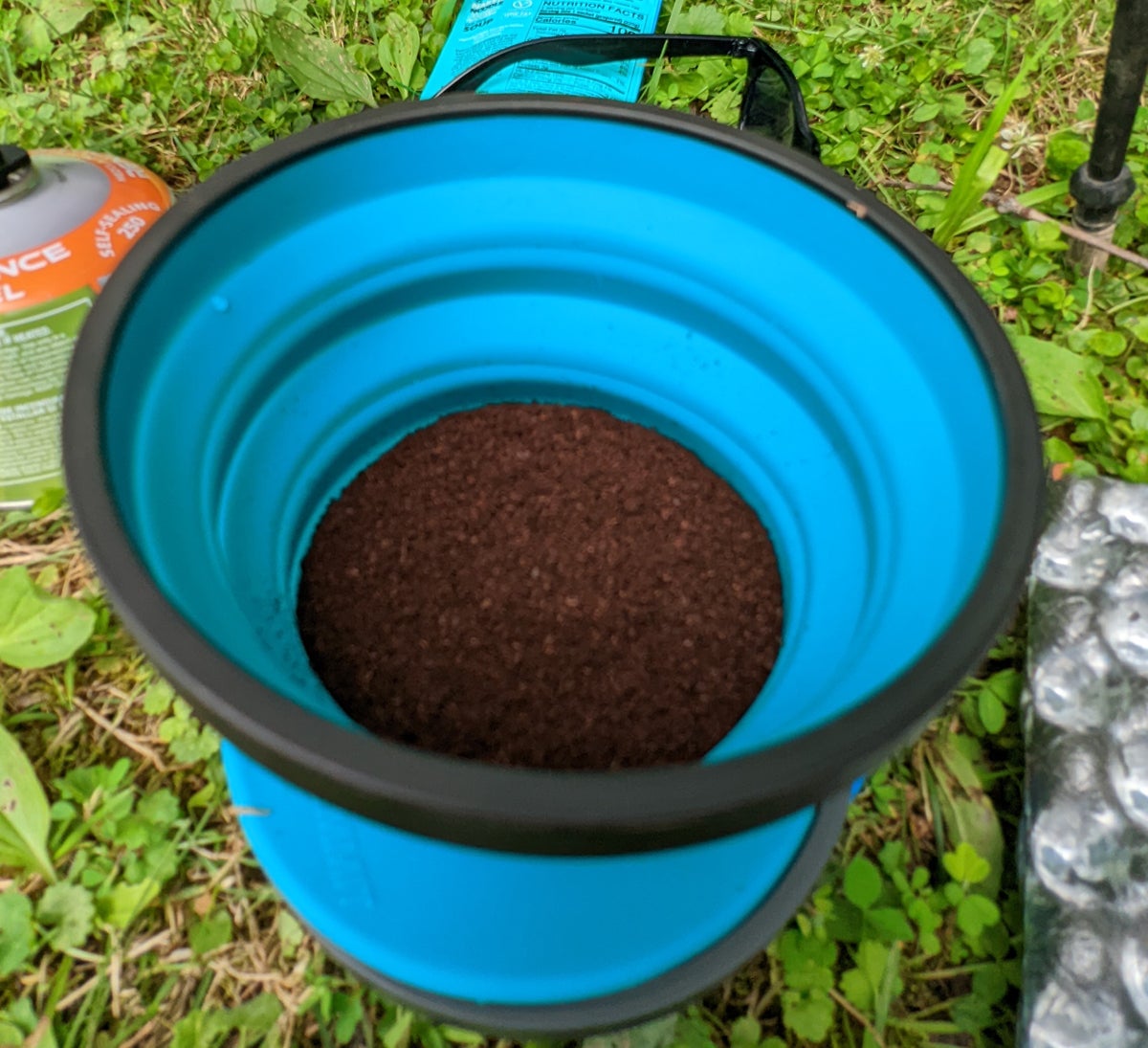 I had a bit of a quandary trying to figure out the grind settings and how much coffee to use when brewing with this thing due to few instructions provided with it. Of course everyone likes their coffee differently, but I tried two tablespoons of fine ground Gevalia. Blooming the coffee helped with flavor, and pour-over techniques just don't matter. You're in the woods, not at your hipster coffee bar asking your barista for a fake macchiato.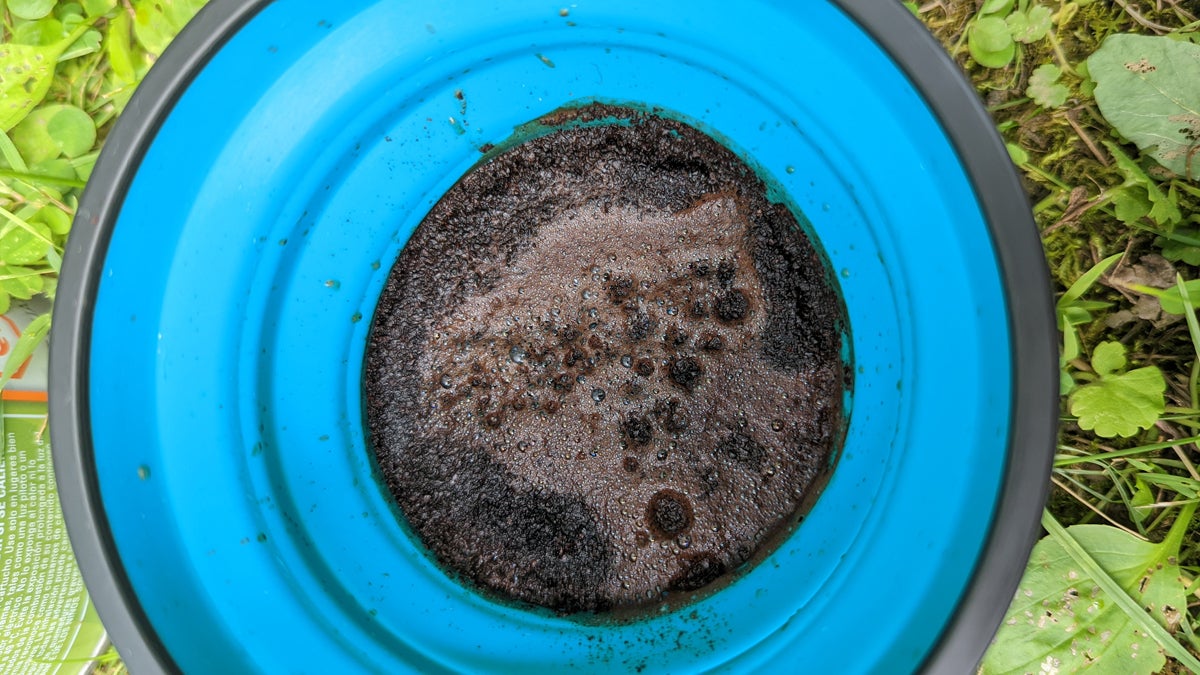 Cleaning the X-Brew Coffee Dripper was as simple as it could be. When not using instant coffee on extended trips, I think this could be a new staple for me. Posted a sad video of me using it:
Overall 4 out of 4.
---
Delta Light Bowl Set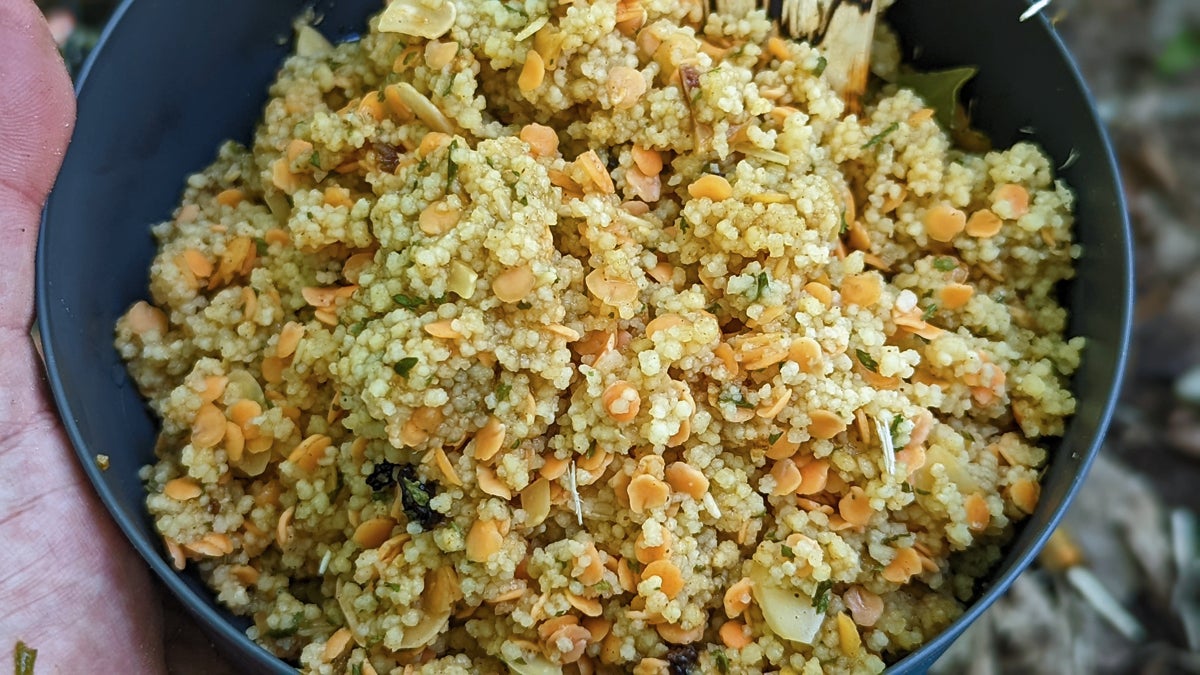 I don't really have much to say about these bowls other than they're lightweight, durable as sin and easy to clean. I believe these bowls are better suited for someone primarily doing overnights, car camping, or some glamorous longer stays out. The convenience of them working with other Sea to Summit ecosystem products is their shining attribute.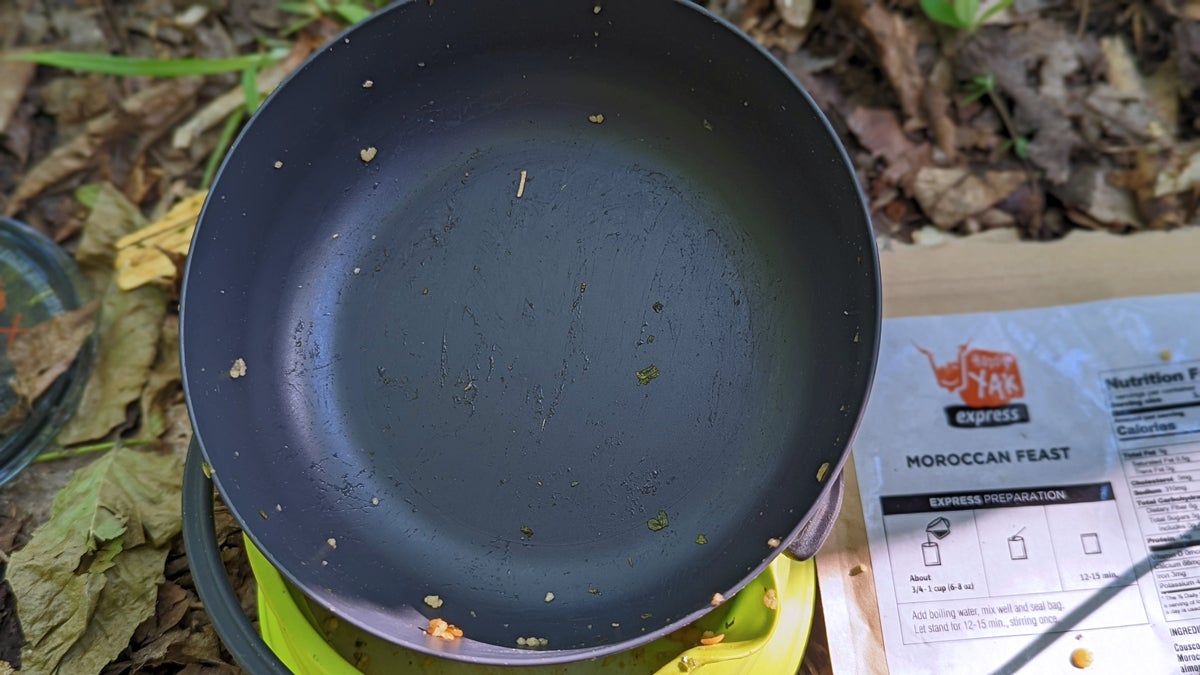 Overall 3 out of 4
---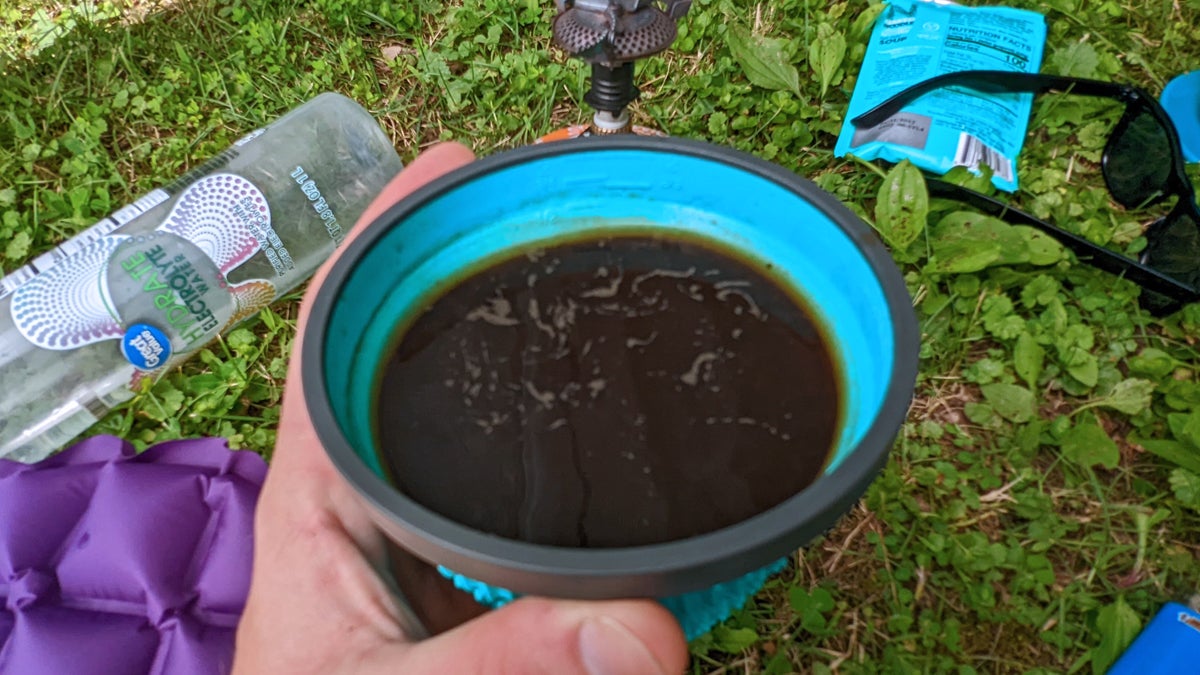 I've had collapsible cups before that have failed to hold water after a few weeks. The thinnest portion of the silicone cup would always fail and leak on me. The X-Mug is superior to other collapsible cups and mugs I've used in the past due to the durability and oddly enough, the ribbed fins. They actually decrease the temperature (or at least the feeling) in-hand. The bright color helped me find it at night in a stuff sack.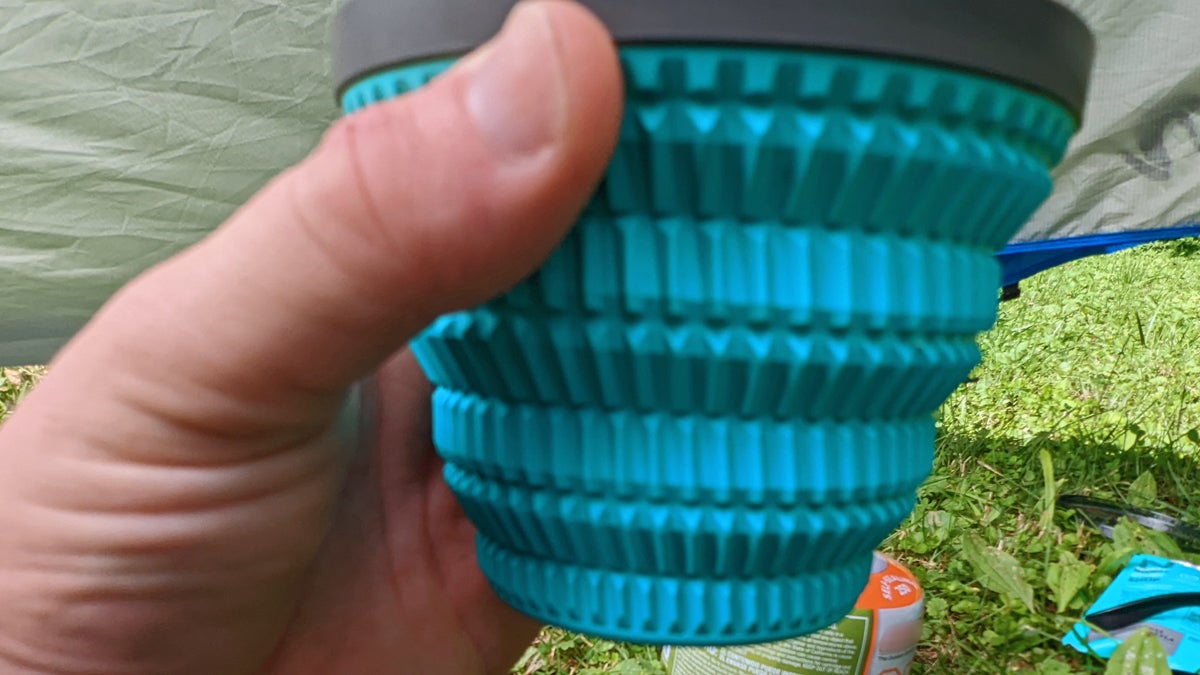 If you've ever considered getting a collapsible cup – especially for hot drinks, I'd get this one and the coffee-dripper. Price is a little high, but I can confidently say this is a "buy once, cry once" type product.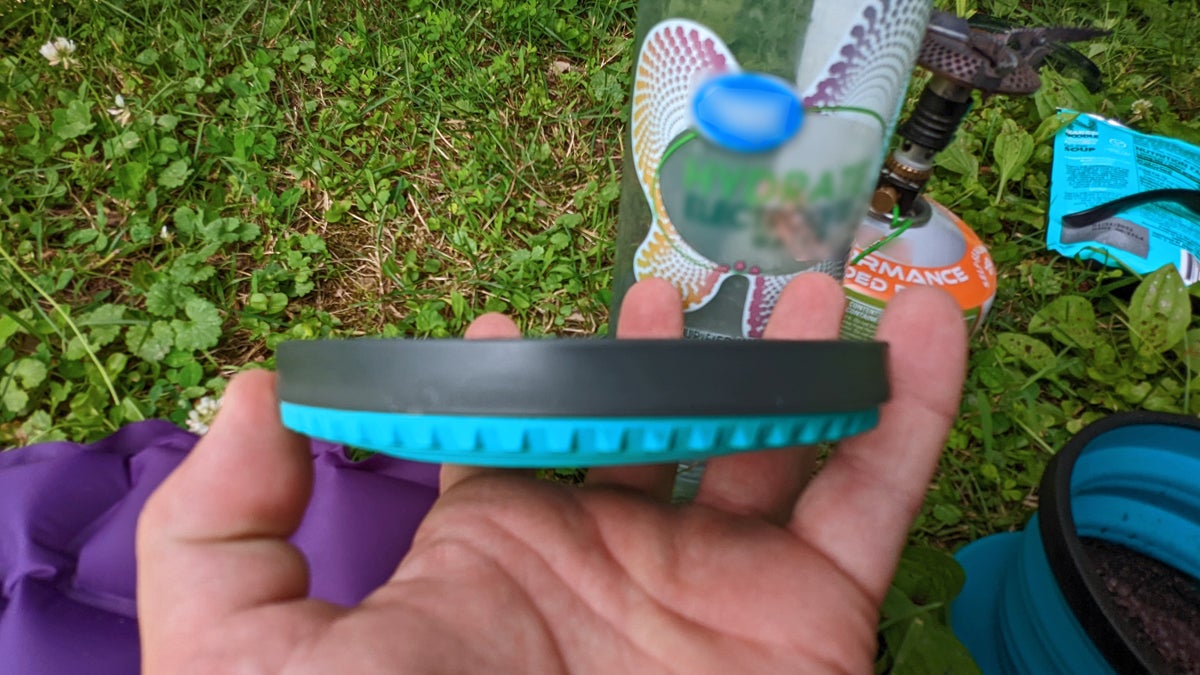 Overall 4 out of 4
---
The X-pot kettle is cook as hell for the purpose of size once collapsed. I rarely ever need to boil 1.3 liter of water, but cooking your dehydrated meals in the pot and using the pot as a bowl definitely cuts down on needed materials.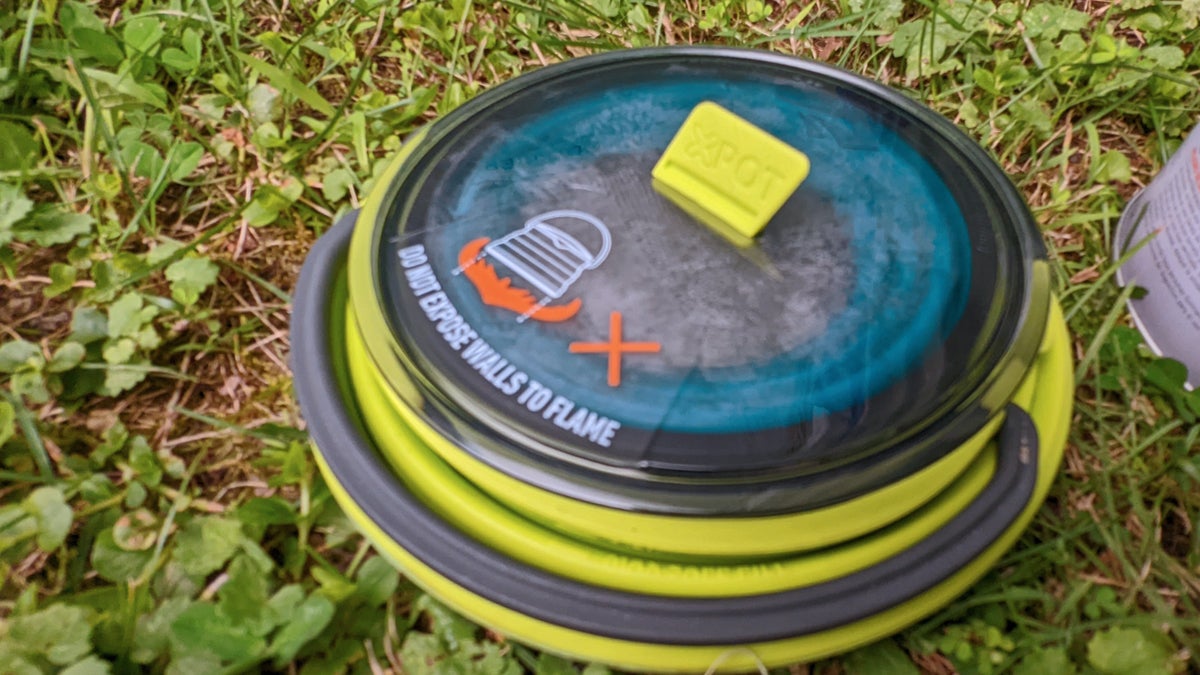 The added benefit of being able to put a two-serving meal in with the required cup or two of water made it so I could eat a Hapy Yak dehydrated meal in eight minutes instead of the recommended 15 minutes. When hangry, minutes count, no?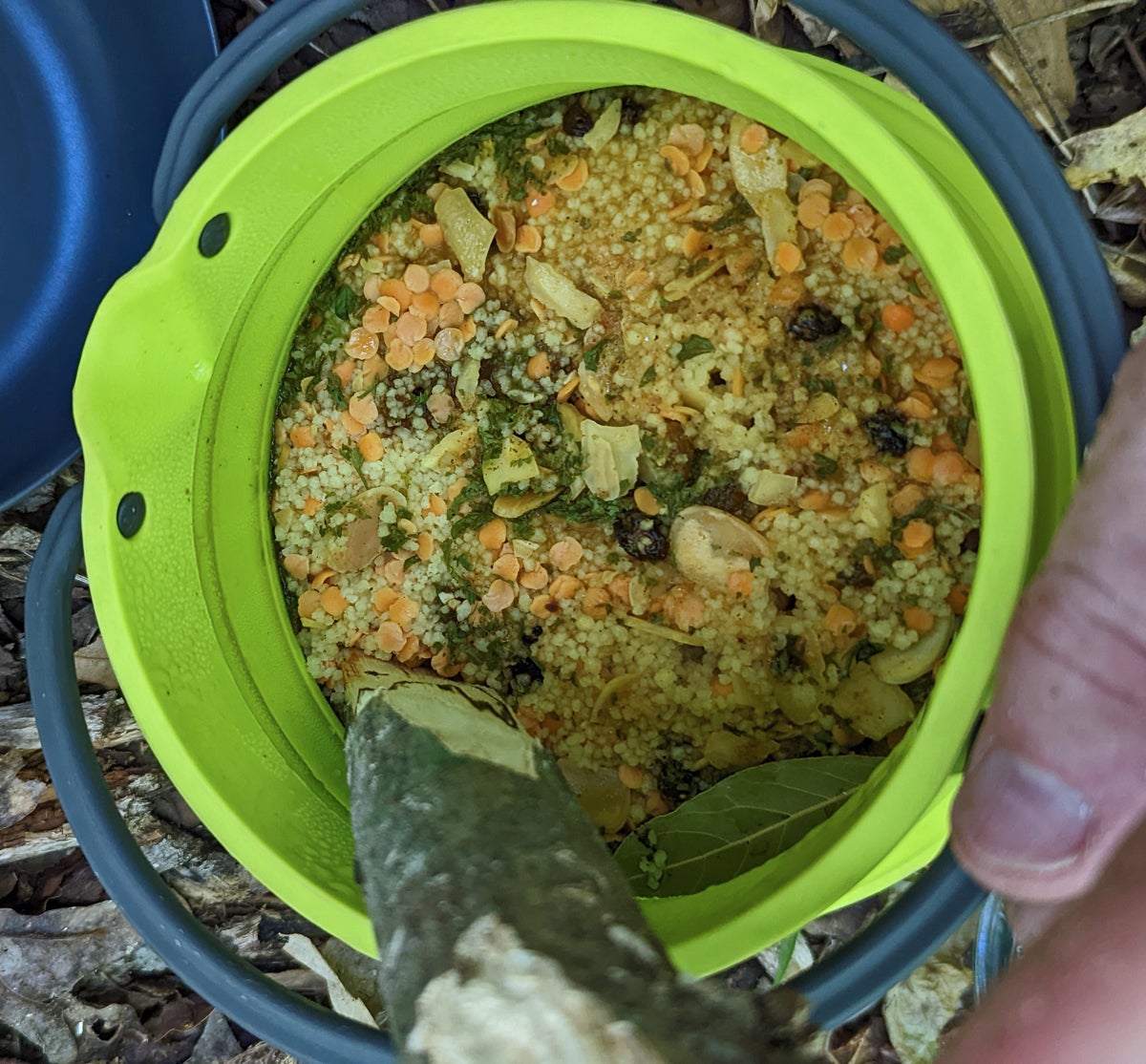 Comparing the X-pot kettle to other pots kind of short changes the key attributes of being able to shrink this thing down to the size of two pancakes, roughly. While a Toaks 1300g pot may weigh 50-some grams less, the space it takes is incomparable. This is where you have to decide whether that reduction in space is worth two extra ounces.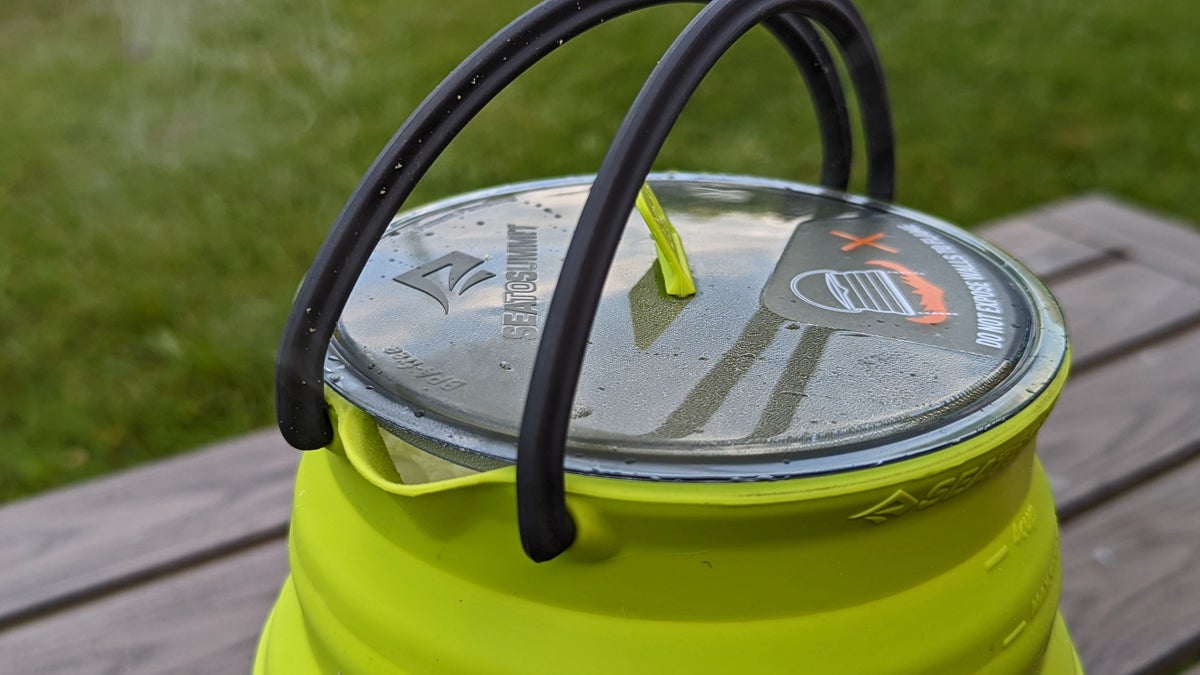 The aluminum base on this pot has not shown wear after eleven uses over three months. I'm a little surprised by how neat this guy looks after being abused on five trips, four states, and two outdoor trade shows worth of boiling.
If you're needing to boil a liter of water and looking for a small way to do it, this may be your best bet. If you're an ultra-mininalist that wants a pot you can stash your mini fuel can and stove in, this may not be for you. Just be aware that being able to stash the cup and coffee maker in this definitely will save you space. Other products in their line also make the Sea to Summit kitchen ecosystem very appealing.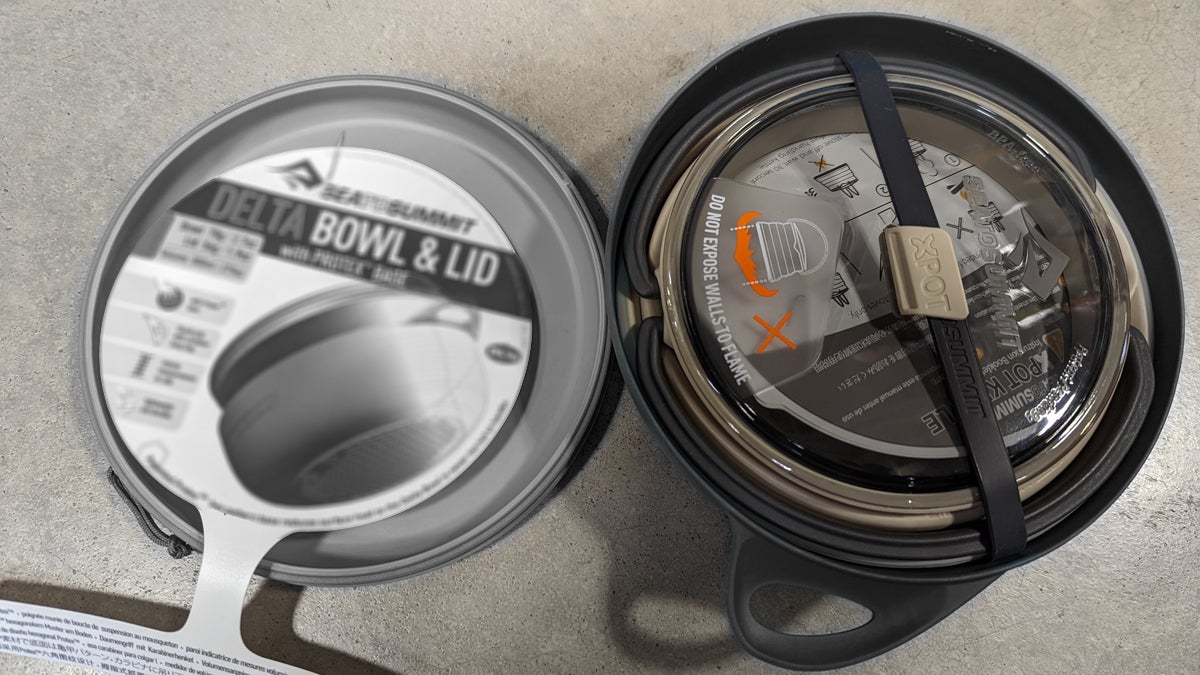 Overall 3.5 out of 4
Overall Score
Comparison
There are no decent products to compare the X-Pot Kettle to, so I'm not even going to try. I've seen that GSI has some coffee making devices that appear supremely lightweight or confusing to use.
The rocket one looks viable, but I really don't know much about it.
The Ultralight one is a cloth sack that allows you to pour grounds and water into. Is it easy to clean?
UCO does have a mug that is partially collapsible, but still is kind of big. Not going to lie, I like the gucci look of it.
Specifications
X-Brew Coffee Dripper
Price: $6.95 – $8.95
Weight: 85 g / 2.9 oz
Capacity: 16 oz
Materials: Flexible food grade silicone and Stainless-steel mesh filter
See more data here.
---
Delta Light Bowl Set
Price: $19.95
Weight: 96 g / 3.6 oz
Capacity: 25 oz / 27 oz
Materials: BPA free and glass reinforced polypropylene, Dishwasher & Microwave Safe
See more data here.
---
X-Mug 16oz with Cool Grip
Price: $14.95
Weight: 72 g / 2.5 oz
Capacity: 480 ml / 16.02 oz
Materials: Flexible food grade silicone
See More data here.
---
X-Pot Kettle
Price: $44.95
Weight: 186 g / 6.5 oz
Capacity: 1.3 l / 44oz
Materials: BPA free, food grade, heat resistant silicone and hard anodized 6063-T6 aluminum base
See more data here.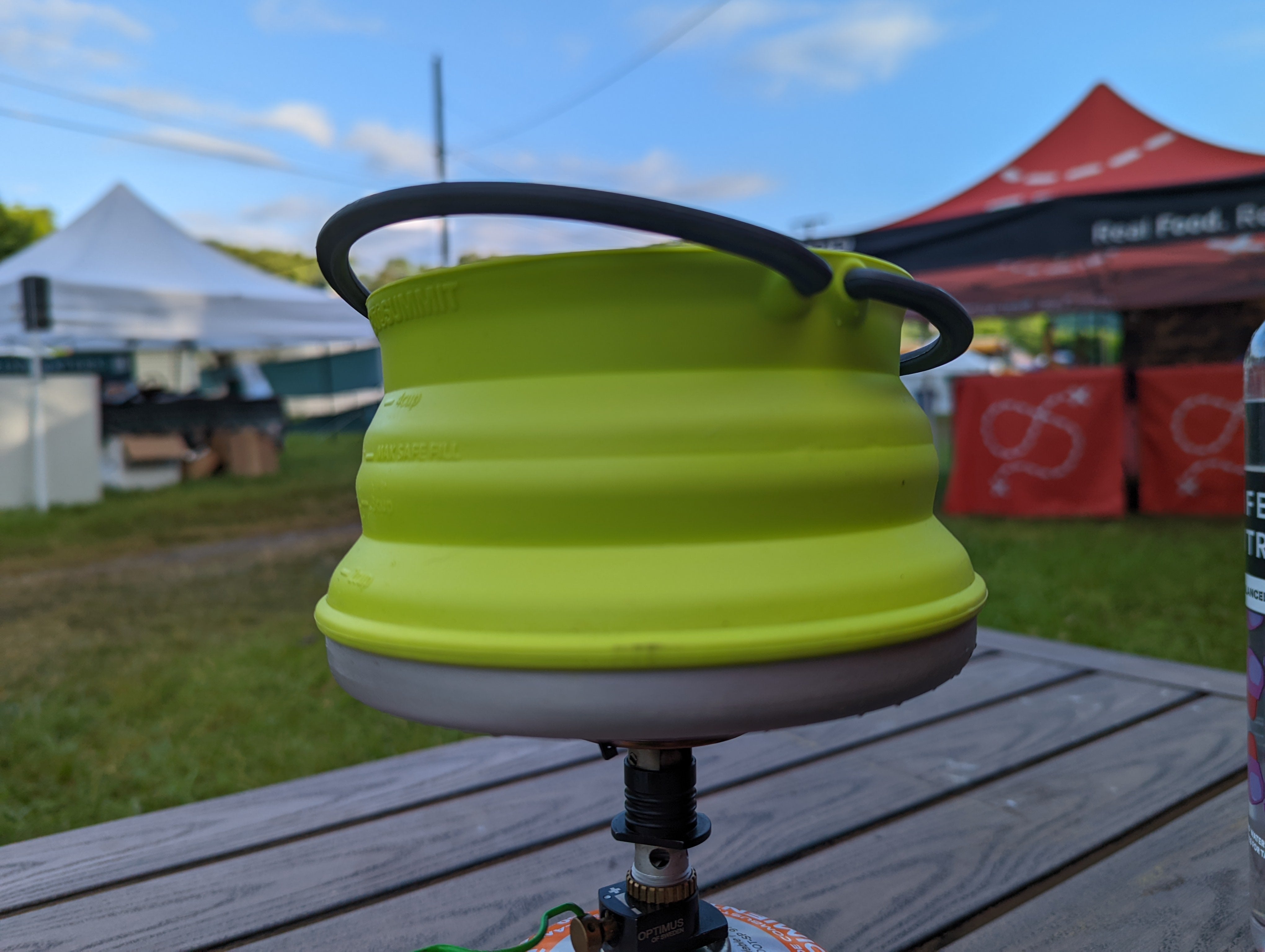 ---
The opinions expressed above are entirely from the author and weren't subject to review by Sea To Summit, or any external entity.
Come join Alloutdoor's Discord server and chat about Archery, Firearms, Fishing and other topics with others! Sneak peaks, early notifications, and perks await. We have a Tiktok account, too!