Sierra Designs has released nine new sleeping bag models for the Spring 2022 season. Check it out below!
Company Info: Sierra Designs Gear
Sierra Designs is an outdoors company creating beginner to mid-level outdoors gear. Founded in California circa 1965 by Bob Swanson and George Marks, they are now based out of Broomsfield, Colorado. Sierra is owned by Kellwood (Apparel) Company, who also owns companies like Ames Taping Tools, Boston Market, and others. Their historical innovations include such inventions and designs such as:
The OG Flash Tent in 1983 – This was a two person tent that 40 years ago weighed 1800 grams (four pounds)!
Swift Clips – The plastic hooks that keep a tent suspended to poles.
They were the first to make a women's specific bag in 1995. What? did women not exist before or something? Oh! It's about size/proportions/fill zone density.
Zipperless sleeping bags in 2014
Sierra reports they offer a warranty on all products:
"Sierra Designs branded products (tents, backpacks, sleeping bags, and apparel) purchased only from authorized retailers are warranted to the original owner against manufacturing defects in materials and workmanship for the lifetime of the product.  This does not mean your lifetime, but the reasonable lifetime of the product, considering its age and how you have cared for and used it."
Product Info: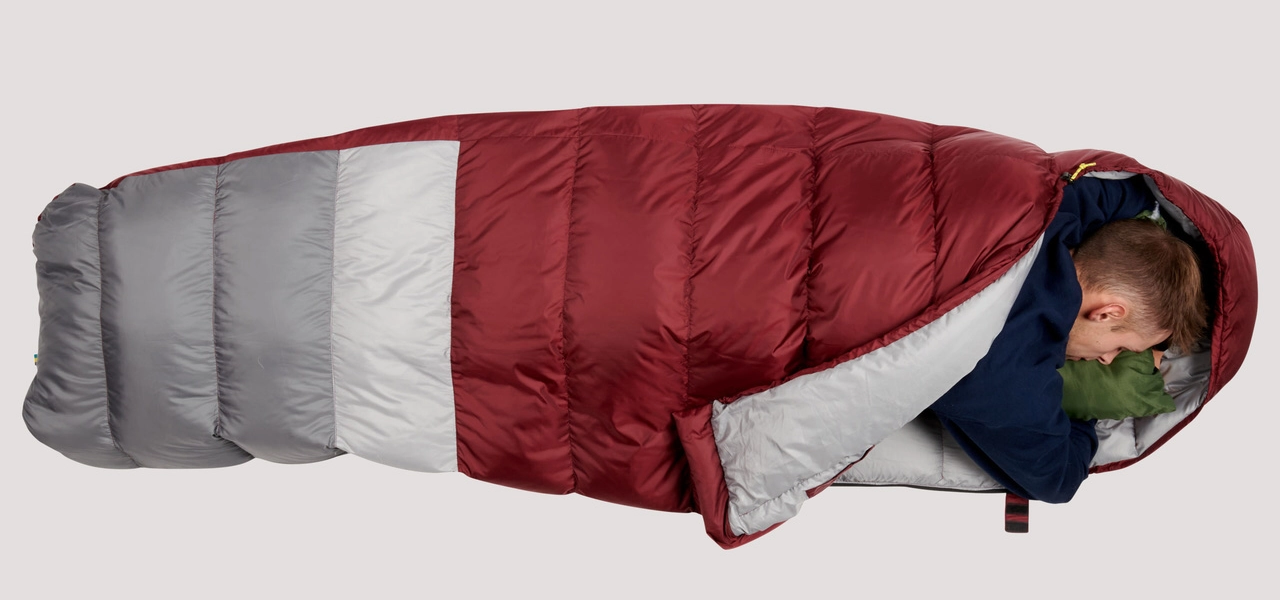 "Give yourself the freedom to stretch your perspective and your body. The oversized Indy Pass sleeping bag is designed to give you more room than a traditional mummy bag on camping and backpacking trips, so you can sprawl out and enjoy the comforts of sleeping in. It's made with recycled and durable fabrics, featuring 550-fill hydrophobic down for lightweight, compressible warmth that's easy to pack for the trail. No need to fumble around in the middle of the night: the cinchable hood hugs your pillow in place, an internal stash pocket keeps your headlamp and small camping essentials close at hand, and dual, anti-snag zippers get you in and out of bed easily."
Weight: 2 lb 4 oz / 1.02 kg – Fill Weight: 19.4 oz / .55 kg
Stuff Sack Volume: 18.32L
MSRP: $149.95 USD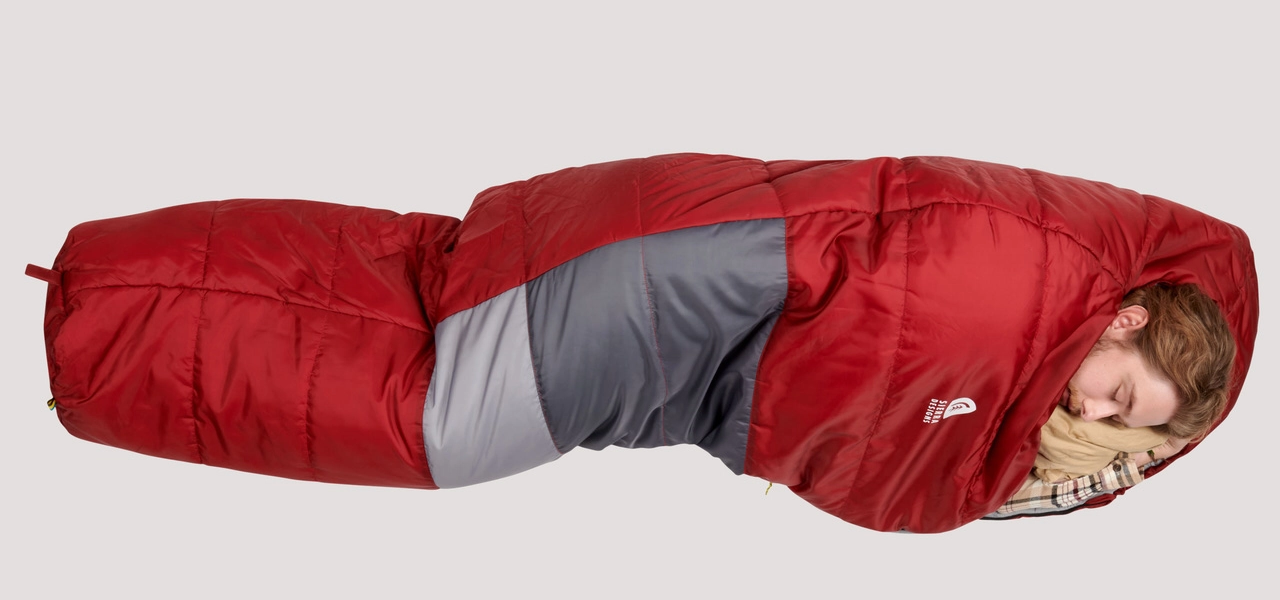 "You might be new to the trail, but a great night's sleep is an old habit you have no intention of ditching. Designed for optimal thermal efficiency, the Middle Mountain is a PFC-free mummy bag made from recycled materials for a sustainable sleeping system that doesn't skimp on comfort when camping off the grid. Stay warm and dry even in cool, damp conditions with SierraLoft™ synthetic insulation and a DWR-treated shell, and cinch in the heat around your head with its adjustable hood. Convenient details like an anti-snag zipper, internal stash pocket for nighttime essentials and the included compression sack are sure to keep your backpacking goals and dreams within reach at all times."
Weight: 3 lb 15.3 oz / 1.8 kg – Fill Weight: 3 lb / 1.36 kg
Stuff Sack Volume: 16.01L
MSRP: $99.95 USD
Weight: 4 lb 5.4 oz / 1.97 kg – Fill Weight: 48 oz / 1.36 kg
Stuff Sack Volume: 31.76L
MSRP: $69.95 USD
Weight: 5 lb 5.4 oz / 2.42 kg Fill Weight: 64.2 oz / 1.82 kg
Stuff Sack Volume: 31.76L
MSRP: $89.95 USD
Weight: UNLISTED – Fill Weight: 32 oz / .9 kg
Stuff Sack Volume: 23.41L
MSRP: $49.95 USD
Weight: 8 lbs 3.5 oz – Fill Weight: 96 oz
Stuff Sack Volume: 72.80L
MSRP: $149.95 USD

"The award-winning Mobile Mummy 15 is a wearable, lightweight sleeping bag for the outdoorsperson who's always cold and can't sit still. Constructed with abrasion-resistant 20-denier nylon ripstop, treated with PFC-free durable water repellent (DWR), and insulated with our hydrophobic DriDown™, this versatile design brings a warm bed wherever you go, whether or not you're ready to hit the hay. Just unzip the footbox and attach it to the toggles for instant walk mode around the campsite. Zipperless arm ports let you reach for the pot of coffee or stoke the fire and don't cause uncomfortable pressure points in the middle of the night. Plus, a two-way zipper down the front center means easy entry and exit at all hours, giving new perspective to camping in comfort."
Size: Regular
EN Limit Rating: 16.0° F / -9.0° C – Comfort Rating: 27.0° F / -3.0° C
Weight: 2 lb 6.5 oz / 1.09 kg – Fill Weight: 18.56 oz / 525.0 g
Stuff Sack Volume: 25.89L
MSRP – $299.95 USD
Size: Long
EN Limit Rating: 16.0° F / -9.0° C – Comfort Rating: 27.0° F / -3.0° C
Weight: UNLISTED – Fill Weight: 20.8 oz / 590.0 g
Stuff Sack Volume: 25.89L

(???)

MSRP – $299.95 USD
Size: Women's
EN Limit Rating: 7.0° F / -14.0° C – Comfort Rating: 20.0° F / -7.0° C
Weight: 2 lbs 9.2 oz / 1.17 kg – Fill Weight: 22.56 oz / 638.0 g
Stuff Sack Volume: 25.89L 

(???)

MSRP: $319.95
Observations
Sierra's Indy Pass Down 30° seems like a pretty fair starter sleeping bag. It doesn't break the bank or back in terms of cost or weight, but is a little poofy at a claimed 18: stuff sack size. Let's pray that compression can help a brother out when packing for a multi-day trip with this bag.
The Middle Mountain Mummy 20°, I'm not sure what to think of it. It's a hundred bucks for a 20° bag, packing in at 16L, but due to being synthetic filled, it comes in at nearly 4lb (75% of that being fill weight). I feel like someone who buys this would be wanting to replace it sooner than later if they are at all a beginner enthusiast. Remember… Spend your money on the Big 3 (tent, sleeping bag, backpack).
The Mobile Mummy 15° comes in three different variations, Women's, Regular, and Long. Sierra claims they take the same amount of space. It is interesting to see that the women's bag has 113g more insulation filling than the regular sized bag, with comfort temperature rating also being significantly better. There's a 25cm / 10 inch difference in the lengths between the women's bag and the regular sized bag, but the stuff sack volume indicated on all the sleeping bags are the same. I find this very odd.
The bags have arm hole openings which are super cool in my book; help keep your body warm when wiggling around looking for a flashlight or snacks at three in the morning! There were four other models released for the Spring 2022 season, but as they do not fit with my desired field of coverage, you can feel free to do homework on them by clicking the links above. When perusing the site myself, I ran across this guy – The Nitro Quilt 35°.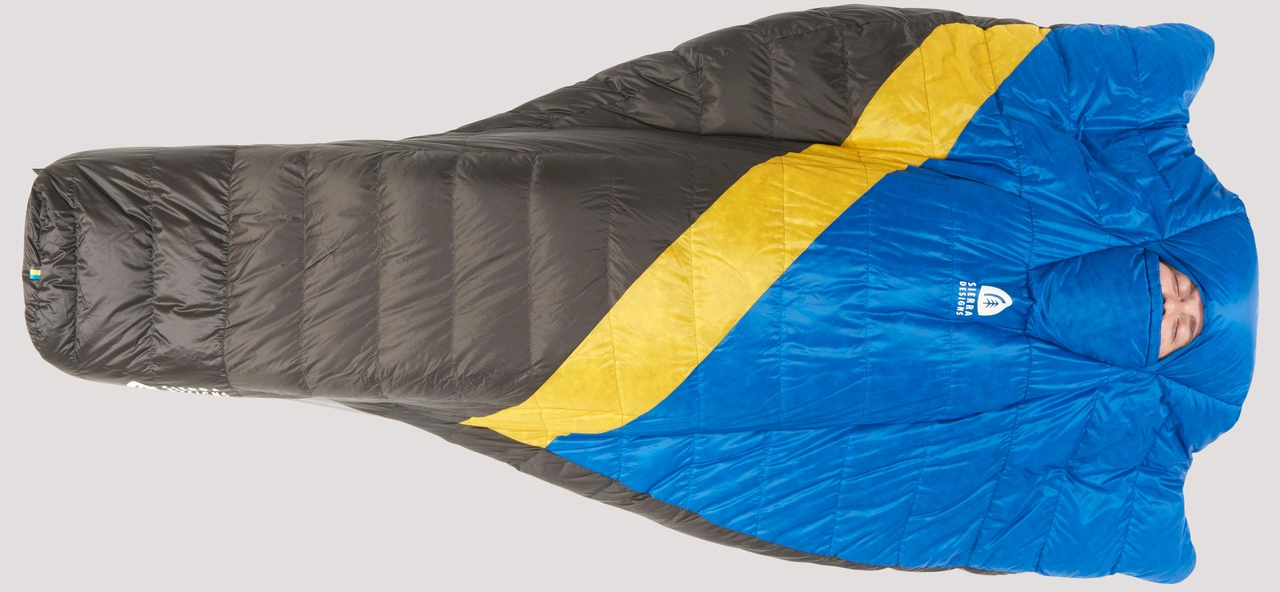 The sleeping bag quilt blanket spaceship thing looks like the person resting in it is transforming into a polyester version of Mothra for real. Anyways, it's 800 fill down and weighs 620g / 1.6lb. Ridiculous. It even packs down to 8.21L of space. If you still feel you'd get cold, they make a NITRO QUILT 20°, too. I'm very tempted to try this thing out.  If you own one, tell me in the comments!
---
Sierra Designs can be found on the following sites:
---
Come join Alloutdoor's Discord server and chat about Archery, Firearms, Fishing and other topics with others! Sneak peaks, early notifications and perks await. We have a Tiktok account, too!