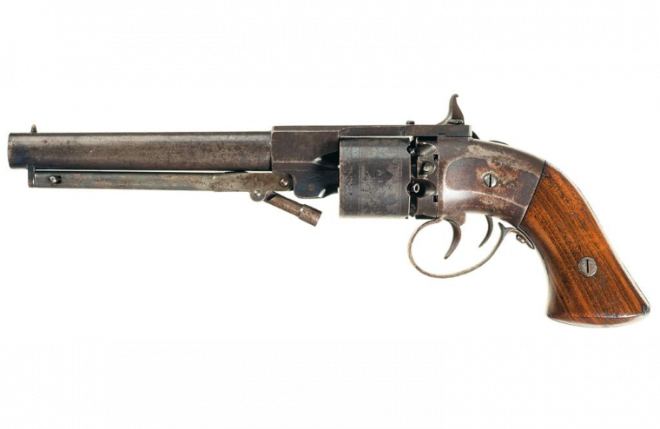 Welcome to today's Photo of the Day! Here we have a unique Springfield Arms Co. Double Trigger Navy Model Revolver made in the earlier 1850s. This time in the gunmaking world was a particularly explosive one because everyone was now trying to make something completely different from their competitors. Why? Because of Patents. This new patent era forced the manufacturer to now come up with original ideas and as a result, there are some (by today's standards) wacky remnants from the past. This Springfield Arms Co. Double Trigger Navy Model Percussion Revolver was unfortunately a revolver that never saw its full potential. You see it was in direct violation of some of Colt's patents and its manufacturing would be ceased only after roughly 125 guns were made.
"Only an estimated 125 of these double trigger Navy revolvers were manufactured around 1851 based on James Warner's designs. The Springfield Arms Co. opened in 1850 and the following year later due to Colt's relentless patent litigation. The company had hoped the double trigger mechanism would work as a way to sufficiently differentiate their revolver mechanism from Colt's. The front trigger rotates the cylinder and then hits the rear trigger that in turn releases the hammer. It is marked "SPRINGFIELD ARMS CO." lightly on the top strap, has martial and floral themed etching on the cylinder, "WARNER'S/PATENT" on the left side of the frame at the rear, post and screw slot sights, and smooth grips. "5F" is marked on the loading lever, top strap, top of the frame, rear of the cylinder, and grips. The left grip panel and right side of the action under the grip are marked "26."
Lot 275: Springfield Arms Company Navy Revolver 36 percussion. (n.d.). Rock Island Auction Company. photograph. Retrieved February 21, 2022, from https://www.rockislandauction.com/detail/67/275/springfield-arms-company-navy-revolver-36-percussion.