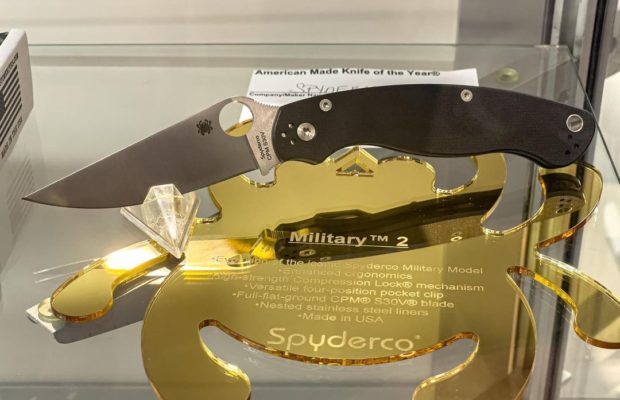 [
Thanks to Spyderco M.PM2.P3 Club for the images used in this article
]
---
One of the big Blade Show surprises was the official reveal of the long-awaited Spyderco Military 2, sequel to the beloved and legendary Military model. The Military 2 is a thoughtful revision of the hardworking classic and it took home a Blade Show award right away.
The Military has been an active model in Spyderco's lineup since 1996. The story goes that Sal Glesser designed the knife after being asked what sort of blade he would want his own son (who has gone on to design a few knives of his own) to carry during a tour of duty. It went on to become a mainstay in the Spydie catalog, with dozens of variations over the years, and eventually laid the groundwork for the Para Military line as well.
This 2022 sequel doesn't mess with the fundamental bones of the design; the Military 2 looks to be all about refinement. The handle profile has been tweaked, with the forward finger choil more defined (a la the Para Military 2), and the dip/belly in the main portion of the handle steepened. The pocket clip now mounts higher up and is four-way repositionable. The biggest change, however, is the lock. The OG Millie was one of very few liner locks in Spyderco's lineup; the Military 2 makes the jump to the company's patented Compression Lock, which is operated on the spine-side of the knife and has a proven track record on the Para Military models, among others. The blade steel, on this first model anyway, is S30V.
The Military 2 won the Blade Show 2022 award for American Made Knife of the Year. It isn't unusual for knives that are revealed at the Blade Show to win these awards, but it's worth noting that the Military 2 wasn't included in Spyderco's last product reveal, nor do they have any further information on a release date or price at this time.
Here are the rest of the production knife awards:
Overall Knife of the Year: Pro-Tech Malibu Operator
Most Innovative American Design: Ashville Steel Warlock
Imported Knife of the Year: MKM Miura
Most Innovative Import Design: Civivi Orthrus
Accessory of the Year: LionSteel Eggie
Best Buy: Sencut Sachse
Investor/Collector Knife of the Year: Pro-Tech Terzuola ATCF Ultimate Custom
Collaboration of the Year: Pro-Tech Terzuola ATCF Auto
Manufacturing Quality Award: Heretic Knives Wraith
Kitchen Knife of the Year: Bradford Knives Paring Knife
Knife in Featured Image: Spyderco Military 2 [Image Credit: Spyderco M.PM2.P3 Club]
Shop top of the line gear at great prices in the Everest Marketplace and get outside!