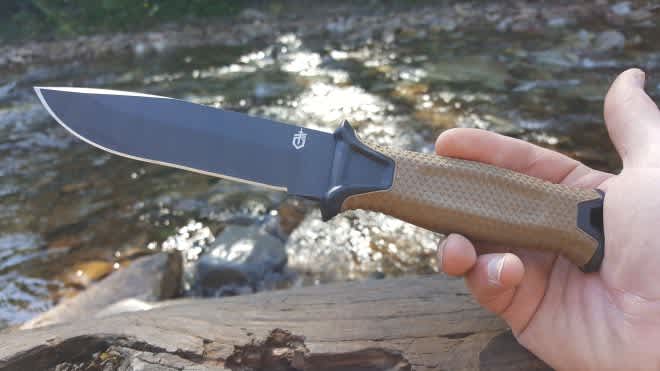 +
–
Table of Contents

1. ESEE-4 Fixed Blade Knife
SALE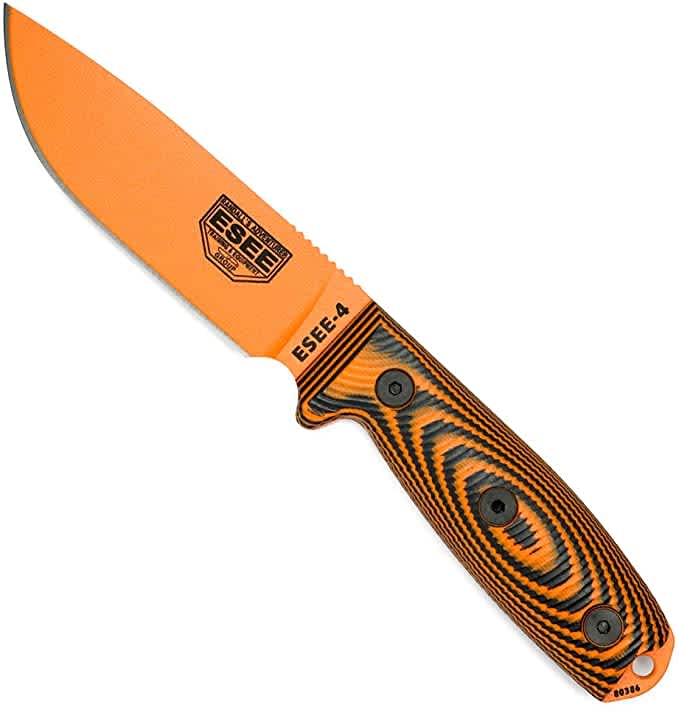 The ESEE-4 is a premium, high-performance Industry Standard Law Enforcement and Special Operations Fixed-Blade Sheath Knife. It is a no-nonsense knife that you can stake your life on when it comes to performance and durability. The people behind this knife developed it by experience and practical application… not theory. The NTOA (National Tactical Officers Association) scored the ESEE 3 fixed blade a 4.77 out of a possible 5.
Pros/Simple design and almost the perfect sized blade and handle length for survival purposes
Cons/Grip texture and design isn't the most ergonomic leading to some slippage
Bottom Line/A simple and affordable knife tough enough to handle any survival task
3. Editor's Pick: TOPS Knives Tom Brown Tracker Fixed-Blade Knife
SALE
Designed by Tom Brown, TOPS Knives' Tom Brown Tracker Fixed-Blade Knife has been featured in the movie "The Hunted" as well as on the cover of Blade Magazine. It's no wonder this knife is one of the most popular knives TOPS Knives makes. Its 1095 steel blade with a traction coating holds an exceptionally sharp edge and is easy to resharpen should the need arise. Lightweight yet strong linen Micarta handle provides a comfortable hold. Includes Kydex sheath with rotating spring-steel sheath clip.  Editor Rusty has used this knife extensively for jungle survival and it is excellent for everything from crafting shelter to opening coconuts.
Pros/Great design for chopping and hacking with a great handle design
Cons/A bit large and unwieldy, blade design makes it more difficult to sharpen, odd sheath
Bottom Line/A great survival knife that can stand in as a makeshift survival hatchet if need be
4. Gerber Ultimate Survival Fixed Blade Knife
SALE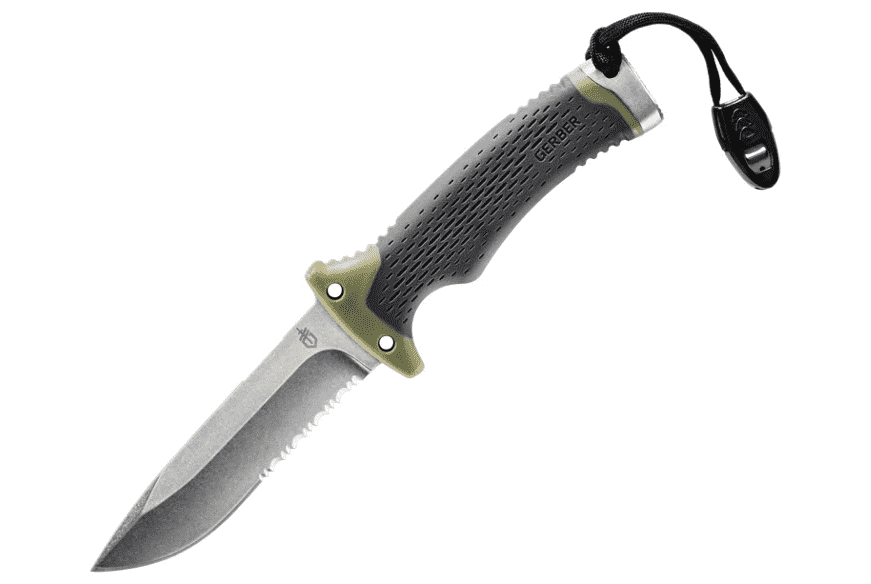 A rugged and versatile survival tool, the Gerber Ultimate Survival Fixed Blade Knife with Sheath stands ready for use in all situations. A smart, versatile, and comfortable design, this knife features an over-molded TacHide™ handle that prevents blisters and provides a secure grip in all conditions. The 4.84" blade features both fine and serrated edges to adapt to different situations. If you're familiar with the Gerber Strongarm combat knife, the Ultimate Survival is very similar but just features a more rubberized handle and blade serrations for better sawing characteristics.
Pros/Versatile blade complete with serrations and a durable coating. Comes with a firestriker for an additional survival tool. Also very affordable
Cons/None
Bottom Line/This is basically the perfect survival knife because of its combination of versatility, simplicity and value.
5. Smith & Wesson M&P Special Ops Survival Fixed Blade Knife
SALE
Take on the toughest challenges with the Smith & Wesson M&P Special Ops Survival Fixed Blade Knife. Constructed of 8Cr13MoV stainless steel with a rubberized polymer handle, this survival knife boasts impressive ergonomics and cutting strength. The 7″ blade features a plain edge with a sawtooth spine for cutting through tough surfaces. A polymer tactical sheath readily secures to MOLLE systems or belts up to 1.25″ wide for versatile carry options. Whether you're tackling backcountry trails, or engaging with dangerous adversaries, carry in confidence with the Smith & Wesson M&P Special Ops Survival Fixed Blade Knife.
Pros/Sawtooth rear blade for good sawing action and an overall long blade for slicing duty
Cons/Quite large,
Bottom Line/Great for use as a camping, hiking or truck knife.
What are survival knives good for?
It's no surprise that a knife is one of the best tools to have on hand when survival is the priority. But some blades are better at the task — which might involve building shelter, creating other tools, hunting, processing wild game, starting a fire, and self-defense. This is where larger, fixed blade survival knives come into play and due to their greater overall durability, they can withstand these tougher tasks that your folding knife may break under, or just not be large enough for the task.
Does my survival knife need serrations?
Strictly speaking, no, your survival knife does not need serrations but they could prove to be quite useful in a survival situation. Blade serrations allow for more aggressive sawing action which could prove to be useful if trying to cut down small branches or through tougher materials and even meat. Some smooth-edged blades have good sawing characteristics too but those are usually recurved blades and these will still be less suitable for sawing through great amounts of material.
On the other hand, serrations do wear away just like any other blade edge and they are very tough, frustrating, and time-consuming to sharpen. So my best advice would be to reserve your serrated or partially serrated blades for survival purposes only and keep the straight edge blades for EDC carry.
Should I bring other knives with me?
More blades are always better. A great setup for a hiking trip or deep woods camping trip should probably include a small bushcraft or pocket knife, a camp hatchet or ax, and of course a survival knife. You could also possibly add in a machete too if you felt like it was strictly necessary but I've always found that the first three blades are more than enough to cover all my needs in most camping or hiking situations.
We are committed to finding, researching, and recommending the best products. We earn commissions from purchases you make using the retail links in our product reviews. Learn more about how this works.
Shop top of the line gear at great prices in the Everest Marketplace and get outside!