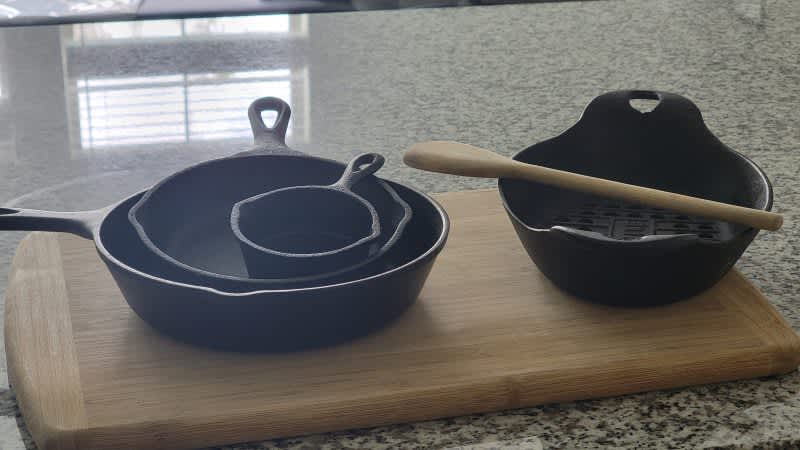 +
–
Table of Contents

1. Lodge Pre-Seasoned 12 Inch. Cast Iron Skillet with Assist Handle
SALE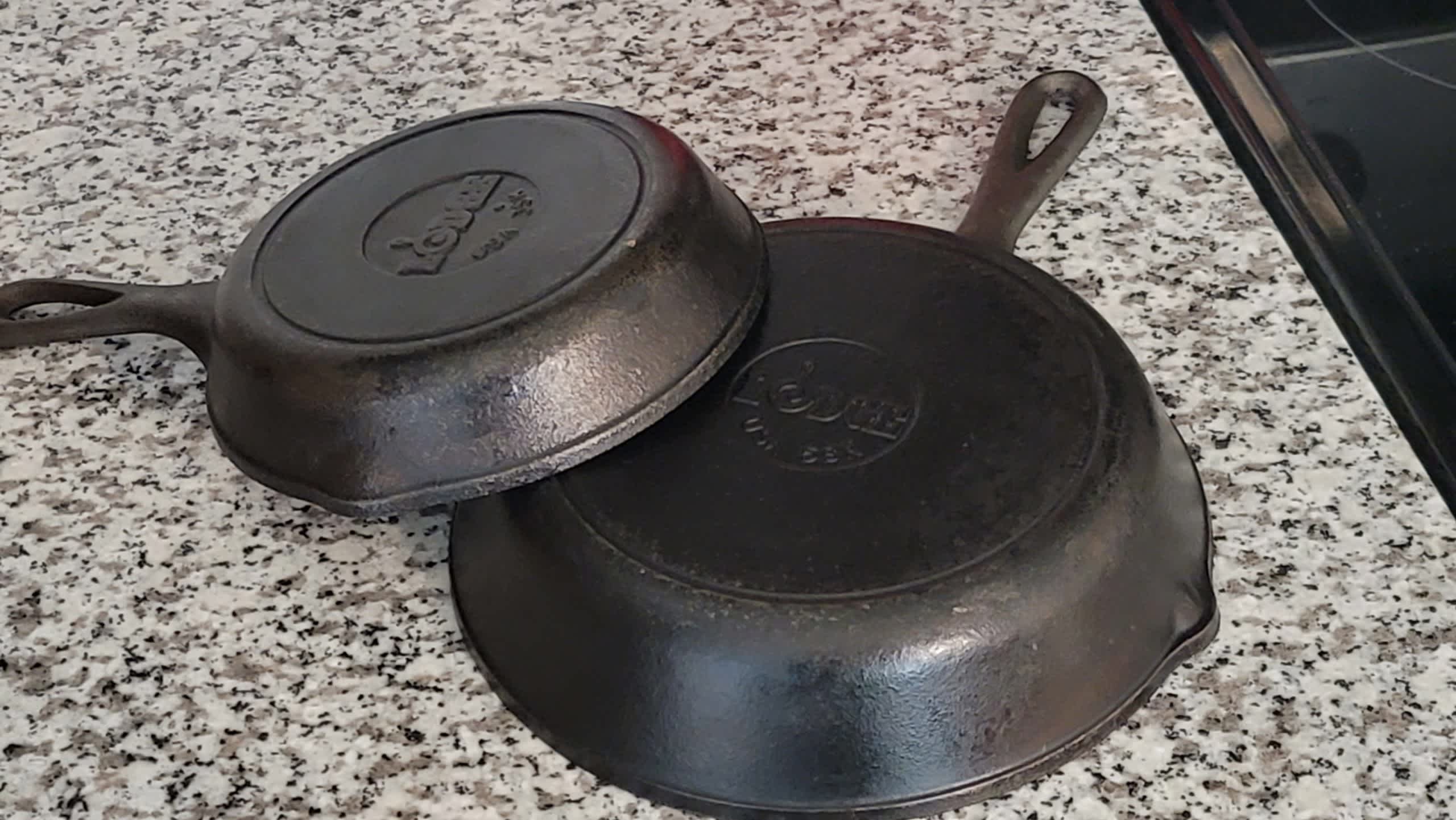 The Author's Pick
Lodge Cast Iron is probably the most well-known cast iron manufacturer that is made right here in the good ole USA. Lodge cast iron also happens to be the oldest cast-iron company and was founded in 1896 by Joseph Lodge in my current home state of Tennessee where the company still operates to this day. Not only are cast iron pans some of the best and most trusted cast iron pans in the industry, but they are also insanely affordable making them a common sight in kitchens spanning from the gulf coast all the way up to the pacific northwest. This 12-inch skillet option can be the core of your cast iron cookware collection and can handle all three meals and even dessert if you really wanted it to.
Pros/A well trusted, proven, and affordable cast iron pan manufactuer
Cons/None
Bottom Line/If you're looking to start your cast iron pan collection – this is the place to start.
2. Lodge Cast Iron Silicone Assist Handle Holder Rod
SALE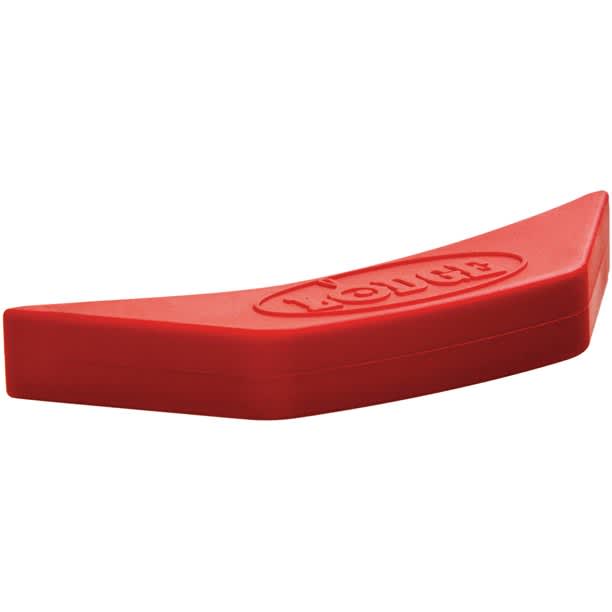 Cast Iron has great heat retention capabilities but that same heat retention and distribution applies to all parts of the pan. Even if you're not going to use this with a Lodge Cast iron pan, any cast iron pan that has an assist handle (the handle opposite of the primary handle) can benefit from this handle and affordable little tool. Made in the USA from high-quality silicone, and available in a variety of colors, this one will save your hands from getting torched and even offer a limited amount of protection to the more angular parts of your cast iron skillets.
Pros/Super affordable and keeps your hands from getting burned
Cons/Adds bulk and not suitable for use in the oven or over open flames
Bottom Line/A great item to have around for cooking in the kitchen
3. Lancaster Amish-made Wooden Kitchen Utensil Set
SALE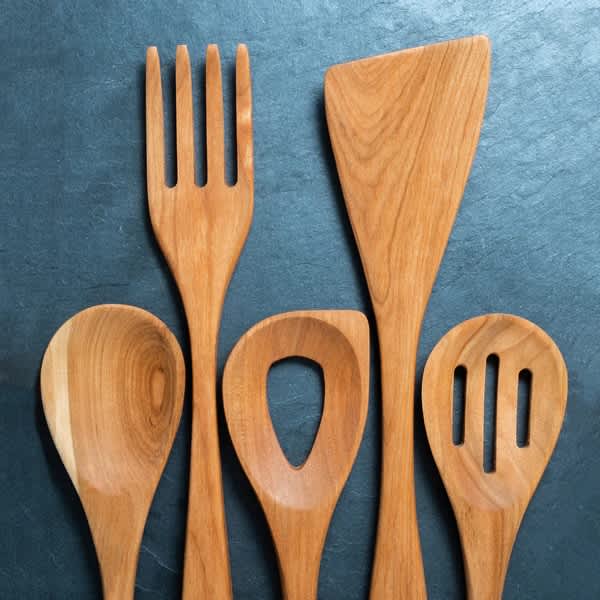 Made in Lancaster Pennsylvania by highly skilled Amish artisans, this 5-piece set of cooking utensils is made from Pennsylvania Black Cherry wood and includes all the most common tools you'd use with your cast iron including a 12″ spoon, spatial, slotted spoon, fork, and risotto spoon. Wooden utensils are great because they resist heat well, won't scratch your cast iron, and as an added benefit, look great in the kitchen. These 5-piece sets are also available in Walnut and Maple wood varieties so that you can match your utensils to the rest of your kitchen.
Pros/Perfect for use with cast iron skillets and won't damage them.
Cons/Expensive
Bottom Line/If you want the "real" cast iron cooking experience these are a must have
4. The Lodge Seasoned Cast Iron Care Kit
SALE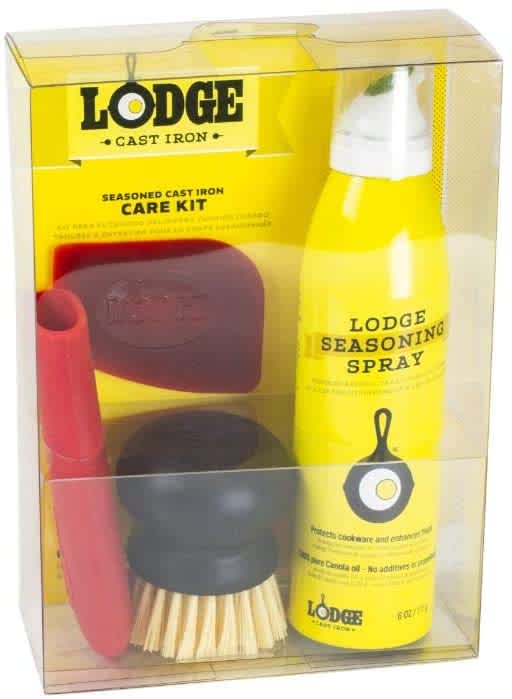 An unfortunate downside of cast iron is that it's very easy to get dirty and although we do our best to keep them seasoned properly, sometimes our attention goes somewhere else and some scraping, and reasoning will need to be done. Old methods of taking care of cast iron can be time-consuming and difficult but thankfully lodge has simplified the process with their 5-piece seasoned cast iron care kit. This care kit comes with seasoning spray, a polycarbonate pan scraper for those burnt bits of food, a silicone handle holder rated up to 500°F, a nylon scrub brush to brush away food and excess grease, and finally a small use and care booklet for newcomers to the cast iron gang.
Pros/Simple upgrade kit that helps you keep your cast iron in mint condition
Cons/I've found that the polycarbonate pan scraper can degrade over time with consttant scraping and if the pan is still hot it can leave bits of plastic melted to the pan
Bottom Line/A must have for new owners of cast iron cookware
5. FINEX 5 Qt Cast Iron Dutch Oven
SALE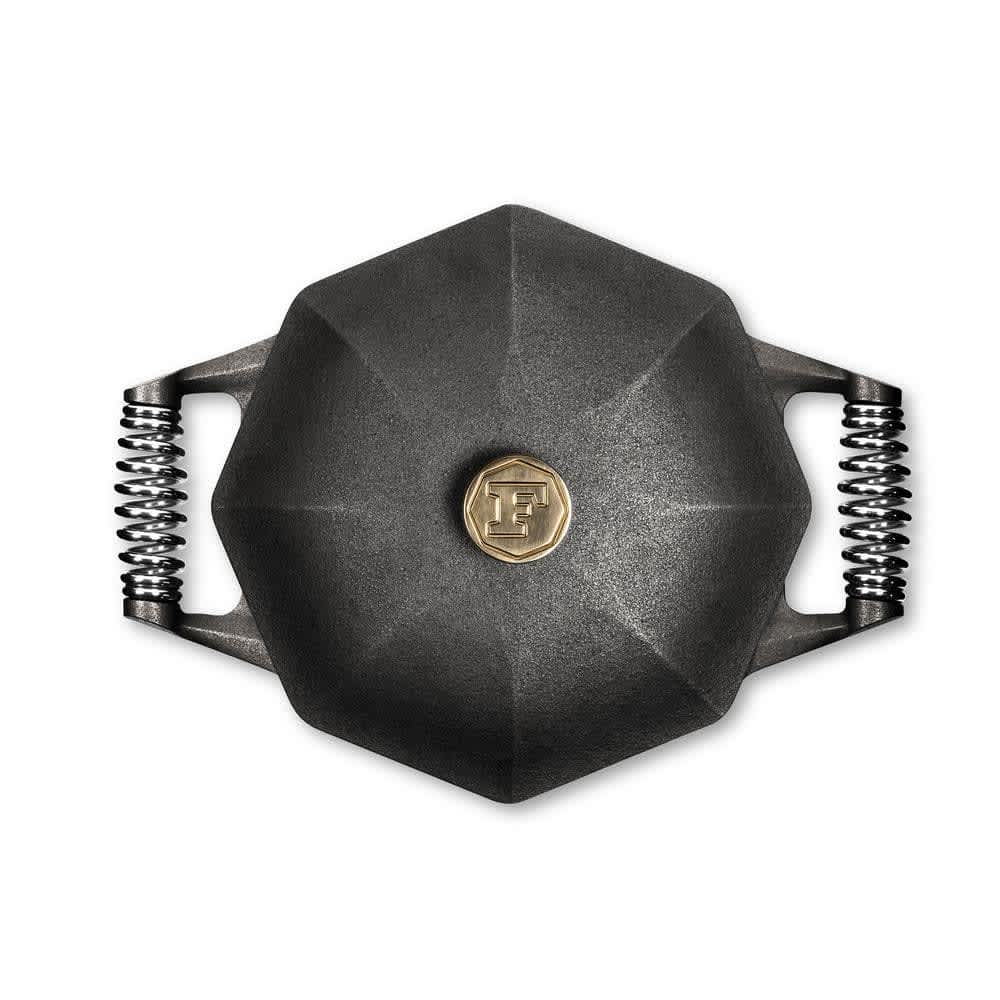 For slow cooking
Skillets are great for cooking quick meals but when it comes to boiling water or making a nice hearty slow-cooked stew for the entire camp, a dutch oven is a superior choice. Lodge makes some very fine and versatile cast iron dutch ovens but I particularly like the FINEX brand for its combination of higher quality construction, octagonal shape, integrated pour spouts, and twin stainless steel speed cool handles. Each FINEX cast iron dutch oven is made by hand and usually takes about 11 hours from start to finish to complete. If you're looking for a high-end cast iron dutch oven that can heat food for a group of people, check out this 5-qt option sold at home depot.
Pros/An heirloom quality cast iron dutch oven perfect for slow cooking and boiling water (comes with a fitted lid)
Cons/There is no way around this one, they're very expensive
Bottom Line/A great high qulaity American-made dutch oven that works just as well at home as it does out in the wild.
Should you wash your cast iron after every use?
Contrary to popular belief and lore, you should clean your cast iron pan after you use it. Not only is leftover food and excess grease unsanitary, but it can also lead to unnecessary buildup in your pan which could great burnt spots of food and also ruin the pan's natural nonstick capabilities.
You should clean your cast iron cookware after it has cooled with a scraper for the tougher spots and a non-scratch scrub sponge for the rest of it. If you're particularly worried about excess grease or difficult spots, a small amount of mild dish soap should be enough to cut through any excess grease.
However, under no circumstances should you soak or allow water to stand inside your cast iron – this will very quickly cause rust. After each cleaning, you should give your pan a nice fresh coat of cooking oil to keep it from rusting from the ambient moisture.
I dropped my cast iron in the lake and now it's all rusted. How do I fix this?!
There are lots of good tutorials on the internet on how to clean up and restore a rusty cast iron pan to its former glory. Essentially there are just a few small steps that step away from the normal cleaning procedure and you'll have to re-season it in order to cook with it again and restore its natural non-stick capabilities.
Remove all the rust:Use fine steel wool to remove rust from affected areas. Scour the skillet until the area returns to raw cast iron.
Wash the skillet thoroughly:Wash the cast iron with warm water and mild dish soap. Scrub with bristle brush, gentle scouring pad, or mesh sponge if needed.
Dry the skillet:Thoroughly dry the cast iron immediately with a clean dish towel or paper towels.
Cover the pan with a coating of oil:Apply a small amount of vegetable oil (or cooking oil of choice) to the entire piece.
Don't forget the bottom and handle: When oiling, don't forget the bottom and handle. Use only a small amount to avoid a sticky surface.
Place the pan in the oven:Place the cast iron upside down on the top rack of your oven. Place a sheet of aluminum foil or a foil-lined baking sheet on the bottom rack to catch any oil drips. Heat the cast iron for one hour at 350°F.
Let the pan cool before using:Turn off heat, let cast iron cool, then get back to cooking!
–Instructions from thekitchn.com
What is enabled cast iron and how does it compare to seasoned cast iron?
Enameled cast iron is still cast iron but features an enamel coating over the cast iron which prevents the cookware from rusting. Unlike pre-seasoned cast iron, the porcelain glass is quite fragile when compared to the underlying cast iron but it's also pretty versatile and can be used to marinate and refrigerate foods as its enamel coating protects it from any heavily alkaline or acidic foods. Enamel is probably best suited for baking and medium-heat applications. They each offer their own advantages and disadvantages and my recommendation would be to try out both and I'm certain you'll find very specific uses for each type.
We are committed to finding, researching, and recommending the best products. We earn commissions from purchases you make using the retail links in our product reviews. Learn more about how this works.