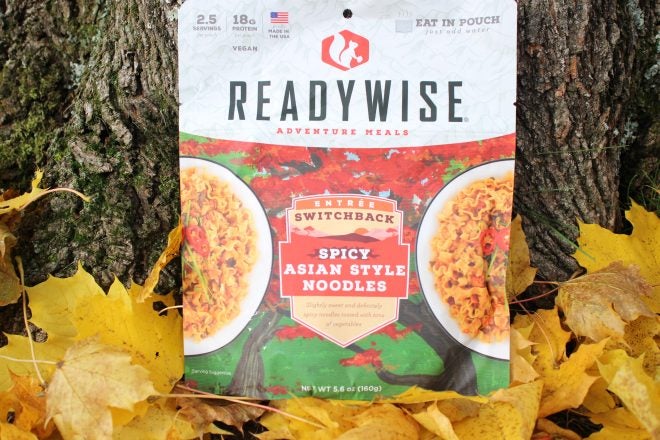 Growing up in Philly's Chinatown leads me to having a natural affinity for Eastern foods. This one in particular was Readywise Adventure Meals Switchback Spicy Asian Style Noodles. Little did I know this meal was going to be more dragon than panda…
---
Welcome to our recurring series of "The Path Less Traveled." In this series, we want to take you along for our exploits out in the wilderness while hiking, camping, exploring, and general adventuring. This will include our small daily victories, foibles, tips, tricks, and reviews of gear we authentically appreciate and frequently utilize. While a well-worn trail can often be the pathway to a leisurely day, the paths less traveled can often spur on some of the greatest memories, misadventures, and fun we could imagine. Join us in the Comments as we share our travels and hopefully, we can all come together for a greater appreciation of the outdoors.
---
Mmm… Chomp on this Food Coverage
Company Info
Readywise describes themselves as a manufacturer and marketer of freeze-dried and dehydrated foods for a variety of purposes. The company is based in Salt Lake City, Utah and was founded in 2008 by Morten Steen-Jørgensen. There are roughly 50 employees with the company who make freeze fried goods rated to last up to 25 years. Their dehydrated food lines online range from emergency preparedness kits, daily snacks, and "Adventure" meals.  These lines include foods such as:
Gluten Free
Organic
Meats
Fruits
Vegetables
Milk & Eggs
etc…
I purchased four of their meals at my local Wal-Mart on a promotional endcap. The four flavors included: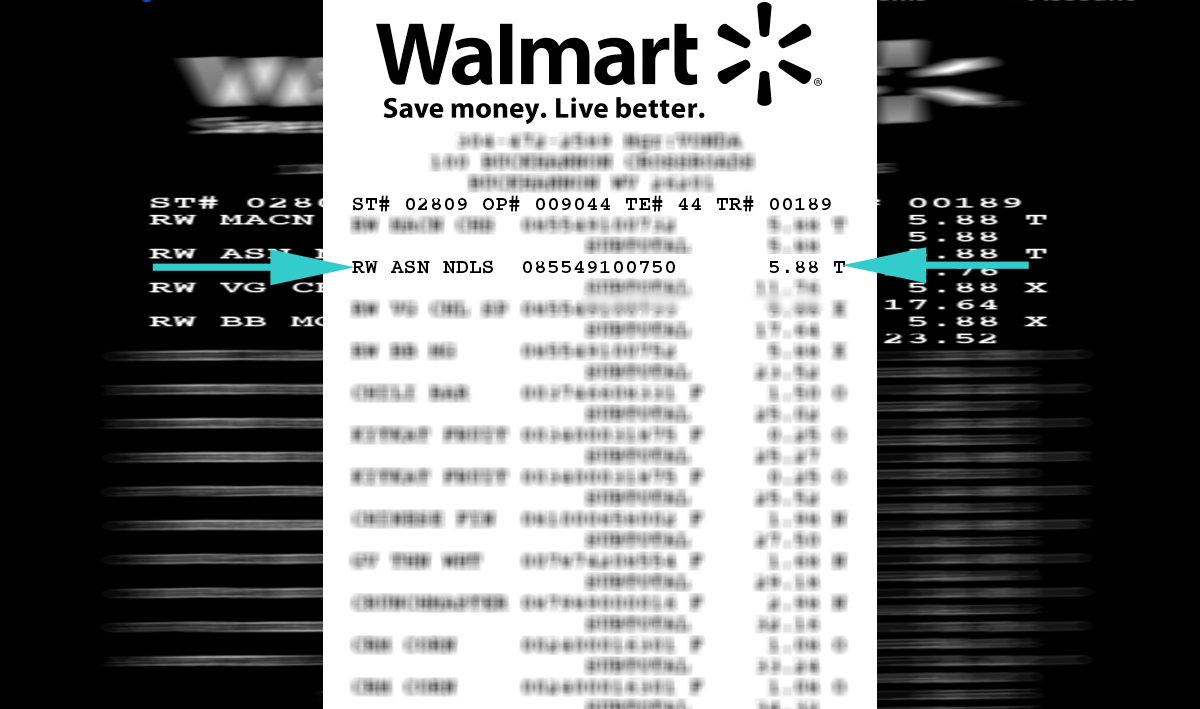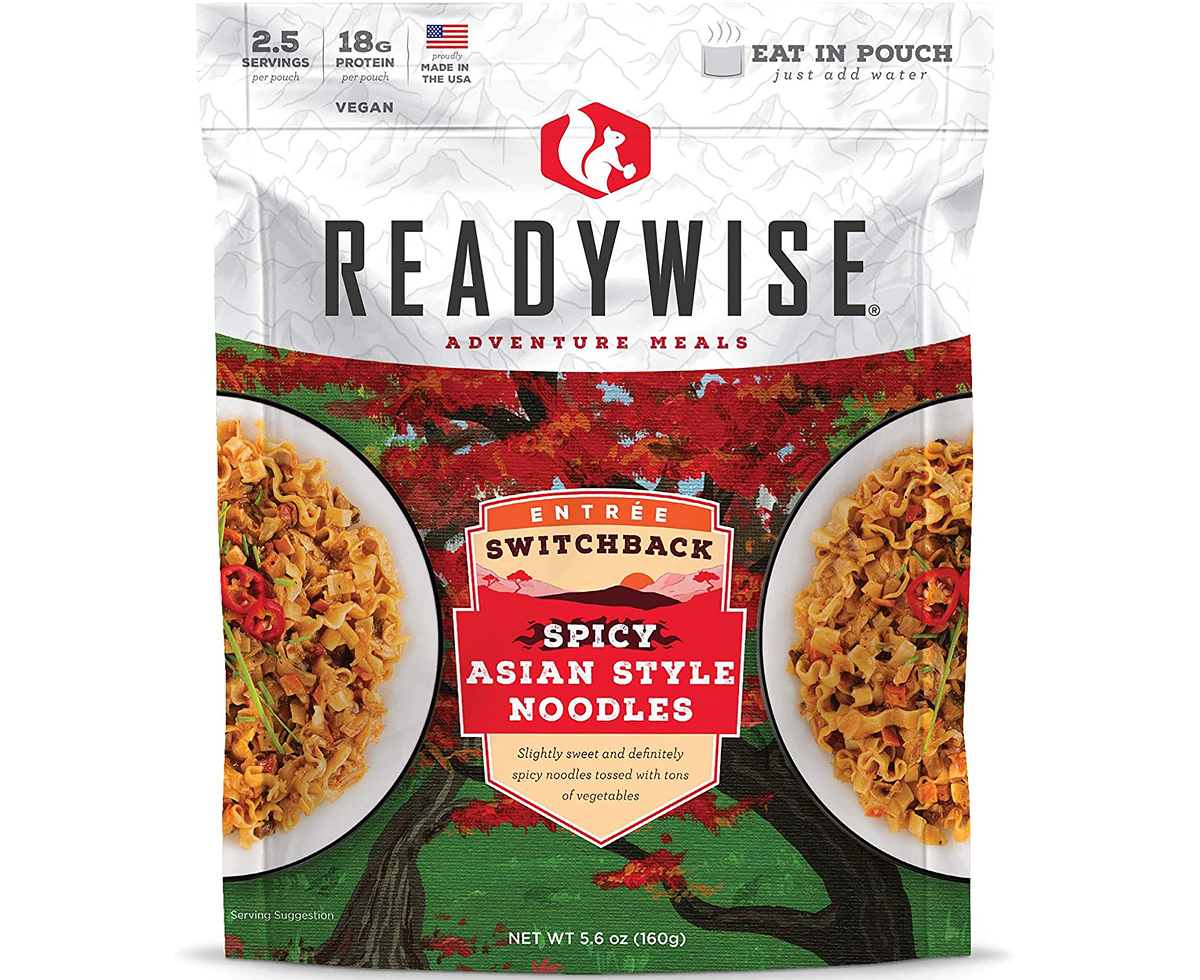 It is common to see people mixing a dab of peanut butter into their ramen noodles for reprehensible on-the-trail pad thai. Readywise's meal falls into a respectable category of palatable food. There are 2.5 servings in the resealable package, and has 114 carbohydrates in the entire package. The sodium content (which everyone who reads this blog knows is one of my biggest concerns) for the entire package reaches 1,770mg, or 77% of one's daily requirements. If you're not out camping, I cannot recommend you to eat the entire pack.
One thing that surprises me about the ingredients listed in this Spicy Asian Noodles meal are the "plentiful" amounts of dehydrated vegetables. There had to be a solid ounce or more of veggies! Do note the last two ingredients: Black Pepper and Cayenne Pepper…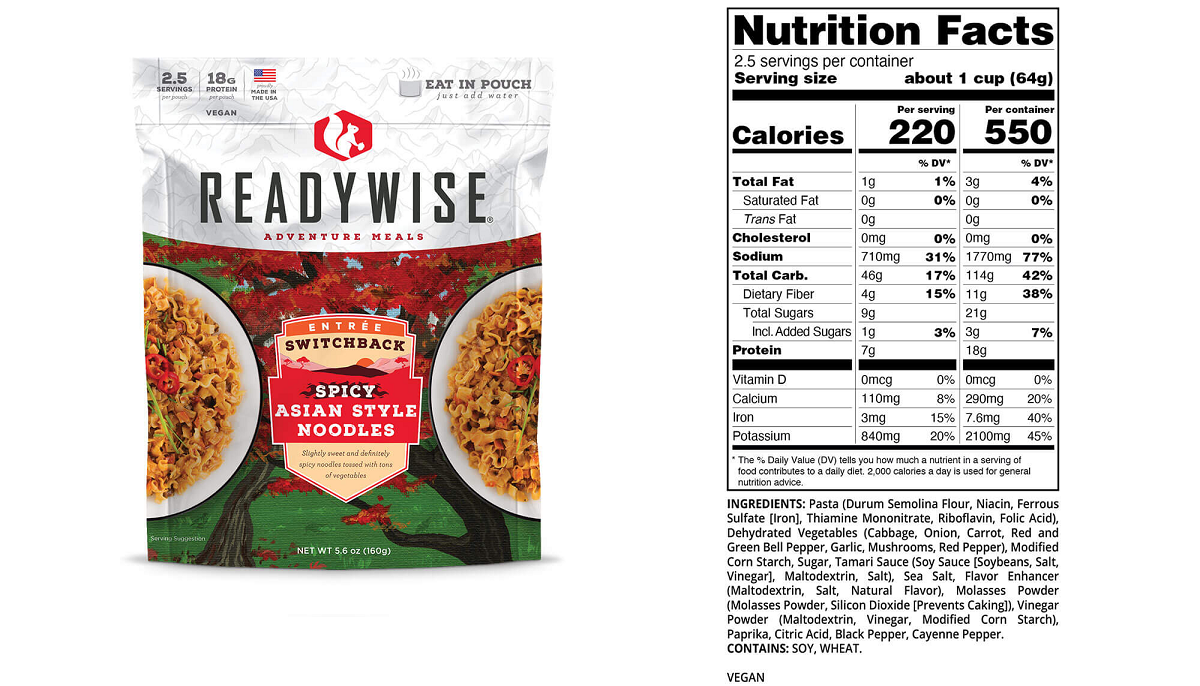 Observations
I purchased this meal on an impulse as it was a prepackaged camp food that I'd never seen before. I've never been a fan of dehydrated pasta meals due to their propensity to get soggy. If the noodles were made of rice vermicelli or some other rice based lo-mein or mei-fun, we could wrap this story up right here and call it a day of satisfaction.
Knowing that prepackaged foods turn to goopy, soupy, sad products if you add the recommended amount of water to it, I made this meal with ten ounces of water. The package recommends 16, but it clearly would have been soup if this was done. In addition to this, I only let it sit and "cook" for about nine minutes. Camp food with noodles becomes mushy if it sits around too long, mushy noodles are something I'd throw away no matter the price. With these adaptations to instructions, the consistency and texture was still somewhat on the goopy range of the spectrum, as compared to al-dente.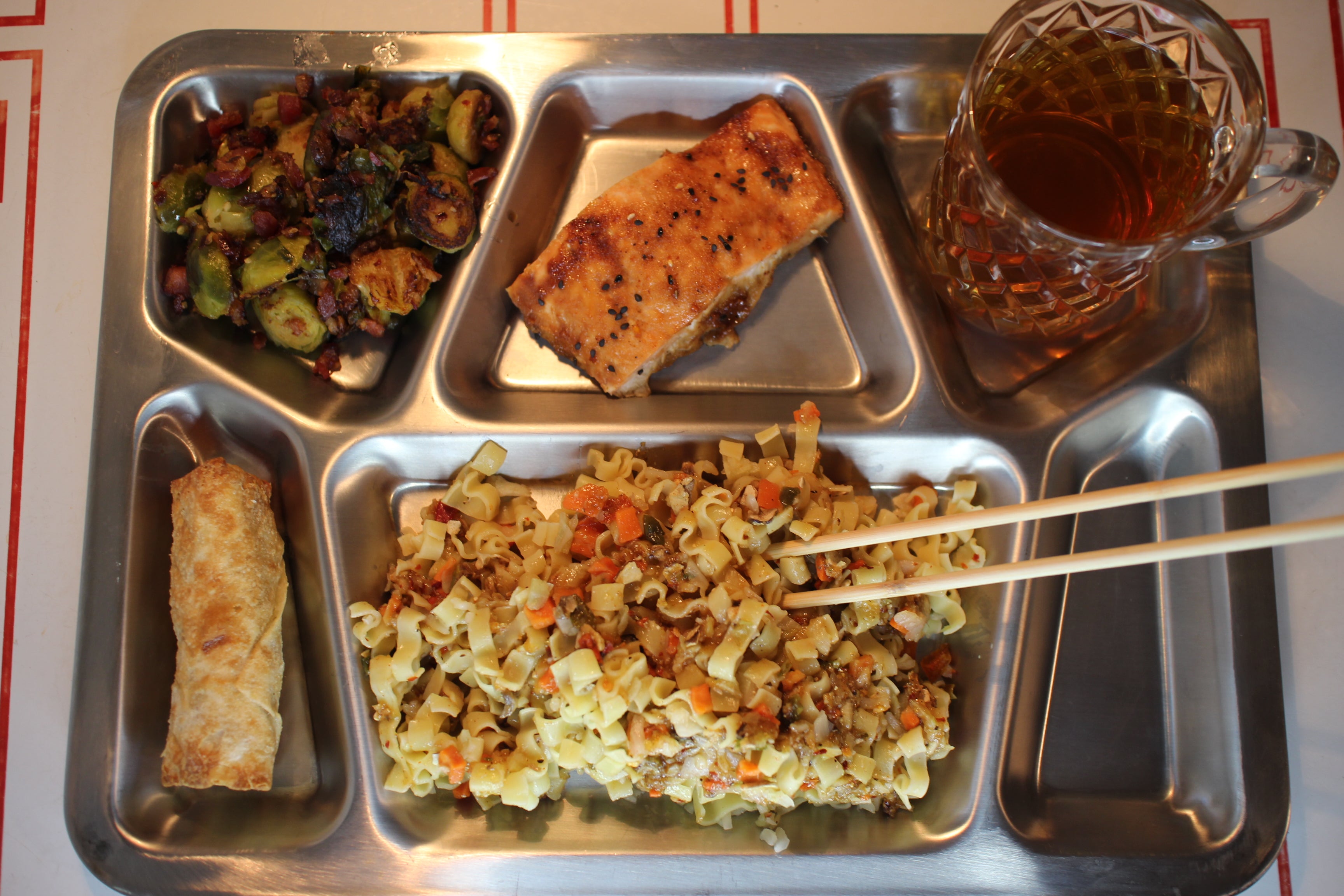 The noodles were just beyond al dente after my nine minute wait. Starving out on the trail, please be patient or you'll be eating crunchy-ass noodles. The tamari, sugar, and vinegar all played a role in balancing flavors. That is until the spice kicks in the door like the ATF, shoots your dog, and continuously slaps you in the face until you can't take it anymore. If I had to put an imaginary Scoville unit to this meal, I'd rank it at around 40,000k units.
First bite, noodles were mushy despite less water and time than instructed. The heat of the pepper was raw-dogging my tonsils pretty hardcore. My hot tea didn't stand a chance. Having these noodles out on the trail would be a welcoming surprise compared to bland granola and meat sticks. The flavor was fantastic and very appropriate, but man… the heat slaps like your teenage nieces's spotify playlist after a breakup.
If I had this meal out on the trail, I would have begrudgingly eaten it. The noodles have a very narrow window of time where they're enjoyable, and the amount of sodium overrides my desires for food as I'll have to drink five liters of water to flush out my kidneys. THIS IS NOT MEDICAL ADVICE, but do be advised of the sodium and potassium content of this meal if you've got kidney disease. For real.
Flavor's good though!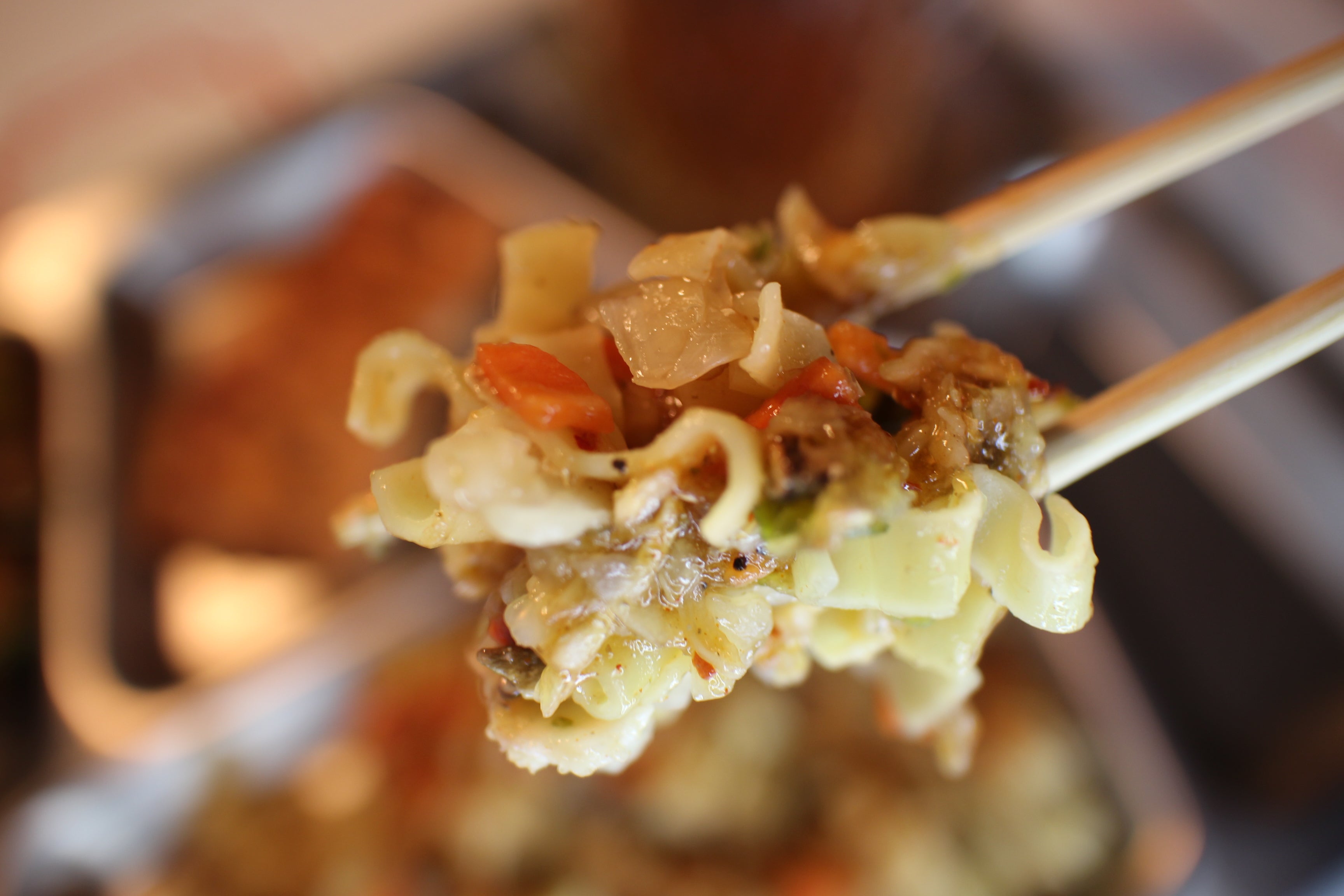 I don't know how much of my lack of pleasure with this meal is my own preference as compared to an objective understanding of it. Texture and consistency was okay, flavor was great, heat notwithstanding.
With the quality of flavor, texture and volume of food, my overall rating is:
?? out of ????
Comparison
Six ounces of ramen goodness with a level of flavor better than the first White Album.
Nongshim is replacement for OG cup of noodles of the 80's and 90s; can be found everywhere and is amazing until you start reading the package while waiting for it to cook.
Readywise Spicy Asian Noodles – Specifications
As per Readywise's site with an MSRP of $6.68:
Each pouch of our Switchback Spicy Asian Style Noodles contains 2.5 servings and is resealable. These pouches are lightweight making them easily portable on any outdoor adventure. Just add water and you can eat directly from the pouch.
As Per Walmart's site:
Readywise Spicy Asian Syle Noodles:

Each pouch of our Spicy Asian Style Noodles contains 2.5 servings and is resealable.
These pouches are lightweight making them easily portable for any outdoor adventure.
ust add water and you can eat directly from the pouch
Readywise Spicy Asian Style Noodles – RW03-915
Random: Was in DC over the weekend. Someone needs to make a stable, portable version of Char Siu Bao already!!!
Source Link