On the surface, searching for a high-quality camping backpack usually involves skimming the key features and then figuring out if the price is too steep for you. This approach can lead to purchases that leave you less than satisfied when you realize the pack doesn't quite meet the needs you didn't know you even had.
The market for camping packs is huge; with many manufacturers offering multiple models that have their own variations . For a beginner, it can all get pretty confusing quickly. Luckily, picking the right camping pack that works for you can be simplified if you go in with an idea of your backpacking needs and wants.
This buying guide will show you strategies you can use to help pick the best pack for your situation, regardless of experience level. You'll learn about what features you should look for in a good bag as well as some tips to lighten the mental load.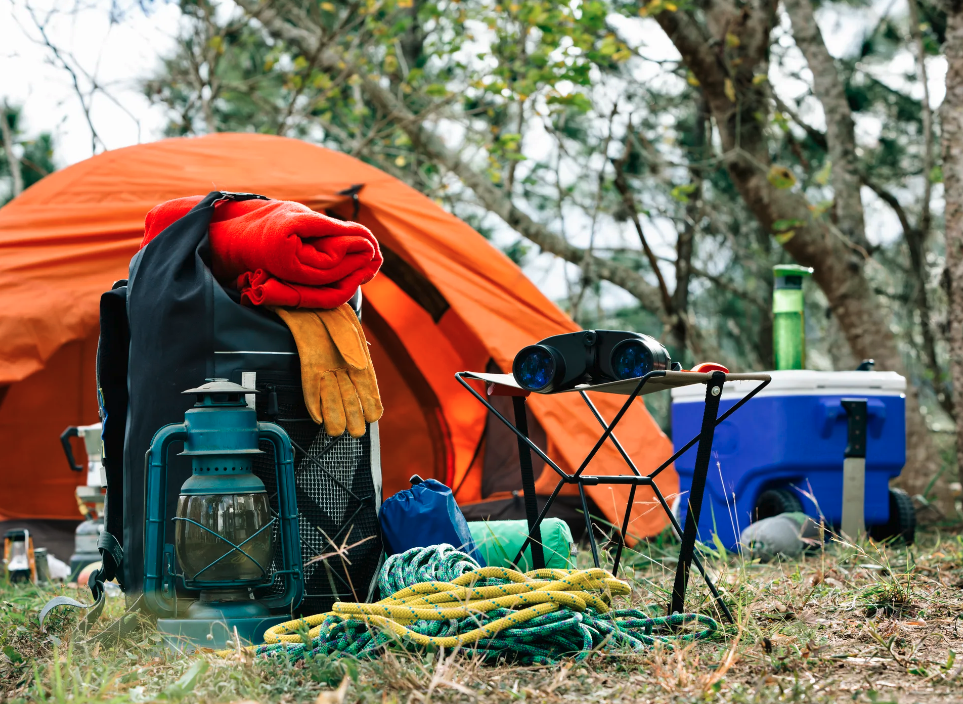 Where Do You Start?
Your journey starts with understanding the different components of a camping backpack. You want something comfortable, durable, and spacious without breaking the bank.
Try not to get hung up on fancy terms as a lot of manufacturers will use proprietary language or trademarked names for the materials they use. The important thing is to identify what features would benefit you and the gear that you'll be carrying.
Choosing a Frame
Weight distribution is important, especially for the 90% of us who pack way too much gear for a trip. A frame in your camping backpack will provide the support your back needs by providing a rigid structure to rest against.
There are two main types of frames for your pack, external and internal. Both have their advantages and their place. Every good-quality camping backpack should have a frame of some sort.
External Frame
External frames are made of metal and designed to have gear lashed to them. You'll generally find external frames on hunting packs and used by trail-blazing crews since they are made to hold a large amount of weight. This does make them bulkier which can be a problem if you're looking to go off the beaten path.
Internal Frame
Internal frames are much sleeker and allow for the pack to hug the body. Keeping the weight in your bag as close to your body reduces the strain on your back. They are built into the bag material meaning you cannot remove the bag from the frame.
If you're looking to go bushwhacking then an internal frame will keep you from snagging the forest as you hike.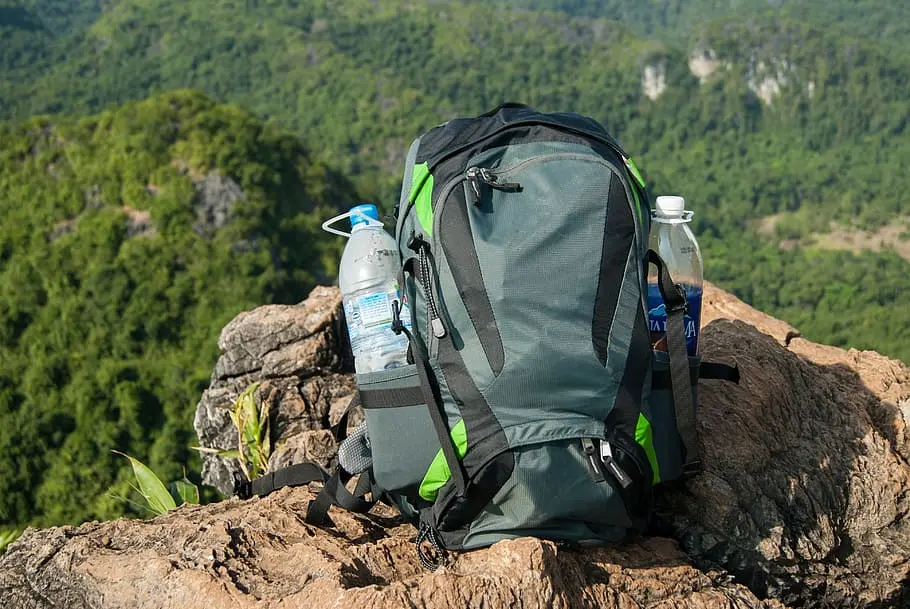 Gear Capacity
You'll often see backpacks touting their capacity or volume. It's an indication of how much gear the pack can hold. The volume of the pack is measured in liters (L) and there is a wide range to choose from.
You might also find that a pack's capacity will be shown in cubic inches (in³) alongside liters. Liters are easier to remember for most which are why you'll see it referenced more.
Here is a list of common capacity ranges in liters and what kind of trips they should be used for:
10-30 L – Good for day hikes
30-50 L – 1-2 nights camping
50-75 L – 2-3 nights camping
75-100+ L -Extended camps that are 3+ nights
The above volume comparison is just a guideline to give you a framework for when you go to pick your bag. The final capacity is ultimately affected by the size and amount of your gear. When in doubt, go with a higher capacity than you think you need.
Pack Organization
The capacity of your camping pack is only one part of the equation. For example, if you have a large pack that is riddled with smaller pockets, then you'll have problems storing larger pieces of gear.
The best setup is a large central sack where you can organize the gear yourself. Some packs include a zippered partition where you can store your sleeping bag separately from the rest of your gear. This is handy if you have to pack up a wet shelter and you want to keep your sleep system dry.
Most camping packs will have a couple of pockets at the top of the bag and some additional ones on the sides. This gives you strategic access to items while you're traveling with the bag. Manufacturers will often have additional pockets placed around the bag that can be accessed in efficient ways.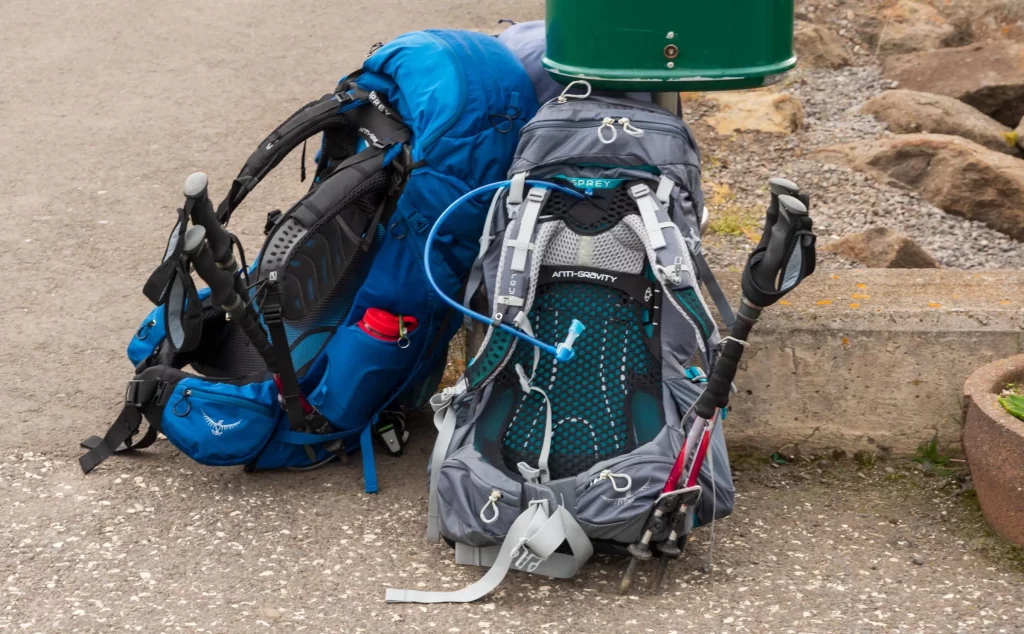 Compression Straps
Compression straps work in conjunction with the frame in your camping pack to bring the weight as close to your body as possible. Walking on a trail with a wobbly pack is dangerous and exhausting. Your body will need to compensate for any sway and sag which is wasted energy.
Compression straps should be located on each of the major shoulder straps in multiple places. Additionally, a chest and hip compression strap is beneficial to keep the pressure off your shoulders and the weight centered on your hips.
Materials and Waterproofing
Great camping packs will consist of either ripstop nylon or some type of Dyneema. A durable pack may have a ripstop nylon material that is heavier but can handle being thrown around. It is usually measured in Denier, with higher numbers meaning it's more rugged.
Lightweight packs will use Dyneema composite materials which are still abrasion-resistant but less so than the tough Ripstop. Dyneema tends to have better waterproofing but is more expensive than Ripstop nylon.
What Additional Features Should Your Backpack Have?
With the basics covered, you can now turn your attention to what separates a good camping pack from a great pack. These additional features can help you hold more gear without adding an extra burden.
Hydration Sleeve
Hydration bladders are popular for camping as they hold a large amount of water without the need for a bottle. A hydration sleeve is typically inside the main compartment up against your back. This bladder will provide water through a tube that extends over your shoulder.
Hip Belt Pockets
A lot of camping packs will have a hip belt that cinches together to provide extra support for your back. A good pack will have pockets within that belt where you can store things like snacks, identification, and even car keys.
Mesh Backing
Carrying a gear-laden backpack will undoubtedly cause your back to sweat profusely. This is because air cannot get in behind your back to cool it down. A great camping pack will have a separating layer, such as mesh webbing, to allow for air circulation. Not only will it keep you cool as you travel but your shirt won't get drenched in sweat.
Rain Cover
Even if the backpack is made with waterproof materials, having a rain cover will protect your pack from the heaviest precipitation. Some manufacturers will offer it as a separate item that you pack with you while others will include it attached to the bag in its little pocket.
A high-quality rain cover will fold over your pack and be snug up against your hip and shoulder straps.
Tips to Help You Pick the Best Pack
The right pack for you is not necessarily the best for someone else. Use these tips to help narrow down the search for a pack that will work for what you need it for.
Choose a Reputable Company
In an age where product reviews can be bought, it is important to research the company you want to buy your bag from. Youtube video reviews are some of the best ways to see products in action and a lot of creators have unbiased opinions on the various companies.
If you use those "Top 10 Packs for Camping" type articles then use them as a framework only. Let them show you the products they think are the best and then do further research from there.
Take Some Measurements of Your Body
Using a tape measure you'll want to check out your measurements before looking for a pack. This includes the size of your waist, length of your torso, and shoulder width. It's not fun to pick out a backpack only to find that it's too small and the hip belt lies above your waistline.
Purchase a Bag That Can Accommodate Your Gear
Camping gear comes in all shapes and sizes. Often you'll find that pack space gets eaten up pretty quickly with a shelter, sleep system, cooking set, and food. This doesn't even include any of the extra items such as lighting, clothes, seating, etc.
Creating a list of the gear that you have can help you envision how the gear will fit into the bag. If you're in doubt about the size then get a bag that's the next size up to what you're looking at.
Final Thoughts
Finding the best camping backpack can be daunting to newcomers but going into the search with a strategy can help narrow down the results.
Ultimately, you want something comfortable, holds all of your gear, and can withstand some abuse. Read and watch reviews on the products that you're looking at to ensure that you're not disappointed with your choice.