LPVO (low power variable Optic) riflescopes are all the rage these days as they allow hunters, and competitive shooters a wide variety of versatility at the cost of a few small compromises. Vortex has been at the forefront of many of the newest developments in LPVO riflescopes and today they've announced the release of their latest version – the Vortex Strike Eagle 1-8×24 FFP illuminated scope. This new optic not only has the latest features shooters are looking for, but comes in at a sub $800 MSRP making it an attractive option.

Vortex Unveils their New Strike Eagle 1-8×24 FFP Riflescope
"Featuring red dot-like performance at 1x and consistent holdovers through its entire magnification range, the new Strike Eagle® 1-8×24 FFP is guaranteed to make your range days better.

Powering the Strike Eagle® 1-8×24 FFP is the EBR-8 illuminated reticle, which provides bright illumination for red dot-like speed at 1x and precise holdovers out to 600 yards specifically designed around the .223/.556 caliber. Combined with the First Focal Plane optical design and built-in ranging feature, this becomes an extremely versatile and accurate optic. Speaking of illumination, the scope has 9 daylight and 2 night-vision settings, allowing you to dial the center interrupted circle and dot to exactly match your lighting conditions."
The Strike Eagle 1-8×24 FFP riflescope is made from aircraft-grade aluminum, features capped turrets to keep your zero locked in during dynamic shooting, and includes a dedicated throw lever right from the factory for making quick and consistent magnification adjustments on the fly. The internals of the new Strike Eagle 1-8×24 FFP are finished off with Vortex's XD the Optical System that features fully multi-coated lenses to deliver a crisp sight picture for use in a wide variety of shooting situations.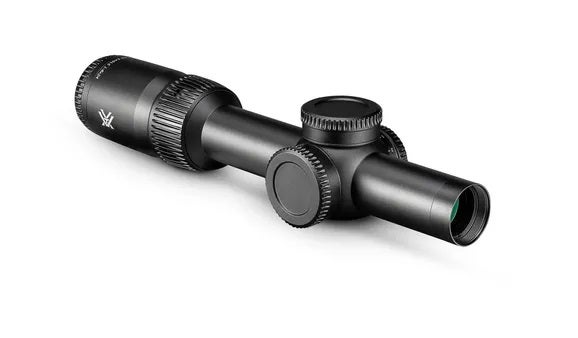 The new Vortex Strike Eagle 1-8×24 FFP riflescope is available now through Vortex's various dealers for an MSRP of $799.99. What do you all think of this new LPVO offering? Let us know down in the comments! If the optic has a truly daylight bright reticle then this is one to keep an eye on!