Fishing for winter bass is a challenging activity. As an expert guide, I am expected to show people where bass go in the winter. It's a yearly struggle to transition my mindset from the dog days of summer to the depths of winter. But, that doesn't mean there aren't clues to follow. Winter bass fishing can be extremely challenging, but fishing for wintertime bass can also be a fun and rewarding activity that gets us through the worst days of cabin fever. I've been lucky to learn expert fishing tips to catch wintertime bass that work year after year. Whether you prefer to use baitfish, a jig, lures, flies, or other gear, this article will walk you through how to catch some bass in the winter.
How to Catch Bass in the Winter
Catching bass in the winter is a subtle game. The best gear might remind you more of crappie fishing tackle and winter fishing crappie than a bass fishing trip in June. Wintertime bass have slower metabolisms than summer bass. We use small jigs and baitfish like crappie minnows, fatheads, and shiners. The bait or lure needs to be small, fished slow, and stay in the strike zone. Also consider using light lines, so the bass aren't spooked by the line. With these simple bass fishing tips, the cold winter weather won't limit your fishing season.
Where Bass Go in the Winter
In the winter, bass are looking for areas that hold baitfish. If you follow the baitfish, you'll catch bass. For winter ice fishing look for structure like points, humps, or the edges of weed beds to catch the fish in the best spot. In the early winter, the bass will find the deepest hole they can. The fish do this to avoid the cold winter water. The center of a cove on the edge of a lake or a deep hole will concentrate early winter fish.
Where Winter Bass Go in a River with Cold Water
Wintertime bass living in rivers head to deep pools, steep drop-offs or warm water outflows. This is where we have our best shot at a successful catch!
These deep pools are near bridges or areas where people dredged the water. They made more room for boats to pass and dug out the water bottom. What's more, cold water is well above the bottom in the water column. Warm water is heavier so it sinks to the lowest levels of the water. That means that these deep pools concentrate warm water which attract aquatic organisms and the baitfish that feed on them.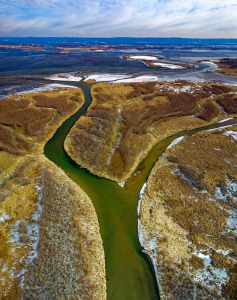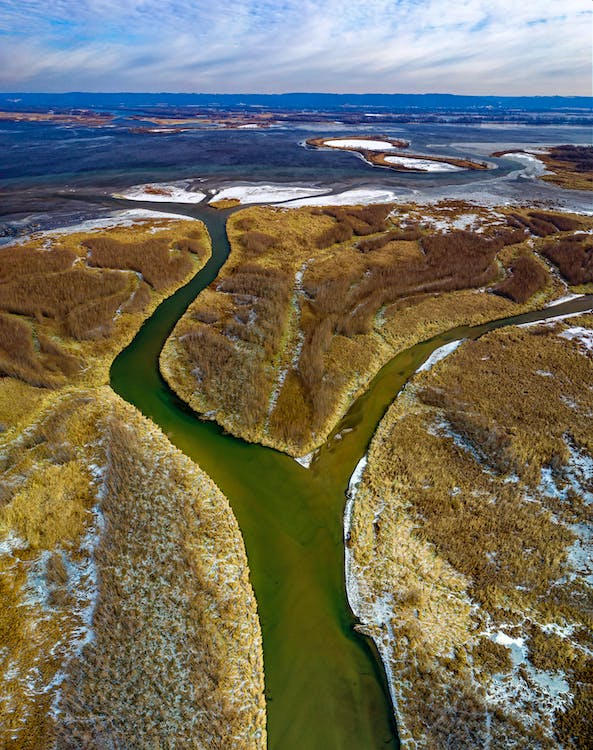 Watch the river banks for signs of a drop-off. Often, a steep bank will continue into the water and show you where to cast a line. Your line can get snagged if the drop-off is too steep so make sure you check to make sure that won't happen. Fishing drop-offs are fun because many fish including bass swim along them. Baitfish follow the edges of drop-offs to seek cover. Predators, like bass, can chase the baitfish into the wall and corner them. This is why winter bass love drop-offs.
Warm water outflows can be the best places to cast a line for wintertime bass. These are below power plants, at the mouths of culverts, or near creeks that run through rocky or city parks. The warm water attracts plankton which in turn attract baitfish. Wintertime bass stack up thick in these spots. In fact, if you can find a warm water discharge, these spots are the best winter bass fishing there is. Near me, there is a nuclear power plant that has a warm water discharge along the Mississippi River. The river never gets cold enough to freeze and the winter bass fishing is amazing year around. Many people blog about these locations so do some research and see if you can find more information. They might be your best spot to wet a line.
Where Winter Bass Go in a Lake with Cold Water
When the cold comes, the fish will find deeper areas like fish in rivers. Many of the same spots that I look for in rivers, I also look for in lakes. Learning how to read a topography map and knowing how to find the spots can be a game changing skill.
Other spots in lakes are holes, old riverbeds, or saddles between humps. The fish are avoiding the cold water and looking for warm water in the deepest spots of the water column. Baitfish will also frequent these spots looking for plankton.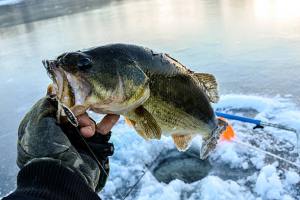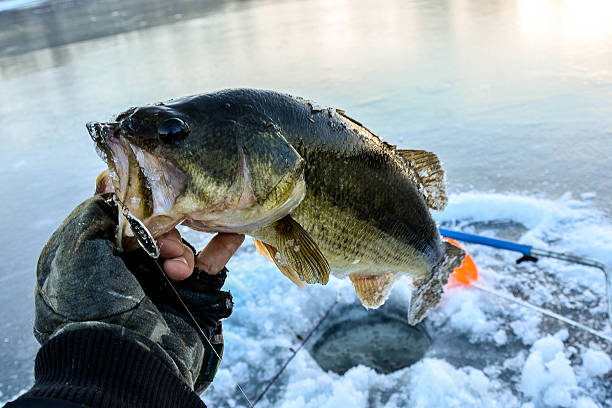 Winter bass are more likely to explore more when the water temperatures stay cold for a long time. Mid-winter bass will swim along weed beds or shallow drop offs to ambush baitfish. I am surprised at how shallow a bass will swim. The late winter fish are hungry and on the prowl. Don't be afraid to fish in water 10 feet deep, or less, especially on sunny days.
Sunny days can have two different affects on winter bass in lakes. One, it will push winter bass deeper due to the heavy sunlight. Or, the winter bass will move shallower because of the warmth. Staying mobile and looking for activity can help you put more fish on the board.
Winter Bass Fishing Tips with Lures
Winter bass fishing with lures is often a finesse game. Loud, large, bright lures can turn fish away who aren't willing to spend energy. Wintertime bass are looking for easy meals but high rewards. Use slow moving, subdued, or small lures. Or, try lures that are large, but fish them very slow. A slow moving, large offering makes a bass think it won the lottery. Dinner time!
These lures work in lakes and also work in rivers when the water gets cold.
Fishing Tackle Tips for Open Water
Hair Jig:

A hair jig pushes a lot of water. Feel free to use a little bait as an attractant. This lure stays near the bottom. Hair jigs are also fun to make at home when the winter months slow down your fishing.

Dropshot Soft Plastic Jerkbait:

Any dropshot rig works well in the winter. A dropshot rig with a soft plastic jerkbait can work like magic. It has a slow but erratic movement. The subtle wiggle can make even the slowest fish take the lure.

Floating Rapala:

These floating rapalas are good for wintertime bass. The best technique is a fast, slow, pause technique. Cast the rapala, reel in fast and hard to get the rapala near the bottom, then reel it in. Between slow reels, pause for a long time. This keeps the bait near the bottom and the pause and slow reel convinces winter bass to strike.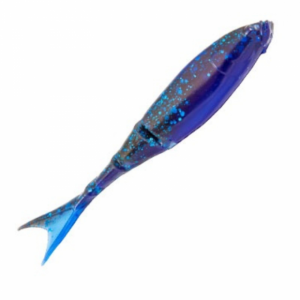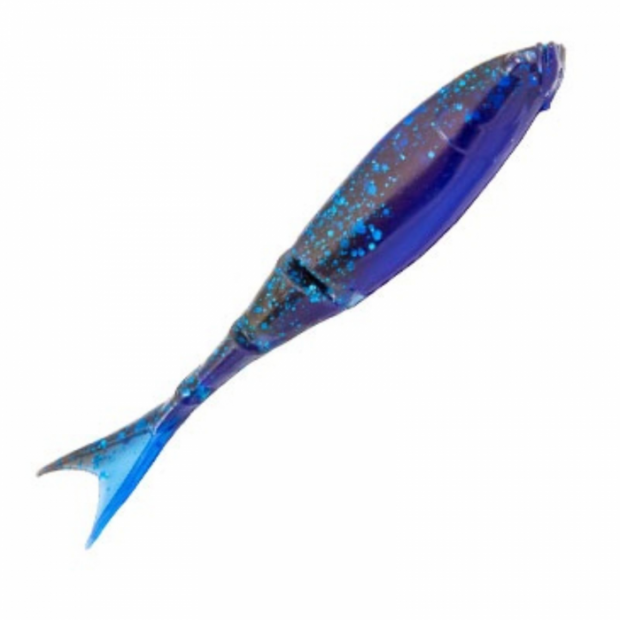 Zman Razor Shadz 4.5in Black Blue Laminate
Fishing Tackle Tips for Ice Fishing
Rattling Spoon:

Sometimes, a rattling jigging spoon can be the best ice fishing bait for bass. The rattles call the fish in. It's also easy to tip with bait.

Jigging Rap:

A jigging rap has a lifelike darting motion when it's jerked, darted, or jigged. These are a top ice fishing bait for many fish including bass.

Soft Plastic Jerkbait:

Soft plastic jerkbaits work year-round which is why you should never leave home without them. They work very well for wintertime bass. The soft plastic has a lifelike bounce and texture. Fish love it.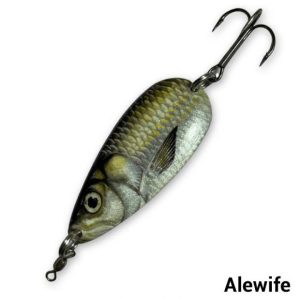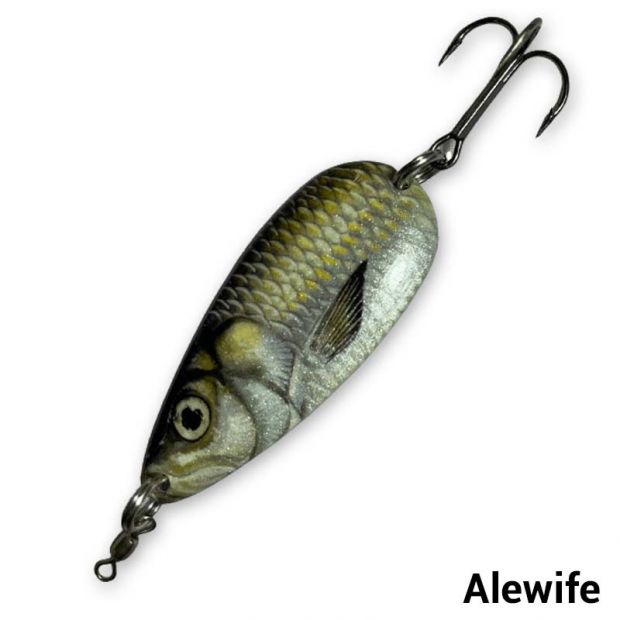 Dixie Jet Lures Pro Series Gizzard Spoon
Winter Bass Fishing Tips with Bait
Winter fishing with bait is one of the best techniques for wintertime bass. Winter bass love baitfish. It's one of their main food items when waters get cold in winter. That's because it's a high calorie meal. If they can find an injured or dead baitfish? Even better! These fish love it.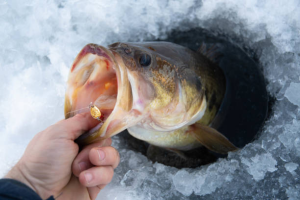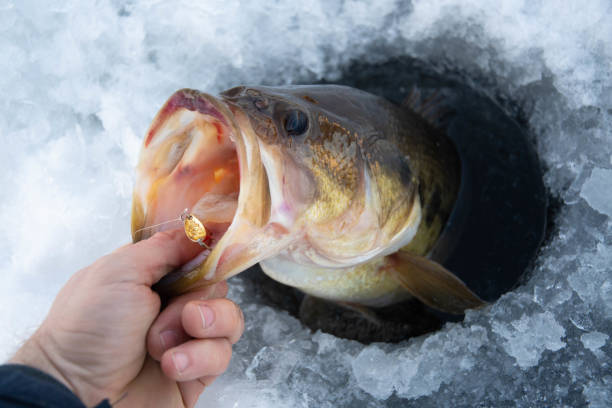 Fishing these live baits on a drop shot, slip sinker, fixed bobber, slip bobber, or freelining rig will work well. Tailor the technique to the water you are fishing on.
Fishing Bait Tips for Open Water and Ice Fishing
Shiners and Fathead Minnows:

Shiners can be less hardy than fatheads but have a better shine. Make sure to keep their water clean and well-oxygenated. Some days the bass want one or the other. Some days the bass will eat either baitfish no problem. Trial and error will help you figure out which one the local bass prefer.

Medium Suckers:

Medium suckers can be the ticket for big bass. These suckers stay alive for a long time and are larger than shiners and fathead minnows. Be prepared for a northern pike attack. They love eating suckers.

Waxworms, Euro-Larva, Spikes, Maggots, and Mealworms:

When the winter bass are picky, downsizing to a larva presentation can be your best option. Euro-larva, spikes, and maggots are the same. They are the larva from flies. Waxworms are a moth larva, and mealworms are a beetle larva. Whichever you choose, pay close attention to what the fish want. Each larval bait has a different profile, smell, and presentation for the fish.
Winter Bass Fishing Tips with Flies
Like using lures and baits, successful winter fishing with flies needs to be slow and steady. One problem that winter fly anglers have is getting their flies deep enough. Use extra split shot, a sink tip, or a full sinking fly line to get down to the fish. Strikes may be light so pay extra attention.
Neutral Buoyancy Fly Patterns: Fly patterns like gamechangers, muddler minnows, and light wooly buggers are magic when it comes to winter fly fishing. Neutral buoyancy means that the fly does not float up or sink when its under the water. This "hovering" action drives winter bass crazy. If the fly stops moving right in front of their nose, it's game on.
Small Nymphs:

Small nymphs like olive damsels can convince bass to eat. Though they are small, nymphs are an easy snack for a hungry winter bass.
Other Winter Bass Fishing Tips
We went over a lot of winter bass fishing information. We talked about lures, where to find them, bait and baitfish, and how to fish for winter bass. There are other things to think about for winter bass. Let's take a look at these overlooked winter bass fishing tips.
Be Patient
I enjoy fishing bass. But when the days get long and the bite is slow, it can be hard to keep weathering the cold. Winter bass fishing rewards our hard work. One day, one technique will click and it's fish on!
Try New Things
It can be easy to get stuck in a loop by sticking with what we know. Trying new things whether it's a new technique or new bait might be the ticket to the perfect day. Mix it up. Change your line, lure, bait, or fly and figure out what works and what doesn't.
Start a Blog or Fishing Journal
Starting a blog or a fishing journal will help you keep track of things you've tried and the details about them. Blogs and journals like this can help us see important patterns we miss by going on the water. Also, you can record tips or the best gear for the situation to recommend to others.
Ask for Help
The fishing community is always willing to help someone one their local water. It doesn't matter if the water is warm or cold, many anglers are willing to help someone out. Winter is tough on everyone. Admitting you need help cold water fishing bass is the first step towards a breakthrough.
Do Deep Reading on Blogs, Fisheries Reports, Facebook Groups, and Other Sites
Social media will have clues for the fishing detective. We can learn a lot about fishing from the community of anglers around us. Someone might have shared the hot bite or best lure, and we miss it if we're not getting involved.
Get Involved
They say that you don't know something until you teach it. Even if you don't have it all figured out, sharing what you know or taking other people fishing can change it up so you have your big breakthrough. Also, getting involved means more people to connect with and learn from yourself.
Conclusion to Winter Bass Fishing in Cold Water
Wintertime bass fishing can be difficult. Cold water, special gear during ice season, and changing weather make conditions challenging. But, sticking with it and learning what gear to use and how to use it can mean the difference between getting skunked and catching fish.
The real secret is time spent on the water. After days spent fishing, you will learn your go-to techniques, local methods, and best lures and baitfish for your trip.
Fishing for wintertime bass is a great way to get outside in the winter months and earn a new fishing skill for your toolbelt! Make sure to bring plenty of clothes to stay warm with layers being key to comfort. Also, staying hydrated and eating plenty of food will make sure you are alert when the big one strikes!