Bisbee, Arizona is a historic mining town that, over the years, has turned into a quirky desert artist haven and it's a quintessential stop on any road trip through southern Arizona. Nestled into the Mule Mountains, Bisbee has a unique charm that only an old western town can have. The town's character-filled architecture coupled with the vibrance of its community makes it an especially interesting tourist destination for every kind of traveler.
All photos courtesy of Jono Melamed
How To Get To Bisbee, Arizona
If you're flying, the closest airport to Bisbee is in Tucson, Arizona. Bisbee is about a 1.5-hour drive from Tucson and a 3-hour drive from Pheonix, making it a great day trip and an even better weekend jaunt.
If you'd like to add a few other destinations to your drive, look into stopping in the historic town of Tombstone or Sonoita's wine country, each of which complements a trip to Bisbee quite well.
---
Best Time Of Year To Visit Bisbee, Arizona
Boasting that it has "the most perfect year-round climate" in the States, Bisbee is a great destination no matter the season. It is, however, still a desert community which means that the summer months can be hot if you aren't accustomed to desert life. That being said, the temps tend to be a solid 10 degrees cooler in Bisbee than in Tucson which, in turn, is typically a solid 5-10 degrees cooler than Pheonix. So, if you're a desert rat like me, Bisbee in the summer is still a great time.
During the summer months, you'll be looking at temperatures between 60 and 90 degrees on average. If heat isn't your thing, Bisbee is absolutely perfect in the fall and winter months, especially if you're visiting from somewhere a bit colder.
In the fall, the temperatures drop to between 50 and 80 degrees and in the winter, nights start to get a bit colder as they drop to the 30s while the daytime temperatures stay in the low 60s.
---
Top Things To Do in Bisbee, Arizona
1. Walk Through Bisbee's Neighborhoods
One of the greatest things about Bisbee is how walkable it is. While some of the more residential neighborhoods are a quick drive away, Bisbee's historic district is quite consolidated and accessible.
There are several places around town where you can park your car and head out on foot to wander down the windy streets and mysterious back alleys that make Bisbee so special. Don't forget to look for some of the famous stairs that are scattered throughout town, you might find some secret street art.
As you walk through the unique neighborhoods of Old Bisbee, please be courteous of people's privacy.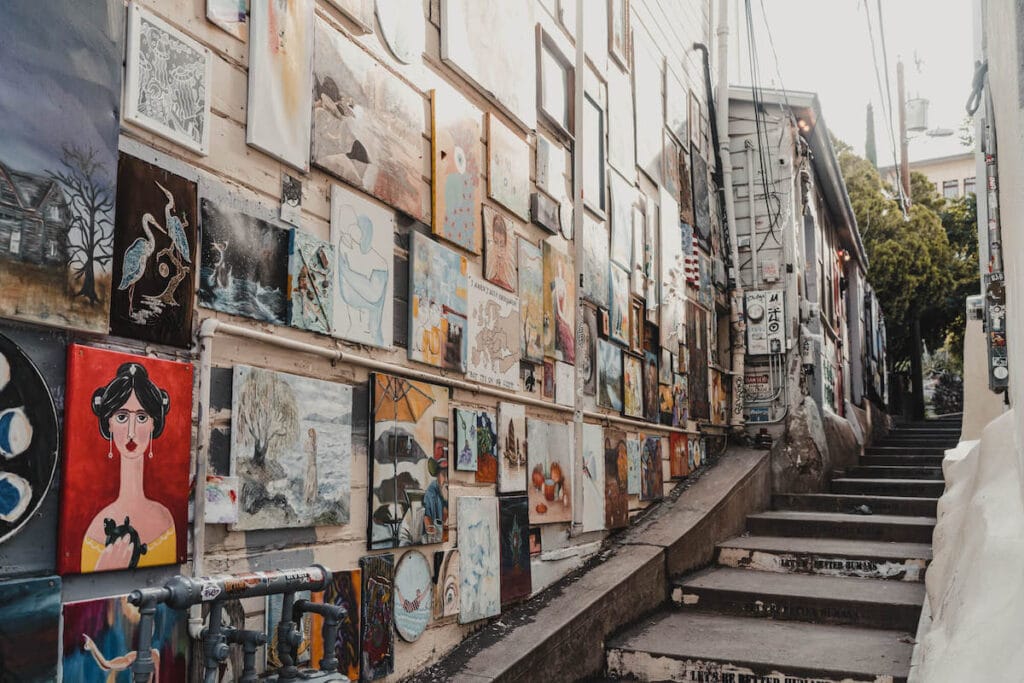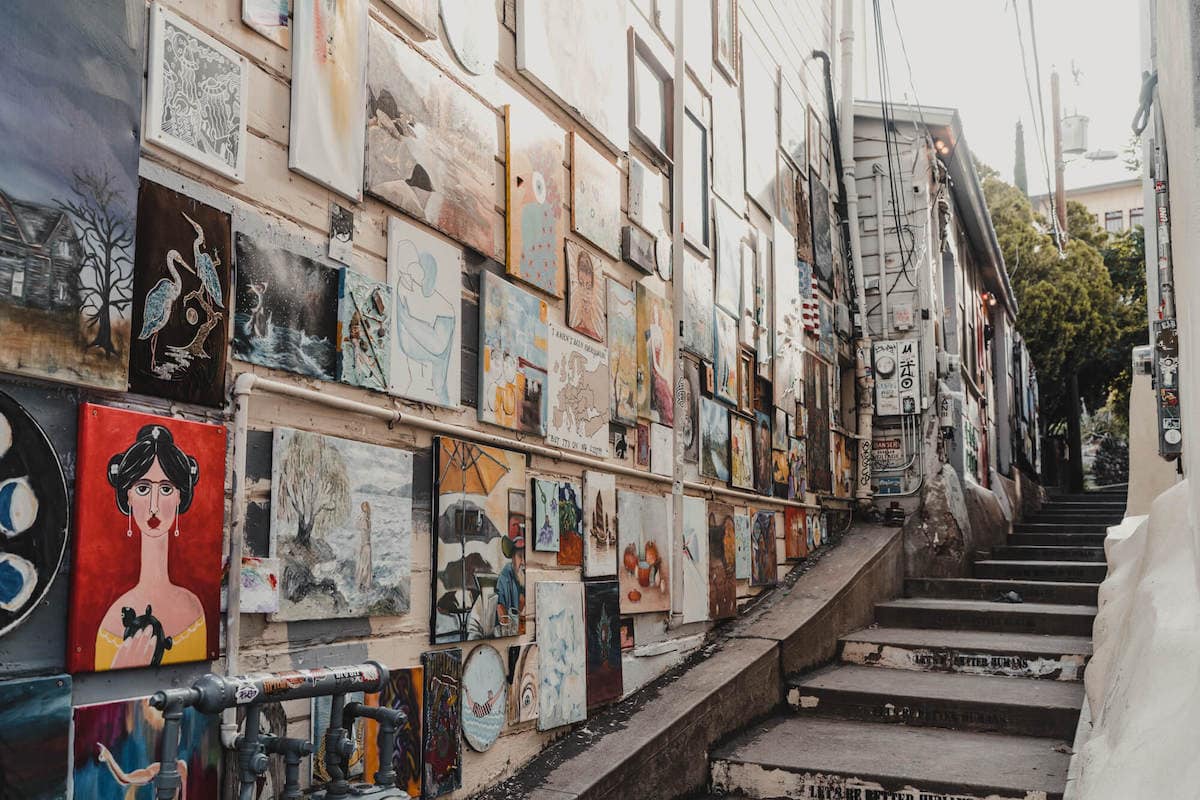 2. Visit the Copper Queen Mine
Step directly into Bisbee's mining history on the Queen Mine Tour, a fun trip 1,500 feet into the earth. Complete with your own hard hat, miner's headlamp, and a yellow slicker, you'll see what life was like for the miners that called Bisbee home and learn about not only the history of the mine but also the techniques used in the pursuit of valuable ores.
Not for the faint of heart or the claustrophobic, you'll jump on an old mining car and descend into the earth where former mine employees guide you through various places of interest.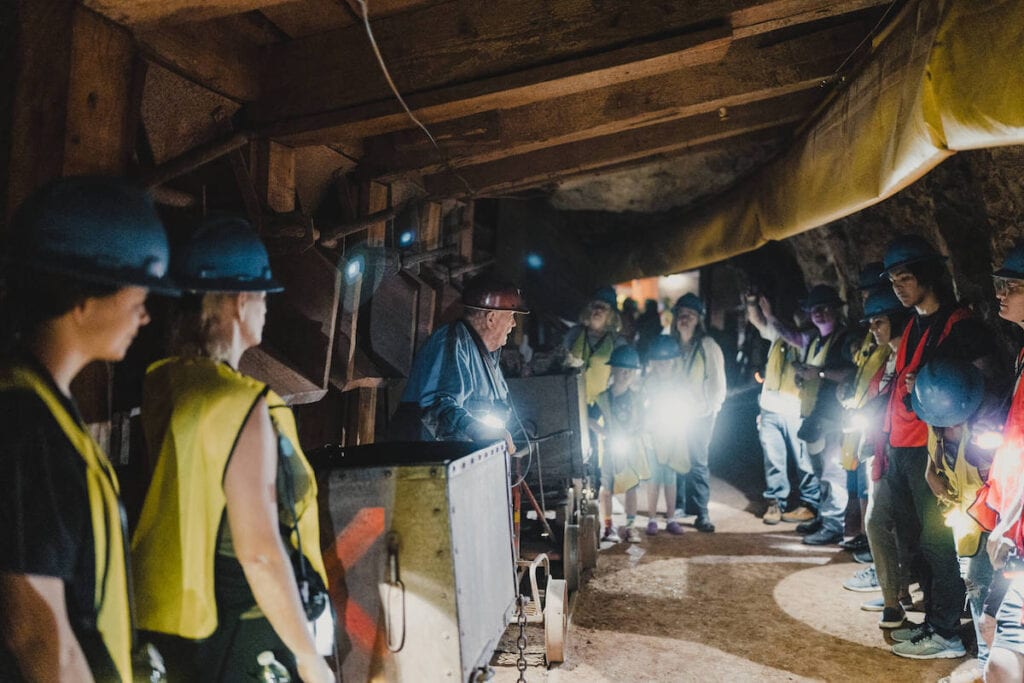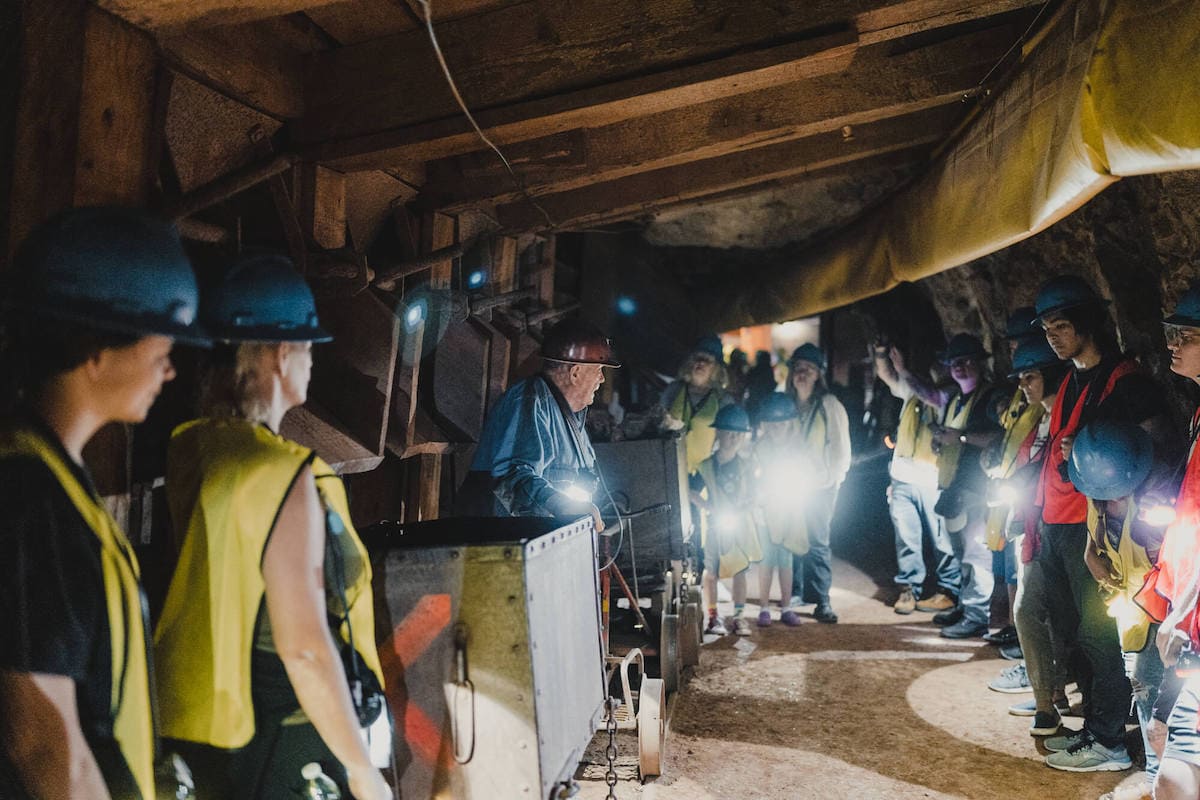 3. Gaze Into The Lavender Pit
If deep dark tunnels aren't really your thing, visitors can also take a gander at the Lavender Pit Mine from the overlook on Highway 80. The pit, one of the largest of its kind, is a fascinating look down into the earth and gives you some great context for how Bisbee became the town that it is.
After checking out the mine, be sure to head over to the Bisbee Mining & Historic Museum, where you can learn all about the history of both mining and the town.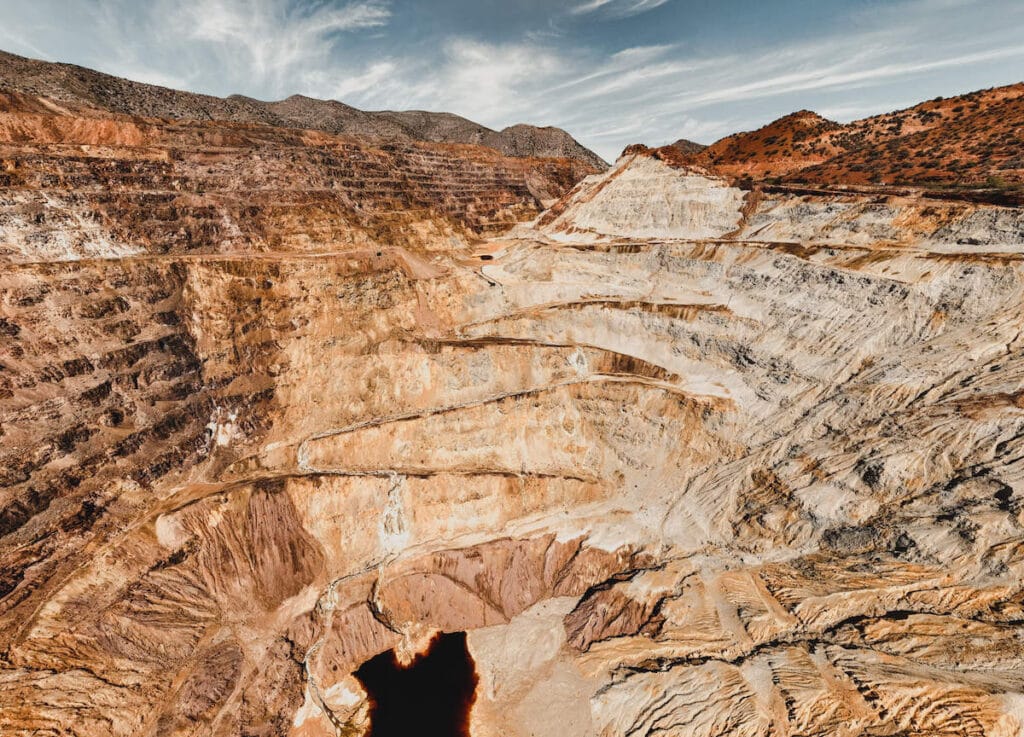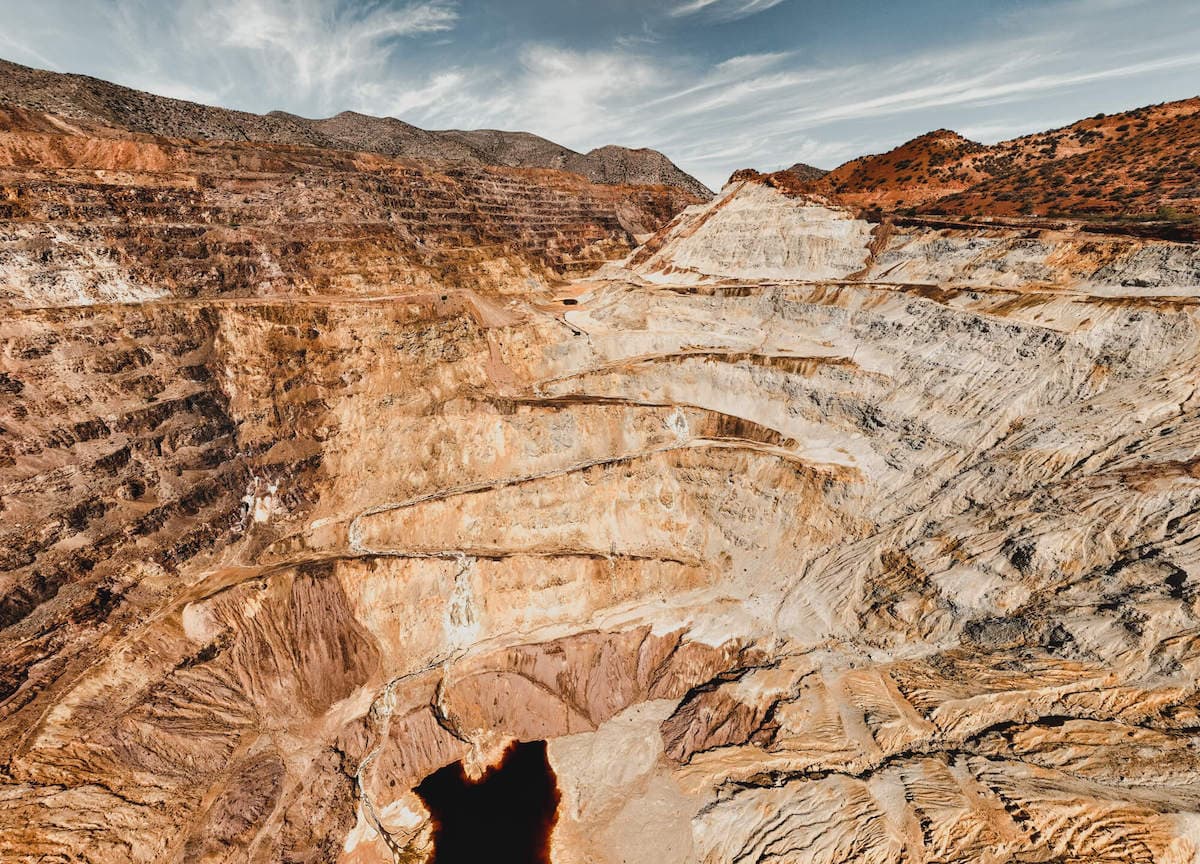 4. Check Out Some Live Music
I've been through a lot of small towns and I have never been anywhere that had so much great music happening literally all the time. With no less than 4 open mic nights and a full schedule of local, regional, and touring acts, there is always somewhere to sit and listen to live music in Bisbee. Local venues like The Copper Queen, The Grand Hotel, St. Elmos, The Hitching Post, The Shady Dell, and The Bisbee Social Club (just to name a few) have an endless supply of events to keep you movin' and groovin'.
Want to play some music? There's an open jam at The Grand every Wednesday night, just show up around 6 and do your thing.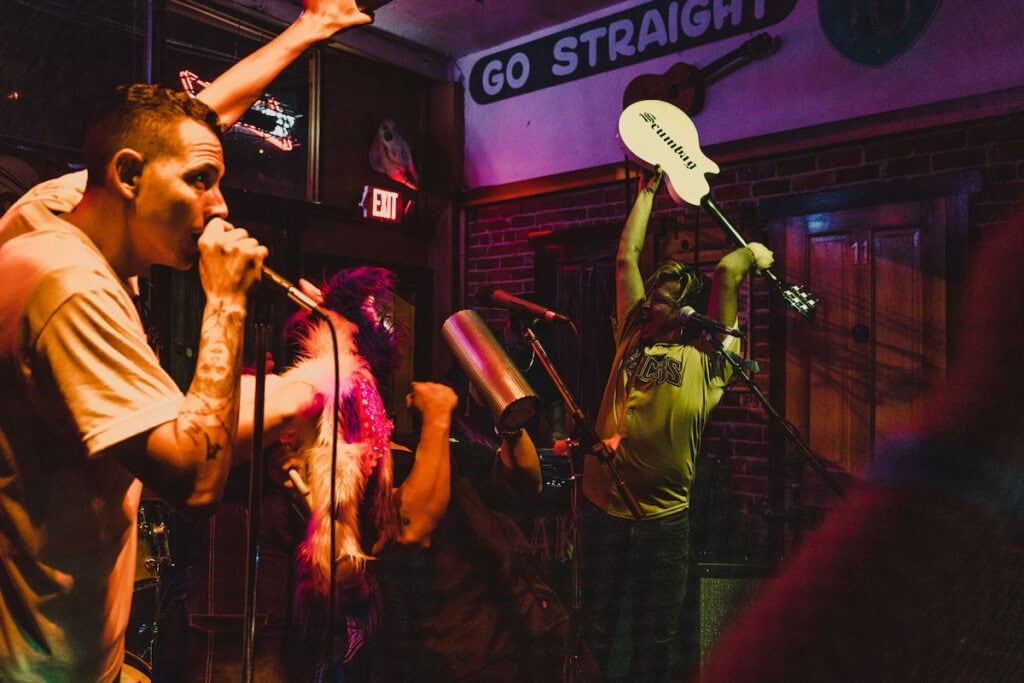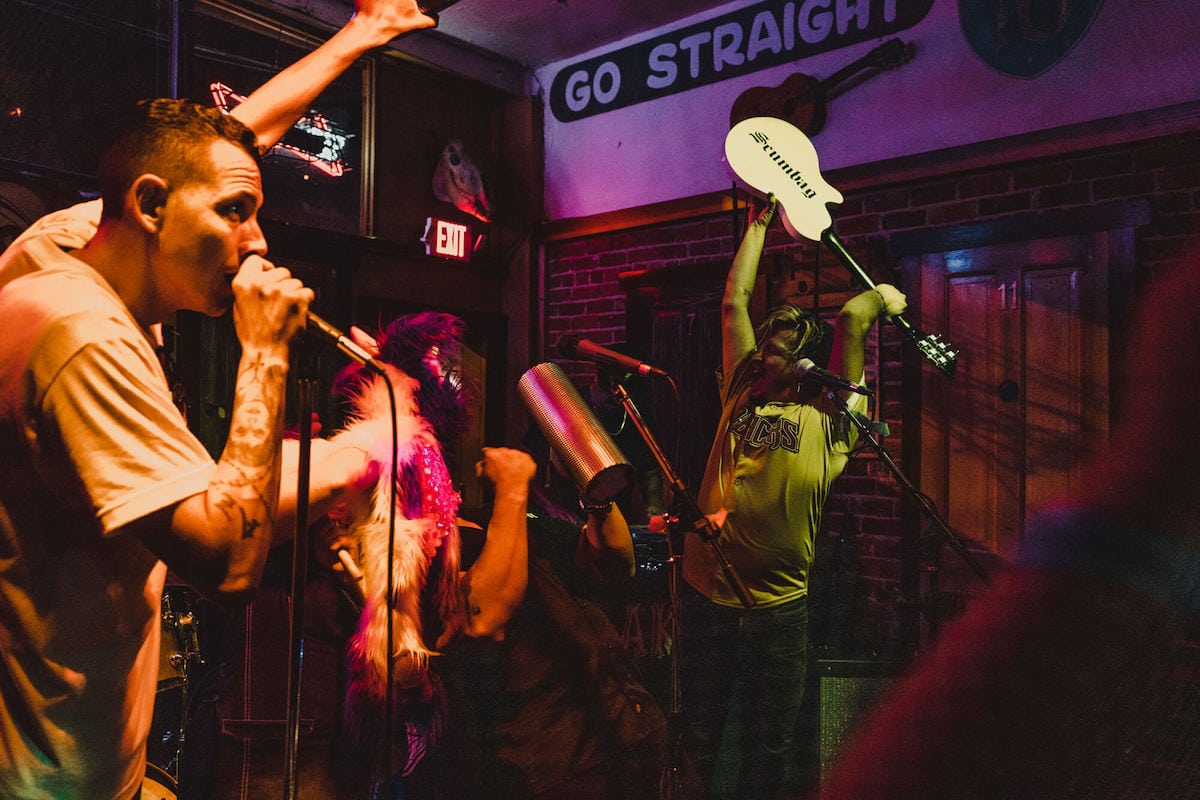 5. Visit An Art Gallery
Take enough steps through Bisbee and you'll notice that there are quite a few art galleries around town. Showcasing all sorts of local, national, and international artists, Bisbee has made a name for itself as a place where the arts thrive. A few of my favorites are:
Belleza: a gallery in the middle of town that features the work of over 20 artists, mostly painters.
The Artemezia Foundation Museum: this historical museum features a permanent collection from renowned artists like Banksy and Warhol and also has a gallery space that is curated seasonally.
The Central School Project: a non-profit art space that regularly hosts art events.
Sam & Poe Gallery: features the work of husband and wife Poe Dismuke and Sam Woolcott
6. Explore Erie Street
Incorporated into Bisbee in the early 1900s, the town of Lowell might not still exist but one small slice of it has managed to survive. Erie Street is a place out of time. With vintage vehicles and storefronts, the street is a popular destination for photographers and Instagrammers looking to get some iconic western photos.
Need an excuse to end up on Erie? Head there for breakfast at the Bisbee Breakfast Club and then walk off your meal.
7. Shop in Downtown Bisbee
Downtown Bisbee has a unique assortment of locally owned shops and thrift stores. Here are some of my favorites check out:
Killer Bee Honey: Reed Booth doesn't just have great honey, he's also a bee removal expert and helps folks relocate bees that have decided to make a home in slightly (or heavily) inconvenient places.
Optimo Hat Works: I didn't know hats could be as beautiful as they are at Optimo. A true master of the craft, each hat is a unique heirloom piece that'll stick with you forever.
Tumbleweed Mining Company: Walter over at Tumbleweed Mining Company dyes and compresses found tumbleweeds and desert plants to create unique gifts and jewelry.
Bisbee Oil & Vinegar Company: Sometimes you don't know what you're missing and that's how I felt about Olive Oil once I tried some from Bisbee Oil & Vinegar.
Patisserie Jacqui: Absolutely delicious pastries and baked goods.
Classic Rock Couture: This vintage and vintage-inspired shop has all sorts of clothing and accessories to help you feel at home in a different era.
Miners and Merchants Antiques: A true antique shop with a really well-curated assortment of items and oddities.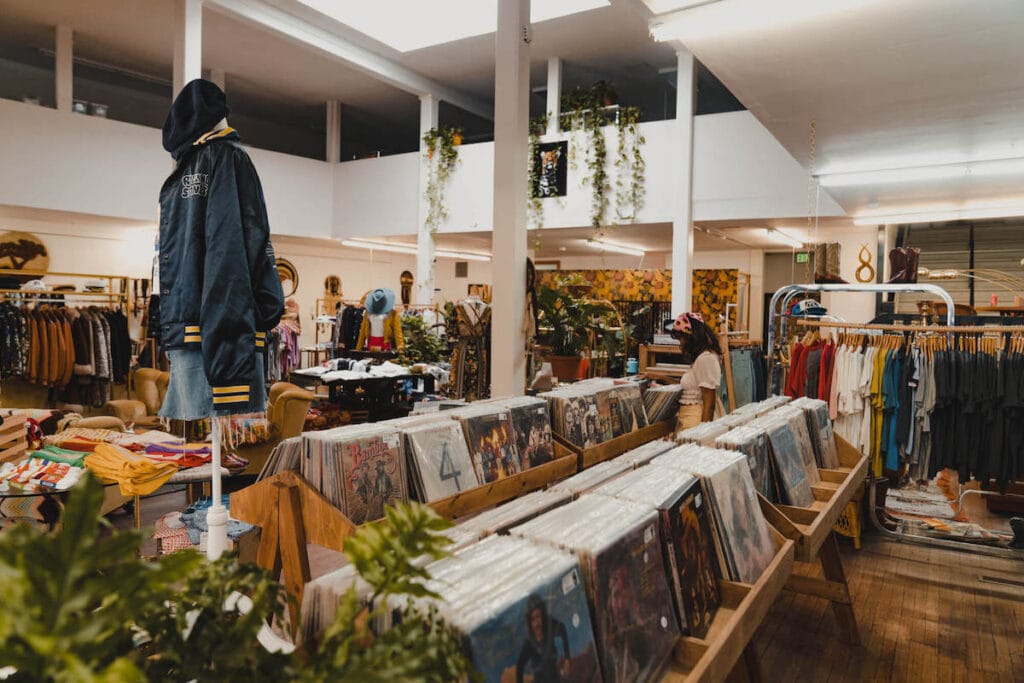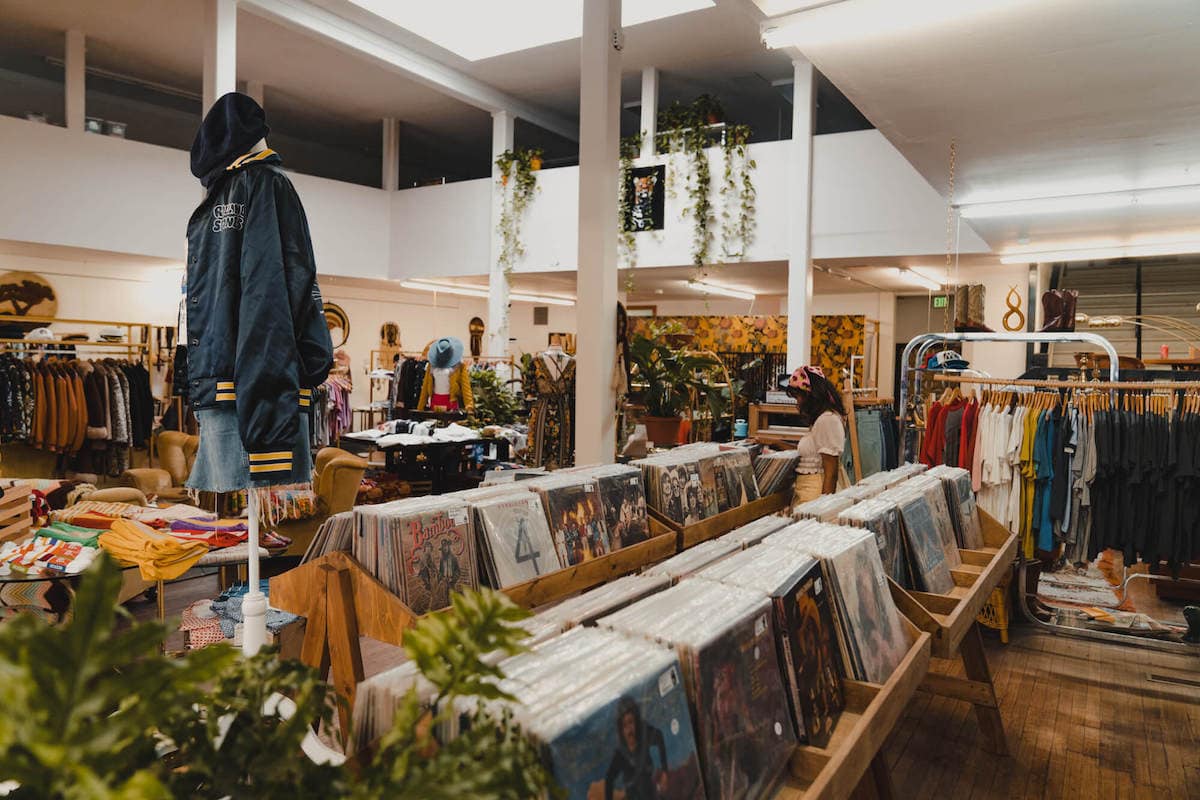 8. Visit Coronado National Monument
A short 30-minute drive from Bisbee, Coronado National Monument is home to several hiking trails that can get you outside during your visit to Bisbee. While none of the trails are very long, they do offer sweeping views and interpretive kiosks that tell the story of The Coronado Expedition, a pivotal moment in Arizona's history.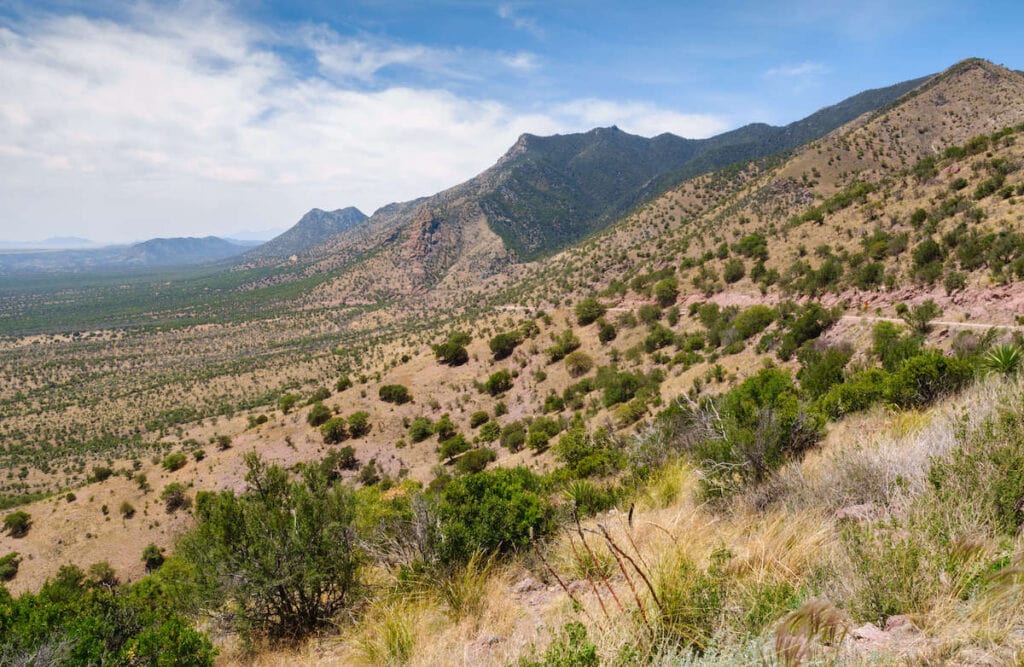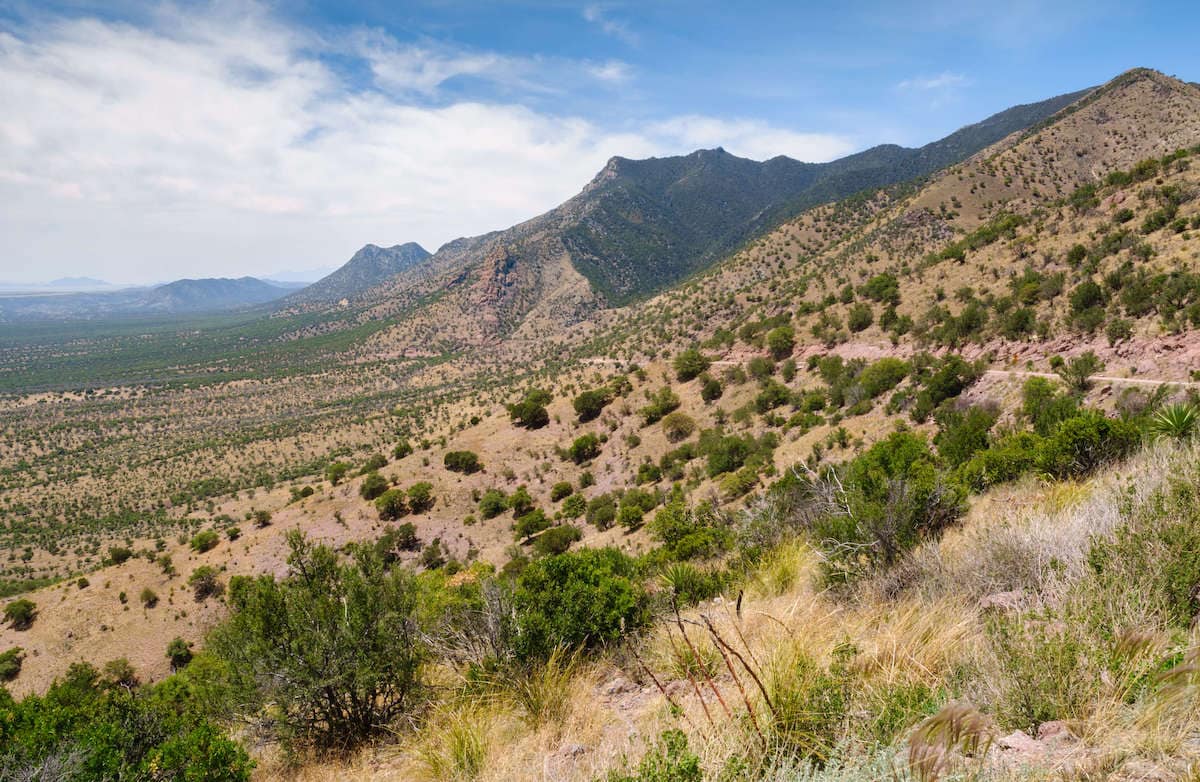 9. Take The Mexican Border Road #61 Scenic Drive
This scenic gravel road will take you up and over Montezuma Pass and then through the borderlands in Coronado National Monument. The drive boats phenomenal views of the Huachuca, Patagonia, Atascosa, Baboquivari, and Pajarito mountains as well as the sprawling grasslands of the San Rafael Valley. As the road snakes through golden hills and mesquite forests, you'll be treated to a version of the border that not many get a chance to experience.
To get to the border drive from Bisbee take AZ-80 E to AZ-92 W toward Sierra Vista. After about 20 miles, make a left on W Montezuma Canyon Rd until you find yourself at the top of Montezuma Pass. It's about a 45-minute drive to the top of Montezuma Pass.
10. Get Spooky with a Ghost Tour
Like most historic desert towns, Bisbee is known to be haunted. If ghosts and ghouls are your thing, jump on The Old Bisbee Ghost Tour and hear all about the spooky side of Bisbee. The walking tour will take you all around town, combining historical facts and ghost stories while you wander the streets at night.
Want to throw a few drinks in the mix? The Haunted Pub Crawl will take you to Bisbee's most haunted bars, where you can hear about their haunted history over a drink of your choice.
Into more of a show? Head over to the Bisbee Seance Room for Magic Kenny Bang Bang's one-man show, a show that combines victorian parlor magic with Bisbee's haunted history.
---
Best Places to Eat & Drink in Bisbee, Arizona
One thing that Bisbee has no shortage of is places to eat and drink. It doesn't matter if you're a barhopper, wine snob, or craft beer enthusiast, there's a place for you in town.
Drinks
St. Elmo's is the oldest bar in town and is located in the historic Brewery Gulch. This famous dive has cheap drinks, lovely bartenders, and a well-loved pool table. If you're a beer person, you can head across the Gulch to Old Bisbee Brewing Company and try some seasonal selections. I'm a big fan of the Double Hopped IPA but have also been known to order the Classic Pilsner on hotter days.
A few doors down you'll find my favorite bar in town, The Silver King. Why do I love The Siver King? Because it's tiny… and by tiny I mean, it's allegedly the smallest bar in the country.
Over on Main Street, you'll find The Grand, one of the more popular stages in town, and The Bisbee Social Club, which has somewhat of a speakeasy vibe.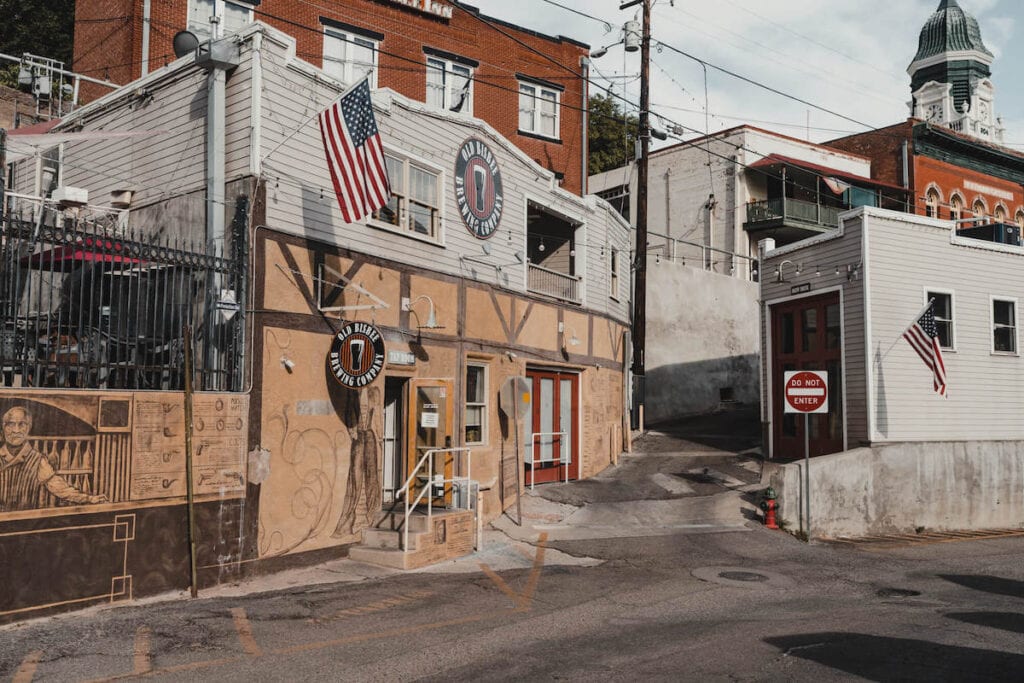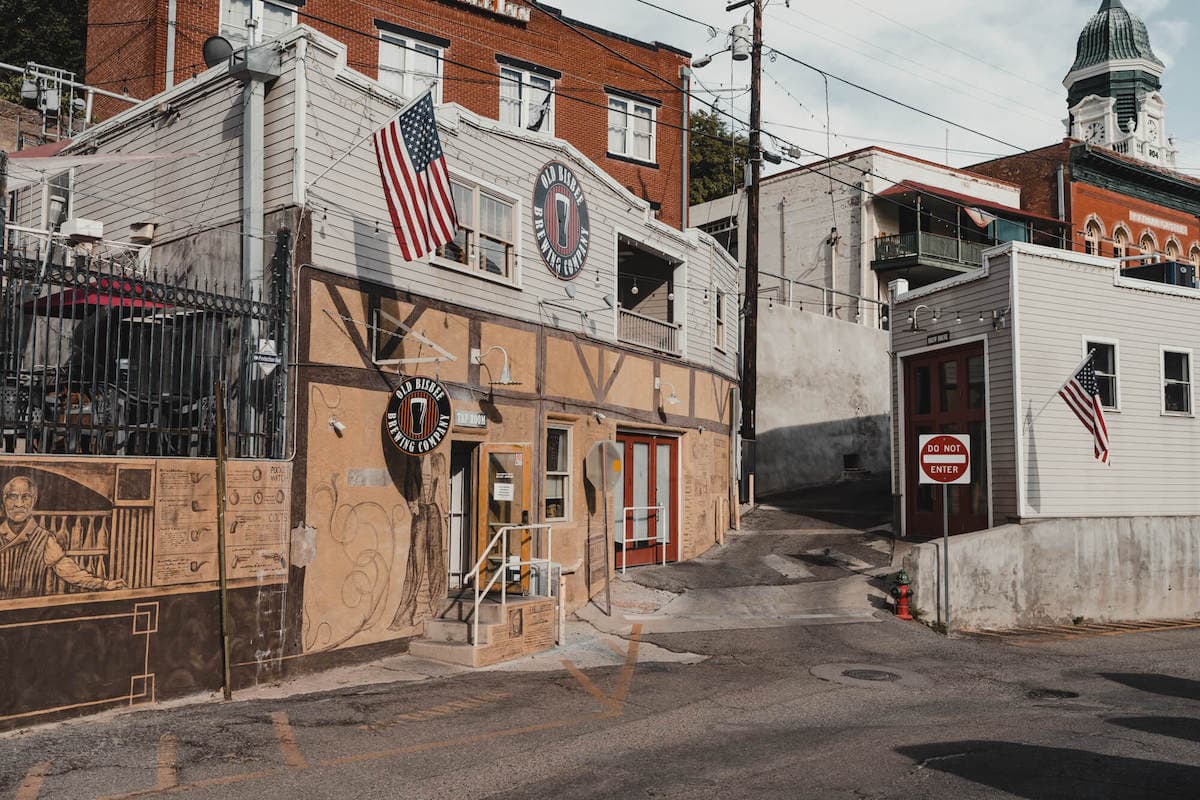 Food
If you're looking for a meal, there are several options for most palettes. Looking for some solid, locally sourced Americana cuisine? Check out The Quarry or Bisbee's Table, both have some really great options (and burgers!)
Looking for brunch? Bisbee Breakfast Club is a tried and true classic, with several locations throughout southern Arizona. On the weekends, Dot's Diner is another great spot to grab breakfast. With some serious retro vibes, Dots is the kind of place that makes you crave a milkshake but also makes a mean Bloody Mary. Looking for more of a home-cooked vibe? Mornings Cafe will have you feeling like you're at home.
Trying to grab something simple (but awesome) for lunch? Cafe Cornucopia and Boho Bisbee Tapas occupy the same space on Main Street, switching off when they offer each menu. If you're into vegan options, Poco Market is the spot for you, get the quesadilla tacos and thank me later. A bit up the road, The High Desert Cafe has a great selection of sandwiches and salads.
For dinner, Thuy's Noodle Shop is one of the best restaurants in my opinion, but other local favorites include Cafe Roka for fine dining and Contessa's for some Mexican fare. If you're in the mood for pizza, Screaming Banshee has some of the best around.
Keep in mind that most of the bars in town also have a food menu, if you're not trying to change locations to grab a bite to eat.
---
Where To Stay in Bisbee, Arizona
Since the copper boom in the early 1900's Bisbee has always been a place with plenty of places to stay, each with its own charm and personality. Here are a few Bisbee hotels to check out:
The Copper Queen Hotel is in the center of town and houses both a restaurant and a bar. Finished in 1902, the hotel was built by The Copper Queen Mining Company and has a long history of famous clientele and ghost sightings.
The Shady Dell is a charming spot where you can stay in a variety of vintage trailers and buses. Uniquely decorated, The Dell is a great place to stay if you're looking for something a bit different than your average hotel room.
The Bisbee Grand has a variety of rooms, from simpler more affordable ones to jacuzzi suites. If you like music, you won't have to go super far as the bar downstairs has live music almost every night.
The Jonquil Motel has all the charm of a well-loved motel without any of the shady characters or bedbugs.
The Object Hotel is a unique place that combines vintage shopping with hospitality and is located in the middle of town. Everything in the hotel, from the wall art to the furniture, can be purchased by guests.
The Inn At Castle Rock was built in the 1890s and is home to the historic Apache Springs Well, which inspired the first mining claims in the area and is basically the reason Bisbee exists. The massive porches on the front side of the building are one of my favorite places to drink coffee in the morning.
---
What are your favorite things to do in Bisbee, Arizona? Did we miss any? Leave a comment below!