Summary: Here is a list of my favorite lululemon must-haves for home workouts, yoga, and outdoor activities
For the longest time, I didn't understand the lululemon hype. I had the impression that lululemon was only for super skinny people who love hot yoga with all of their sizes running small. So when lululemon reached out and said they wanted to work with Bearfoot Theory, my initial reaction was that it wasn't a good fit….but before saying no, I decided to check out the lululemon website and see what their brand was all about these days.
Needless to say, I was really surprised by what I found. In recent years, lululemon has evolved to offer athletic apparel for all kinds of bodies as shown by the variety of models on their website. For example, lululemon has a large range of numbered sizes with leggings running up to size 20 and sports bras as large as 40G.
I only work with brands whose products I've tried and love, so my next step was to go into my local lululemon and try on a bunch of stuff. I came home with a bag of lululemon activewear that I was excited to put to the test during my home workouts this winter. After trying a variety of leggings, shorts, tops, bras, and underwear, I now consider myself a lululemon convert. Not only are their clothes well made, functional, and oh-so-comfy, all of the activewear I've tried at home would also be great for summer hiking and other outdoor adventures. And thus my partnership with lululemon was born.
In this blog post, I'm excited to share a list of my lululemon must-haves for active women. I've personally tried every one of the pieces of clothing and workout essentials listed here and hope you love them as much as I do.
Here are 12 lululemon must-have essentials for working out and staying active at home and outside.
Best lululemon Leggings and Shorts
I've tried six different pairs (plus a bunch more on in the store), and the three below are the best lululemon leggings for working out. The leggings come in numbered sizes (0-20), as well as different lengths, so you can really customize the fit to your height and waist size. I'm 5'5″ and weigh 140 pounds. I wear a size 8 in all of these leggings. The 25″ length hits slightly above my ankle, while the 28″ length hits below my ankle.
Align High Rise Pant
Great for: yoga, mellow activities, relaxing, traveling
Pros: Comfortable, soft, stretchy, and stays put during movement
Cons: Not as durable as lululemon's other leggings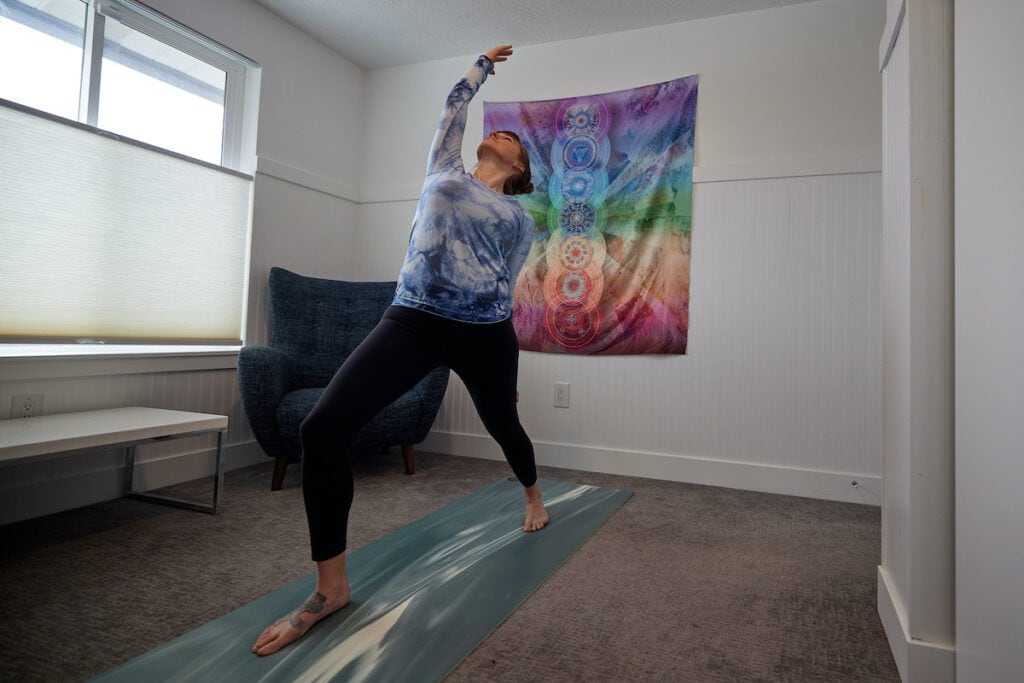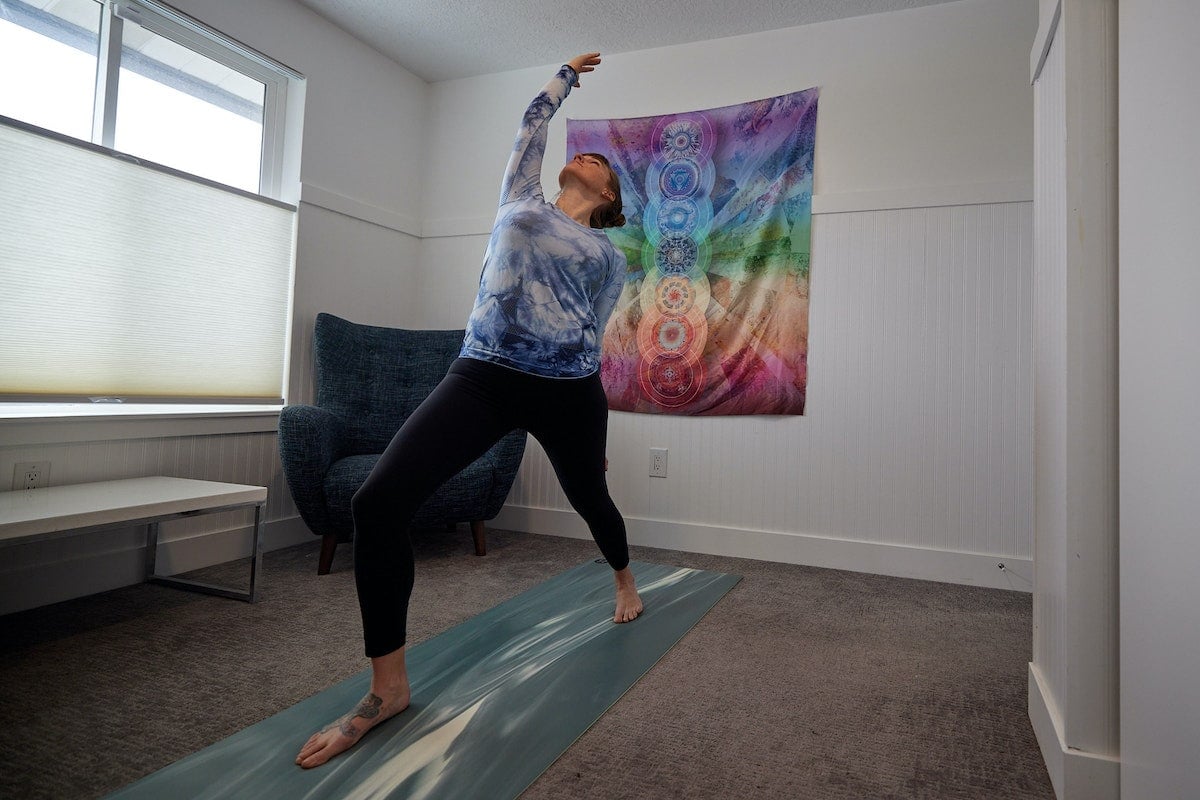 The lululemon Align High Rise Pant is the softest of lululemon's leggings and is designed for yoga and gentle workouts. These are the most comfortable leggings I own, I hardly feel like I'm wearing anything. They are also my go-to for long drives and road trips or lounging around the house. The waistband sits about 2 inches above my belly button. It doesn't pinch and only occasionally rolls down and needs to be adjusted. These leggings are the thinnest of my three lululemon must-have leggings so I wouldn't wear them out on a cold day, but they're not so thin that you can see through them.
I've owned these for a few months now, and the only con (which is likely my fault) is I have experienced a little bit of fabric pilling on the upper thighs. My guess is it's from my dogs sitting on my lap in the car and scratching the leggings with their nails. Based on this, I'd probably avoid hiking or doing other activities where the leggings might rub up on sharper surfaces.
Wunder Train High-Rise Tight
Great for: Rigorous exercise, weight lifting, walking, running
Pros: Lightweight, breathable, wicking, comfortable, flattering
Cons: No pocket on leg for your phone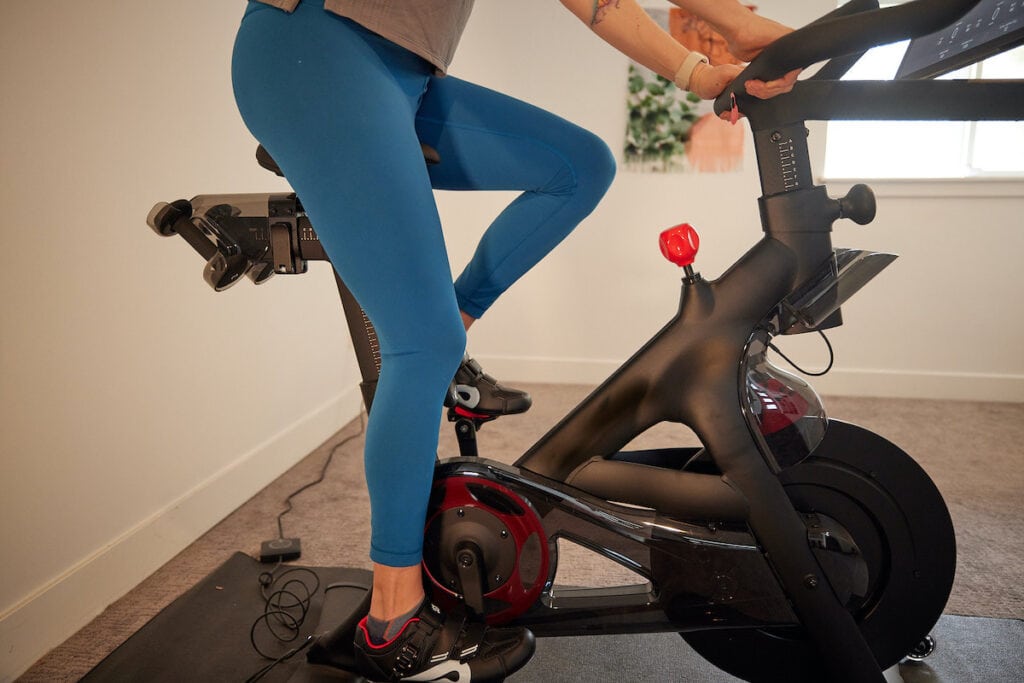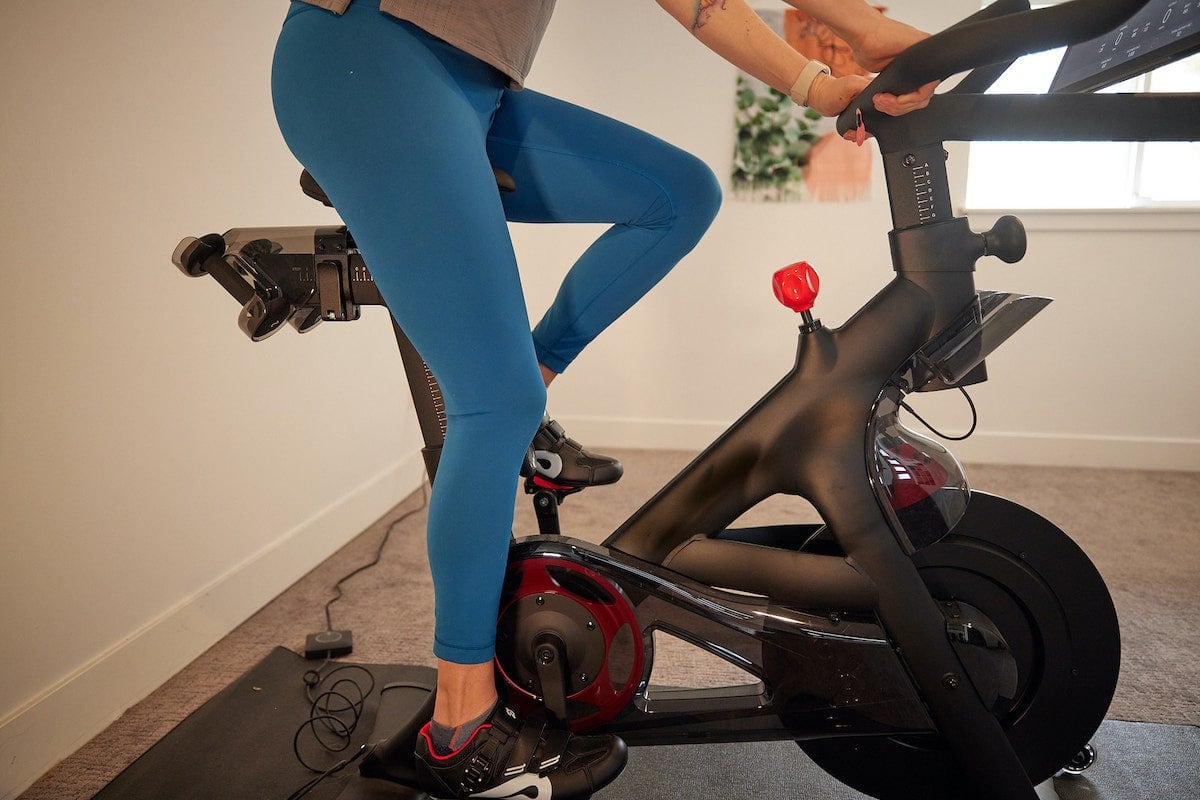 The Wunder Train High-Rise Tight has become my favorite lululemon must-have for working out and are my go-to for indoor cycling. I typically get pretty sweaty, and these leggings are very good at wicking moisture and regulating my temperature, even as the workout gets tough. These leggings are not quite as buttery soft as the Align, but they are still soft to the touch. They are also more durable than the Align, and I haven't experienced any fabric pilling after three months of regular use.
The waistband sits about an inch above my belly button, and these tights offer some compression which helps make my tummy look flat (bonus!). I find the waistband doesn't slip or roll over much, but it does have a drawcord that you can pull tighter. If you want to go on a run, there's a small hidden pocket in the waistband that you can stash a key or credit card, but that's about all that can fit in it.
Invigorate High-Rise Tight
Great for: Rigorous exercise, outdoor workouts, hiking
Pros: Durable, side pockets for phone, thicker so you can't see panty lines, wicking, soft to touch, offers great compression
Cons: Because they are thicker, they are a little warmer than the Wunder Train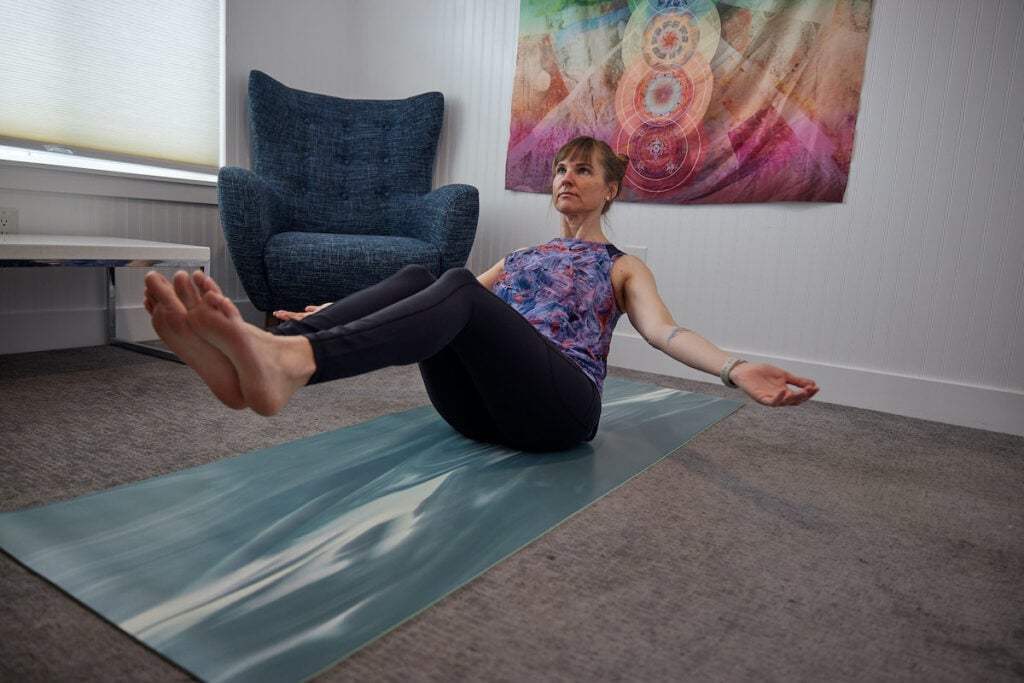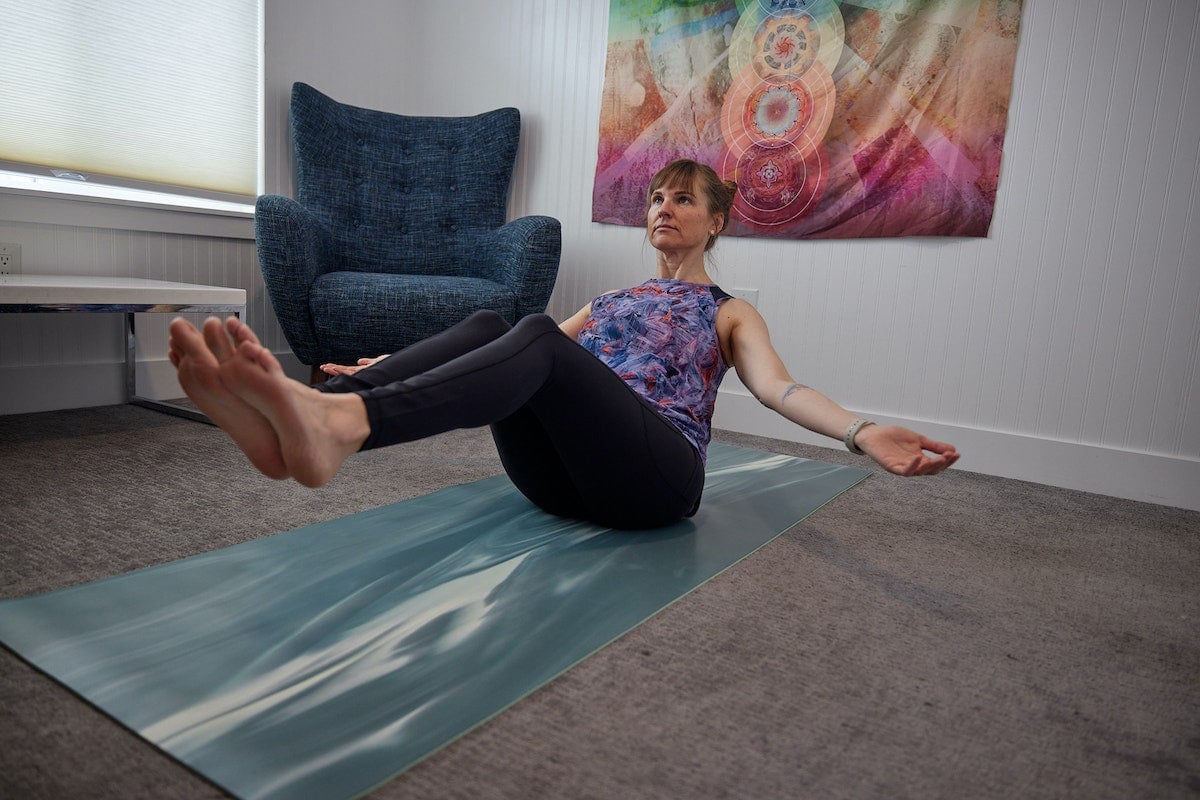 The lululemon Invigorate HR Tight is another must-have piece of activewear. These leggings have the same feeling as the Wunder Train, but they are a bit thicker, making them more durable for tough workouts outside. These really do stay put during movement. The thickness also means you don't have to worry so much about visible panty lines.
I wouldn't hesitate to wear these hiking, especially in the shoulder season when the temperatures are more variable. They also seem durable enough to sit on rocks while you're taking a snack break. Another bonus of these is that they have a decent sized stretchy pocket on each leg that is big enough for your phone.
I have these in the 28″ length. They are a little longer than I like, resulting in a small amount of bunching at the ankle, but they do come in a 25″ length. The waistband also sits quite high at 2-3″ above my belly button which is nice, and they provide compression at the waist that really hugs everything in while still being comfortable.
Track That Mid-Rise Lined Short – 5″
Great for: Running, Working Out
Pros: Nice length, lightweight, built-in liner, drawcord on waist
Cons: Pocket is too small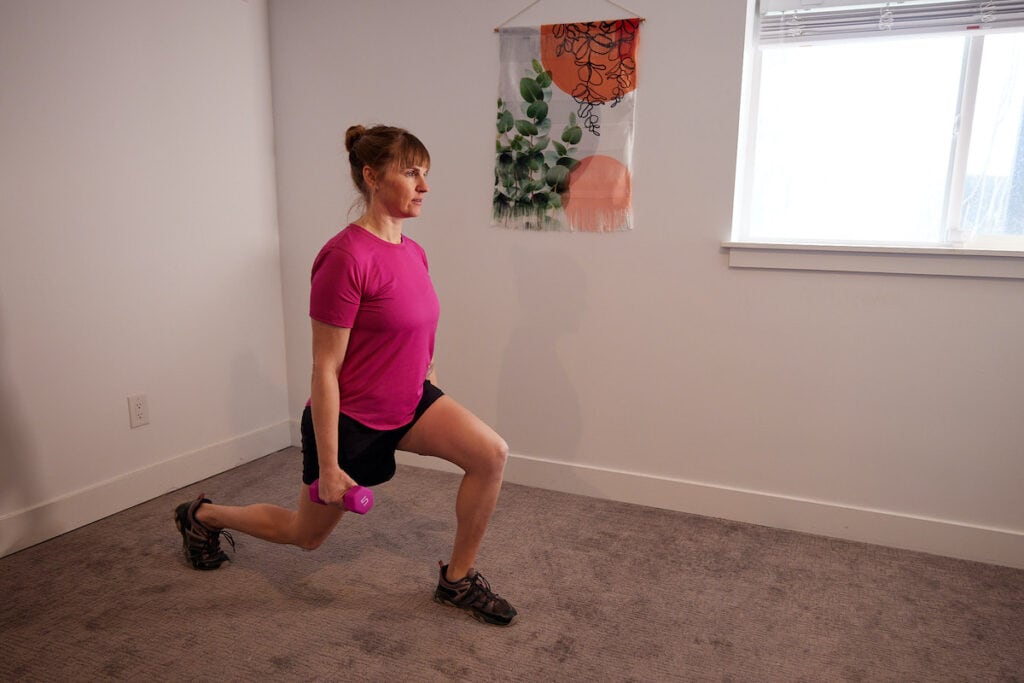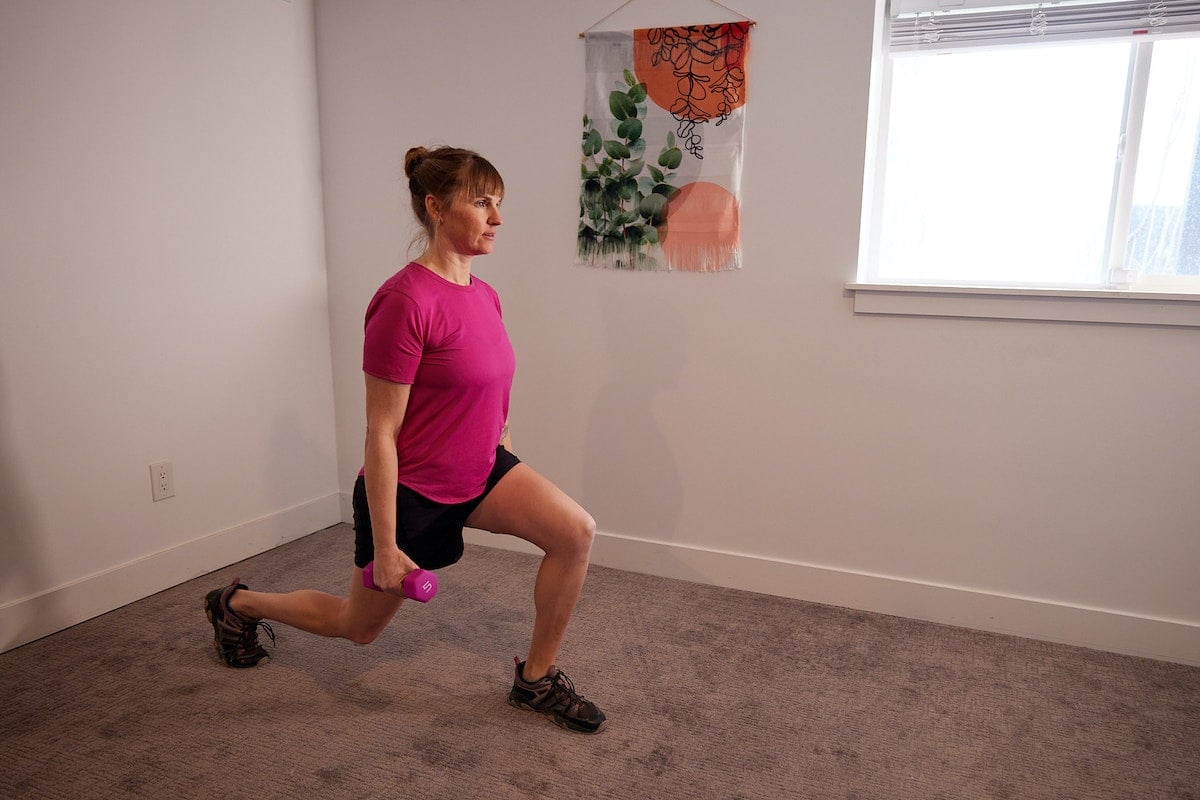 These lululemon Track That Mid-Rise Lined Shorts are a versatile short for hot summer days. They are super lightweight, airy, and breathe exceptionally well. Despite feeling like they are barely there, these shorts offer great coverage, and the liner keeps the privates private. The liner also keeps the shorts in place and prevents them from riding up as you move. The wide waistband is very comfortable and doesn't dig in.
My only complaint about these is the pocket is so small. They are designed for running, and I assume most runners don't have their cell phone bouncing around in their pocket. However, in my opinion, they'd be more versatile for hiking and other activities if the pocket was a little bigger and more functional.
Best lululemon Workout Shirts
These lululemon must-have workout shirts are the most flattering, comfortable, and breathable ones I've tried. As for fit, I typically wear a medium, have large breasts (36D), and a short torso.
Train to Be Tank
Great for: Hot, sweaty workouts
Pros: Super breathable, loose fitting, no chafing
Cons: Arm holes are a little big making bra slightly visible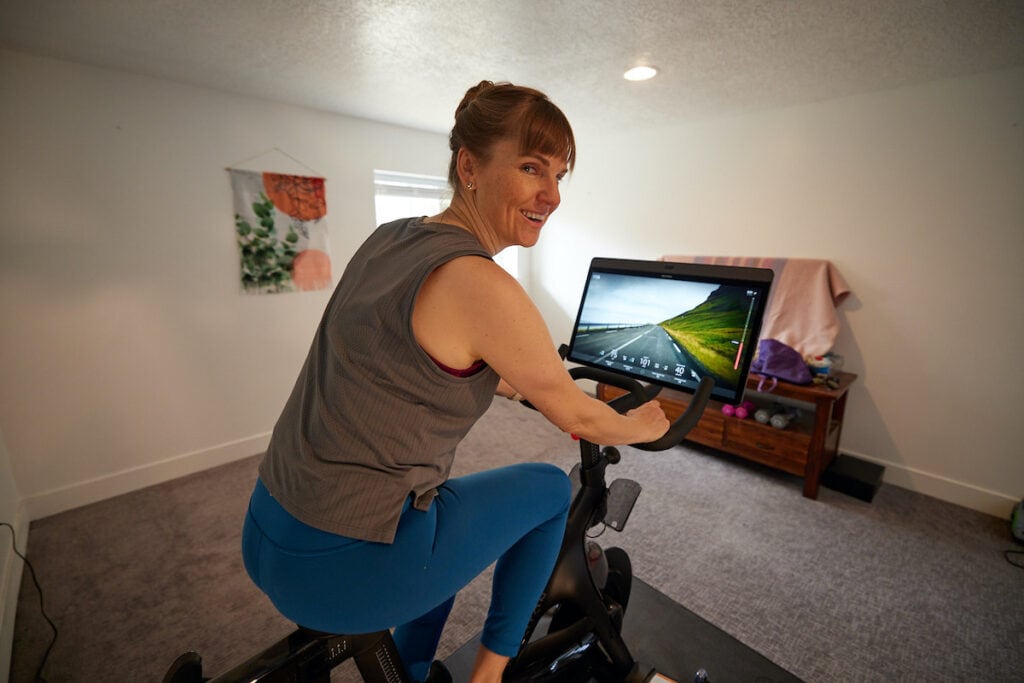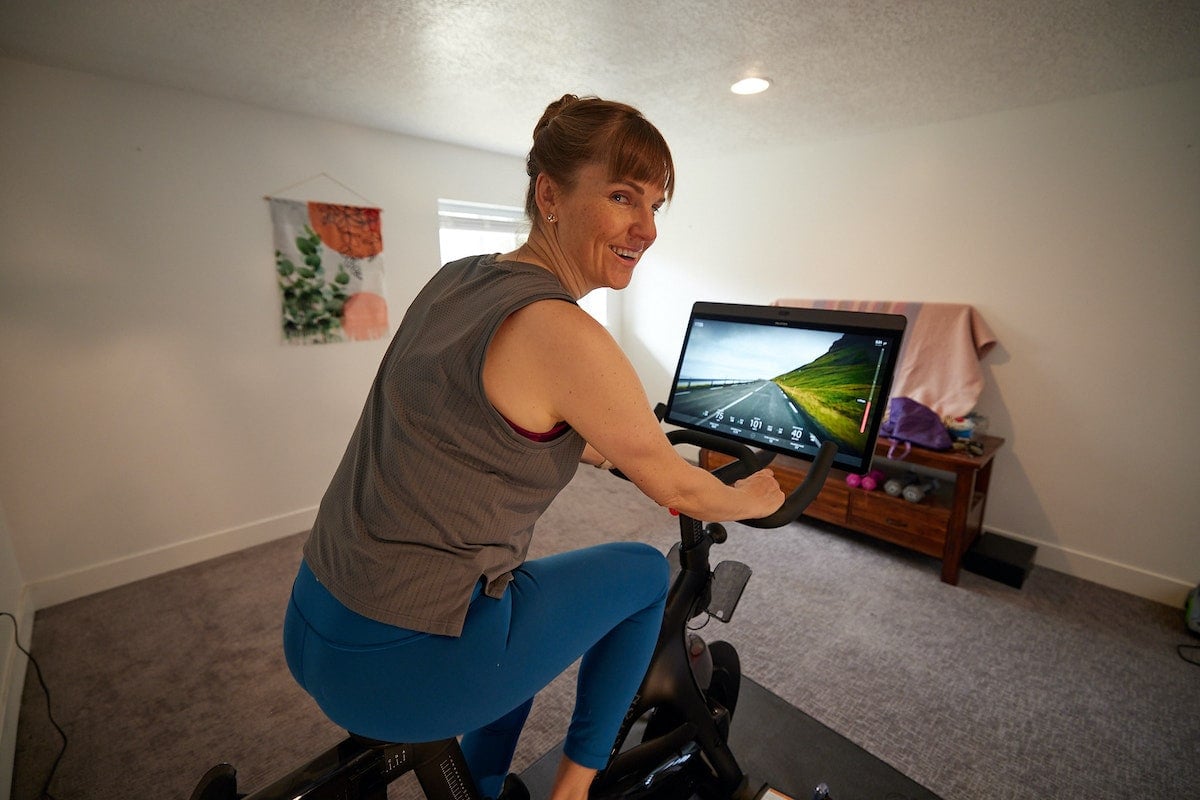 The lululemon Train To Be Tank is perfect for high intensity workouts. The backside consists of tiny holes that provide for maximum airflow to keep you really cool. This is my favorite shirt to wear for indoor cycling.
The fit is loose and short, with the bottom of the shirt hitting right above my belly button. When paired with high waisted leggings or shorts, my midriff is covered unless I lift my arms up high. The arm holes are a little large, which again contributes to the shirt's breathability, but you can see a bit of my sports bra from the side.
For my body type, I don't think the cut is the most that flattering, but for at-home workouts, that's not something I'm super concerned about.
Swiftly Tech Long Sleeve Shirt 2.0
Great for: Yoga, Outdoor Activities in cooler months (hiking, walking, running), traveling
Pros: Comfortable, flattering, thumbholes, doesn't stink
Cons: Depending on your body type, this shirt may be too form-fitting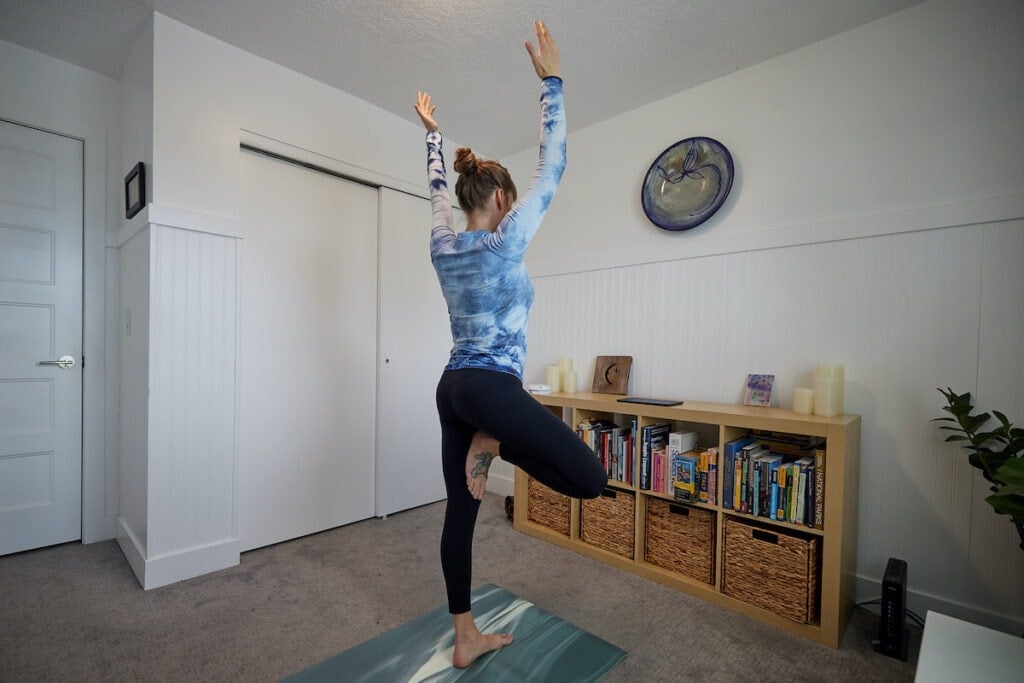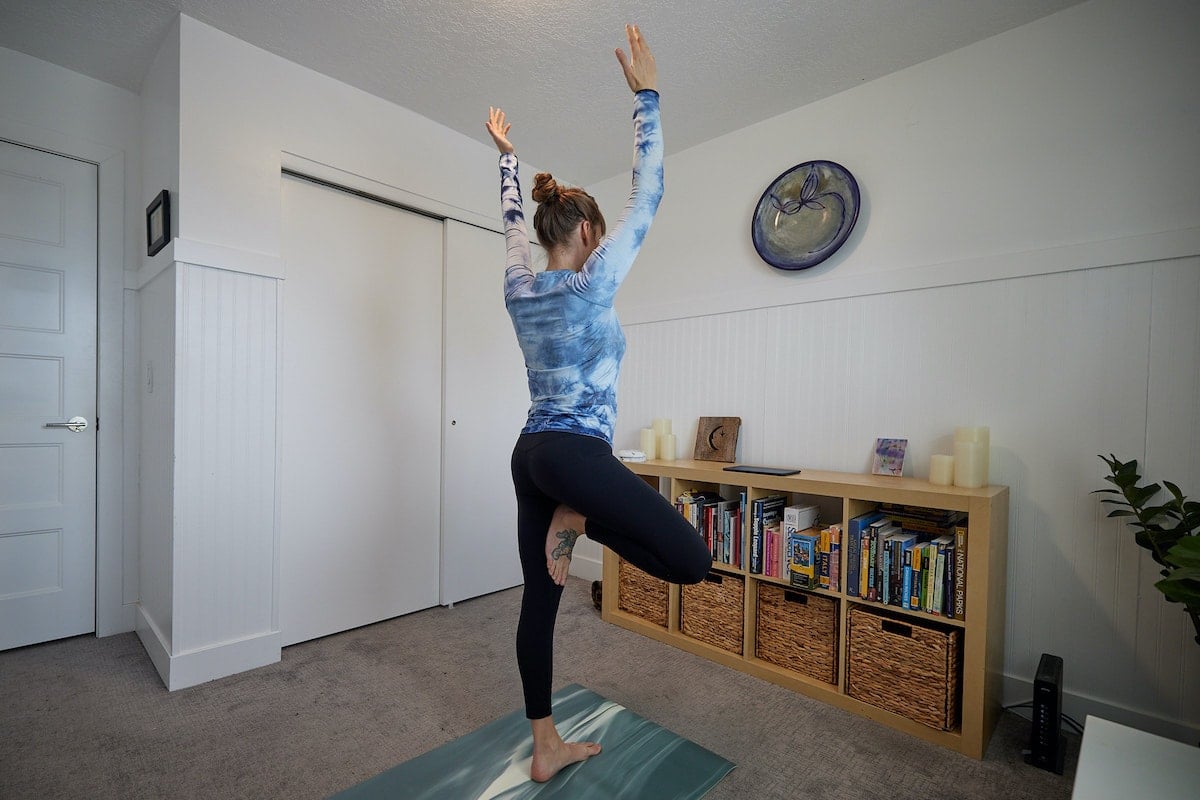 The lululemon Swiftly Tech Long Sleeve Shirt 2.0 has been my most-worn shirt this winter. I absolutely love it. I wear it multiple times a week – during yoga sessions at home, on brisk cold weather walks, on zoom calls, when running errands, and even out to eat. It's so versatile, and I think it's really cute and flattering! It breathes well, and I can wear it many times before it starts to stink. Like all of the clothes on this list, this shirt also retains its shape during washes and doesn't stretch out. I especially love the thumbholes when I'm out walking because it keeps my hands warmer. This shirt would also be great for running and as a hiking layer on cooler days.
I don't really have anything negative to say about this shirt, and as one of my favorite lululemon must-haves, I'd like to get a couple more in other colors. Keep an eye on the color options as the availability seems to change frequently and sometimes certain colors are on sale.
This shirt also comes in short sleeve which I was excited to try, but I will be returning it. I found the sleeves to be a little short and tight for me personally.
High Neck Run and Train Tee
Great for: High intensity workouts with a lot of movement, summer hiking, running, yoga
Pros: Very lightweight, full coverage, dries quick, doesn't stink
Cons: Certain colors show sweat, snags easily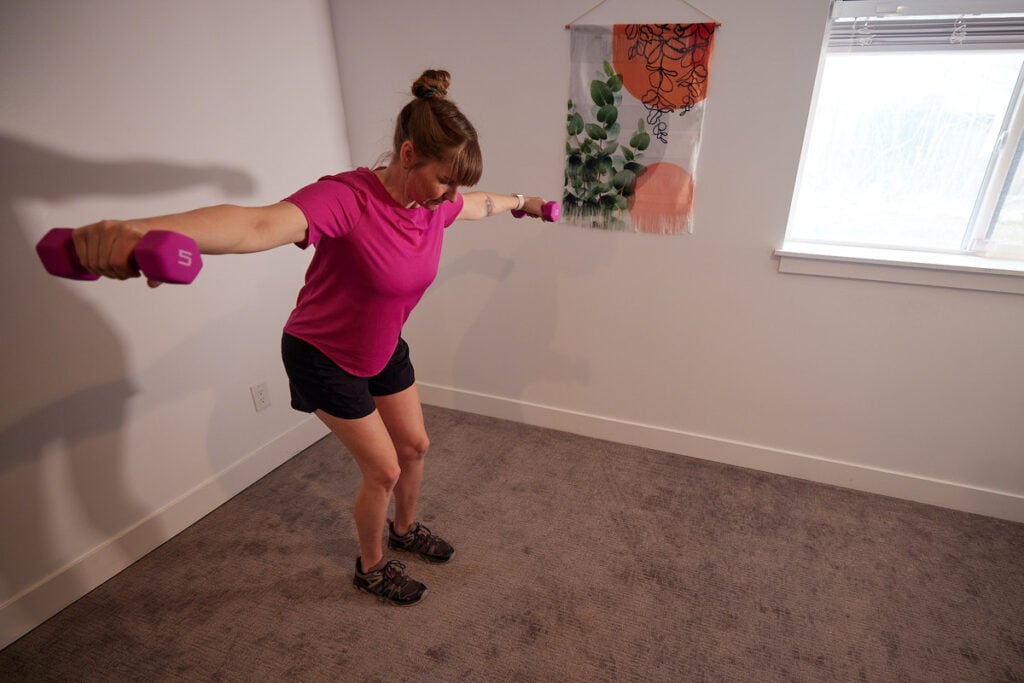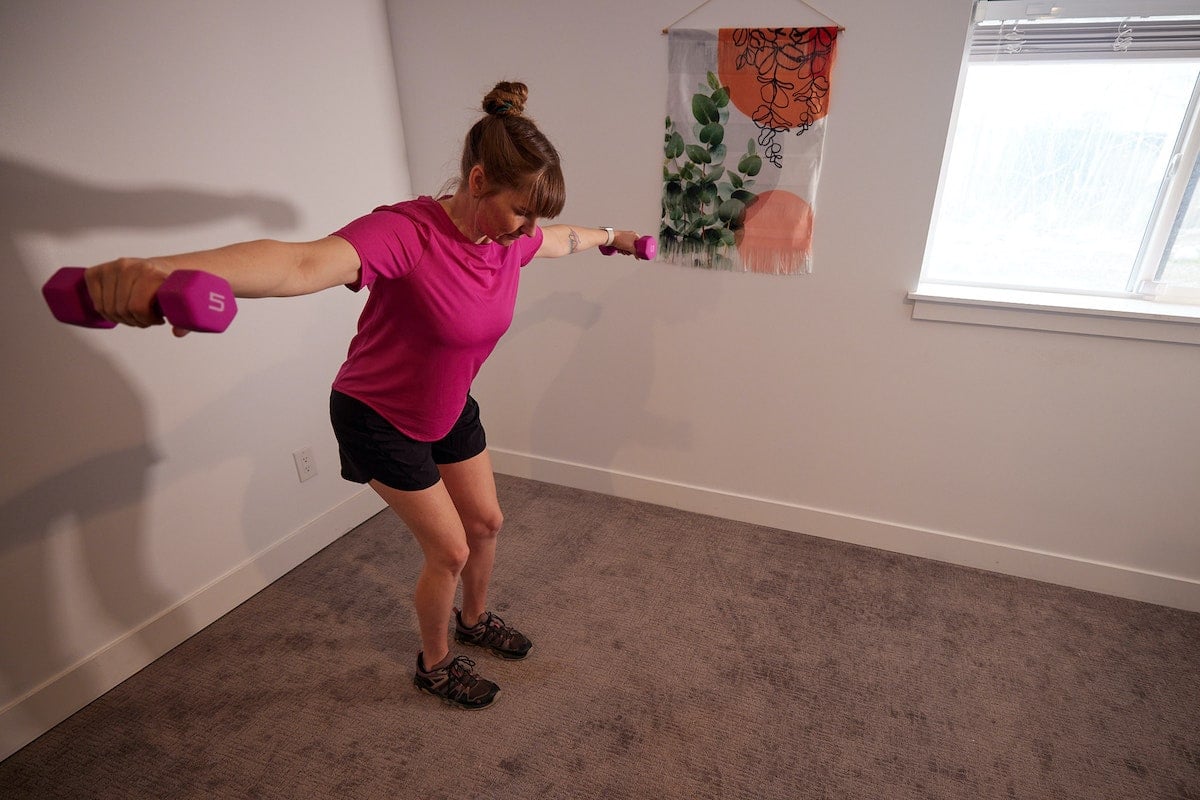 You know how certain exercises can leave you feeling a little exposed? Every time I do downward dog, my shirt falls upward so you can see my belly, and the neckline droops so you can see my cleavage. During in-person classes, it makes me self-conscious and at home, it's just plain annoying. Well, not with the High Neck Run and Train Tee, another one of my lululemon must-haves for women who love being active. This shirt is so light and airy, you barely feel like you are wearing it. At the same time, it offers full coverage, with the bottom hitting right at my hips. You can tuck it into your leggings for those inverted exercises, and the neckline is comfortable without sagging and putting you on display. The full coverage is also nice if you plan to wear it out in the summer sun.
Just a couple things to be aware of. The first is that the bright pink color gets darker in the areas I sweat it, like my armpits). If that's a deal breaker for you, I recommend getting this shirt in black. The other thing that many reviewers report is that this shirt snags easily. I've worn and washed mine a number of times and haven't experienced this personally, but it's something to be aware of when caring for this shirt.
Best lululemon Sports Bras
I've been wearing the same sports bras as my daily bra for years, and I didn't realize how unsupportive the ones I had were until I tried a few different lululemon bras. As a 36D, these bras have made high impact exercise and daily life so much more comfortable.
Run Times Bra, High Support, B-G Cups
Great for: High intensity workouts, running, jumping
Pros: Extra supportive, full coverage, accurate sizing, thick straps
Cons: Needs to be line dried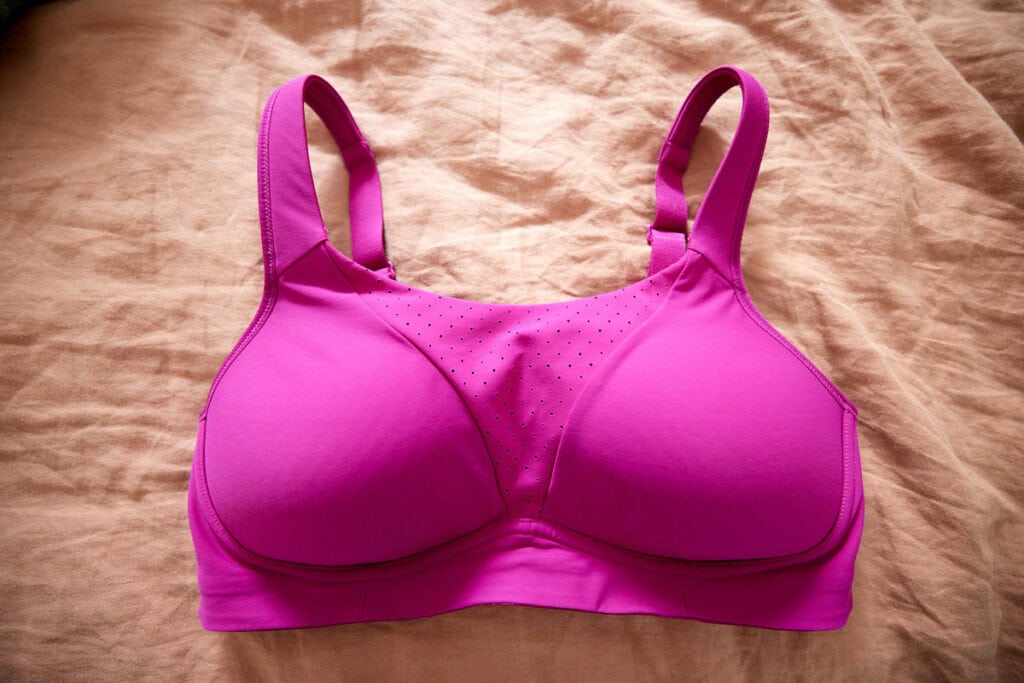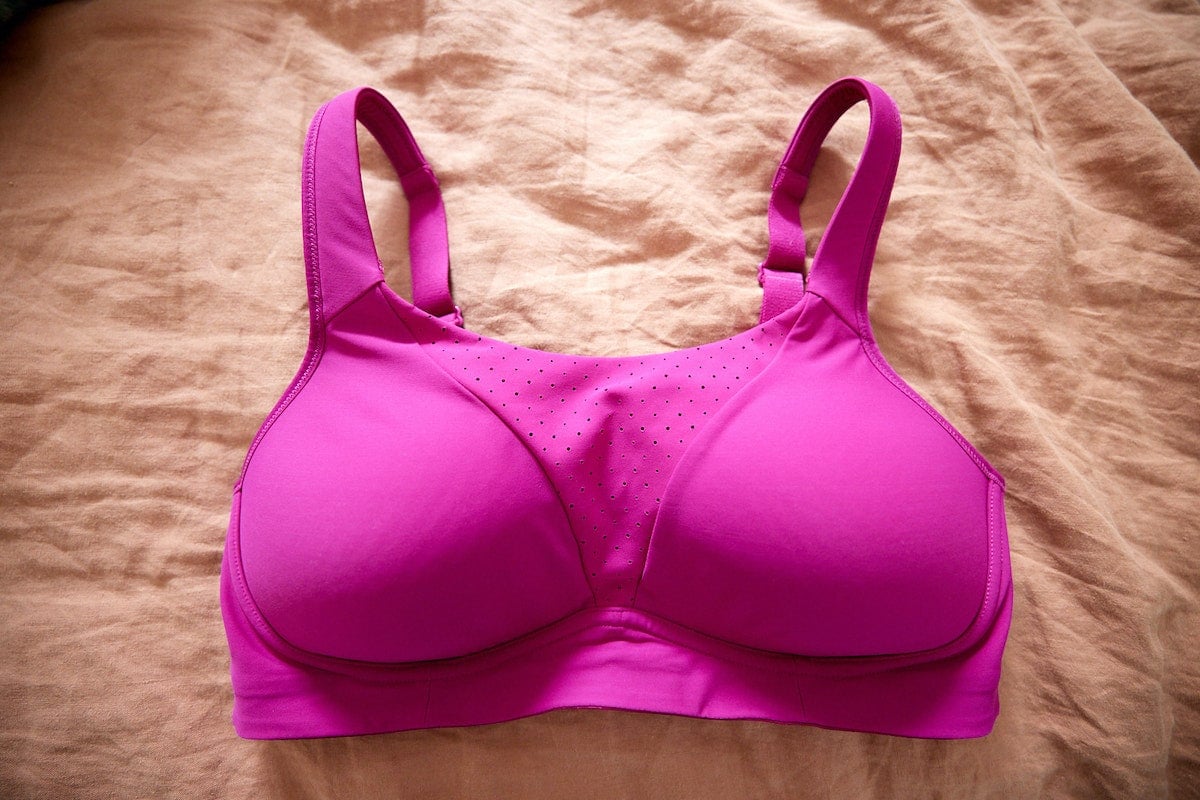 I honestly can't believe how good this lululemon Run Times Bra feels when I'm working out. The bra doesn't shift around, my breasts are fully supported and don't bounce around AT ALL, and the thick straps don't dig into my shoulders. And it manages to do all that for women sized B-G cups, all while being wireless and comfortable!
As a 36D, the last thing I want is a bunch of extra padding to make my boobs look even bigger. This bra provides just enough padding to maintain shape without adding volume or making your boobs feel smushed. The fabric around the cleavage area is stretchy and has small holes which contribute to this bra's breathability.
On the back, it's got three clasps and three positions so you can tighten or loosen the underband as needed.
I don't have anything negative to say about this bra, except that you aren't supposed to put it in the dryer so you have to remember that when doing laundry.
In Alignment Bra, Light Support
Great for: yoga, hiking, daily wear
Pros: Accurate fit, soft fabric, flattering, everyday support
Cons: Needs to be line dried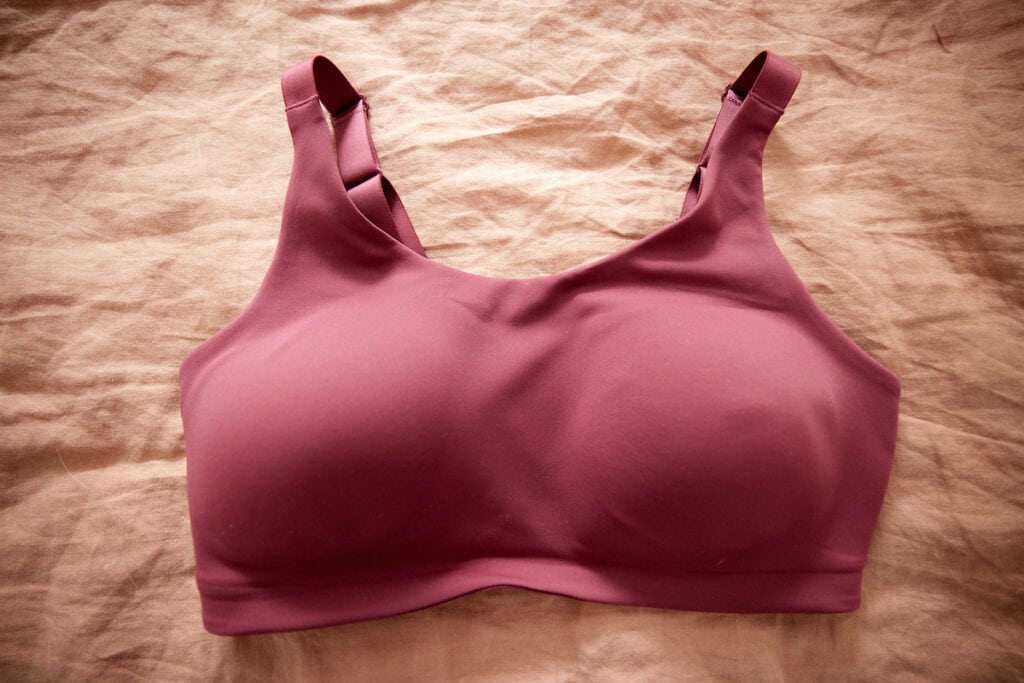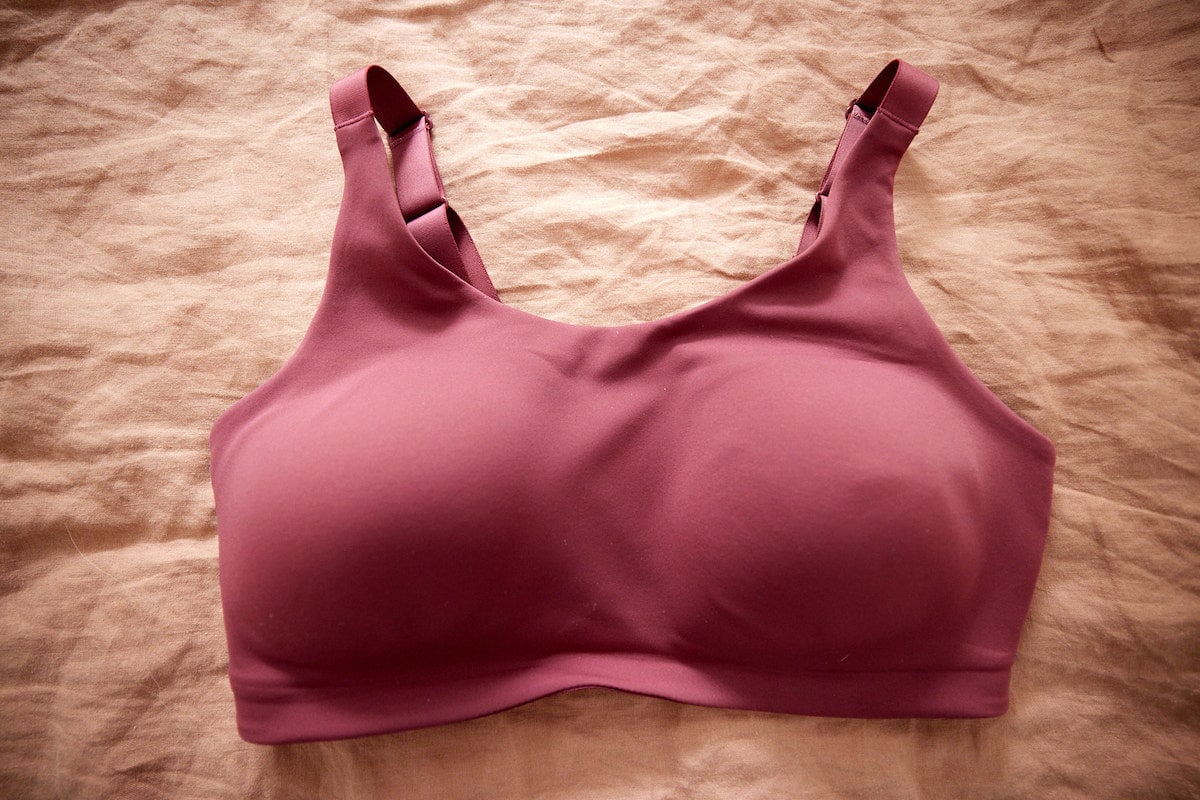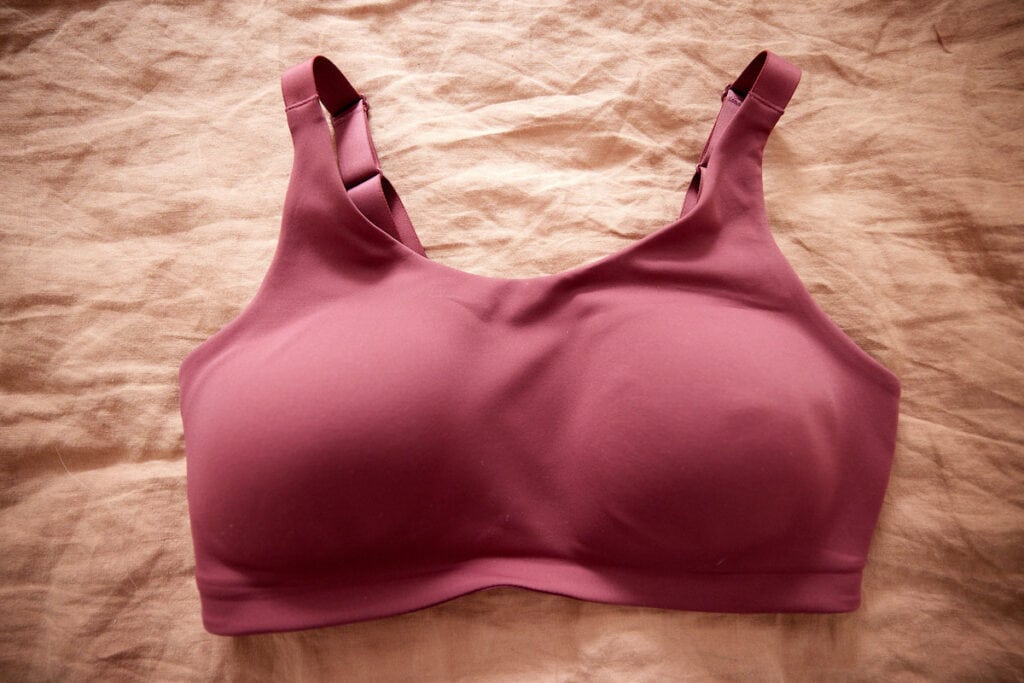 If you're looking for a comfy bra that provides enough support for daily use, the lululemon In Alignment Bra might be the perfect fit. Another underwire free option, this bra has very light padding and is surprisingly flattering. Even though they say "light" support, I would describe this as medium support that's great for hiking and lower impact activities. The version I link to above is made for D-G cups, but they also have A/B and C/D versions.
On the back of the D-G version, it has three clasps with three positions so you can customize the fit, and you can't feel the clasps when you are wearing it.
The only con? Like the bra above, it needs to be lined dried.
Best lululemon Underwear
I've been on the hunt for the perfect pair of underwear for an active lifestyle, and I think I may have finally found it!
InvisiWear Mid-Rise Boyshort Underwear
Great for: Exercising and Outdoor Actvities
Pros: No panty lines, doesn't shift around
Cons: None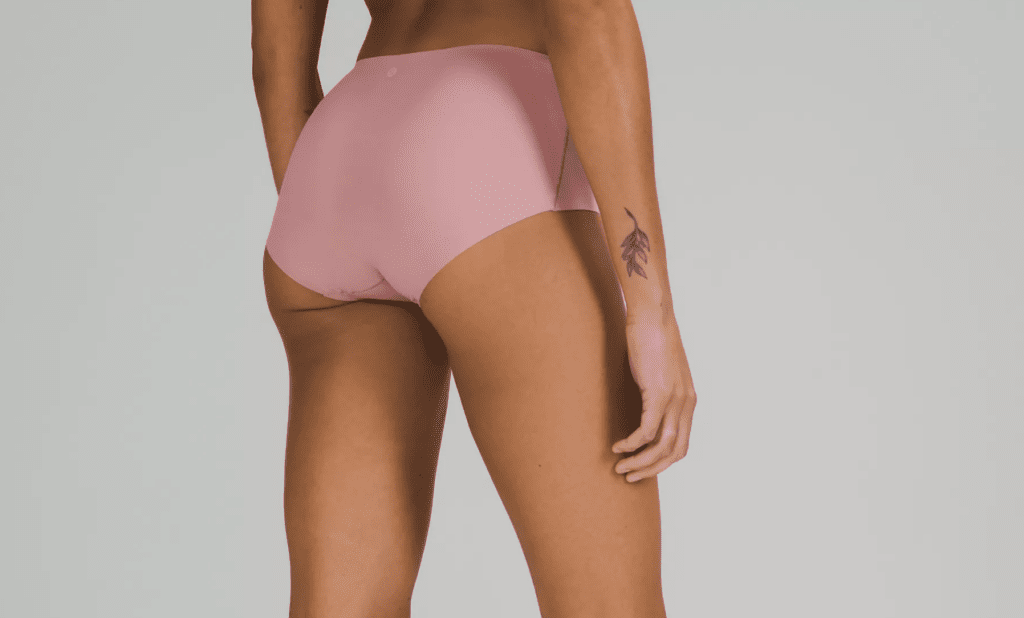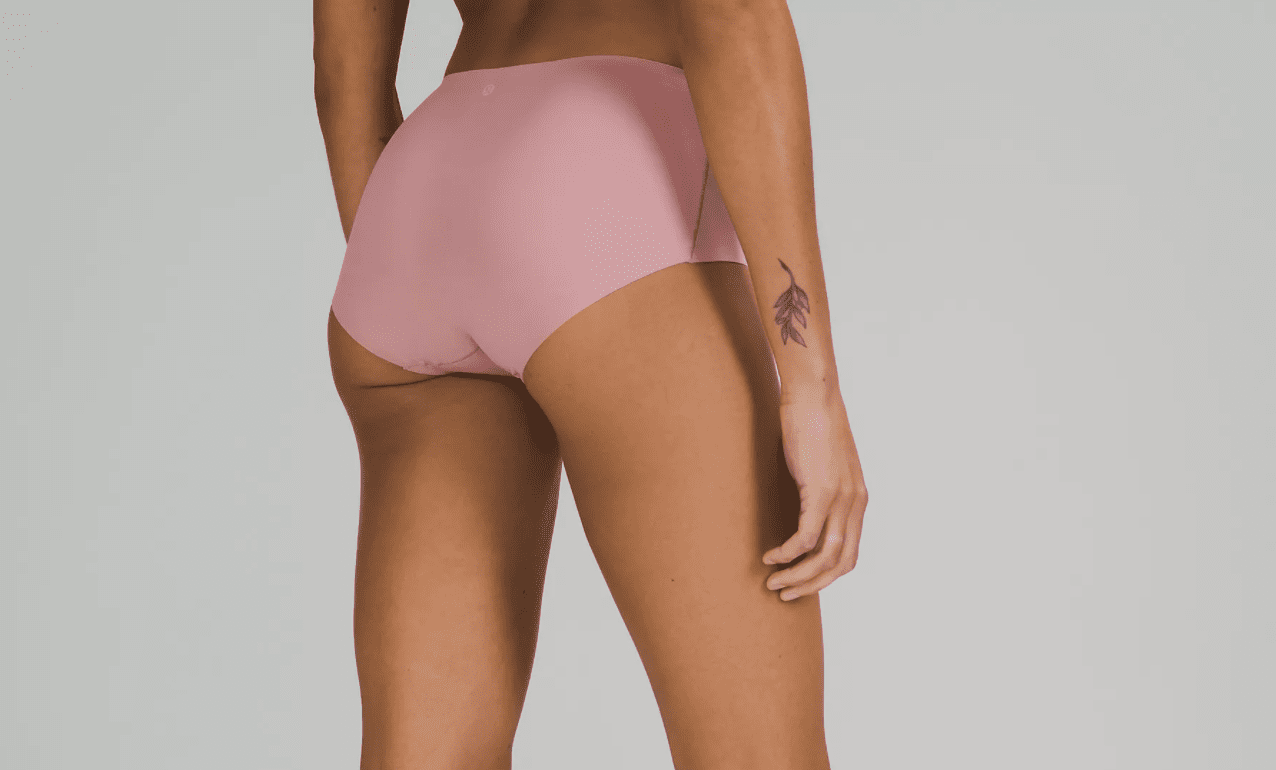 As someone who hikes and lives an active lifestyle, I need my underwear to stay in place so I'm not constantly picking out wedgies. I also hate panty lines, since I almost exclusively wear leggings. I was so happy to discover the lululemon InvisiWear Mid-Rise Boyshorts, since they check both of these boxes.
These underwear are lightweight and have a barely-there feel. The edges are seamless, making them truly invisible under leggings. I've tried two other cuts of these InvisiWear underwear, and the boyshorts stay in place the best out of all of them. These are now at the top of my list for the best women's hiking underwear.
I wouldn't say these fit like a traditional boyshort however. The coverage is more like what I would call a hipster. They cover your whole butt, but they don't go down over your leg. For reference, I weigh 140 pounds and wear size 8 pants, and the medium in these underwear fit me well.
These also come in a 3-pack which I'll be picking up now that I know how much I like them.
Best lululemon Workout Accessories
lululemon also makes workout and yoga gear. Here are a couple things I've tried that I really like.
The Reversible Mat 5mm
Great for: Yoga and floor exercises
Pros: No slippage, adequate cushion, pretty colors
Cons: Strong odor when new, some people report sweat stains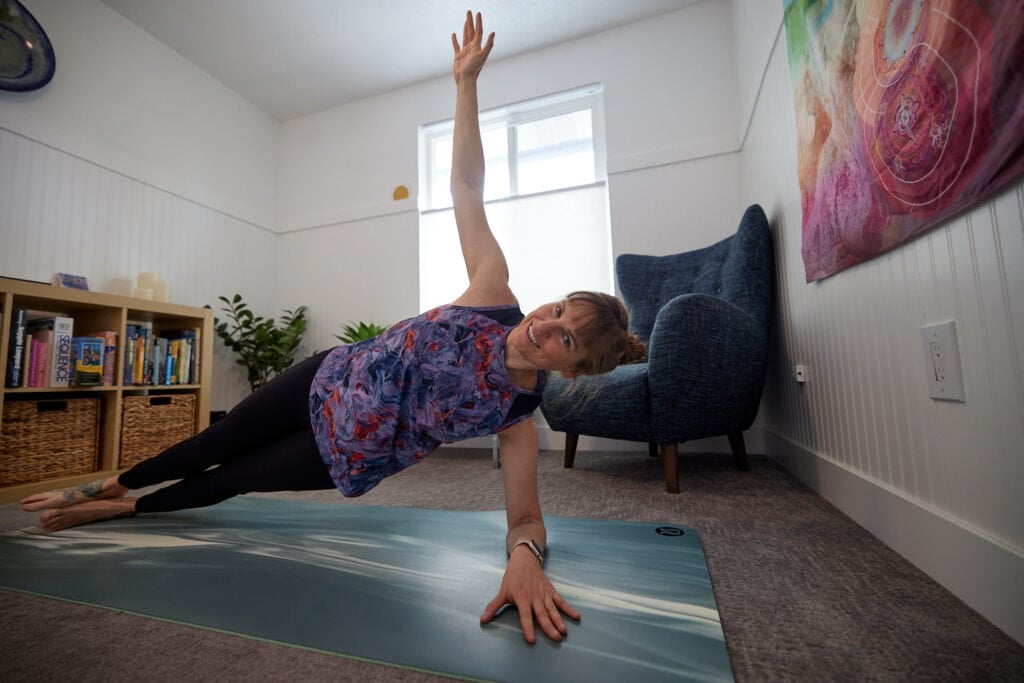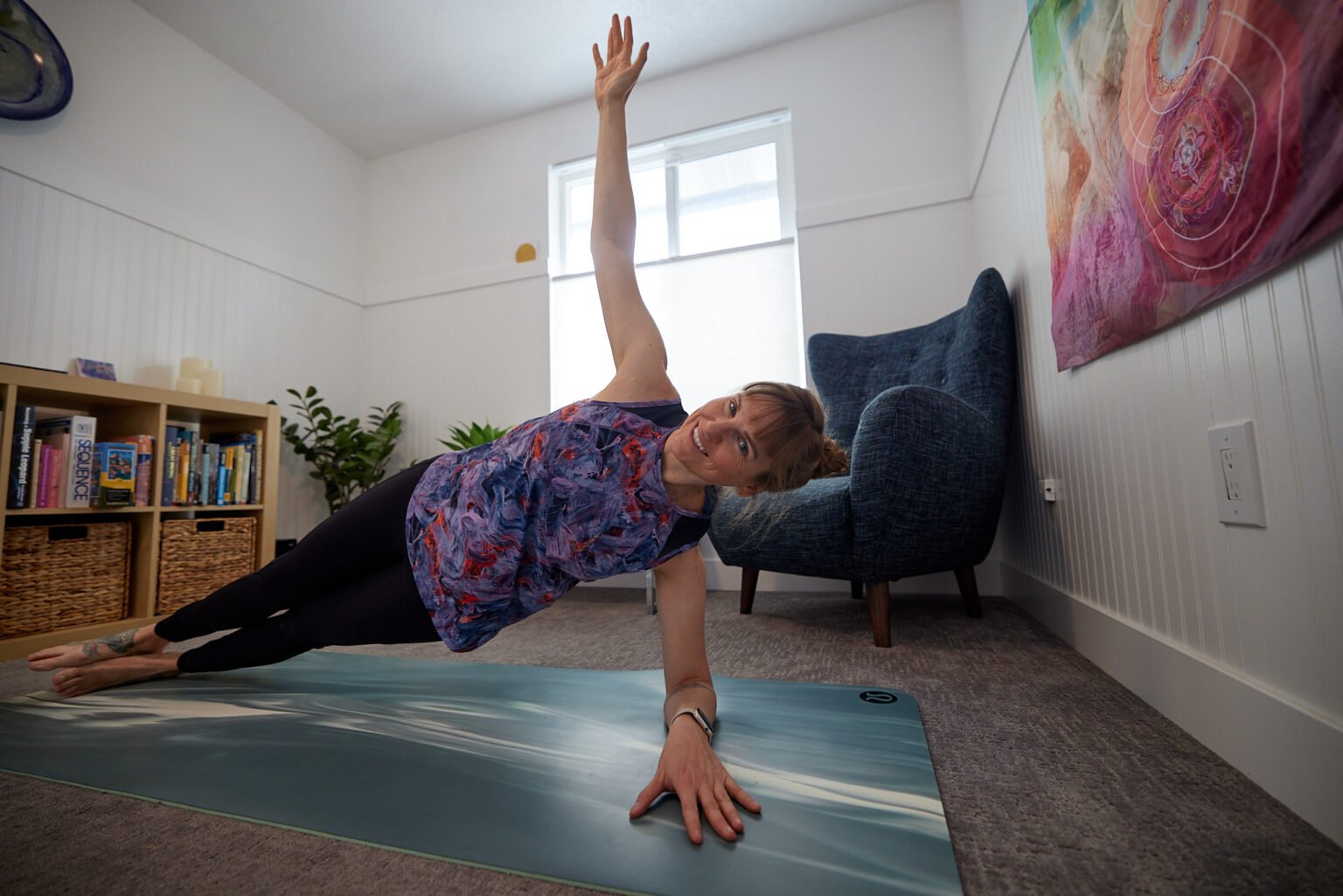 If you do yoga or floor exercises, this reversible 5mm thick yoga mat helps provide stability. I haven't gotten too sweaty on it yet, but so far the grip seems great, and I haven't experienced much slipping when I'm in poses like downward dog. If you have sensitive knees, you will also appreciate the cushion on this relatively thick yoga mat. While the color of your yoga mat really doesn't matter, I do love the marble colors.
The downside of this mat is when I first opened it, it let off a pretty strong odor. I had to let it air out for a couple of days before I used it. If you're sensitive to smells, you'll definitely want to give this a few days before you take it to your first class.
Lift and Lengthen Yoga Block
Great for: Yoga and stretching
Pros: Sturdy, pretty colors
Cons: Slight Odor, thinner than a traditional yoga block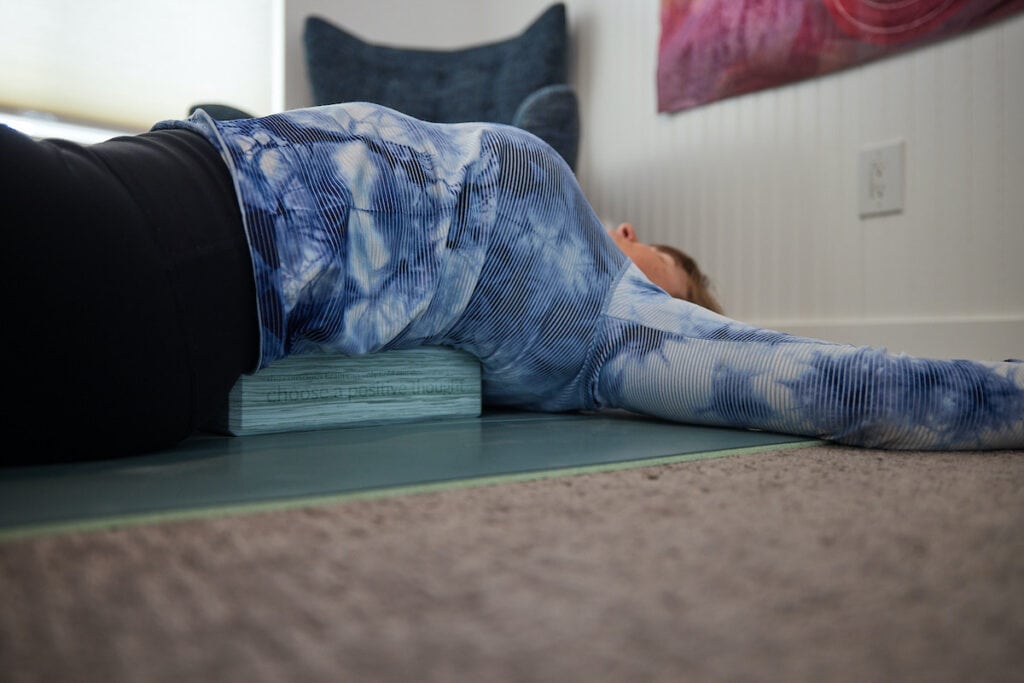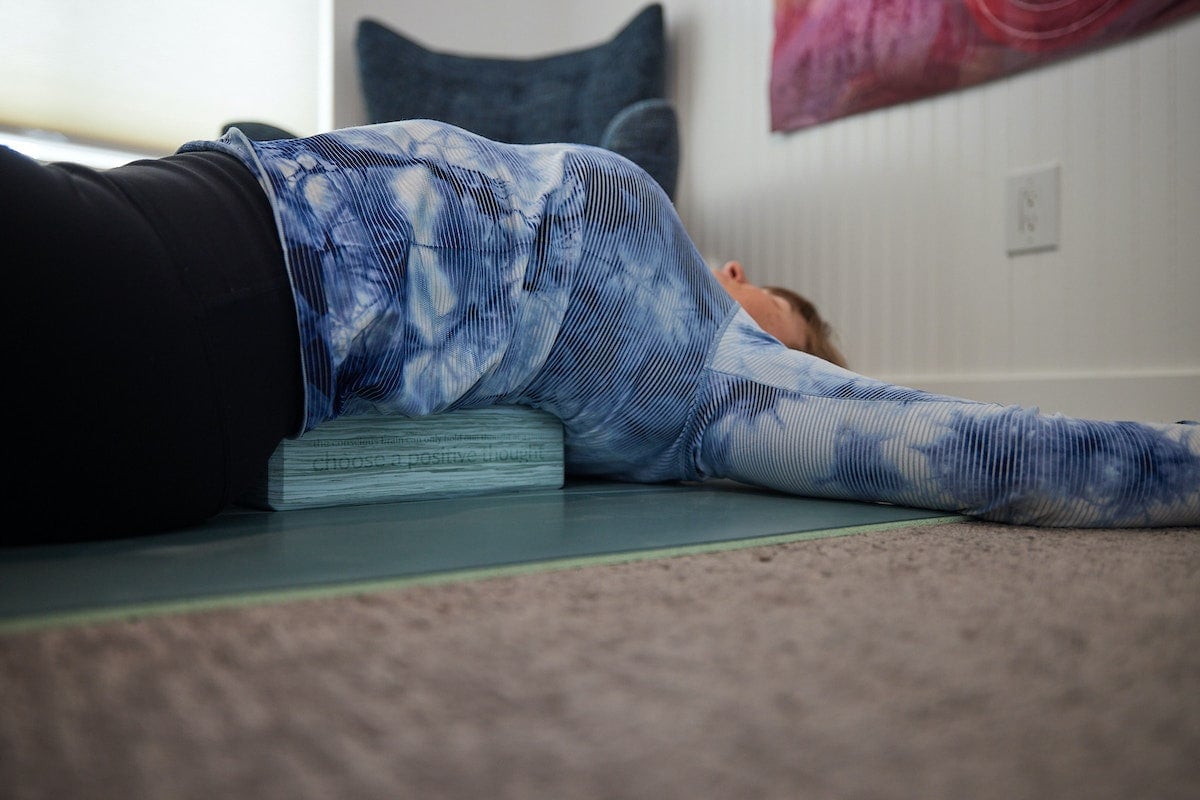 If you're new to yoga, a yoga block (or 2) can be immensely helpful as you try to relax into poses and can contribute to increased flexibility over time. The lululemon Lift and Lengthen Yoga Block also helps provide stability in more challenging poses. I personally like to put it under my lower spine and lay on top of it as a way to open my lower back. It feels so good! I also use it in standing poses.
I love that this yoga block has "choose a positive thought" written on the side. It's a gentle reminder to focus on the benefits of the exercises, even the ones that feel tough.
That wraps up this list of my favorite lululemon must-haves for exercising and an active lifestyle. I can't wait to get outside on the trail this summer and try my lululemon apparel on more rigorous hikes.
Do you have any favorite lululemon products? Or do you have questions about any of my lululemon must-haves? Leave a comment below.