Before hitting the trail, it's important to pack enough hiking snacks to fuel your body, no matter how easy or strenuous of a trail you're heading out on. Hiking burns a lot of calories and you'll want healthy foods to snack on along the way to give you that extra energy boost so you can reach that summit or the end of that scenic trail. And it's always a good idea to be prepared with extra snacks in case you're out longer than you anticipate (it's nice for sharing too!).
Below we've rounded up our favorite healthy hiking snack ideas to fuel your next adventure.
What Makes A Good Hiking Snack & What You Should Avoid
The best hiking snacks typically have a mix of the following traits:
Lightweight: You'll want snacks that aren't heavy or bulky so they don't take up excess room in your hiking pack. Look for snacks with minimal packaging so you don't have to carry out a ton of extra trash.
Shelf-stable: Unless you plan to carry a small ice pack (which adds weight and bulk), plan to carry non-perishable snacks. You don't want to risk getting a food-borne illness on the trail!
Nutritious: Look for foods packed with healthy fats, protein, simple carbohydrates, and natural sugars. Healthy fats and protein will give you long-lasting energy on the trail while carbs and sugar will give you a quick boost. Both are important in hiking snacks.
Calorie-dense: While you have more leeway in packing for day hikes vs. overnight backpacking trips, you will want to prioritize snacks that are higher in calories since you'll be burning so many calories on the trail.
Are there any foods you should avoid while hiking?
Food on the trail is a deeply personal choice, but there are a few things we recommend leaving at home. We typically skip packing greasy or overly-processed snacks, such as potato chips and candy bars, because the grease and processed sugar can slow you down or potentially cause a mid-hike crash. You'll also want to avoid bringing anything perishable, such as yogurt, soft cheese, and meats that need refrigeration.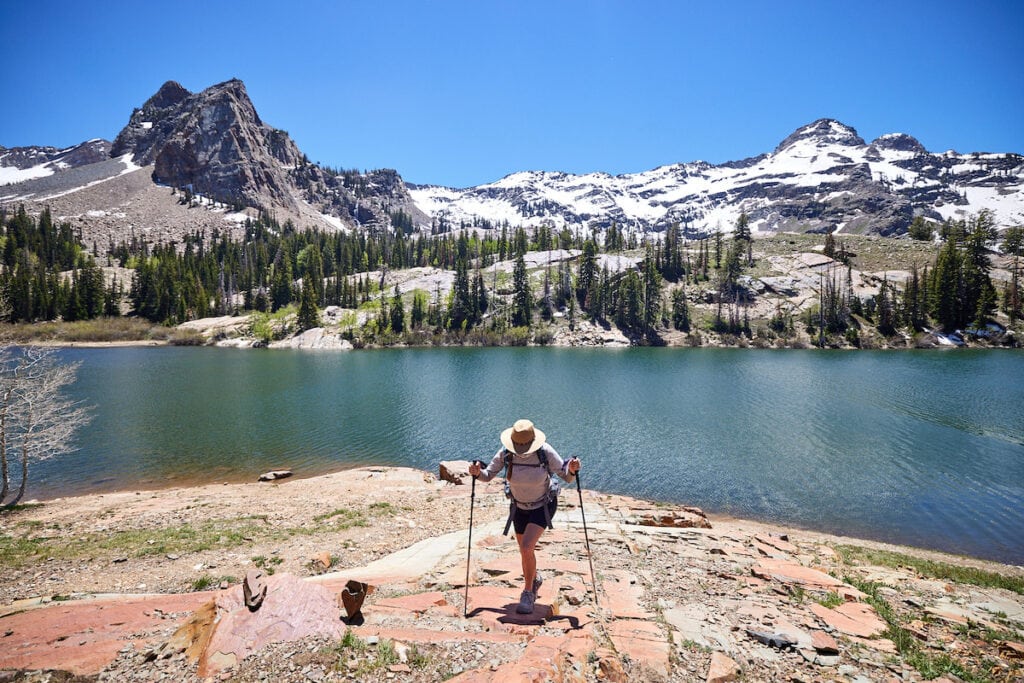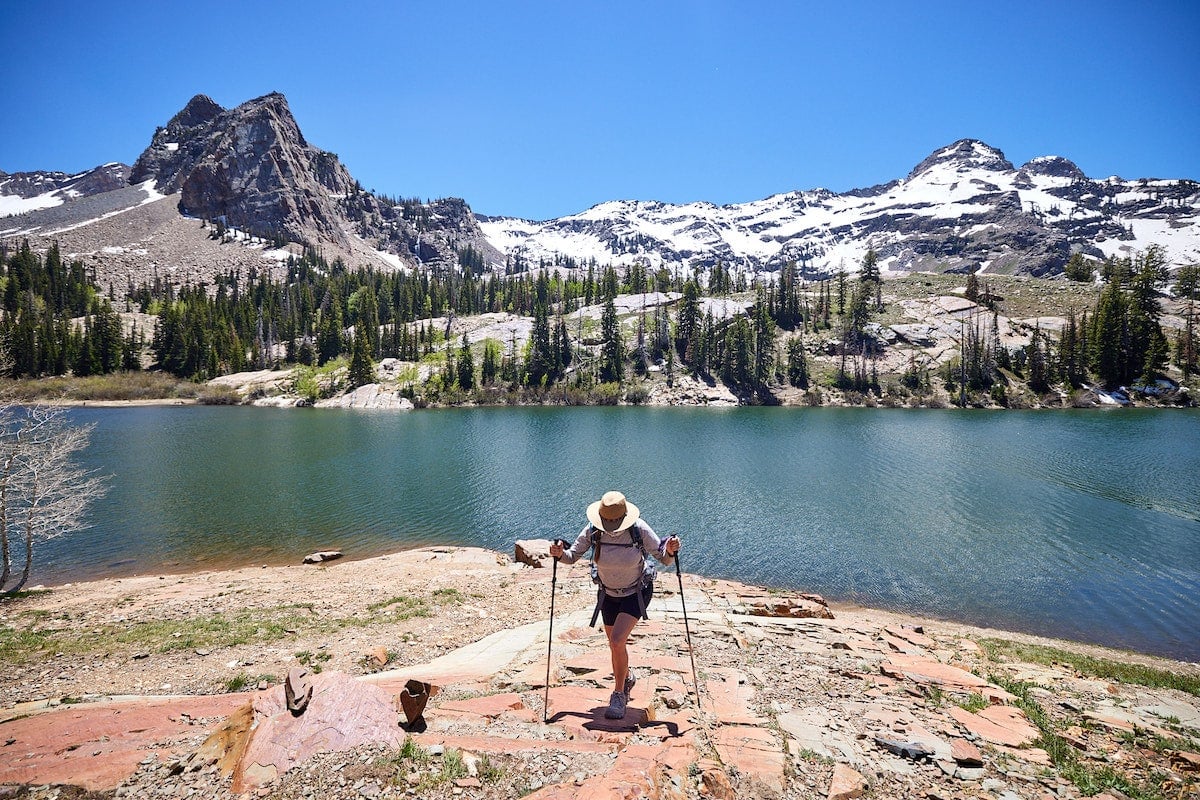 Our Favorite Hiking Snacks
Protein/Energy Bars
Bars are the classic hiking snack – for good reason. They're extremely calorie-dense in a small package and easy to store. We typically keep a few stashed in our hiking daypack at all times – just in case! There are tons of bars out there to choose from, including energy bars, protein bars, granola bars, and more. We recommend keeping several on hand so you don't get sick of one brand. Here's a few of our favorite bars:
Peanut Butter Pretzels
Peanut butter pretzels make the ultimate trail snack because they combine something crunchy, something salty, and something sweet all in a small package. They're durable, calorie-dense, and easy to store in your pack. Plus salty snacks actually help you replenish electrolytes on the trail!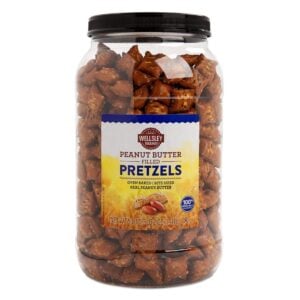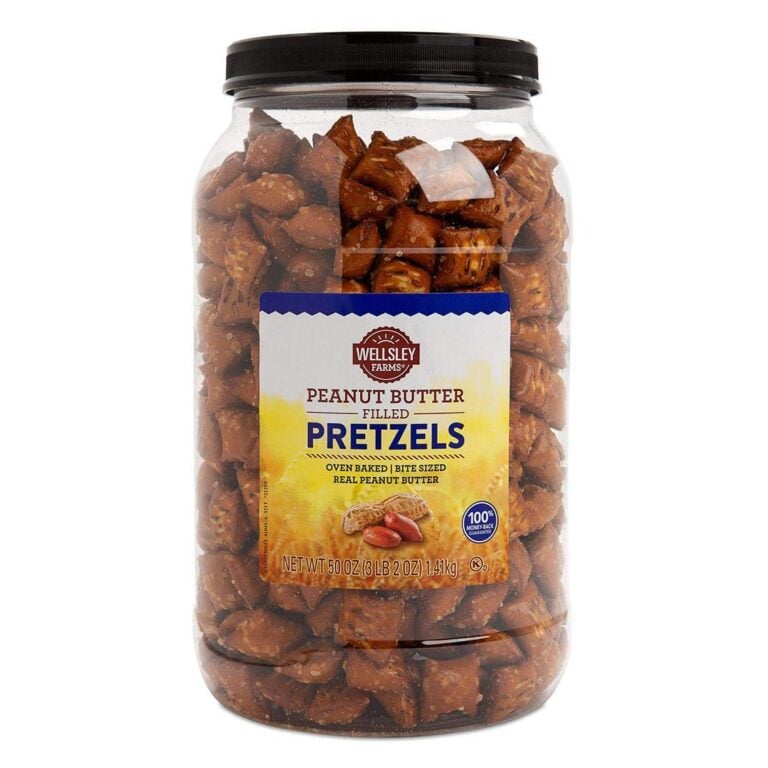 Honey Stinger Waffles
Honey Stinger Waffles are a great choice if you want a lightweight trail snack that takes up almost no room. Based on Europe's classic Stroopwaffel, you'll find honey sandwiched between 2 thin, crispy waffles. They're slightly sweet and a great energy booster on the trail.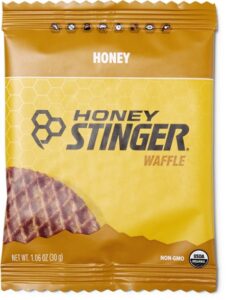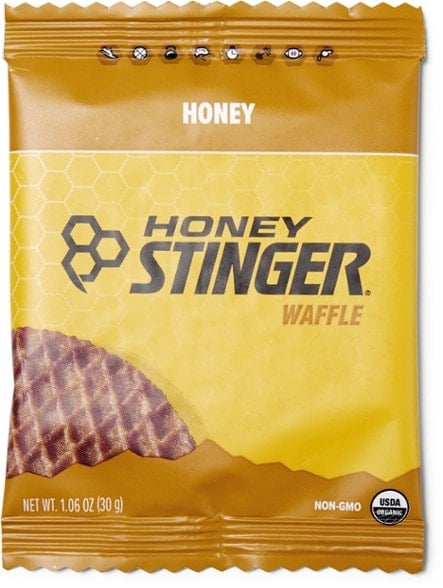 Trail Mix
Trail mix is a favorite of many hikers because it's a quick and satisfying healthy snack. High in calories, protein, and fat, this trail snack will give you long-lasting energy. There are tons of ways to make your own trail mix at home by combining your favorite nuts, dried fruit, and even some dark chocolate, or you can find many different varieties in stores.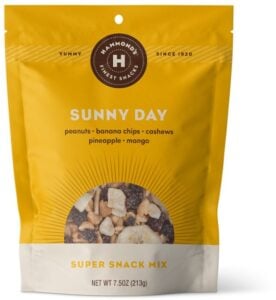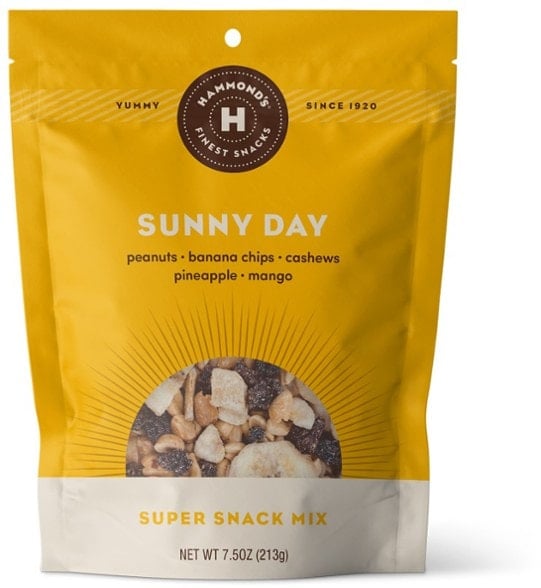 Nuts
Pistachios, almonds, cashews, nut mixes… there are tons of nut varieties out there and they're packed with nutrients and calories, perfect for healthy trail snacks. Trader Joe's and Costco are great places to find affordable nuts or check your local grocery store's bulk bins. We prefer to buy bulk nuts vs. individual snack packs because it's more cost-effective and creates less waste.
Fresh Fruit
Fruit provides quick energy on the trail and nothing is more satisfying than biting into a juicy apple at the summit. We prefer to pack durable fruits like apples, oranges, and mandarins for the trail, or more delicate fruit like grapes and bananas if we can stash them toward the top of our pack.
Dried Fruit
If you want to save on space in your daypack, dried fruit makes one of the best hiking snacks out there. Mango, pineapple, mandarin, apricots… the dried fruit options are endless, plus unlike fresh fruit, dried fruit doesn't spoil and takes up less space. SOLELY and Hello! I'm Ugly are two of our favorite brands. Costco is a great place to stock up on dried fruit as well. Whenever possible, we look for natural dried fruit with no sugar or sulfites added.
Fruit Leathers
If you're looking to bring the fresh flavor of fruit on the trail while taking up the least amount of space, fruit leathers are a perfect choice. They're a great healthy "dessert" too when you want something sweet, and you can even make your own at home using a dehydrator.

Energy Chews
If you're heading out on a strenuous or long hike and need extra energy and electrolytes, energy chews, like Clif Bloks or Honey Stinger Chews, are a compact way to ensure you're properly hydrated and fueled. If you ever suddenly feel faint or weak on the trail, popping an energy chew (and making sure you're hydrated) is a good way to get a boost. Energy chews replace carbohydrates lost during strenuous activity, making this a staple for backpacking trips and long day hikes.
Jerky
Shelf-stable and loaded with protein, jerky is one of the most filling hiking snacks out there. While most trail snacks skew on the sweet side, jerky is the perfect savory treat. If you avoid meat, Beyond Meat just released a pretty delicious vegan jerky.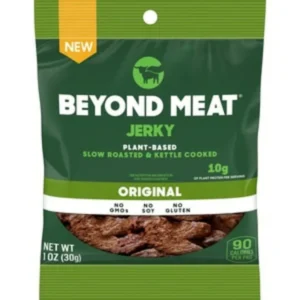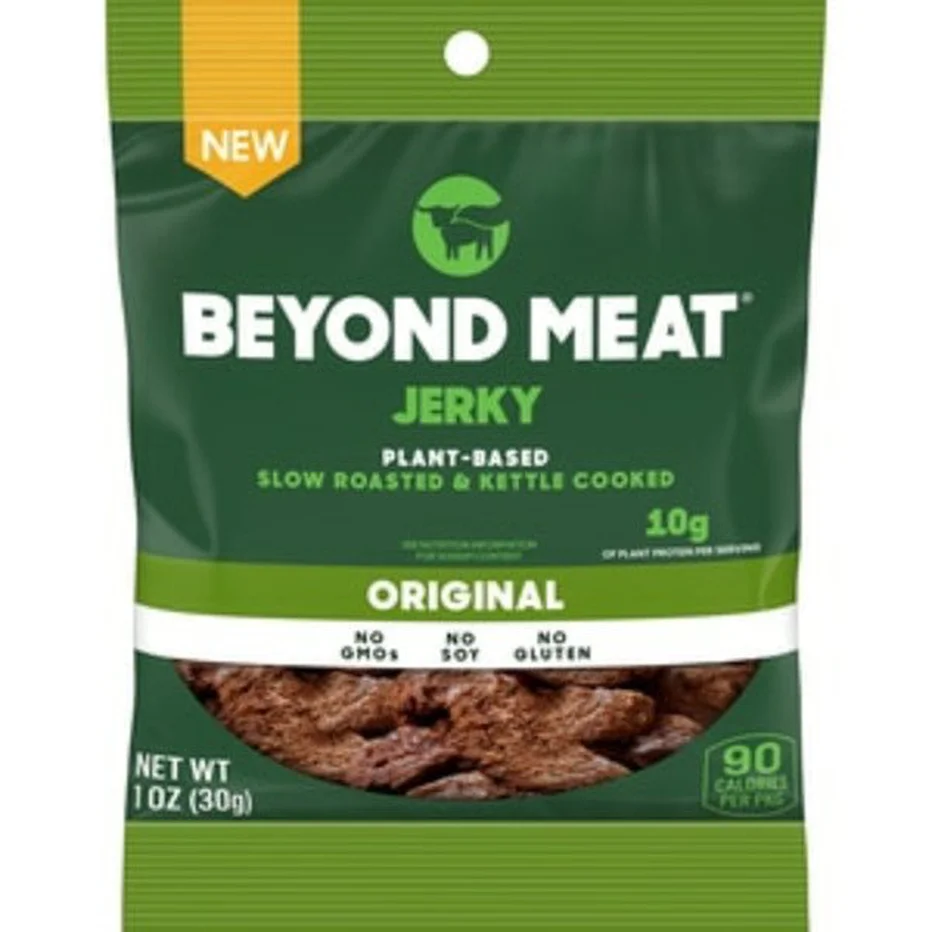 Cheese
Hard cheeses are an easy way to elevate your hiking snack game. Avoid soft and crumbly cheese that can fall apart in your bag and reach for hard cheese like cheddar and gouda which are dense enough to withstand a bit of jostling in your pack. Another favorite is Babybell cheeses that come in a protective wax coating. Pair with crackers and a sliced apple to get the full "hiking charcuterie board" feel.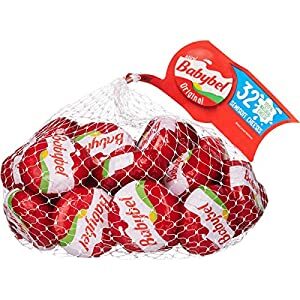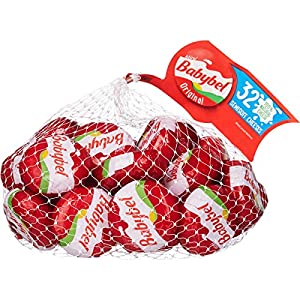 Nut butter
Peanut butter, almond butter, sunflower butter… there are tons of nut butter options on the market that make a great hiking snack. Calorie-dense and packed with healthy fats, nut butter is a top "bang for your buck" snack, especially when you pair it with fruit or spread it on a tortilla. Buy the individual squeeze packets to save on weight – Justin's and RX Bar make some of our favorite trail nut butters.
Dates
Need a quick energy boost on your hike or want a celebratory summit snack? Dates are a delicious sweet treat that are excellent on the trail. They're calorie-dense and rich in fiber and antioxidants so they give you an almost-instant burst of energy. Enjoy them plain or pair them with your favorite nut butter for an extra-rich hiking snack.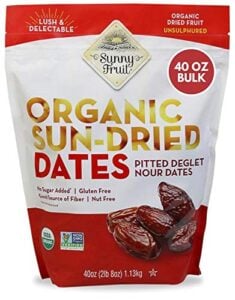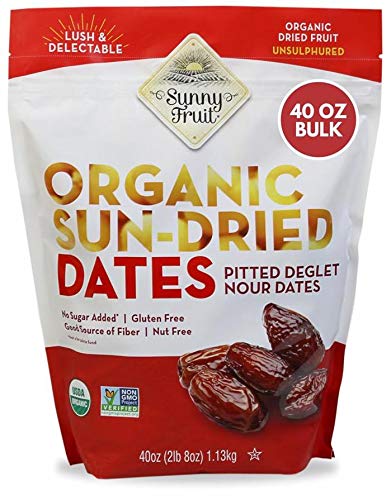 Fresh-cut Veggies
The benefit of day hiking vs. backpacking is you can pack fresh veggies without worrying about saving space or packing only calorie-dense foods. Baby carrots, celery sticks, and bell peppers are a few of our favorite vegetables to pack for hiking. If you want a protein boost, bring a single serving of shelf-stable hummus and suddenly you've got a full-blown refreshing, nutritious trail snack.
Tuna
Ready-made tuna packets are an easy and delicious way to get protein on the trail. There are tons of flavor options available to spice things up. Pair with a tortilla or crackers for a quick hiking snack or filling lunch. There are even vegan tuna packets available!
Hiking Snacks and Leave No Trace
In following Leave No Trace principles while enjoying the outdoors, it's important to pack out everything that you pack for a day hike – including wrappers, fruit peels, and "biodegradable" packaging. Orange peels can take up to 2 years to decompose out in nature, plus any food scraps left behind disrupts the local ecosystem and encourages animals to associate the area with humans and food.
We like to pack our trail snacks in reusable bags, such as Stasher Bags, to cut down on the amount of single-use plastic on the trail that could accidentally get left behind. Stasher bags come in a ton of fun colors and sizes so you can customize them based on your needs, plus you can toss them in the dishwasher after your hike. Pack an extra baggie to carry out your own trash and any other garbage you may find on the trail.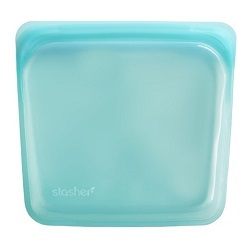 Lastly, if it's possible, take all of your trash home with you to dispose of instead of using the trailhead garbage bins. These bins fill up quickly, especially at popular trailheads, and this alleviates the amount of waste left behind.
What are your favorite hiking snacks to take along on the trail? Share in the comments below!