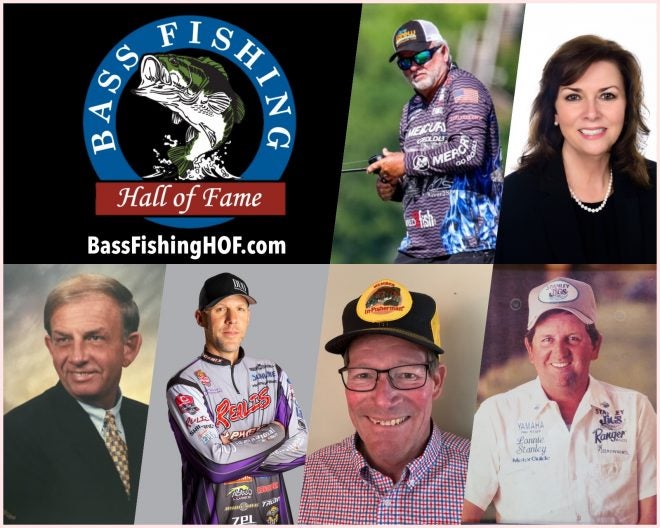 "Celebrate Bass Fishing Week" kicks off on October 3rd, 2022, brought to us by the Bass Fishing Hall of Fame's Board. It will start with its popular online auctions along with special events held at the Bass Fishing Hall of Fame venue inside the Johnny Morris' Wonders of Wildlife Museum & Aquarium in Springfield, Missouri. The week will culminate with the annual induction dinner gala to honor the 2022 inductees on Thursday, Oct. 6. The dinner will be held at the White River Conference Center, tickets and tables to the induction ceremony are now available.
There are Six Inductees for this year; pro angler Tommy Biffle, Major League Fishing executive Kathy Fennel, past B.A.S.S. tournament director Dewey Kendrick, the late pro angler Aaron Martens, journalist Steve Quinn, and the late pro angler and lure designer Lonnie Stanley. They will be officially inducted during the Oct. 6th event. Both inductees and their family members representing them will unveil their Hall of Fame plaques at a special presentation within the venue at Wonders of Wildlife Museum & Aquarium. Then they will join the dinner with bass fishing enthusiasts and industry leaders for dinner and their induction speeches.
"Honoring these six individuals for their lasting impact is a key mission in the BFHOF Board's role to celebrate, promote and preserve the sport of bass fishing," said Board president John Mazurkiewicz. "All the activities at Wonders of Wildlife that day, plus our efforts during "Celebrate Bass Fishing Week" will shine a spotlight on every aspect of the world of bass fishing."
Major League Fishing will once again sponsor both the online and live auction for the event. This is their major fundraising effort to support many conservation projects across the nation and their activities to honor sports legends. B.A.S.S. is on board again to sponsor the dinner.
Other Major fishing and marine industry brands that are sponsoring or supporting this year's event include the following; AFTCO, Caymas Boats, Daiwa, In-Fisherman, PRADCO, Rapala, Rather Outdoors, Shimano, and Wired2fish. Many pro bass anglers from both Bassmaster Elite Series and MLF/Bass Pro Tour are contributing exclusive fishing trips and tournament jerseys to the online auction.
"The activities during the week and the induction ceremony evening provides everyone involved in all different ways in our sport a chance to come together, put any of their competitive juices aside for one night, and celebrate bass fishing and those that have contributed so much to it," Mazurkiewicz said. "We invite all bass fishing enthusiasts and those involved in the industry to join in."
To see more details on Celebrate Bass Fishing Week or about the banquet check out the Bass Fishing Hall of Fame website here