It's almost time for summer, which means our favorite sale of the year – REI's Anniversary Sale! Taking place May 20-30th, you can score deep savings on top outdoor gear. To make shopping easy, we've handpicked the best deals on our favorite hiking, camping, backpacking, and van life gear so you can snag what you need on sale and in time for summer adventures.
Pro-tip: REI members also get 20% off one full-price item, plus an extra 20% off one outlet item using the code ANNIV22 (and if you're not a Member already, here are 12 reasons why you should join the REI Co-op).
Gear up for summer and score up to 40% off with these top picks for the 2022 REI Anniversary Sale.
Best Deals on Apparel
REI Co-op Rainier Rain Jacket – 30% OFF (Members Only)
The REI Co-op Rainier is already a budget-friendly rain jacket, so it's a steal at 30% off during REI's anniversary sale! This is BFT Team Member Linda's go-to shell for dicey weather because it's durable, windproof up to 60 MPH, and has pit zips for ventilation. Plus, it's light and packs down into its own pocket making it compact and easy to take along on any adventure. The Rainier can be found on our list of best lightweight rain jackets and you can pair it with the Rainier Rain Pants (also on sale).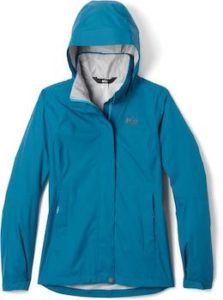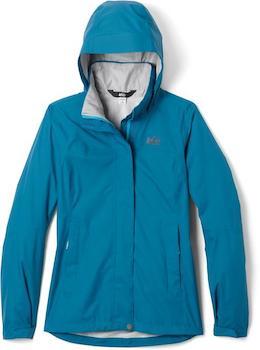 REI Co-op Sahara Shade Hoodie – 30% OFF (Members Only)
We're big fans of sun protection, and the REI Co-op Sahara Shade Hoodie is one of the best outdoor sun shirts we've tried. BFT Founder, Kristen, wore it for a week straight in Maui without washing it and found that it didn't stink, and the loose fit kept her surprisingly cool even in warm weather. Check out our full sun protection for hiking guide for more product recommendations and tips.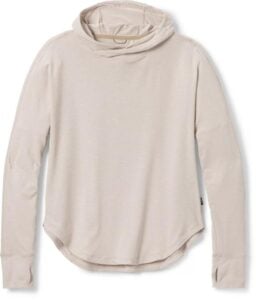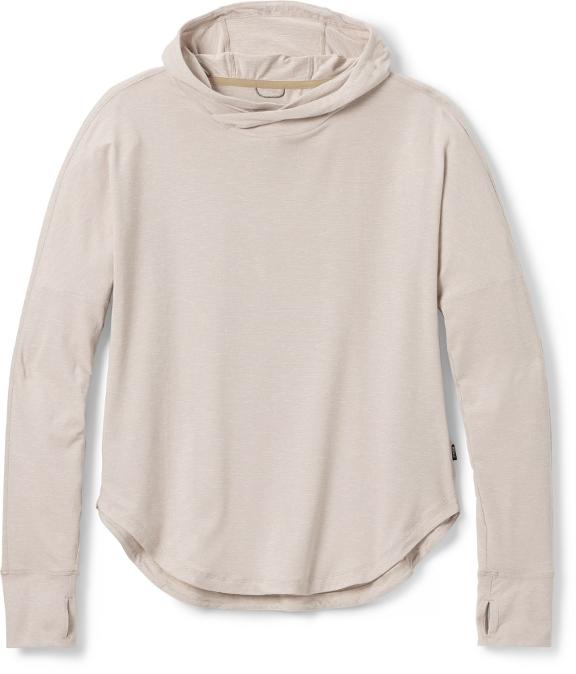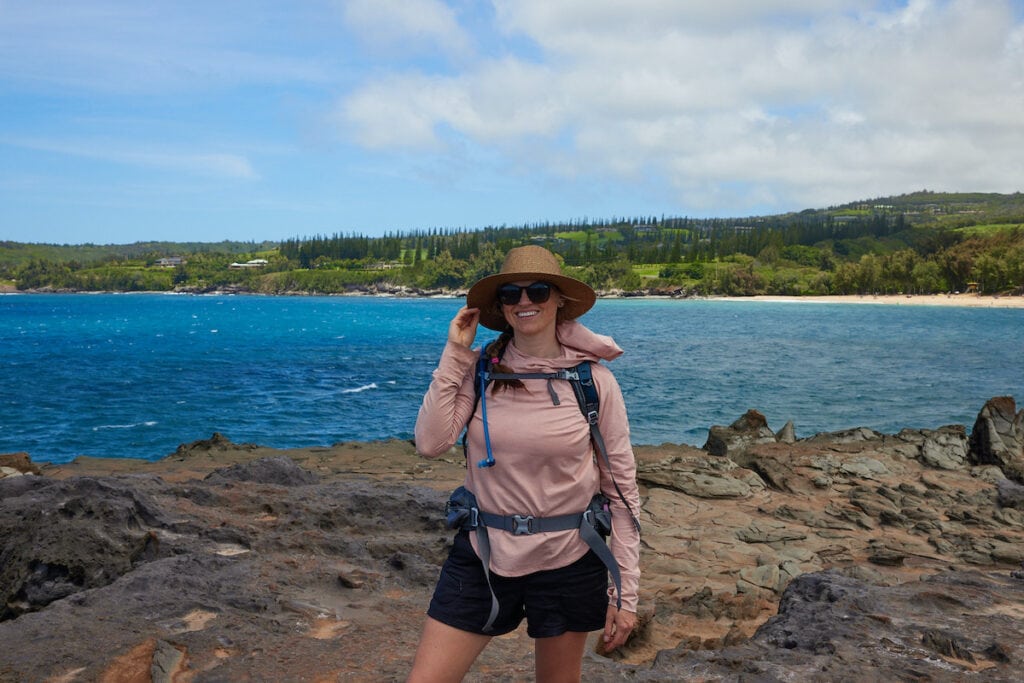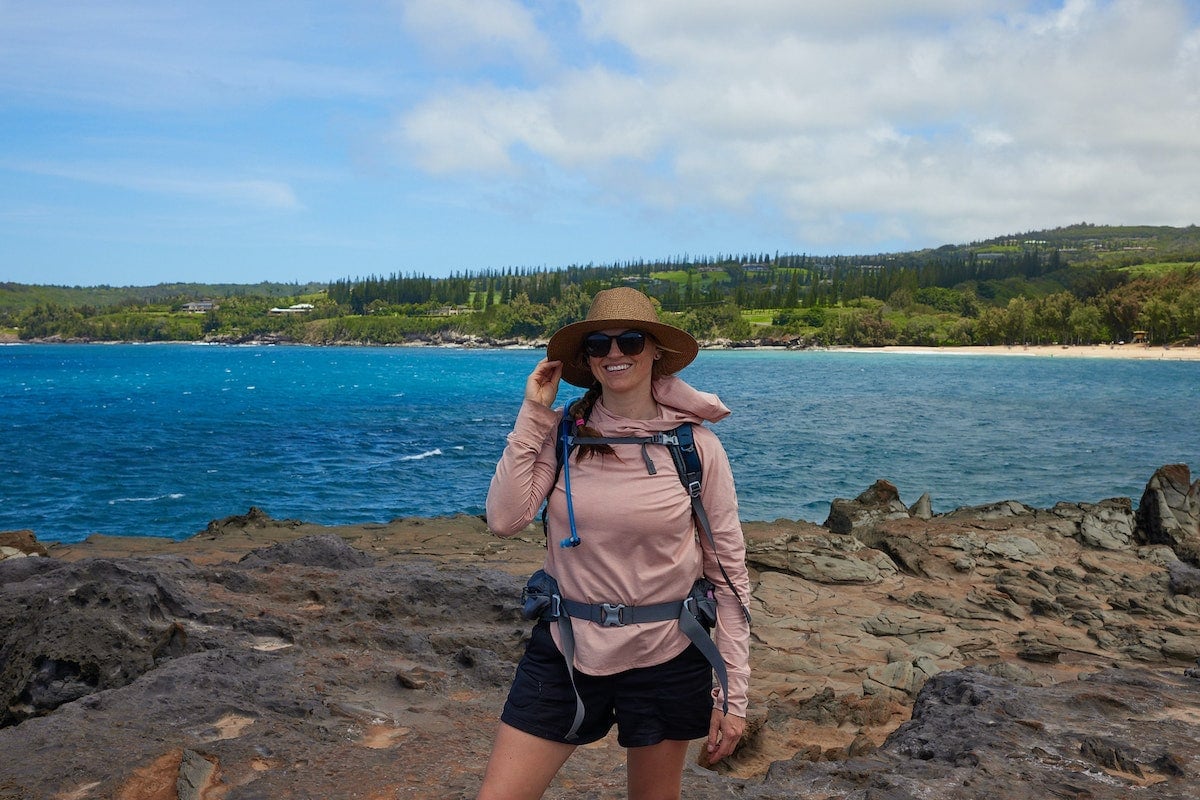 Mountain Hardwear Dynama/2 Ankle Pants – 25% OFF
The Mountain Hardwear Dynama/2 Ankle Pants have been one of Kristen's staples for hiking and backpacking trips for several years now. The elastic waistband is super comfortable, and because there is no button, drawstring, or zipper, they work really well when you're wearing a backpack with a hip belt since there is nothing that will cause rubbing or discomfort. You can find the Dynama pants on our list of best women's hiking pants.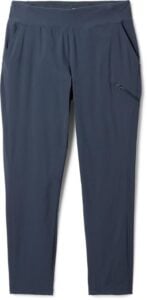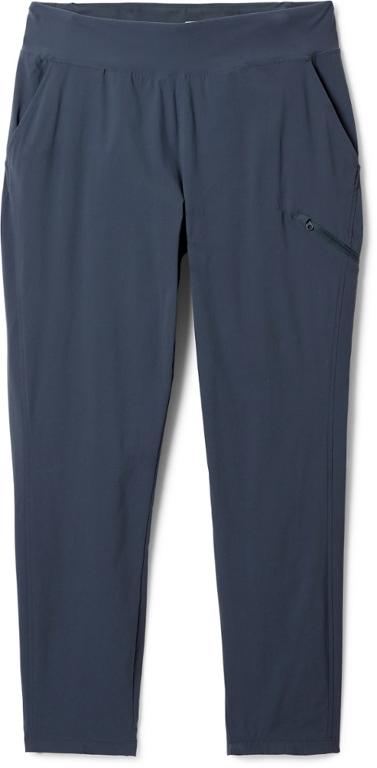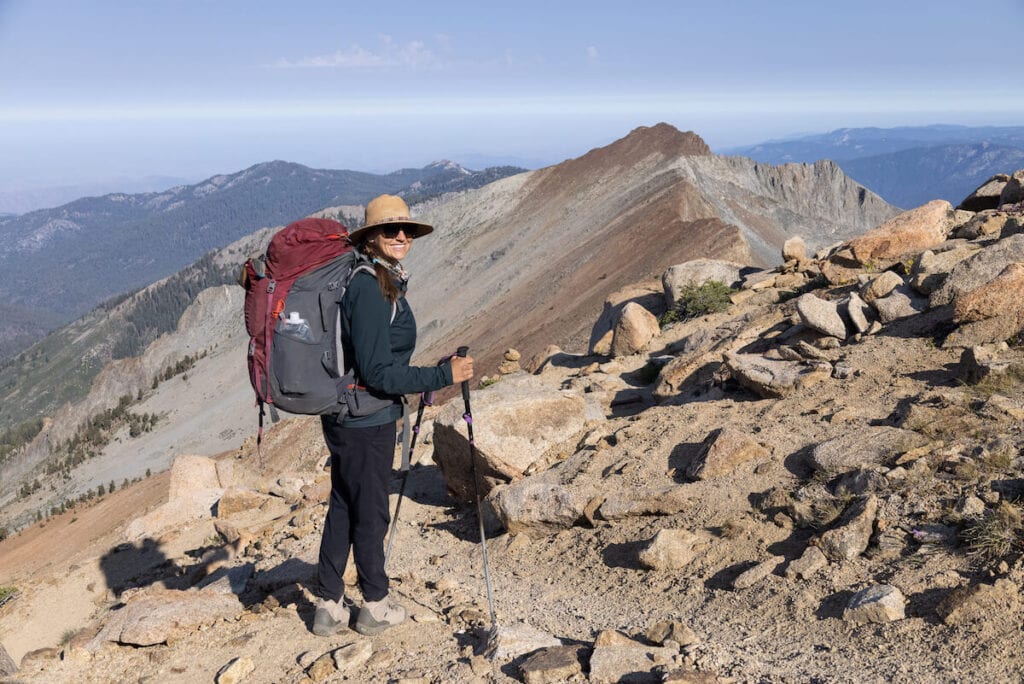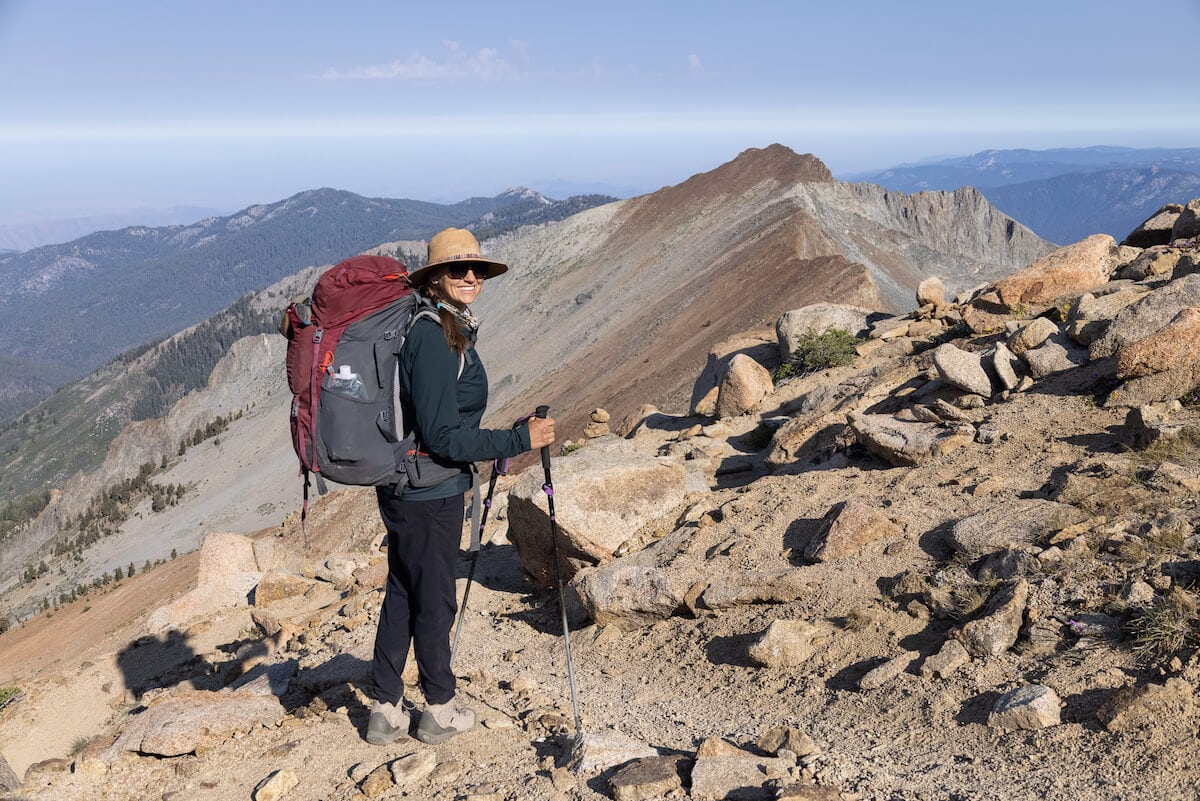 REI Co-op Flash Insulated Hoodie – 30-40% OFF (Members Only)
The REI Co-op Flash Insulated Hoodie is a great basic synthetic down jacket that is lightweight, compact, and versatile enough for the trails or city wear. We recommend using it as a standalone jacket for cool days on the trail, while traveling, or out in town, and during REI's anniversary sale, you can score this jacket for 30-40% off! You can find the Flash on our list of best synthetic down jackets.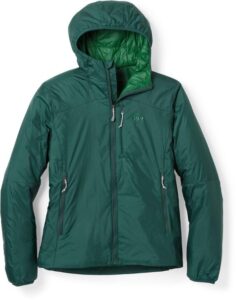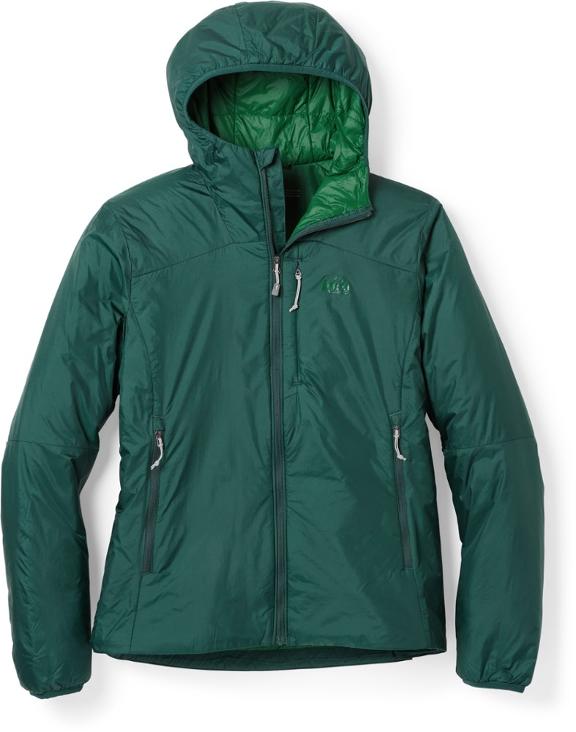 PrAna Transform 7/8 Legging – 25% OFF
The prAna Transform High Waisted Leggings are one of Kristen's favorite hiking leggings and are great for everyday wear too. The wide waistband and soft fabric make them extra comfortable and they're reinforced with a triangle gusset in the crotch area for enhanced range of motion. What's great is that these don't necessarily look like hiking leggings – you can pair them with a sweater and hit the town as well. You can find the prAna Transform leggings on our list of best women's hiking pants.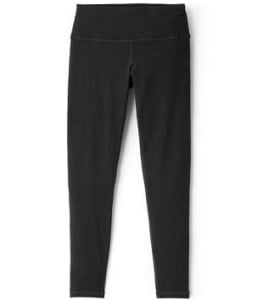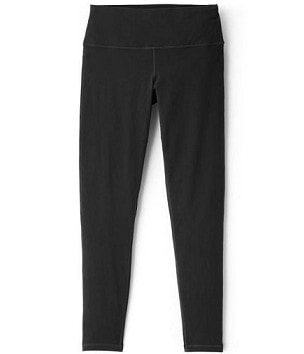 Carve Designs Cruz Rashguard – 25% off
If you plan to be out on the water this summer and want to avoid the need to constantly reapply sunscreen, this Carve Designs Cruz Rashguard helps prevent sunburns with its UPF 50+ sun protection. BFT Founder, Kristen, has been wearing this for years when paddleboarding, snorkeling, and swimming. When it's wet, it also keeps you cool when you're in the sun.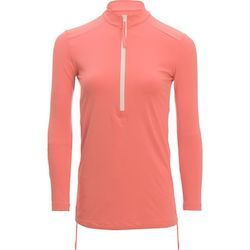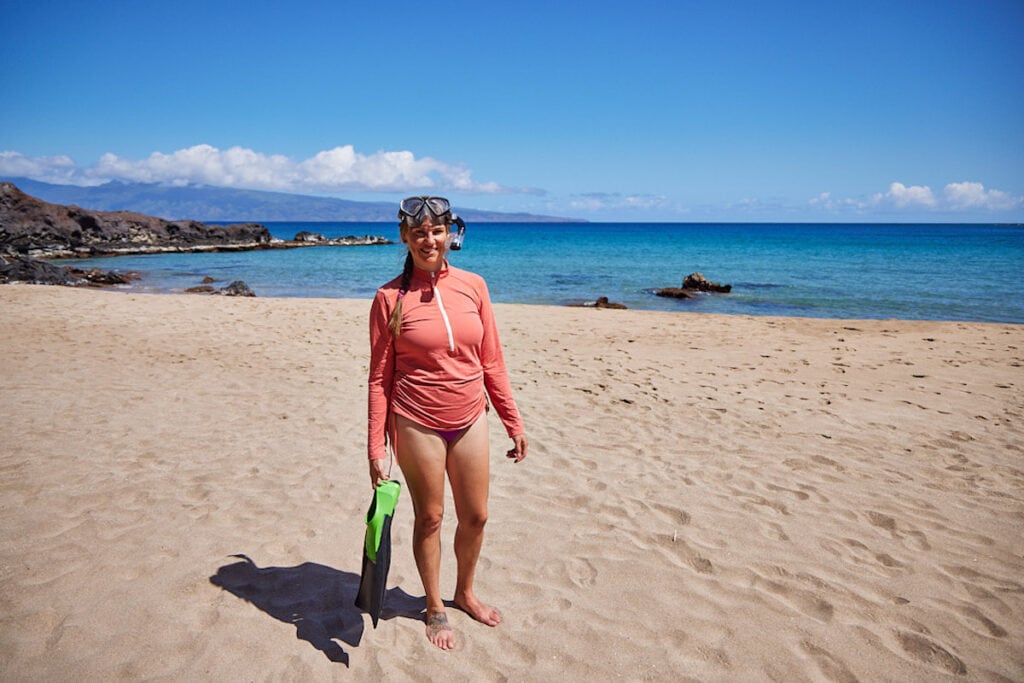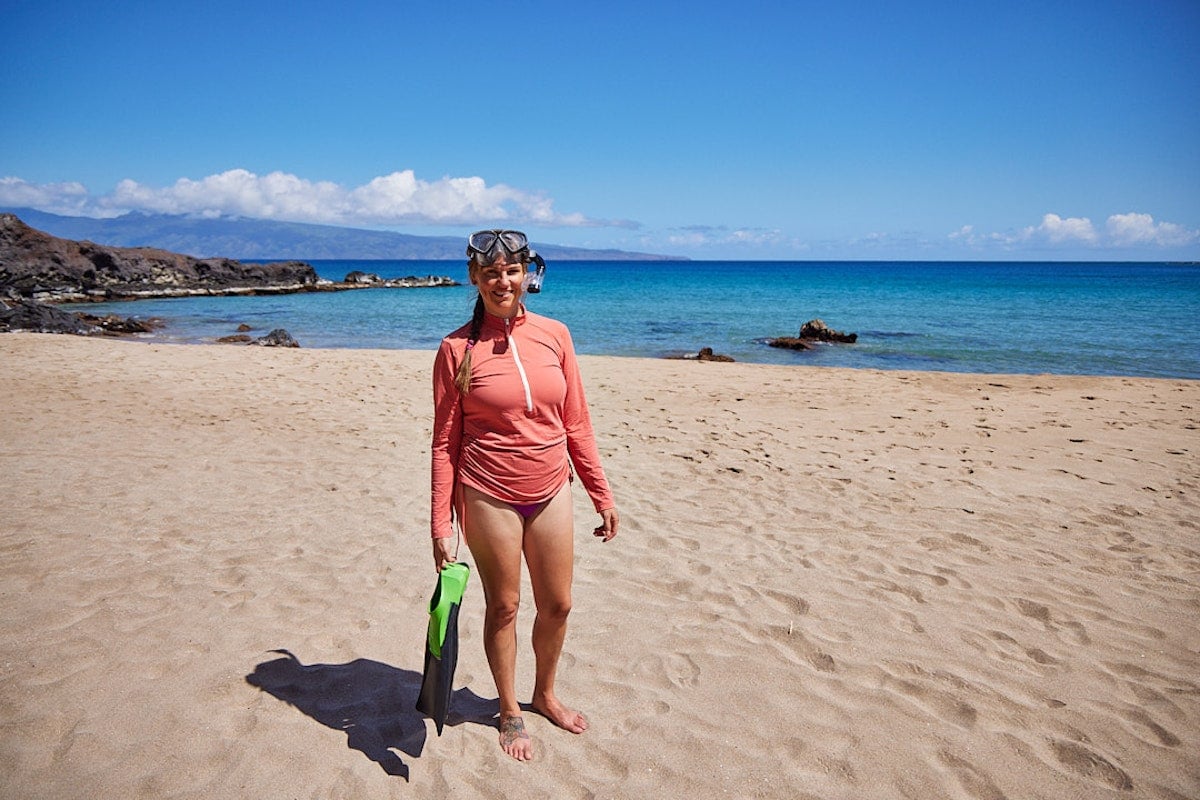 Smartwool Socks – 25% OFF
During REI's anniversary sale, you can score 25% off all Smartwool Socks. Wool socks are a must for hiking since they wick away moisture, keeping your feet dry and preventing blisters. They also don't hold onto smells as much as cotton and other materials. The Performance Hike Low Cushion Mid Socks are our favorites, but you can find all Smartwool socks on sale here.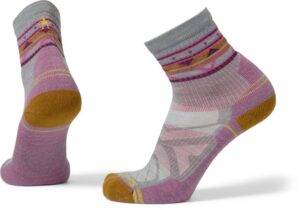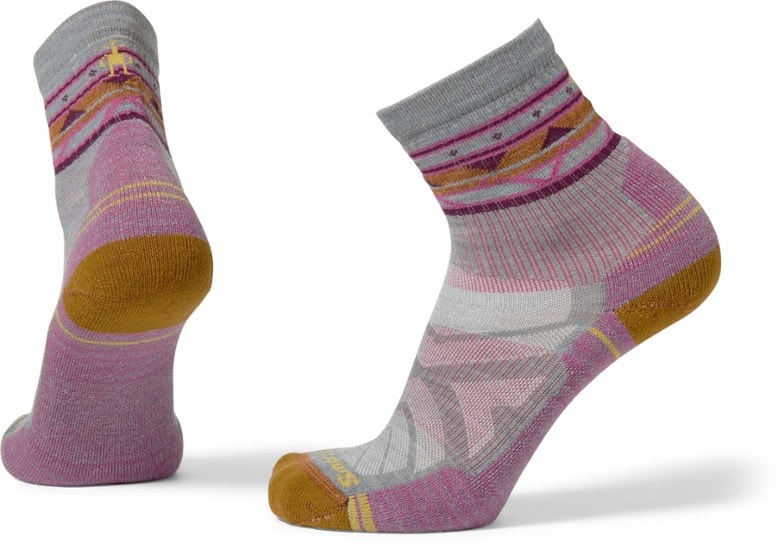 ExOfficio Underwear – 25% OFF
From the trail to travel, ExOfficio Underwear is the result of more than 20 years of traveling the globe and perfecting the art of adventure – and underwear. They are lightweight, breathable, and extremely quick-dry. These are great undies for backpacking, overseas travel, and everyday wear and during REI's anniversary sale, every pair is 25% off. ExOfficio undies are one of our favorite brands for the best women's hiking underwear.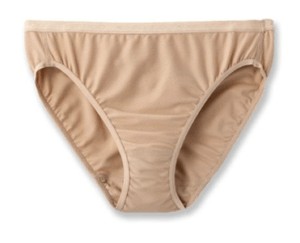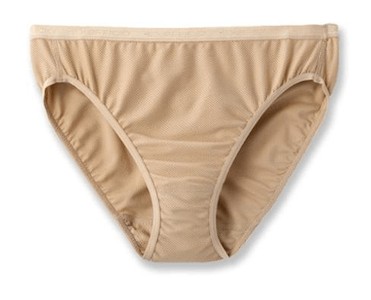 Best Car Camping & Van Life Deals
MSR Habitude 4P Tent – 25% OFF
BFT Founder, Kristen, tested out the MSR Habitude 4p tent for six nights of camping on Maui and it has permanently found a place on her car camping checklist. With a peak height of just over six feet, this tent is tall enough for most people to fully stand up in, and even in strong winds, the tent was very sturdy. It has a ton of organizational pockets on the inside, a large vestibule for gear, and color-coded poles that make it easy to set up. This tent has solid walls on the bottom half to prevent dust and sand from being swept inside and enough mesh on top for stargazing and adequate airflow. Plus, the tent weighs 12 lbs 10 oz which is relatively light compared to other four-person tents with this much headspace. With the Habitude being a large purchase, buying during the REI Anniversary Sale will save you $140!
Need a bigger tent? The 6P Habitude tent is also on sale!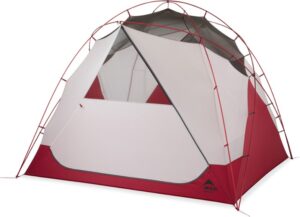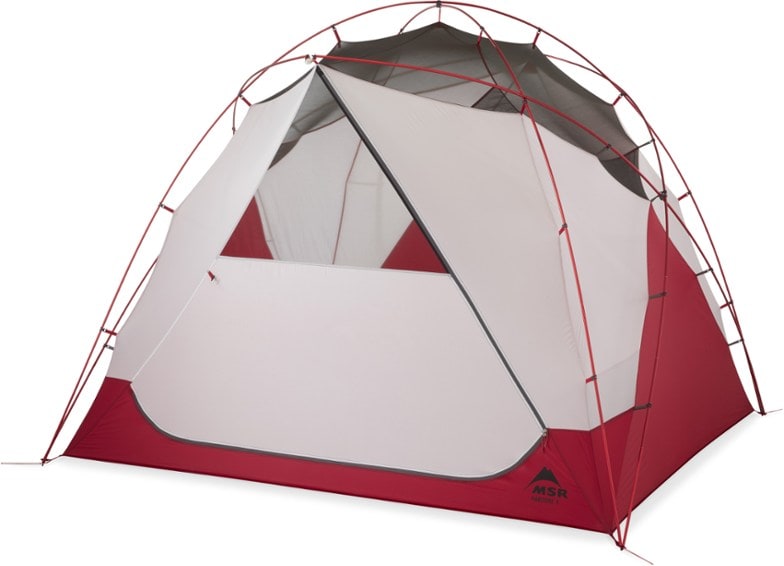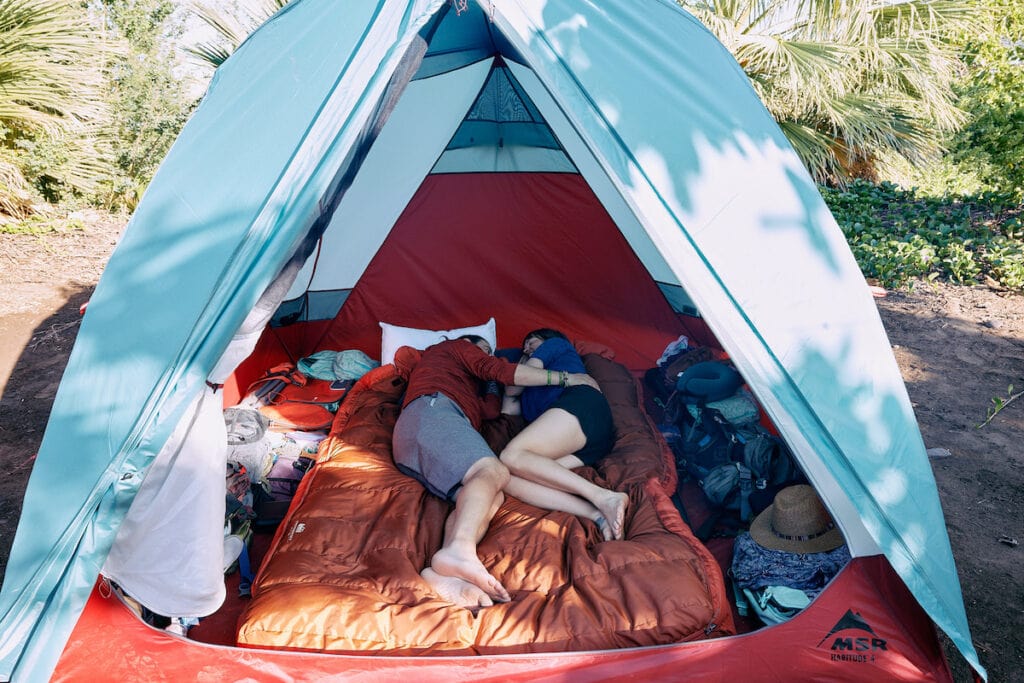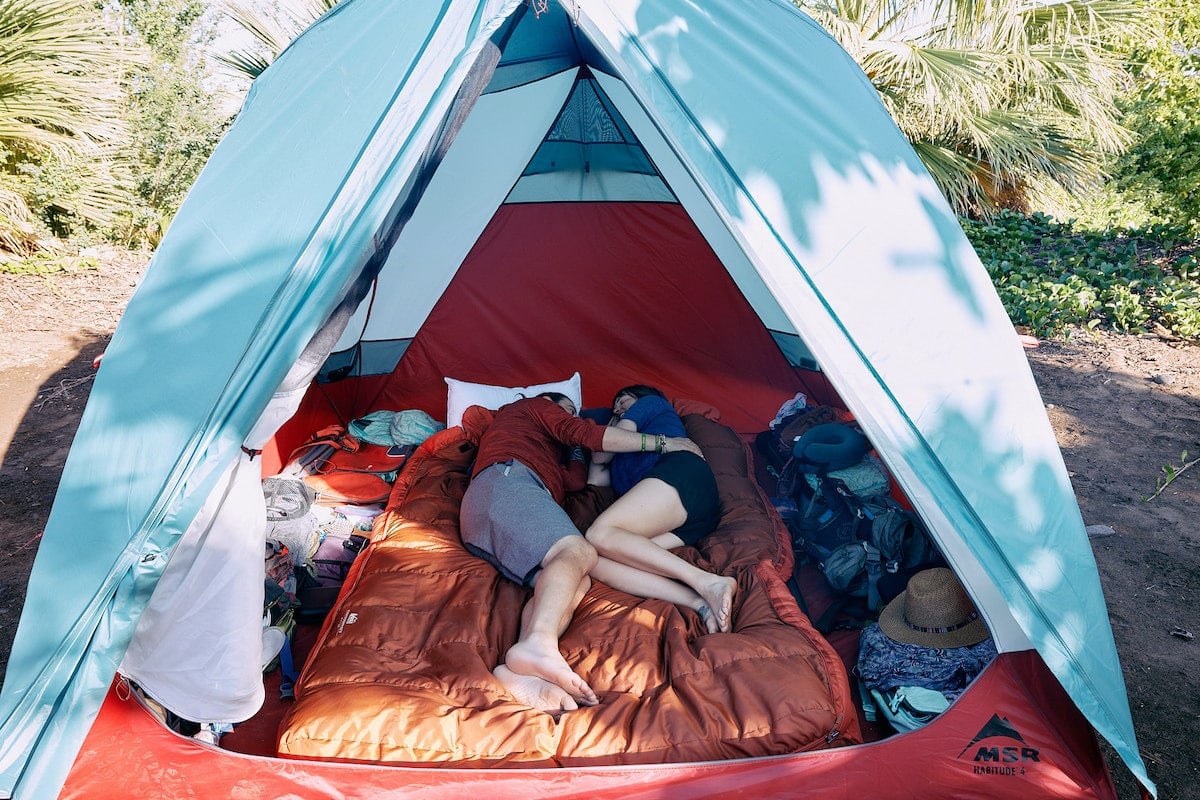 NEMO Roamer Double Sleeping Pad – 25% OFF
BFT Founder Kristen also tested the NEMO Roamer Double Sleeping Pad on her Maui camping trip, and for the first time, she slept as good camping as she does at home! This sleeping pad is 4 inches thick, which means you won't be feeling the ground, and it's very easy to blow up with a self-inflation mechanism that actually works. At 7 lbs 8 oz, it's lighter and less bulky than other comparable car camping sleeping pads or a traditional blow-up mattress. She also loves the memory foam topper on this pad – it feels like you're sleeping on a real mattress, plus the double version is roomy enough for 2-people.
Looking for a 1-person sleeping pad? The NEMO Roamer XL is also on sale.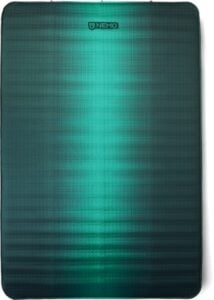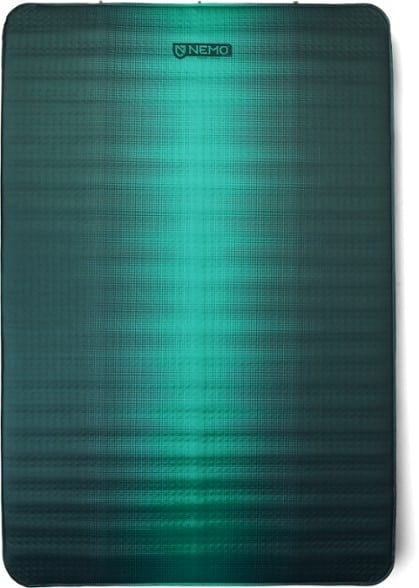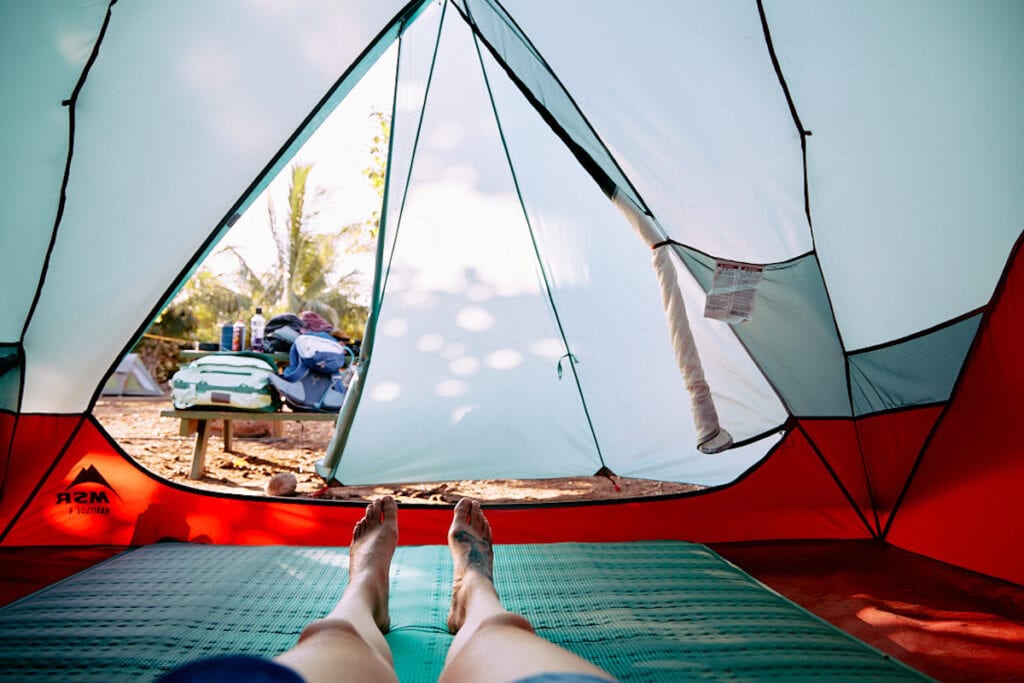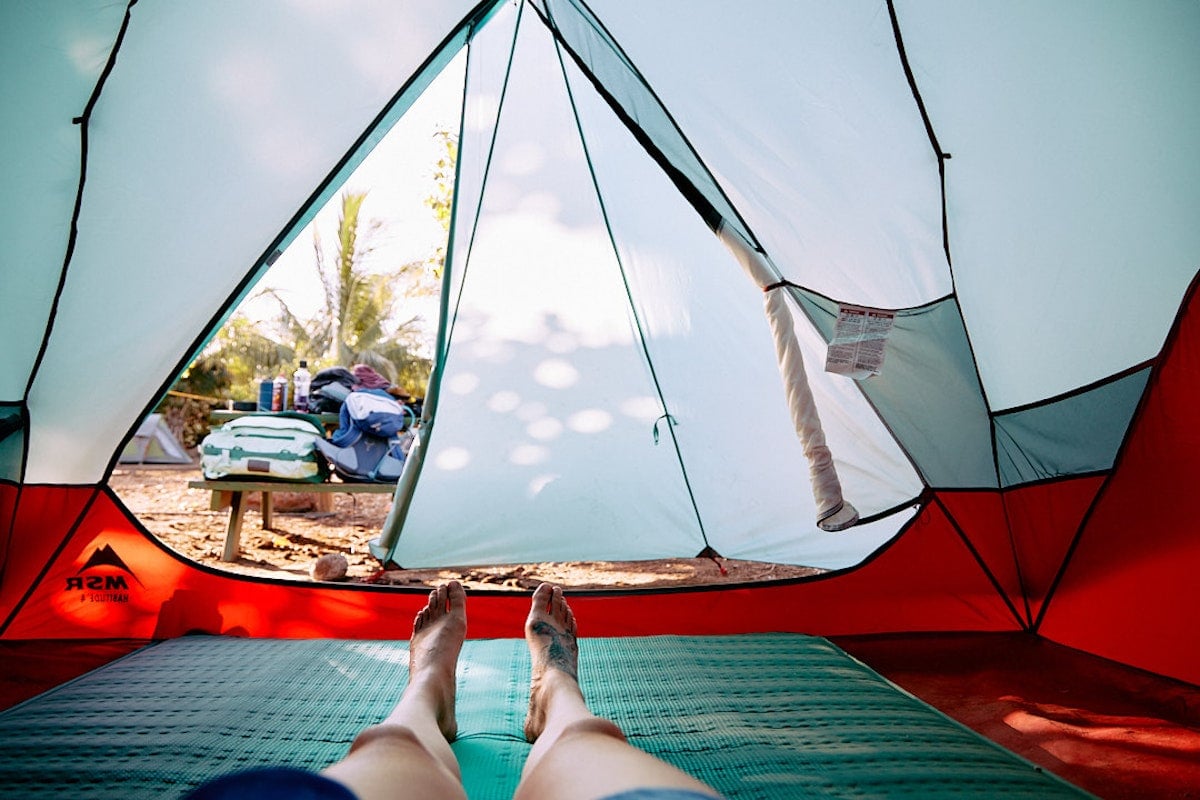 EcoFlow River Portable Power Station – 20% OFF
If you need a way to power your electronics while car camping, the EcoFlow River Portable Power Station (288Wh) is a portable charging station that can charge your devices such as a laptop, phone, or camera.
To recharge, you can plug the unit into a 12V cigarette outlet (perfect while driving), buy a solar panel to recharge while off-grid, or plug it into an AC wall outlet. What sets the EcoFlow apart from other power stations is the quick AC recharge time – plug the EcoFlow into the wall and it will charge from 0-80% in under 1 hour.
Looking for more power? BFT Team Member Courtney uses the EcoFlow River Pro (720Wh) in her campervan to power her lights, fan, and electronics for multiple days without recharging, and you can also find it on sale during REI's anniversary sale.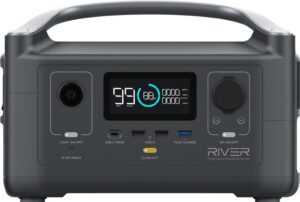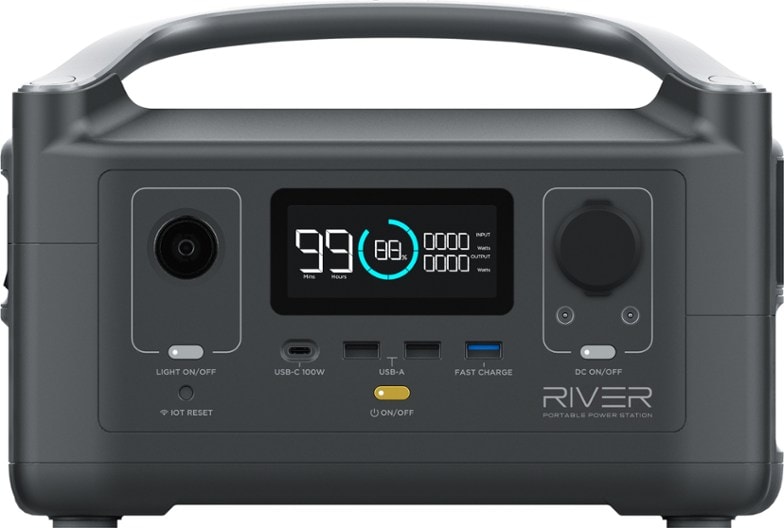 REI Co-op Siesta Hooded 25 Sleeping Bag – 40% OFF (Members Only)
Having a warm sleeping bag is essential to sleep comfortably on a car camping trip. The REI Co-op Siesta Hooded Sleeping Bag is already a great value bag, and during REI's anniversary sale, you can score an additional 40% off! The hood is perfect for cozying up on chilly nights, and with the bag's rectangular shape, you have plenty of room to move around and not feel confined. Camping with your partner? Check out the Siesta Hooded 25 Double Sleeping Bag, also on sale.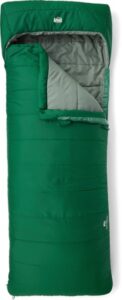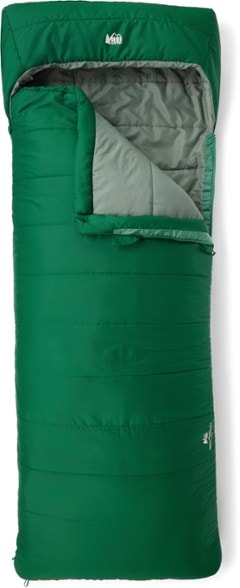 Geyser Systems Portable Shower – 30% OFF
BFT Team Member Courtney has been using the Geyster Systems Portable Shower in her camper van, and it's the perfect addition to your camping or van life setup. Using less than 1 gallon of water per use, you can rinse off yourself, your gear, and have an easy way to clean camp dishes. Boil some water on your camp stove to add into the chamber for a hot shower option – what could be better on a camping trip?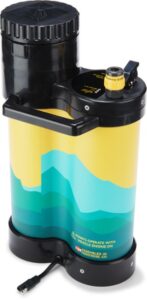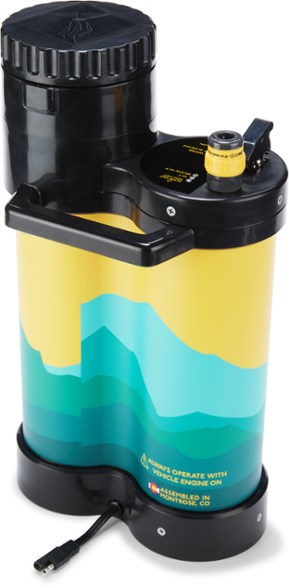 Eureka Ignite Plus Camp Stove – 25% OFF
A camp stove might just be the most important piece of equipment in your camp kitchen. We love the Eureka Ignite Plus Camp Stove for whipping up delicious meals (it's what Kristen uses in her van!). It has two powerful burners, auto-ignition, great simmering capability, and its solid construction that will help you cook up delicious camp meals for years. During REI's anniversary sale, grab the Eureka Ignite for 25% off!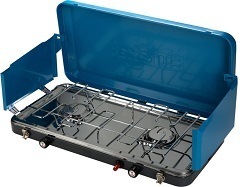 Stanley Even-Heat Camp Pro Cookset – 25% OFF
If you don't have an all-in-one camp cook set yet, this is the time to buy one when you can get 25% off. The Stanley Even-Heat Camp Pro Cookset comes with everything you need including a frying pan, 2 cooking pots, cutting board, spatula, and more. The lids also serve as strainers, which makes cooking things like pasta really easy.
This heavy-duty 11-piece stainless-steel set nests together to save you space and keep organized, and the stainless steel ensures even cooking.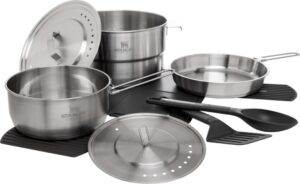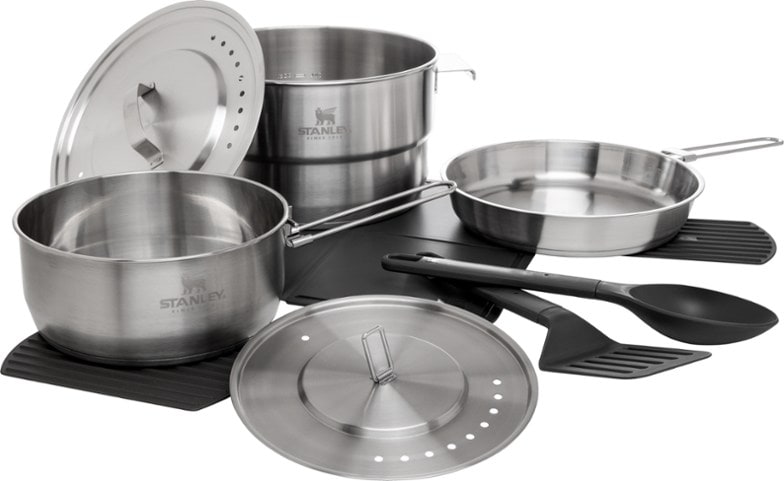 Rumpl Blankets – 25% OFF
Rumpl Blankets are our favorite camping and van life blankets because they're snuggly and warm yet still durable for the road, and right now they're all 25% off. Kristen's used hers for 4 years in her camper van and especially loves how easy it is to shake out since she travels with two dogs. Rumpl blankets come in several different materials including recycled synthetic, a warmer NanoLoft synthetic, and down. You can also choose from a wide variety of colors and styles. Since they're water and dirt-resistant and can be thrown into the wash, it's the perfect blanket for camping and sitting around the fire.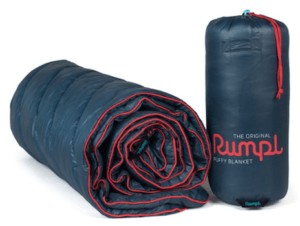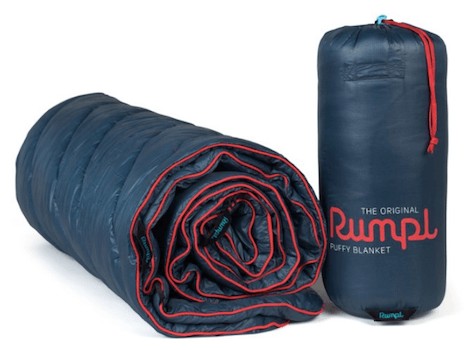 ENO DoubleNest Hammock – 25% OFF
What's better than lounging in a hammock after a nice long hike or after setting up camp? ENO helped pioneer basecamp relaxation, and we love using their DoubleNest Hammock on trips because it has ample room for two but packs down super small. You can easily toss it in your daypack to string up for a mid-hike nap!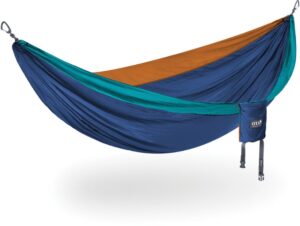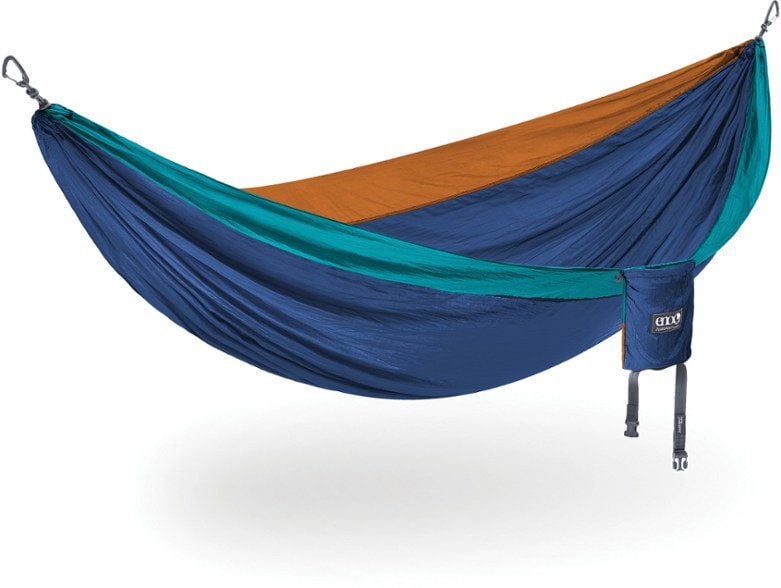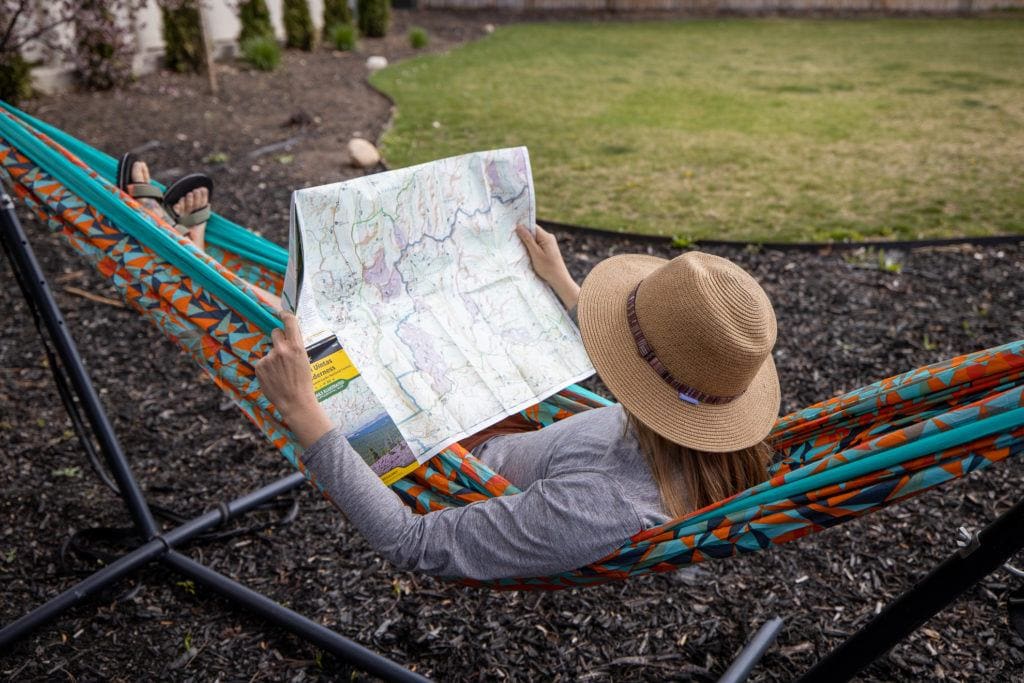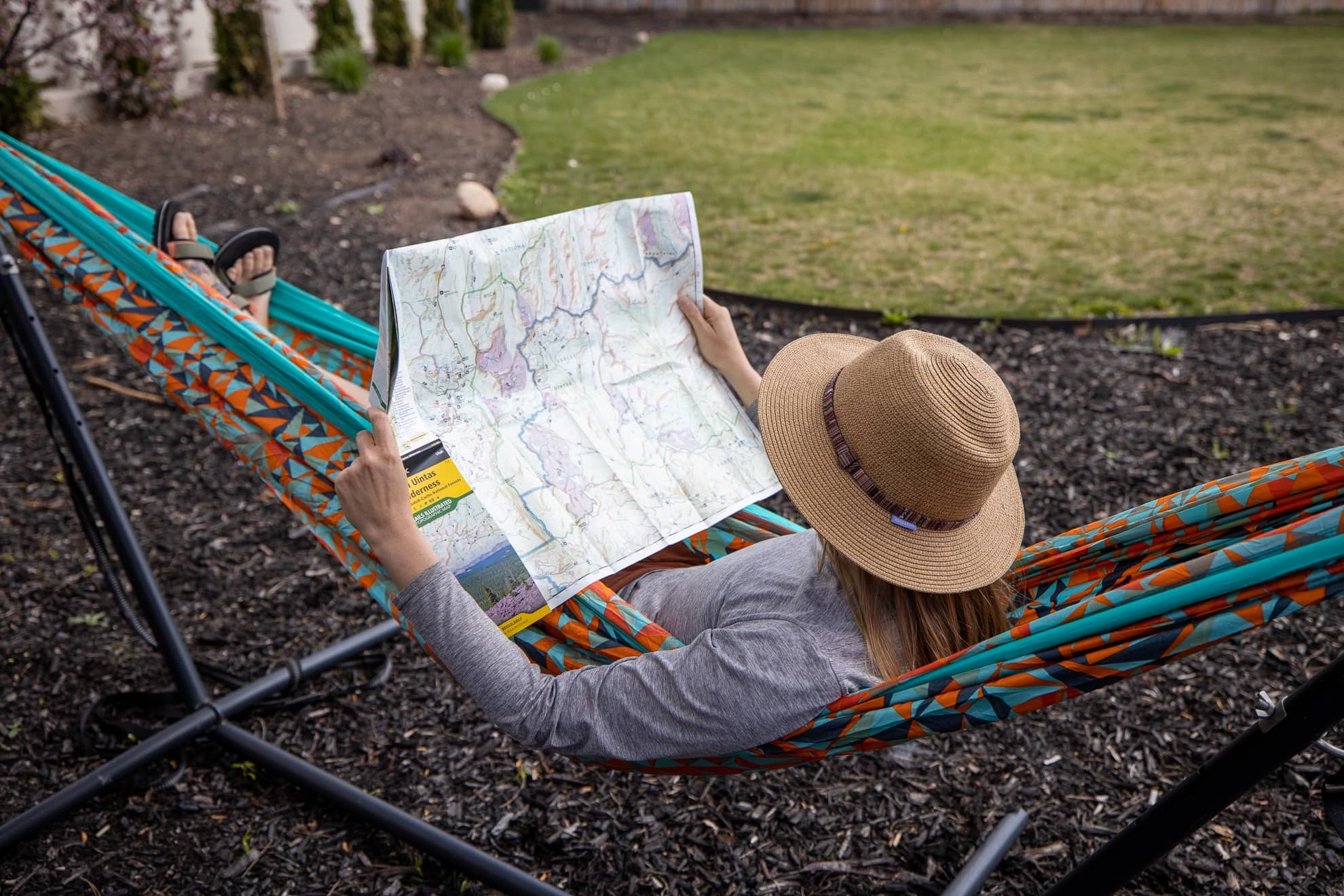 REI Co-Op Roadtripper 60 Duffel – 40% OFF (Members Only)
Everyone needs a good weekender bag, and BFT Team Member Linda has been loving the REI Co-Op Roadtripper 60 Duffel. This is a no-frills dependable duffel that can fit a lot of stuff, and it also fits in overhead bins on flights making it perfect for travel. It packs into its own pocket too, making it super easy to stow or bring along as an extra bag. Right now you can score 40% off the Roadtripper – don't miss out on this deal! Check out the printed duffel for more fun color options.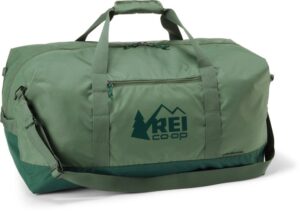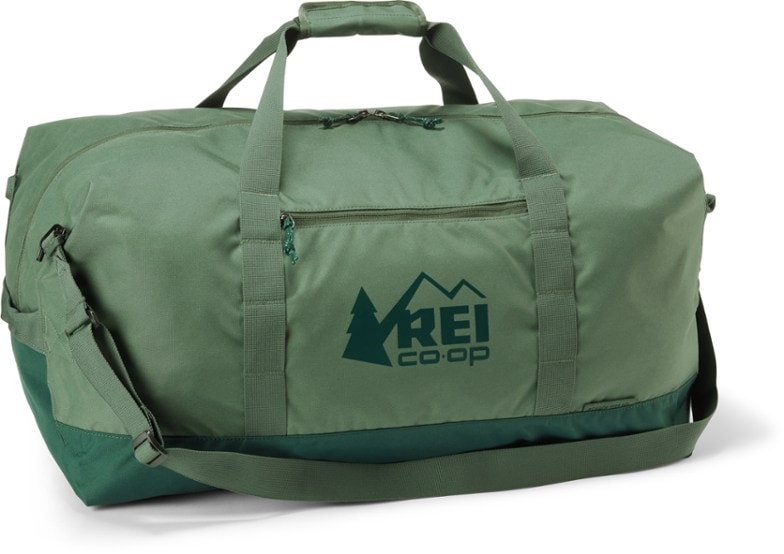 REI Co-op Camp X Chair – 30% OFF
If you're looking for a classic folding camp chair with lots of room, look no further than the REI Co-op Camp X Chair. Unlike cheaper folding camp chairs, this one has heavy-duty, thick-walled steel tubing that won't fall apart after one season. There's also a large cupholder on one armrest and a zippered pocket for personal items on the other.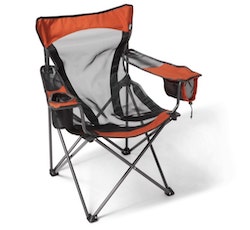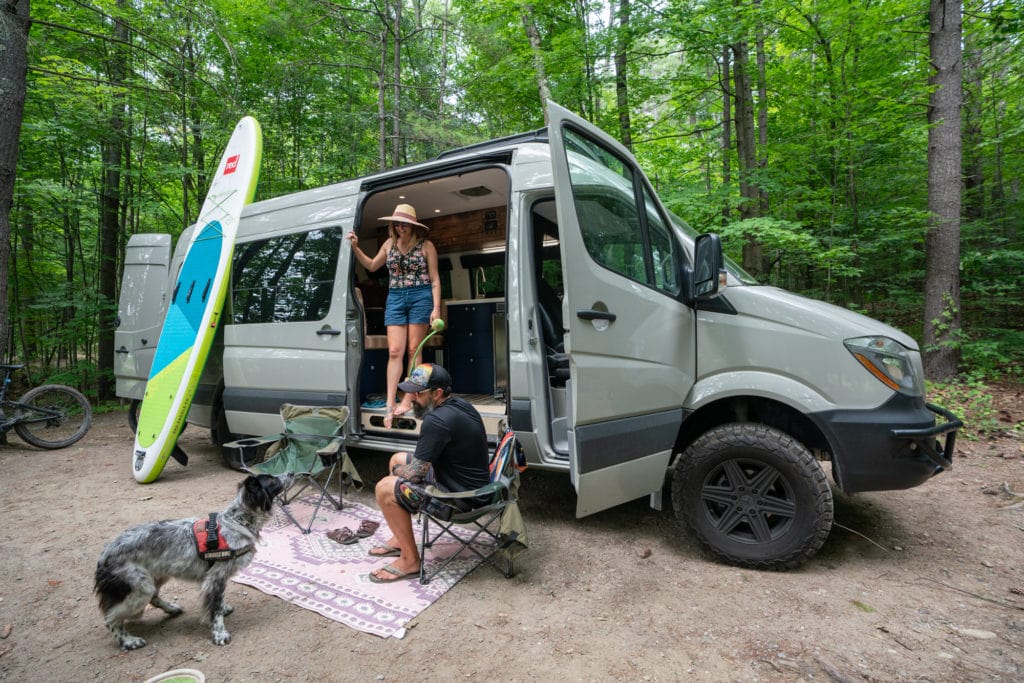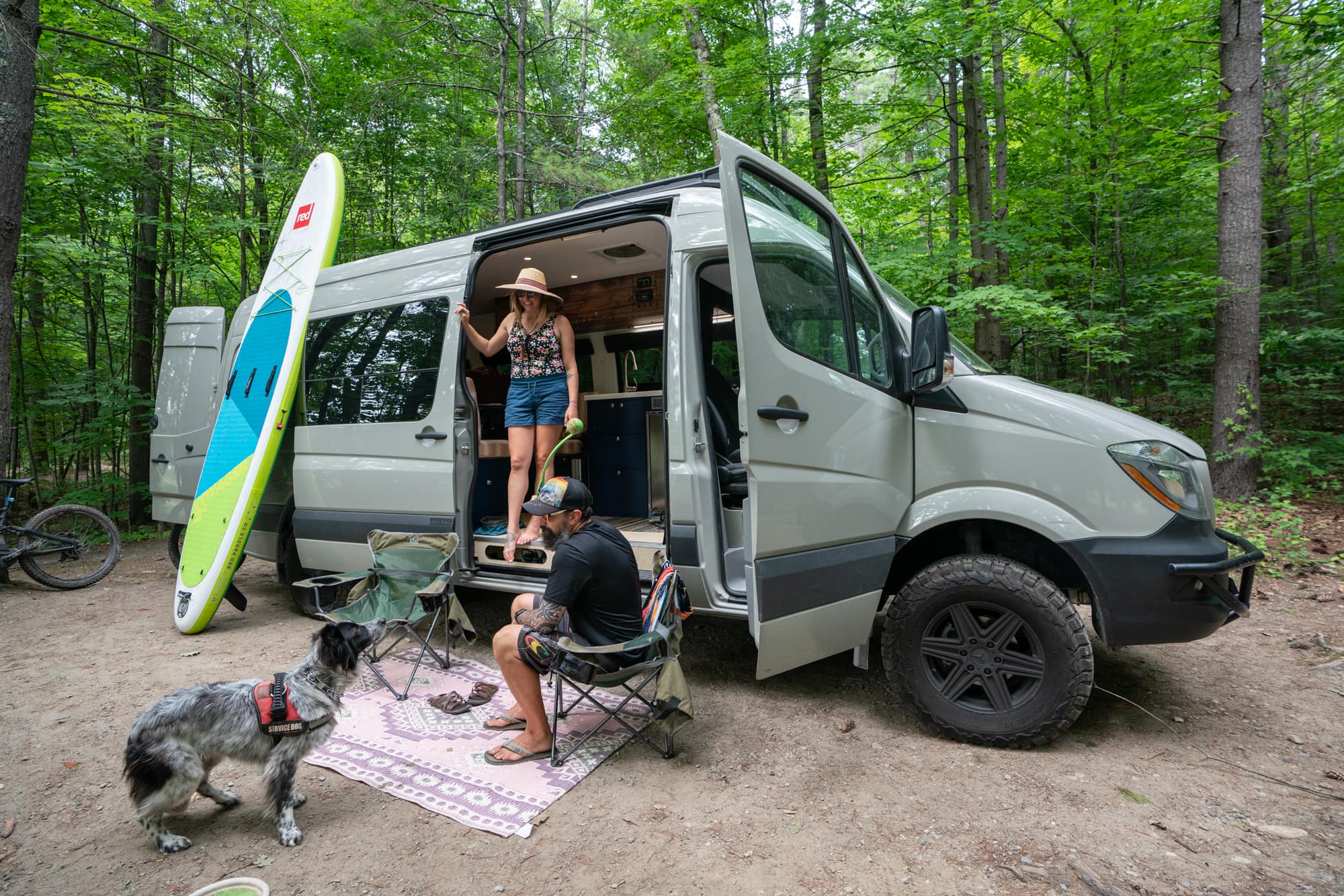 MPOWERED Luci Lux Inflatable Lantern – 25% OFF
We love the MPOWERED Luci Lux because it emits a soft, warm glow without the harshness of other camping lanterns. It requires no batteries and charges from the internal solar panel – just flip it upside down during the day to recharge. This is the lantern BFT Team Member Courtney used during her Baja road trip and a recent canoe trip – it's inflatable so it doesn't take up a lot of space in your car or pack. All MPOWERED products are 25% off during REI's anniversary sale, so be sure to snag a few for the ultimate camp ambiance!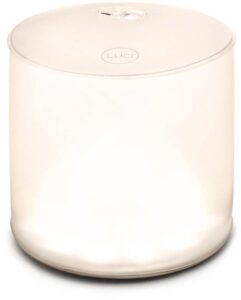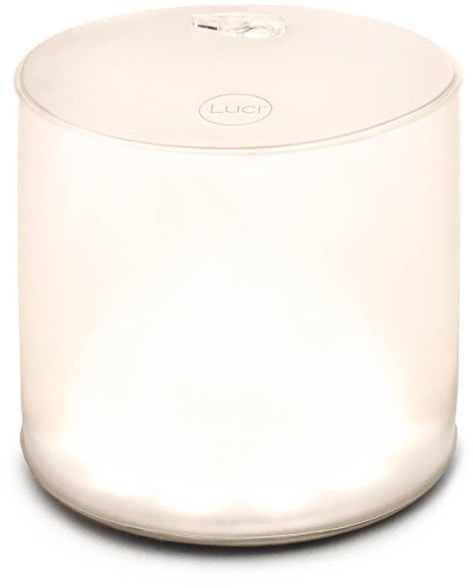 PackTowl Personal Towel – 25% OFF
Quick dry towels are a must for any trip whether you're car camping, backpacking, or traveling. From showering, drying your dishes, or lounging in the sun, these PackTowl Personal Towels pack small, dry much quicker than traditional towels, and are easily washed – plus they come in multiple sizes to fit all your needs. Quick dry towels always come in handy, so pick up a few right now for 25% off.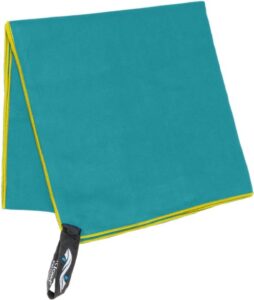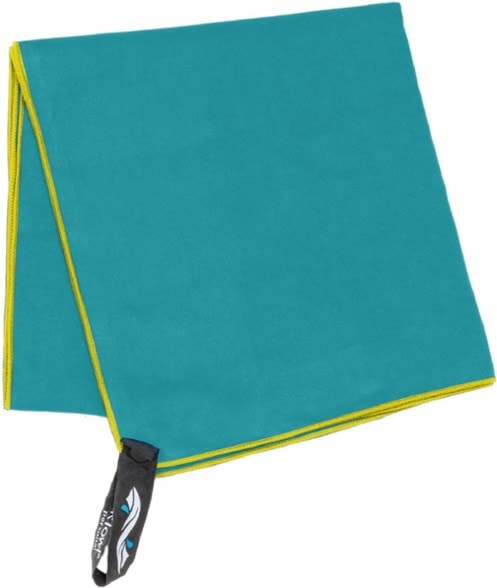 Hydro Flask 32oz. Wide-Mouth Water Bottle – 25% OFF
With all the great options for reusable water bottles nowadays, there's really no need (or excuse) to buy single-use plastic ones. The Hydro Flask Wide Mouth w/ Straw Lid 32 oz Water Bottle is our personal favorite. It's a good size for all-day hydration, keeps your drinks hot or cold, has a straw for easier drinking, and it's easy to clean and carry. If you're looking for something smaller or a bottle without a straw, Hydro Flask has lots of different styles and options, and many are on sale during REI's anniversary sale.


AeroPress Go Travel Coffee Press – $5 OFF
The AeroPress Go Travel Coffee Press is a simple and inexpensive travel coffee press that can be used at home as well – it's long been a Bearfoot Theory team favorite for making coffee on the road. It's durable and lightweight so you don't have to worry about it breaking, and it makes a deliciously strong cup of coffee. Plus, AeroPress coffee only takes a minute to brew which means you get that coffee in your hands sooner. You can read our full review of the Aeropress with instructions on how to use it here.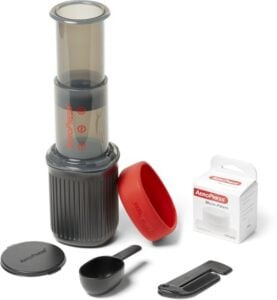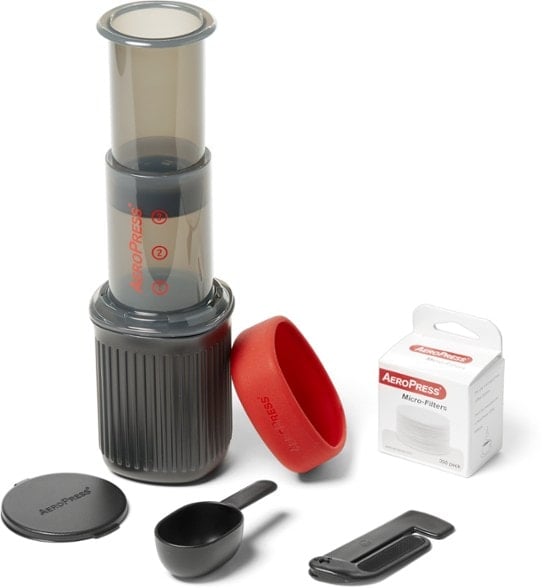 Best Deals on Hiking & Backpacking Gear
Osprey Tempest Daypack – 25% OFF
The Osprey Tempest Daypack is a favorite of the entire Bearfoot Theory team. It's a lightweight and comfortable yet supportive backpack that's the perfect size for day hikes and a variety of adventures. There are plenty of zippered pockets for storing essentials like keys and a phone, and the main interior is big enough to fit all the basics including warm layers, a camera, and snacks. There's even a handy sunglasses holder on one of the shoulder straps and the small hip belt pockets are great for easy-to-access items.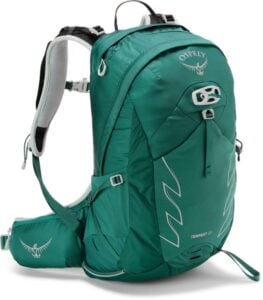 Gregory Maven 55 Backpacking Pack – 25% OFF
Having a lightweight, well-fitted backpacking pack can make or break your trip. The Gregory Maven 55 is an awesome choice and right now it's 25% off during REI's anniversary sale. We love that this pack has a full-length side zipper that allows for easy unloading and gear organization, and the hip belt has plenty of padding to prevent sore hips. Need a different pack size? The Maven 45 and Maven 65 are also on sale.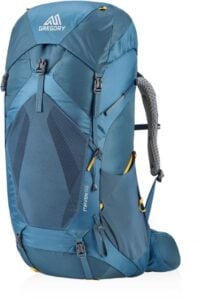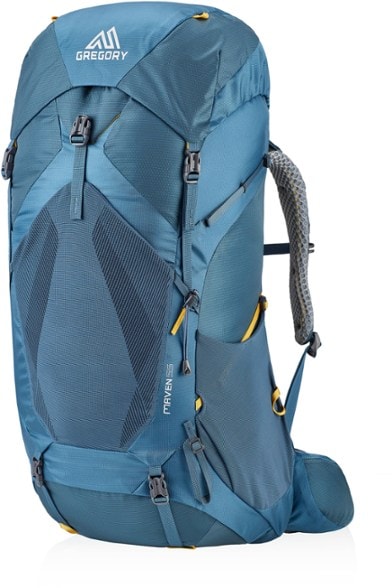 Osprey Hydraulics Reservoir 3L – 25% OFF
Having a high-quality reservoir for water on outdoor adventures is key – no one wants a leaky reservoir! Our top pick is the Osprey Hydraulics 3L which is perfect for all-day adventures, and right now you can score 25% off during REI's anniversary sale! The feature we love most about this reservoir is the hose detaches making it really easy to pull out of your pack to refill.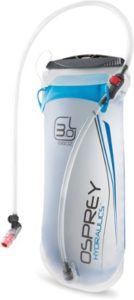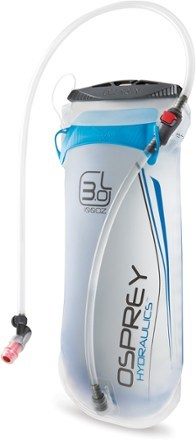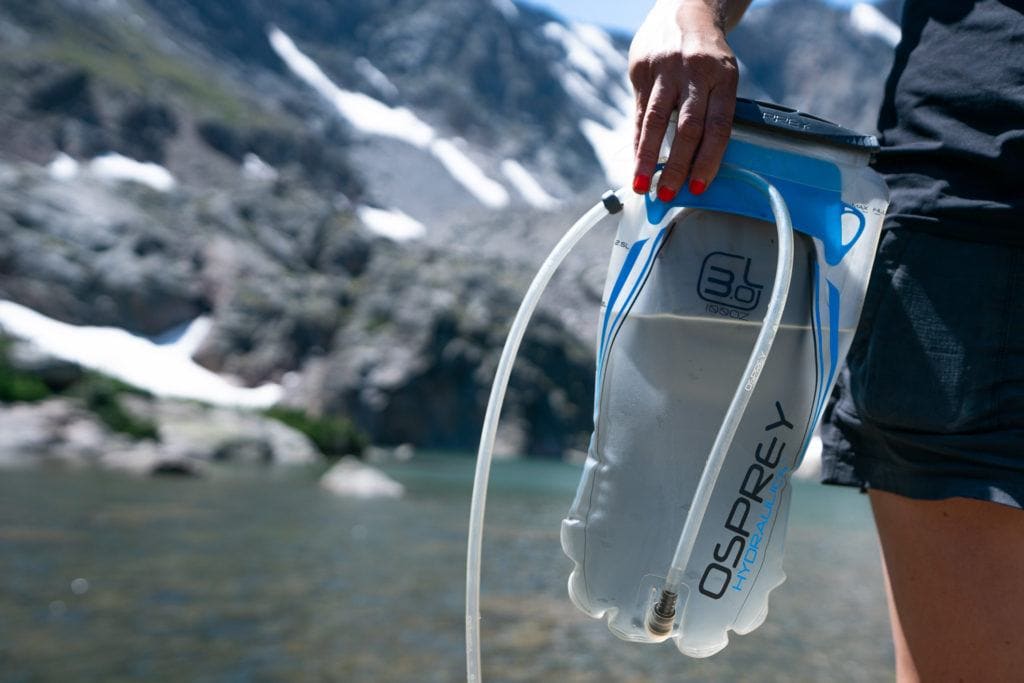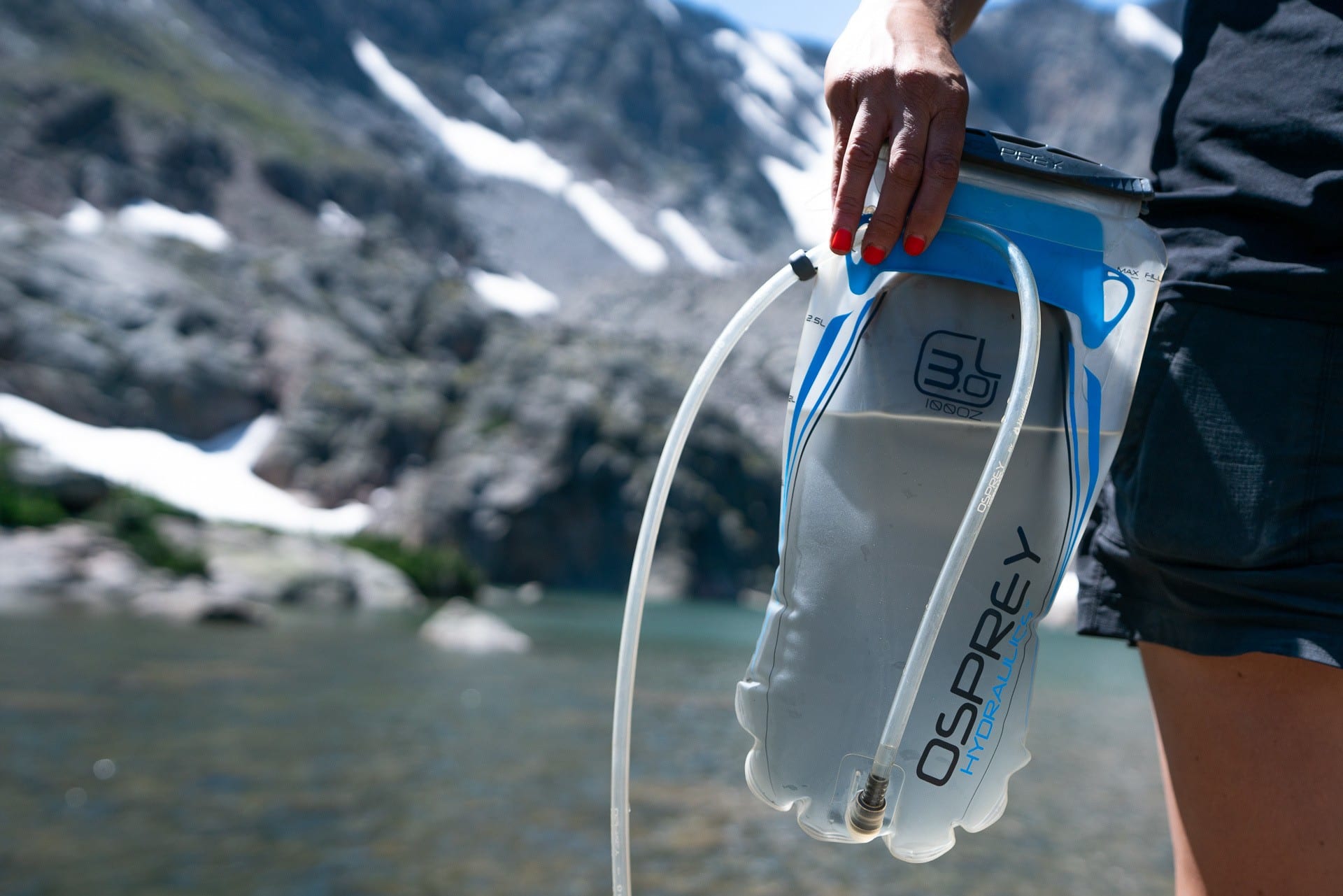 REI Co-op Trail Hut 2 Tent – 30% OFF
If you're looking to get into backpacking and want a great value tent, the REI Co-op Trail Hut 2 is a solid option. It's a 3-season freestanding tent (meaning no trekking poles or guylines required for setup) and holds up really well in wind. At 5lbs, it's on the heavier side for backpacking tents, but it's a great starter tent if you're on a budget – especially at 30% off.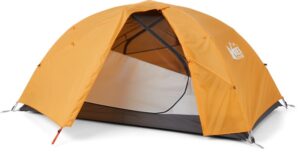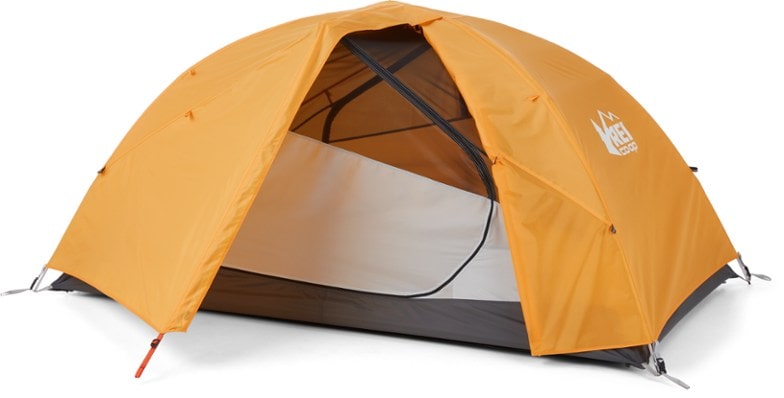 Garmin InReach Mini – $30 OFF
This little handheld device keeps you safe on backcountry expeditions by tracking your location, providing 2-way texting, and sending out SOS signals should things go wrong. For us, a Garmin Mini 2-Way Satellite Communicator is a must to keep you safe and your loved ones at ease, especially if you're on a solo mission and/or spend time in areas without cell signal.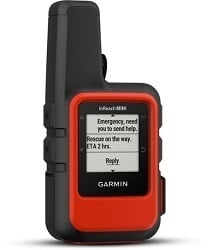 NEMO Disco 30 Backpacking Sleeping Bag – 25% OFF
A good lightweight backpacking sleeping bag is one of the best investments you can make as an outdoor enthusiast, so REI's anniversary sale is a great time to score a deal. The NEMO Disco 30 tops our list of the best sleeping bags for backpacking, especially for side sleepers because of its unique spoon shape, which allows for extra support at the elbows and knees so you can shift positions comfortably. Right now you can grab the Nemo Disco 30 for almost $65 off! The 15F version is also on sale.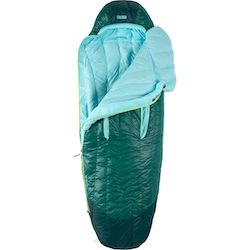 MSR WindBurner Stove System – 25% OFF
The MSR WindBurner Stove System is great for car campers and backpackers alike. The integrated cookware system efficiently transfers heat to the lock-on pot so you can enjoy a quick meal or hot drink when you wake up, without having to fumble around too much. It takes, on average, 4 minutes 30 seconds to boil 1L of water (but typically much faster if you are boiling less water). You can find the WindBurner on our list of the best backpacking stoves.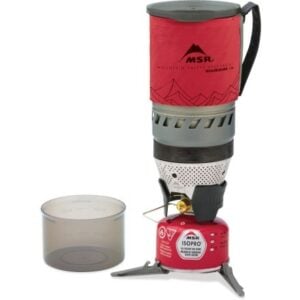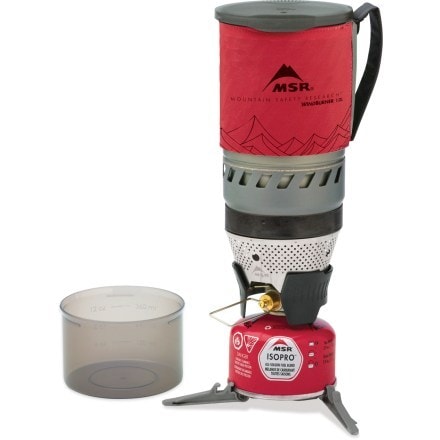 Katadyn Gravity BeFree Water Filtration System – 25% OFF
Let gravity do the work with the Katadyn Gravity BeFree Water Filtration System. Perfect for filtering large quantities of water on backpacking trips, this hanging system filters up to 2 liters per minute and removes 99.99% of protozoa and bacteria to EPA standards. Snag yours for 25% off during REI's Anniversary Sale!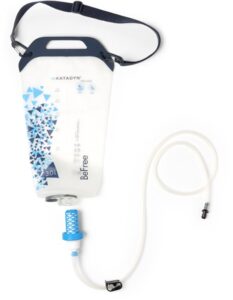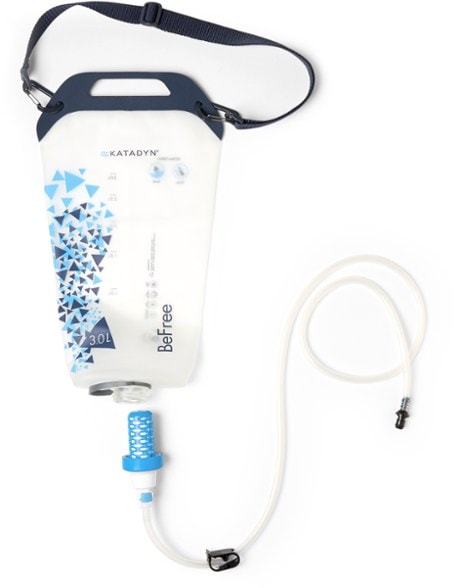 BearVault BV500 Food Container – 25% OFF
Bear canisters are required on many overnight backpacking trips in the US. Our team has used the BearVault BV500 Food Container and loves its simple design and transparent exterior (which makes it easier to see where your stuff is inside!). The container doubles as a camp stool, and it doesn't require extra tools to open. Simple, easy, effective, and it can also help protect your food from rodents. For shorter trips, consider the BearVault BV450. Both are on sale and can be found on our list of the best bear canisters for backpacking.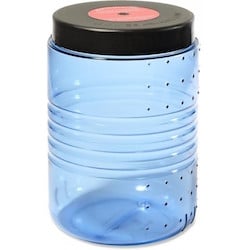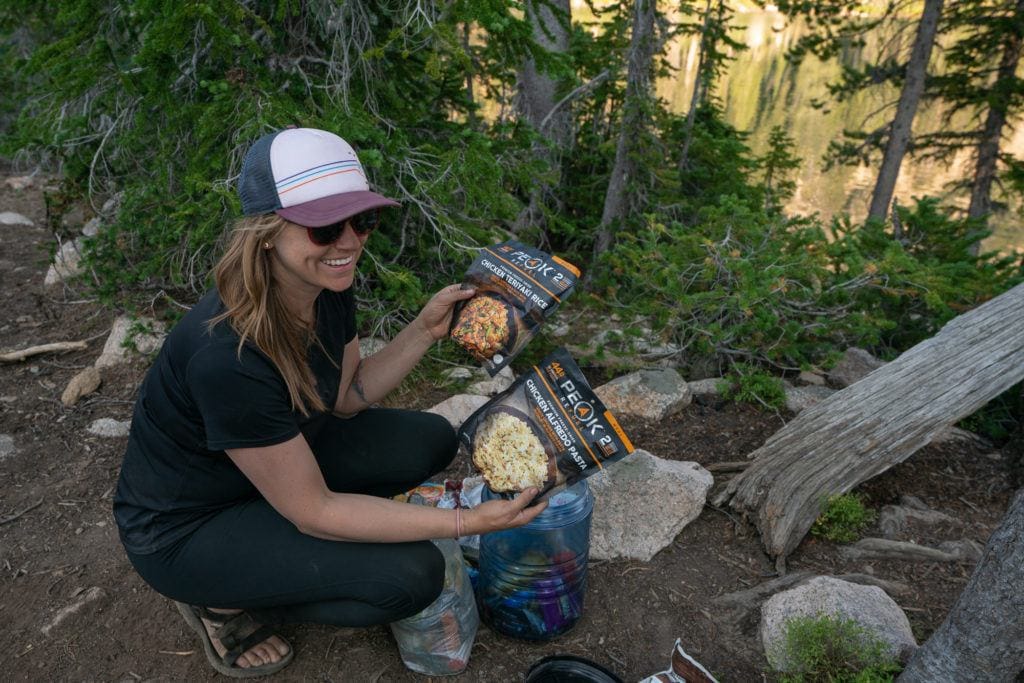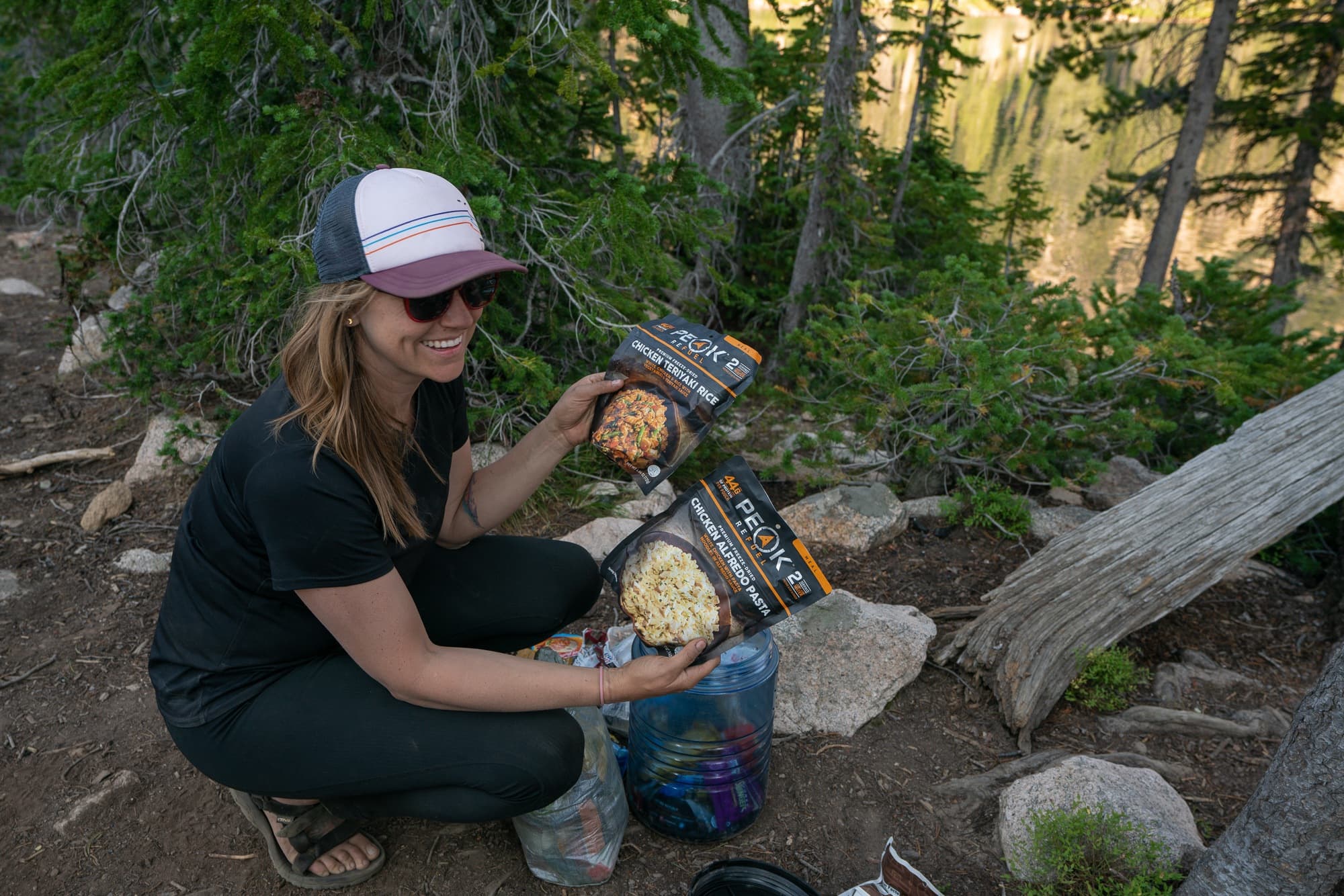 Leki Lhasa Trekking Poles – 25% OFF
A pair of lightweight trekking poles, like the Leki Lhasa Trekking Poles, is a must for hiking and backpacking, especially on those trails with lots of uphill and downhill to protect those knees and joints. These particular trekking poles have cork handles for extra comfort and they're adjustable so you can get the size just right for you. Find the Lhasa poles on our roundup of best trekking poles.

Black Diamond Spot 400 Headlamp – 25% OFF
Every hiker needs a trustworthy headlamp to light their way hands-free whether you're going hiking, backpacking, car camping, or simply need a reading light. Black Diamond makes some of the most reliable headlamps on the market and the Spot 400 is their top seller. It's super compact and has dual charging so you can recharge the headlamp itself via USB or use AAA batteries.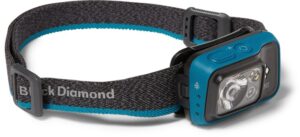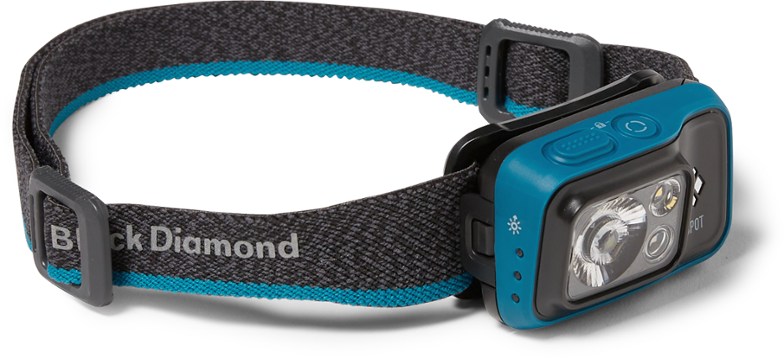 Cotopaxi Bataan Fanny Pack – 25% OFF
Cotopaxi is a brand we love because they're always doing good. They are a certified B Corp and they allocate 1% of their annual revenues to the Cotopaxi Foundation, which supports non-profit partners that work to alleviate poverty, provide education, and support refugees around the world. Their Bataan Fanny Pack is one of our favorite fanny packs because it's roomy enough for all of your everyday essentials and comes in a ton of fun colors, all from re-used leftover fabrics to keep them out of the landfill.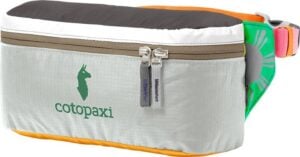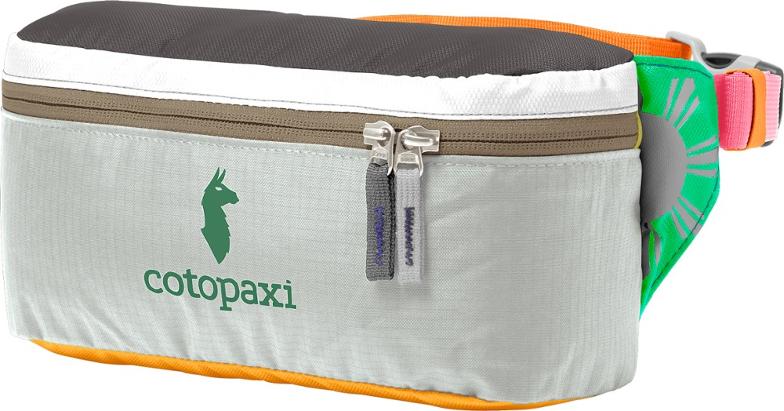 What's on your wishlist for the REI Anniversary Sale? Leave a note in the comments below!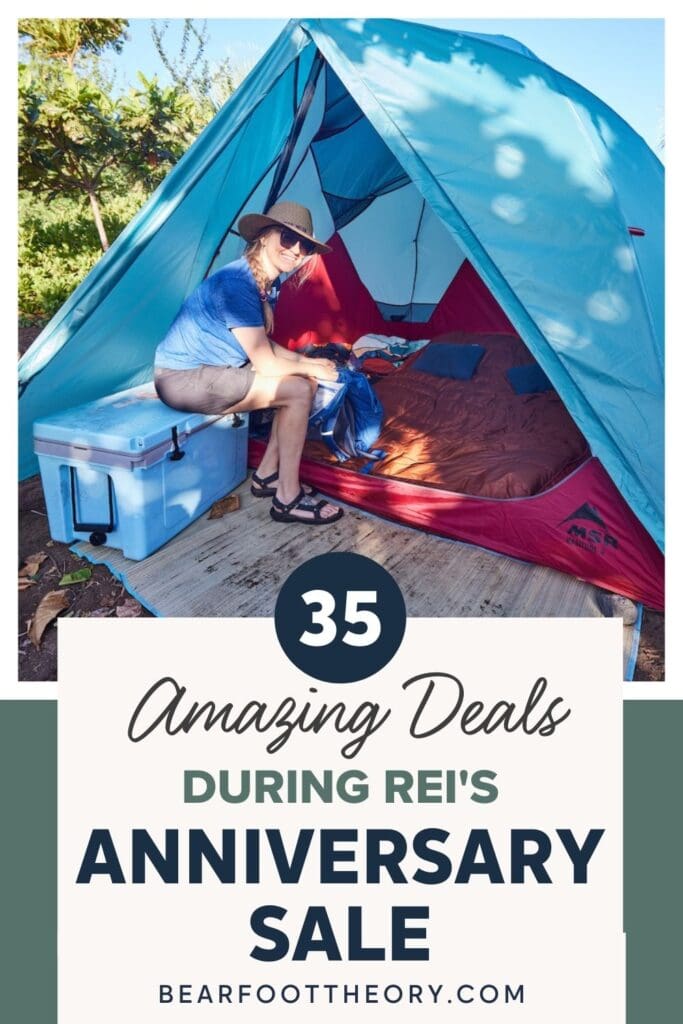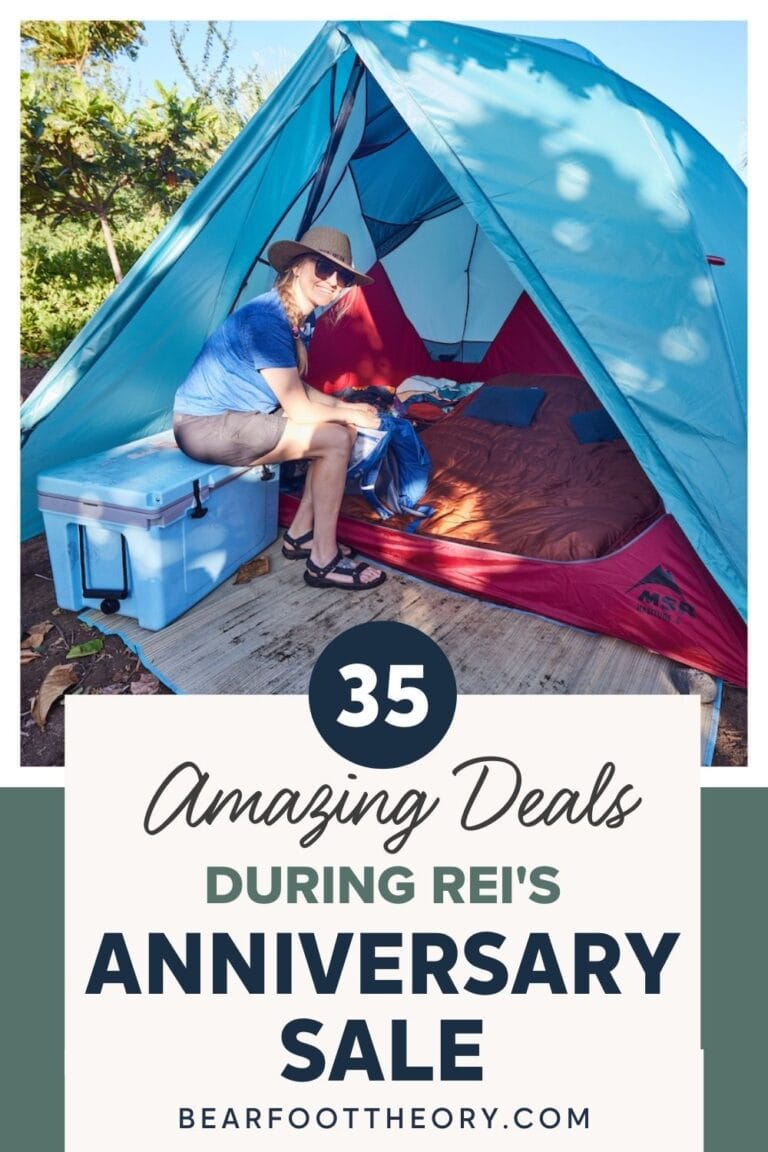 Shop top of the line gear at great prices in the Everest Marketplace and get outside!