Adam Scepaniak   02.14.22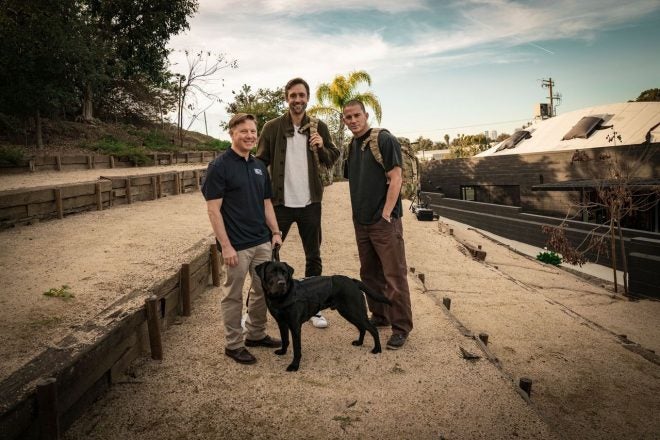 5.11, Inc., the global innovator of purpose-built apparel, footwear and gear, has teamed up with Metro Goldwyn Mayer (MGM), United Artists Releasing (UAR) and K9s For Warriors to support military veterans in celebration of the February 18 theatrical release of the upcoming film, 'Dog' starring Channing Tatum and co-directed by Tatum and Reid Carolin. As part of the collaboration, 5.11 will donate $25,000 to K9s For Warriors, the nation's largest provider of trained service dogs to military veterans suffering from PTSD, traumatic brain injury, and/or military sexual trauma.
5.11 Tactical News Coverage on AllOutdoor
This blockbuster collaboration was highlighted by Reid Carolin, Channing Tatum, and K9s For Warriors when they delivered a service dog to active Navy Captain, Jon. His new black Labrador, Winston, will be his new companion and they will together undergo a 3-week training program in Florida to establish a lifetime bond. Tatum reflected on the opportunity to unite a deserving veteran with his service dog and creating the film "Dog" by stating:
"It is an honor to be a part of this moment…

It was a really beautiful journey for us to learn the depth of the bond between a soldier and a dog."
The film "Dog" is a comedy following the exploits of Army Ranger Briggs (Channing Tatum) and Lulu (a Belgian Malinois dog) as they cruise down the Pacific Coast in a 1984 Ford Bronco hoping to make it to a fellow soldier's funeral on time. Throughout the comical journey they evade death, break a few laws, and sport 5.11 gear along the way; specifically, the RUSH24™ 2.0 Backpack. Debra Radcliff, 5.11's CMO, shared her thoughts on the film and 5.11's gear:
"We're pleased to support these outstanding projects that bring awareness to the many sacrifices and struggles that our nation's veterans face every day. We hope our contribution helps more brave veterans find a companion through the efforts of K9s For Warriors and lets them know they are greatly appreciated."
Determined to end veteran suicide, K9s For Warriors is a non-profit that pairs highly trained service dogs, commonly rescued from shelters, with veterans struggling with the invisible wounds of war. This innovative program allows the K9/Warrior team to build an unwavering bond that facilitates their collective healing and recovery. Rory Diamond, CEO of K9s For Warriors, expanded on their mission:
"We are incredibly grateful to collaborate with 5.11, MGM and UA Releasing to support our veterans who have sacrificed so much for our freedoms. K9s For Warriors has the privilege every day to see the impact a Service Dog has on a veteran. With a battle buddy by their side, the veteran returns to a life of a dignity and independence. This partnership has given us the amazing opportunity to showcase that special moment when Channing surprises our Warrior Jon with his Service Dog for the first time, beginning their journey towards an unbreakable bond."
Everything about this authentic team effort is phenomenal to hear. We all know 5.11 for their quality gear on the range and our everyday lives, and it is tremendous to see them – along with MGM, UAR, and K9s For Warriors – shining a light on our veterans through such impactful work. Be sure to check out the new film "Dog" set to come out on February 18th. As always, let us know all of your thoughts in the Comments below! We always appreciate your feedback.