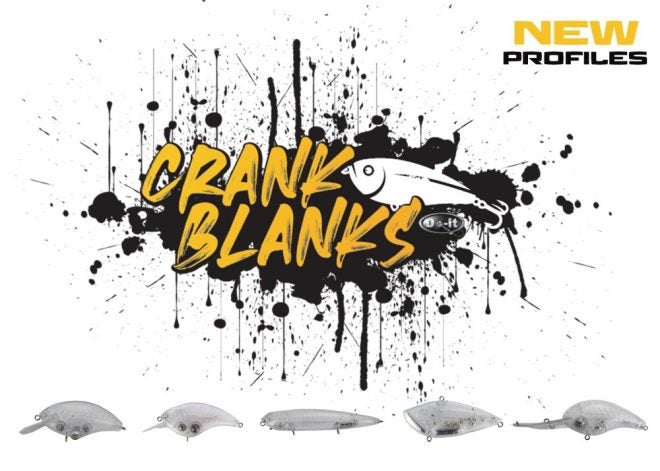 Do-It Molds, an industry leader in custom lure-making equipment, has introduced 5 new hard bait blank profiles to their Crank Blanks line. For anglers who enjoy making their own custom-painted fishing lures. The Do-It's "Crank Blanks" are high-quality un-painted hard bait blanks, that serve as the base for artistic fishermen with an eye for detail. The new crankbait profiles include; The Pro Walker 120 4/5oz, 5DD Diver 5/8oz, Big Eye Shad Lipless 1/2oz, Flat Sided Circuit Board Lip 1/2oz, and Semi-Flat Side Coffin Bill 7/16oz.
"We continue to work with our customers and lure painters to identify profiles to add to the line-up. We offer some incredibly popular lure styles, and we will keep adding options based on the team's feedback" – Brennan Chapman (Product Development)
The Do-It's Crank Blanks are now available in 31 different profiles from topwater poppers chuggers and walking baits to jerkbaits, square-bills cranks, deep diving swim, lipless cranks, hollow body frogs, and even a jointed swimbait for anglers wanting to throw big plugs for big fish.
All of the Crank Blanks are manufactured using the highest quality processes available. They all feature a sanded waterproof welded seam for flawless performance. So no more wasting your time trimming and sanding mold flash off your plugs, or worrying about hardware working loose or water intrusion into the body. These Crank Blanks are also the first lure blanks available in the market to come "pre-masked". You don't have to apply tape over the lips to ensure you don't get paint. The lips are already protected from the factory to make sure your lines are line and worry-free. All you have to do is paint and clear coat your lures, then simply remove the factory plastic mask off the lips. And if you want to add some custom components those are also available at Do-It.
All profiles of Crank Blanks are sold in 5-packs and new lure designs will continue to be available in the future at www.do-itmolds.com.