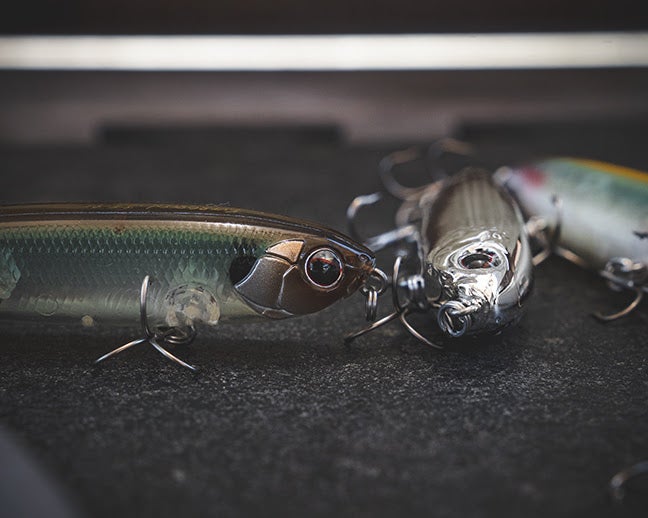 When it comes to topwater, it is not always the loudest bait that catches the fish. While it feels counter-intuitive sometimes silence is the key to that splashing pencil bait. That's where the Ever Green JT-95 and JT-115 come into the picture and excel. They're a silent pencil bait capable of being cast a mile. They can call in bass with a quick walking action, and with their premium hooks stick anything that takes even a passing glance at the bait. This topwater duo is a couple of must-have tools for your bass arsenal no matter where in the world you fish.
To even make these lures even more versatile Ever Green is giving anglers even more options with the pencil baits. They have added six new color patterns to increase the versatility of this effective topwater line. The lures are already available in two proven, scaled patterns including Blue Back Herring, Bone, you can now add Clear, Full Metal, Flask Wakasagi, Magic Gill, Ice Fish, Flash Clear Shad, and Ghost Olive Shad to the mix to match almost any combination of bait, weather conditions or water clarity you run into.
The JT lures are perfect for quick walk-the-dog retrieves that mimic the panic of distressed baitfish, this due to their relatively short body profile. At 3.75 inches, the JT-95 is a great choice for bronzeback smallies while the 4.5-inch JT-115 is the right size to bring in any largemouth that swims.
The JT lines of pencil baits run a bit heavier than pencil baits of similar lengths, the JT-95 weighs 3/8-ounces while the JT-115 comes in at 11/16-ounces. This weight helps with both casting and with hooking more fish. The hooks can stay in the water easier even when getting splashed aside during an aggressive top water strike. This will give you a better hook-up ratio and action, both lures are built to last and stick fish no matter how they strike.

Just in time for spectacular fall surface action, all six new colors for the JT-95 and JT-115 pencil lures are now available. MSRP: $16.99 / $18.99.

JT-95 and JT-115 Features
Available in 12 patterns (6 NEW colors) for exceptional versatility
Superb balance for quiet, natural splashes, bubbles and life-like sounds
Slender, compact bodies for superior casting
Body weight designed to keep hooks in the water and lure on track for super hook-up ratios
Smaller JT-95 is perfect for bronzebacks while larger JT-115 is a bucketmouth favorite