Oregon might be one of the most underrated skiing states around. There are great resorts on iconic Mt. Hood just an hour or so from Portland, plus compact & family-friendly ski areas sprinkled around the state. Just don't let the reputation fool you — locals often say that these mountains ski a lot bigger than they look!
Oregon averages about 400 inches of snowfall a year, which makes for great powder days and long ski seasons. Plus, many of the ski areas in the state are not on multi-passes, which means you can count on fewer crowds and more fresh tracks.
We've rounded up 9 of the best ski resorts in Oregon below, organizing them by resorts on multi-passes, resorts on Mt. Hood, and unsung resorts from across the state. Whether you're a hometown Oregonian or are planning a ski trip through the Pacific Northwest, check out these resorts during your next ski season.
Here are 9 of the best Oregon ski resorts for you to consider for a ski vacation this winter.
Oregon Ski Resorts – Mapped
Oregon Ski Resorts on Multi-Passes
Mt. Bachelor (Ikon Pass)
Location: Bend
Difficulty: Intermediate
Average adult weekday ticket price: $119-139 [Included on Ikon Pass]
Size: 4,323 acres, 101 runs, 15 lifts
Mt. Bachelor is a semi-known name in the national ski crowd, and that's part of what makes it so great. Only 22 miles from Bend and the largest ski area in the Pacific Northwest, it eschews corporate vibes for more of a locals atmosphere. It doesn't have slopeside lodging, which means visitors are all pretty much day-tripping from Bend. Mt. Bachelor has some of the best Oregon skiing around and it's also a great ski resorts for beginners.
More than half of Mt. Bachelor is made up of blue runs — and about 20% each of greens and blacks. That means groomed trails on bluebird days are unbeatable, but storms have been known to close some lifts when weather isn't great. Fortunately, the area has noticeably better snow than other ski areas in the Pacific Northwest known for tough, concrete-like snow. Whether you're an advanced skier looking for epic tree runs or you're a beginner looking for groomed, easy terrain, Mt. Bachelor will deliver.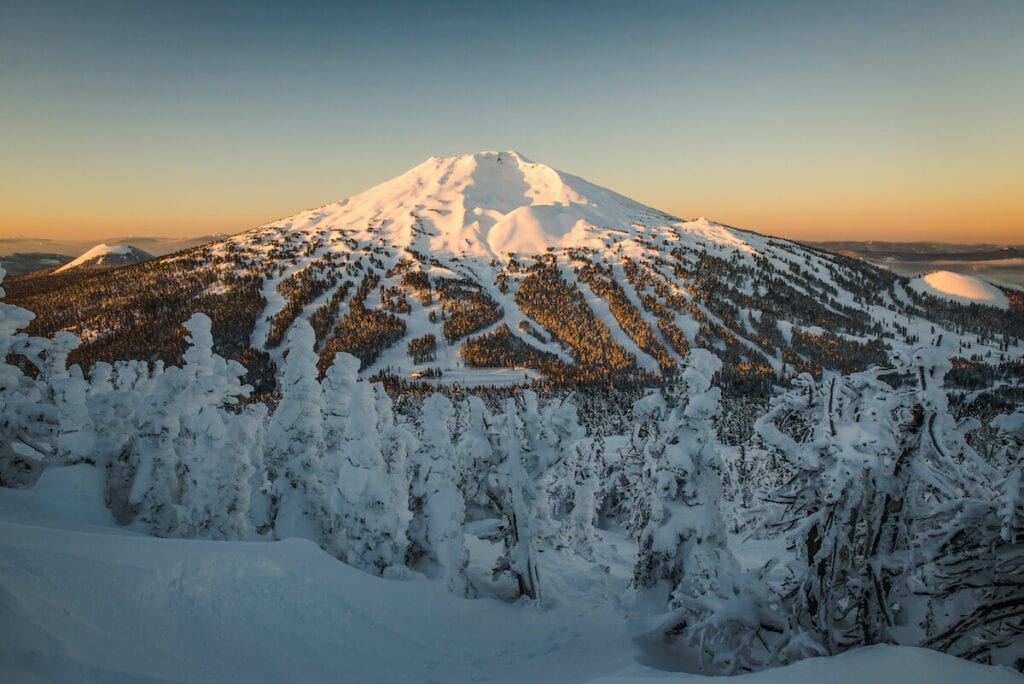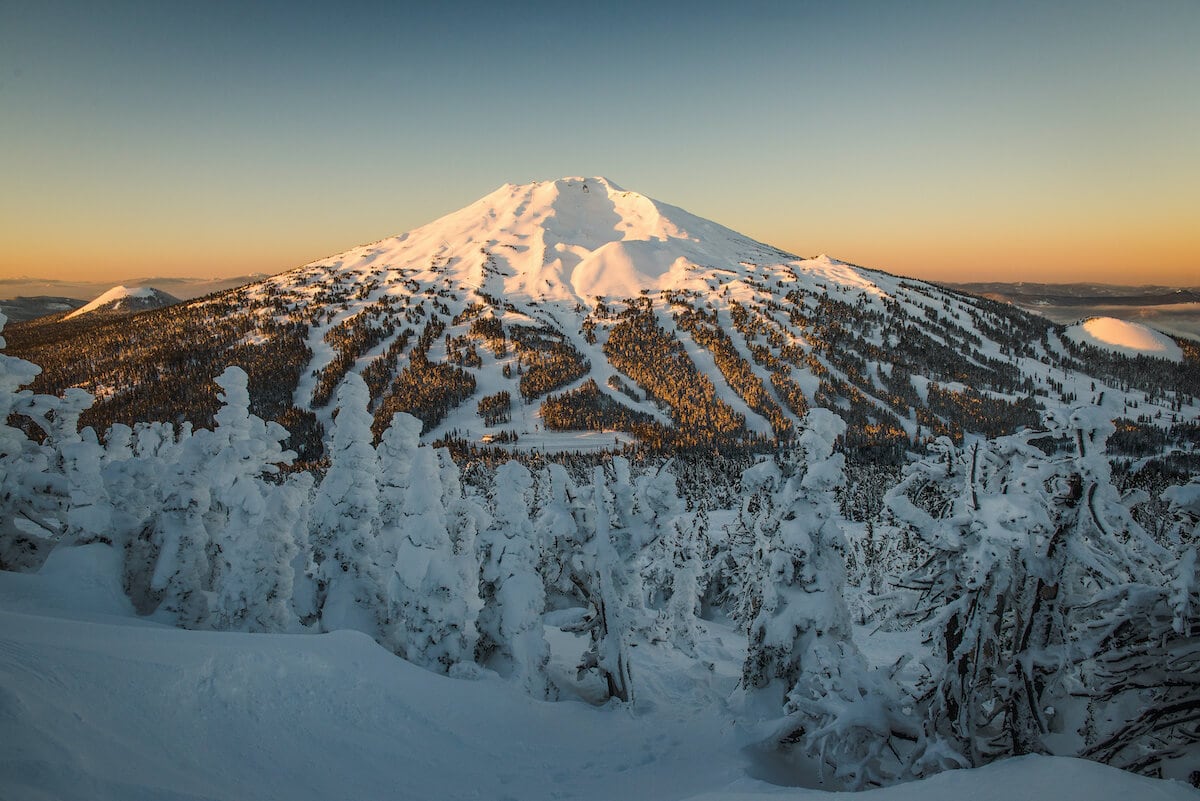 Hoodoo Ski Area (Indy Pass)
Location: Central Willamette Valley; 1 hour from Bend
Difficulty: All Abilities
Average adult weekday ticket price: $65-70 [Included on Indy Pass]
Size: 800 acres, 32 runs, 5 lifts
One of Oregon's most family-friendly resorts, Hoodoo Ski Area has a ton of variety squeezed into 800 acres. Situated on a large butte, you'll have access to all kinds of terrain: groomed trails on the frontside, fields of powder on the backside, plus wide-open sections, surprisingly steep runs, and night skiing, too. Don't let the 1,035' vertical drop put you off from this mountain — the skiing punches way above its weight!
After skiing, drive 10 minutes down to Skip Bar at The Suttle Lodge and Bathhouse for cocktails and sandwiches, schnitzel, or steaks. Or, drive over to the small town of Sisters for a bigger selection of après choices. From the Wild-West inspired Sisters Saloon & Ranch Grill to Boone Dog Pizza to The Open Table, there's something for everyone.
Mt. Ashland Ski Area (Indy Pass)
Location: Ashland, just 8 miles north of the California border
Difficulty: Intermediate
Average adult weekday ticket price: $64 [Included on Indy Pass]
Size: 240 acres, 44 runs, 5 lifts
Have you ever had the urge to ski Shakespeare-named runs? Me neither. But Mt. Ashland is the place to do it! The runs and lifts in this ski area are named after Shakespeare plays and characters, and the 30-minute drive to the town of Ashland is home to the Shakespeare Festival. Mt. Ashland gets high marks on its creativity here, but don't worry — it scores high on its skiing, too.
90% of Mt. Ashland is intermediate or advanced terrain, and the ski area is most known for its cirque, a steep glacial bowl that's an absolute blast. Don't let the small size fool you: Mt. Ashland is overlooked for its technical, fun terrain.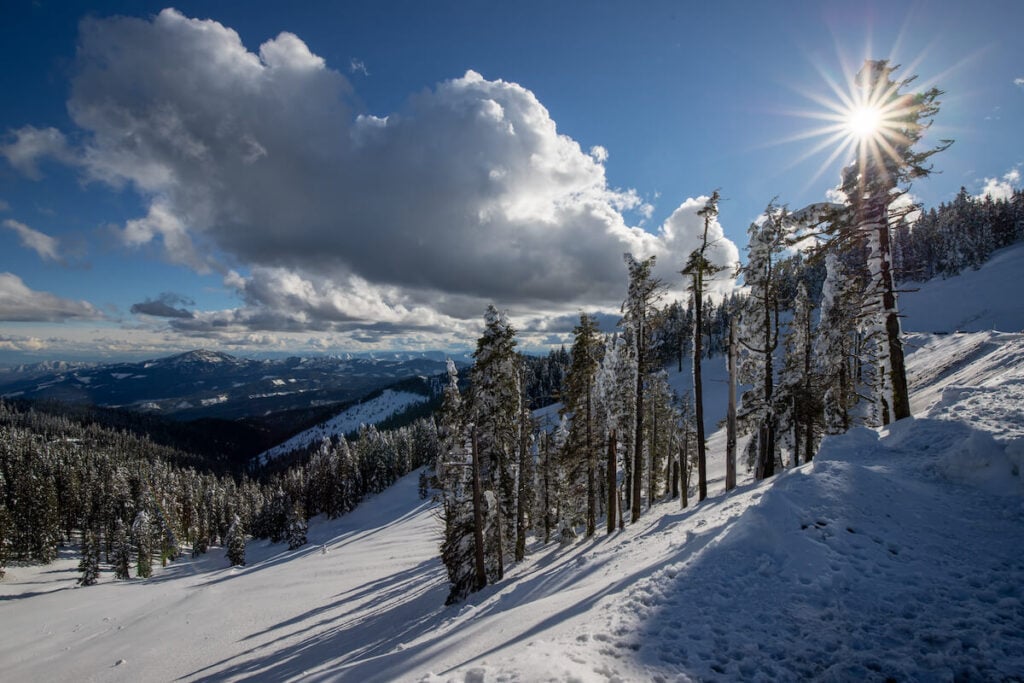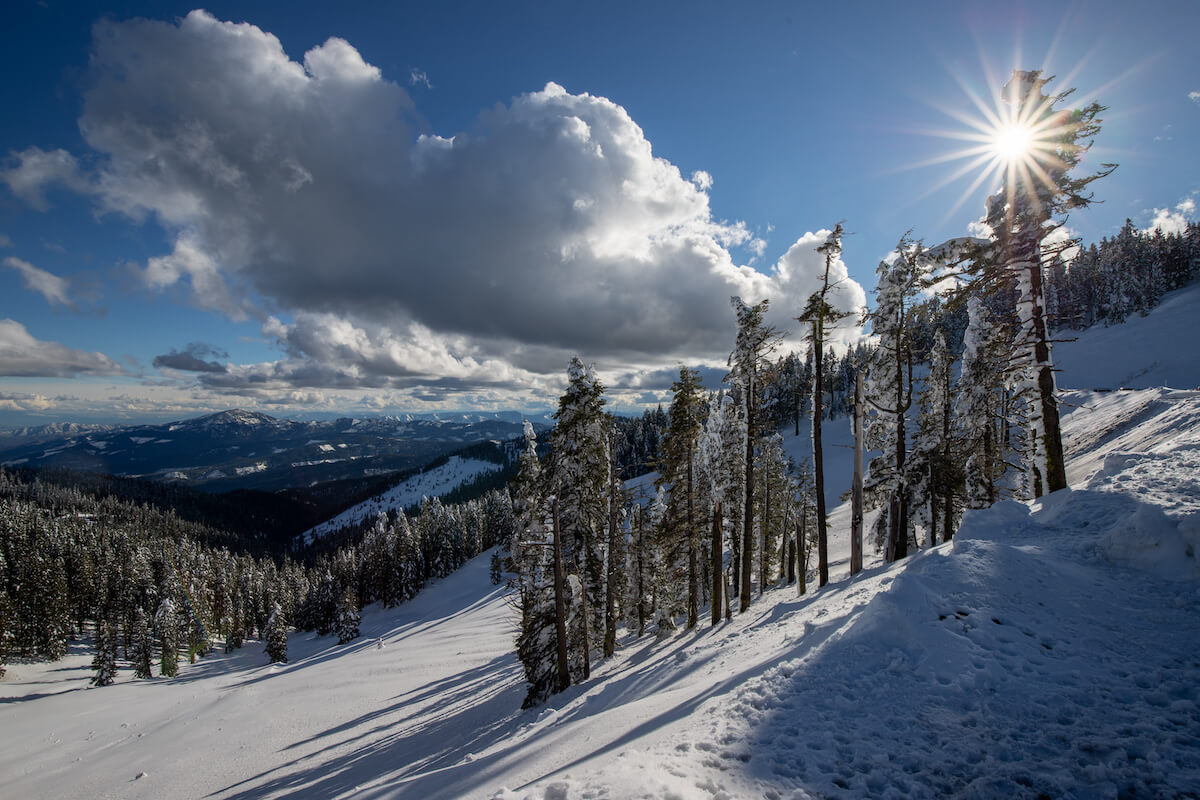 Oregon Ski Resorts at Mt. Hood
Mt. Hood Skibowl
Location: Mt. Hood, 1 hour from Portland
Difficulty: All Abilities
Average adult weekday ticket price: $86
Size: 960 acres, 69 runs, 10 lifts
Mt. Hood Skibowl is often referred to as "steep and cheap" by locals, and it has a lot going for it: it's the closest ski area to Portland, it's the largest night ski area in the entire U.S. with 34 night-lit runs, and it has the most black diamond runs of any ski area in Oregon. Head out to Upper Bowl to ski fast laps in incredible terrain. It does get frigid on the mountain, so be prepared to layer up and possibly ski on crud when conditions aren't great.After a long day on the slopes, nothing beats kicking back for some après for great food and beverages. Head right to the wood-lined Warming Hut midmountain for hot food and cold drinks. Or head to Charlie's Mountain View for a rustic atmosphere with a full bar & restaurant.
Timberline Lodge
Location: Mt. Hood, 60-90 minutes from Portland
Difficulty: Beginner-friendly, Intermediate
Average adult weekday ticket price: $114
Size: 1,415 acres, 41 runs, 8 lifts
Perched high up on Mt. Hood, Timberline Lodge is known for some of the freshest snow and best powder on the mountain. It's got tame terrain that's great for beginners, but don't let that stop you if you're looking for something more advanced: there's powder stashes and even a 3,690' vertical run from Palmer Glacier to Still Creek Basin that's sure to get your thighs burning. You can even ride a Palmer Snowcat to 8,540 feet on Mt. Hood to access Timberline's 4,540′ vertical!
The historic lodge itself is 55,000 square feet and was built back in 1937 as a Works Progress Administration project during the Great Depression, making it a massive, sprawling icon of the state. Book a night to enjoy a historic night on the mountain and enjoy the best, true ski-in, ski-out experience on Mt. Hood.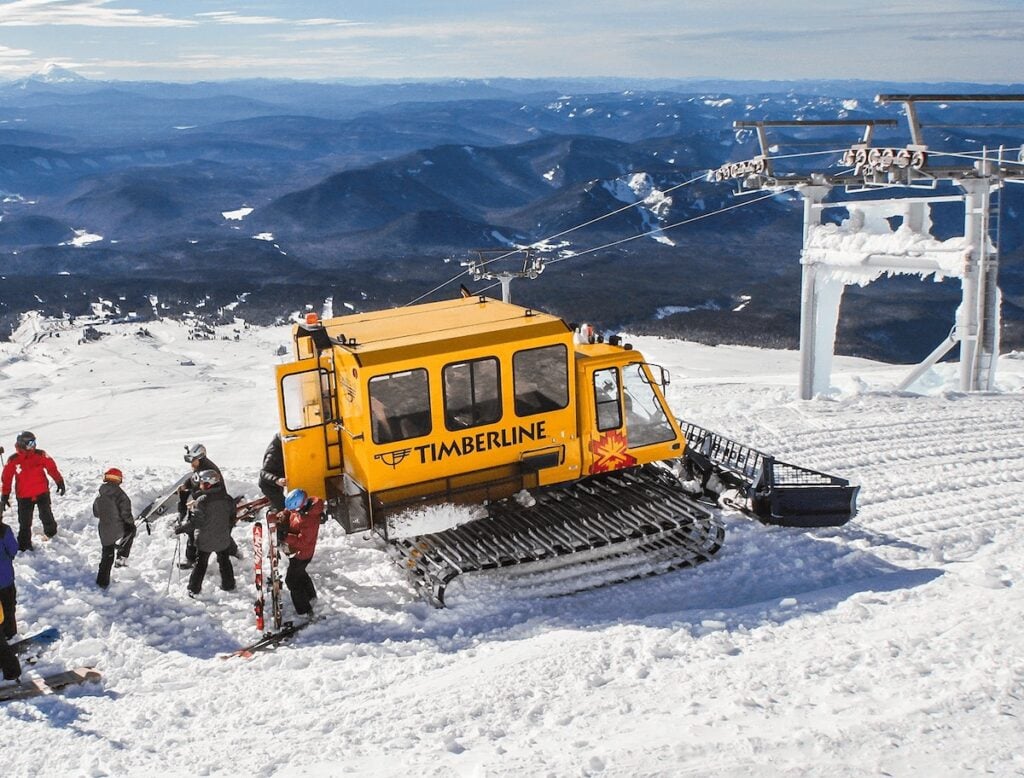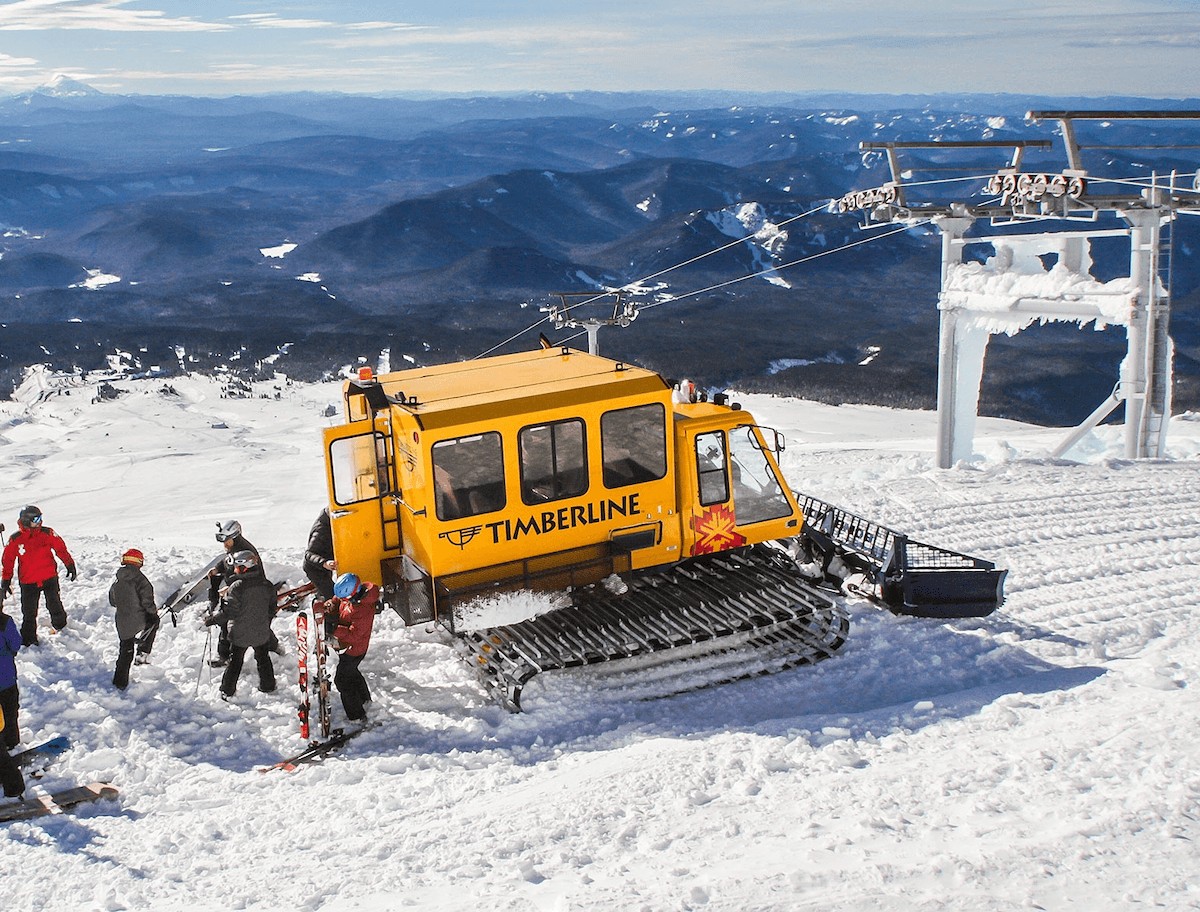 Mt. Hood Meadows
Location: Mt. Hood, 90+ minutes from Portland
Difficulty: All Abilities
Average adult weekday ticket price: $149
Size: 2,150 acres, 85 runs, 13 lifts
With an average of 430 inches of snow each year and by far the largest ski area in Mt. Hood, Meadows is well worth a visit on your next Oregon ski trip. Who knows — you might even stay for a week!
If you like it big, you'll love Meadows: it's a big ski area, it has big-mountain terrain, it has bigger & faster chairlifts, and since it delivers such a great experience, it also has a bigger ticket price. But don't let that push you away: this area delivers for all ski abilities. Sunny days and groomed runs are perfect for beginners. Advanced skiers head to Heather Canyon and the S&R Cliffs for unforgettable powder and an opportunity to hike it up to Super Bowl for fresh tracks & a 4,500' vert for one long run.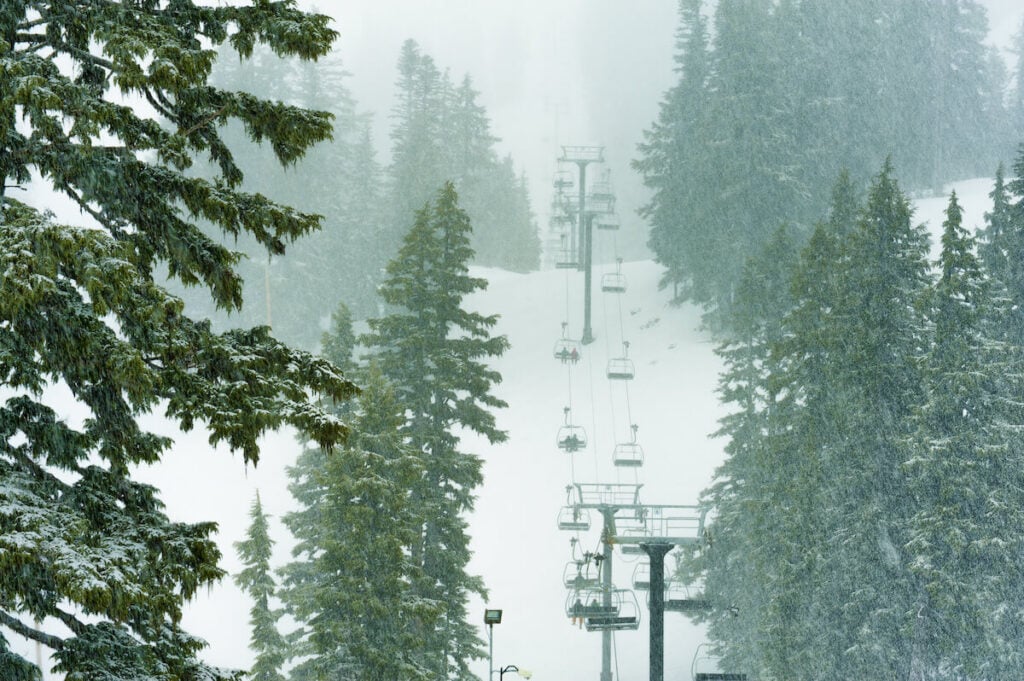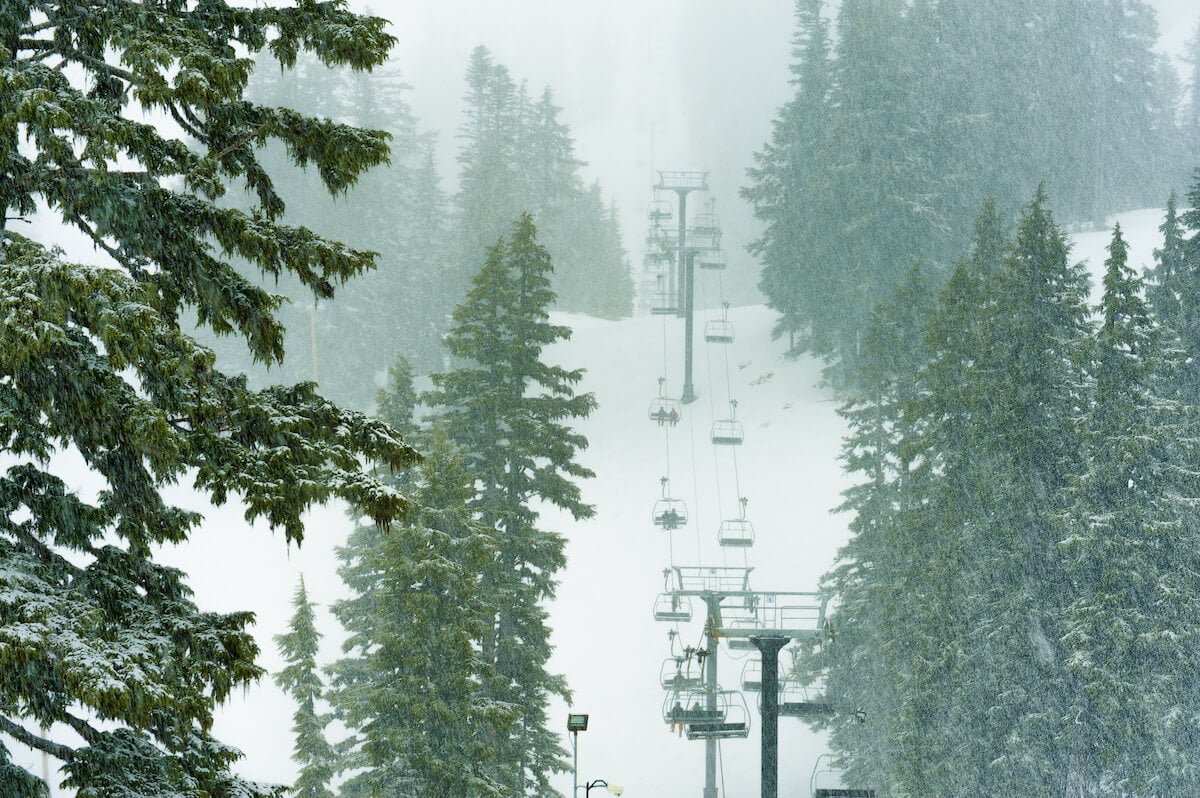 Cooper Spur Mountain Resort
Location: Mt. Hood, 90 minutes from Portland
Difficulty: Beginner & Intermediate, Family Friendly
Average adult weekday ticket price: $49
Size: 50 acres, 10 runs, 2 lifts
Cooper Spur has a small, mom-and-pop vibe on Mt. Hood. It's an ideal place for beginner & intermediate skiers looking to build experience and confidence on the mountain. When I first learned how to ski, I was always a little worried I'd accidentally ski to an intermediate area with terrain well outside my comfort level. Cooper Spur almost guarantees that won't happen — it has 4 green runs, 6 blue runs, and 1 black diamond, which means intermediate skiers have their pick of the entire ski area. That can make for an unparalleled day of confident skiing that you won't find at most ski areas! Cooper Spur is the best-kept-secret for beginners in Mt. Hood. If you're planning a trip, rent out one of seven log cabins the ski area owns. You'll have great views of the mountain, be super close to the resort, and you can kick back in the hot tub after a long day on the slopes. There's nothing better! Plus, the resort also has cross-country ski trails and snowshoeing, too.
Smaller Oregon Ski Resorts
Willamette Pass
Location: west central Oregon, 80 minutes from Eugene
Difficulty: All Abilities, Family Friendly
Average adult weekday ticket price: $66
Size: 555 acres, 29 runs, 5 lifts
Willamette Pass is a smaller ski area that truly caters to all skiing abilities: there's fresh groomers to cruise on, long blues to build stamina, steep & deep tree runs, and black diamonds with cliff drops for more advanced skiers. Rumor has it that one of the blacks is the steepest run in the Pacific Northwest — an angle of 52°. All this variety of terrain makes it a great area to ski for a weekend, especially since it doesn't draw crowds.
There are some great green runs for beginners to learn: the bunny hill is longer so that there's plenty of time to learn how to turn, and Sleepy Hollow is a great green that's far away from blues & blacks so beginners aren't intimidated. The advanced terrain is best described as steep, deep, and narrow. Most of the mountain's blues and blacks can be found on the north side of the mountain. There's no lodging on the mountain, so plan to make day trips to this resort.
Anthony Lakes Mountain Resort
Location: North Powder in Eastern Oregon
Difficulty: All Abilities
Average adult weekday ticket price: $45
Size: 1,100 acres, 21 runs, 1 lifts
A small and quiet ski area in the foothills of the Elkhorn Mountains, Anthony Lakes has some of the highest elevation skiing in the state with a summit altitude of 7,100'. If you're looking to get away from the crowds and enjoy a laid-back atmosphere for a weekend, Anthony Lakes is the spot for you. And if you're looking to throw the ultimate party with 50 of your skiing friends, you can even rent out the entire resort for $6,000.
There are plenty of lodging options here: you can rent out a yurt with bunks and a wood stove, rent out the wooden Anthony Lake Guard Station with 8 friends, plus RV & van overnight parking for $10/night or $25/night with hook-ups, which is a steal of a price.
Do you have a favorite Oregon ski resort? Did we leave out one of your favorites? Let us know in the comments below!