The Patagonia Black Hole Hip Pack is a combination of all the things that Patagonia as a brand stands for.  Sustainability, Longevity, and Comfort. Over the course of 3 months I have been using the Black Hole Hip Pack as my primary EDC when on vacation while walking around cities like Rome, Budapest, Normandy, Stuttgart, and London. I also used it a lot during flights and bike rides.
Capacity: 1 Liter
Weight: 3.5 Ounces
Denier: 70D
Dimensions: 4.5″ x 7″ x 2″
Notable Materials: Ripstop Nylon, Polyurethane, Silicone
Manufacturing Country: Vietnam
Warranty Information: Patagonia Ironclad Guarantee
Price: $40 USD
Patagonia Black Hole Hip Pack – Quality and Comfort
The entire pack is constructed out of a thin rip stop nylon that provides great protection while keeping everything light. This material is also somewhat water resistant so if you spill some water on the pack, you can rest easy that the interior contents will probably be dry. In the three months I have been testing the Black Hole Hip Pack, I have not noticed any frayed threads or rips in the nylon. 
The zippers are of the YKK variety with small cords looped through for the zipper pulls. Nothing really good or bad to highlight here, they are zippers, they work. The back of the pack has a light amount of padded mesh to improve both breathability and comfort while wearing the black hole. Working our way around, the straps are one inch wide and loop into a plastic buckle. I personally would have liked to have seen wider straps like 1.5 inches but I totally see why Patagonia went with one inch as to keep everything as light as possible. The loose straps can be stowed cleanly with the elastic keepers that are included with the pack. A nice touch in my opinion and I love when companies include these with their products. 
Like mentioned before the buckle is plastic and works well, but unfortunately the straps seam to come loose very often In the buckle unless under constant pressure. I feel that if the closures on the buckle were a bit tighter this would not be a problem. I found that it was very common for the pack to gain some slack from my body when I was wearing it and this did become a bit annoying every now and then. 
Patagonia Black Hole Hip Pack – Organization
Like most hip packs in this size category, the Black Hole is limited in what it can offer in regards to organization given its volume. With that being said Patagonia was able to fit not one but two pockets in their tiny pack. The main compartment measures in at 4.5 in x 7 in x 2 in or (11.4 x 17.8 x 5.1 cm) for our metric friends. The interior of the pocket is slick to allow for the most room as possible. In my experience this is large enough to fit multiple small items like sunglasses, headphones and a passport or phone without much issue. Alternatively I have been able to fit 16 oz can of beer or a small Kindle reader in this compartment but it was a tight fit. 
The Second Pocket is considerably smaller coming in at __________ but has a key lashing hook incorporated into it. There's also some nice branding in here and this is the part of the pack that folds in on its self for easy storage. This pocket fit smaller items like EDC flashlights or chapstick or sanitation wipes very well in my experience. 
Patagonia Black Hole Hip Pack – Applications of Use
The whole reason I bought the Patagonian Black Hole Hip Pack in the first place was because I was riding my bike through Budapest on a hot summer day and did not want to become too sweaty by wearing a backpack. I stopped over at a local outdoor equipment shop and picked up this little guy that same day and food that this pack fit this application perfectly. A fanny pack is a great way to haul around your essential gear without a dedicated backpack or have stuffed pockets. Personally I hate having pretty much anything in my pockets and doubly so when on a bike so the idea of a fanny pack really spoke to me in this application. 
Another great use I found for this pack was when walking around town or on vacations in the summer months. I recently used the Black hole on a trip to Rome where the temperatures were exceeding 94 degrees F____. I found that rather then trudging around with a backpack and turning my back and shirt into a sweaty mess, a lite and small fanny pack worn over the shoulder helped keep me cool while still providing a few essential items while exploring the rumens of the Roman Empire. 
A few other great uses for this bag are as a small medical pack while on hikes, a place to store snacks for the little ones, or a convenient beer holder for the bigger ones. I have not yet tested it myself but I'm sure this fanny pack would also act as a great place to hold extra shotgun shells when shooting some buckshot on the range. James Reeves helped me thinks of this last one. 
Pros
Perfect size for a daily carry

 

Two Pockets

 

Smaller pocket has a key connecter

 

Pack folds in on its self for easy storage

 

Material is lightweight and allows the pack to collapse into a very flat

 

Back is breathable and padded

 

Cost effective

 

Many color Options

 
Cons
Large interior tag gets in the way, but easy to cut out

 

Strap size is pretty small, anything over 38" will not fit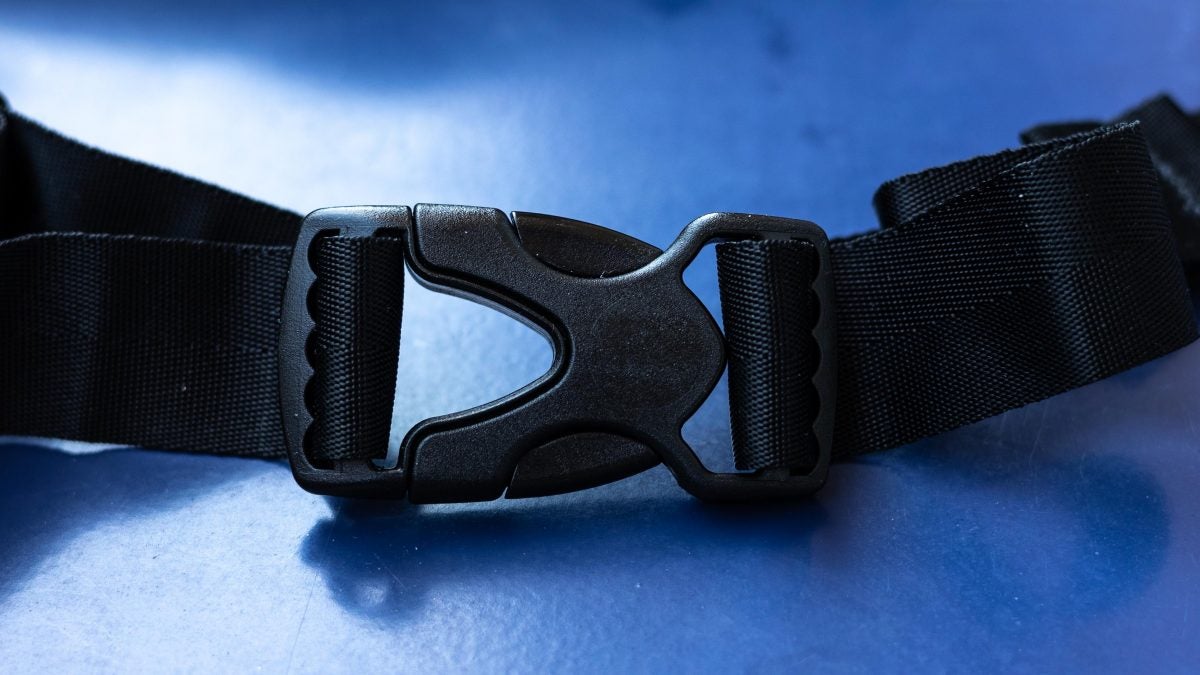 Patagonia Black Hole Hip Pack – Final Thoughts
Overall, the Patagonia Black Hole Hip Pack is a very cost effective and well thought out bag. Providing you with everything you need and nothing you don't, it is definitely a minimalist way to carry your essential items. If your in the market for a small pack for your daily adventures or just really want to show your whole family how much of a hipster you can look like at your next BBQ, you really can't go wrong with this one.