LALO Tactical is a tactical footwear company that was founded to serve the needs of U.S. Army Special Operations Forces and Naval Special Warfare Operators. While the company is relatively new in the footwear space, its designers and developers have over 30 years in the industry working with some of the world's top brands. LALO is proud to mention that they have been collaborating with professional athletes for years to make specialized performance footwear. They also state that "At LALO, we not only listen carefully to our professional athletes, but we also listen to our Operators on the front lines." LALO offers a wide variety of footwear to fit roles from military to cross country and urban athletes. The focus of this review will be their Zodiac Recon AT shoes. In LALO's own words "The Zodiacs are an oversized, rugged running shoe with lightweight component construction and responsive geometry. It provides a quick and responsive ride for off-road terrain."
The ZODIAC RECONs were privately purchased by myself and LALO did not send me a review copy nor was I paid by LALO for this review.
LALO Tactical Zodiac Recon AT – Specifications 
Weight: 10.7 oz (based on a men's size 9.5)
Color Options: Jungle Green, Black
MSRP: $175 (30% off MSRP for all Military)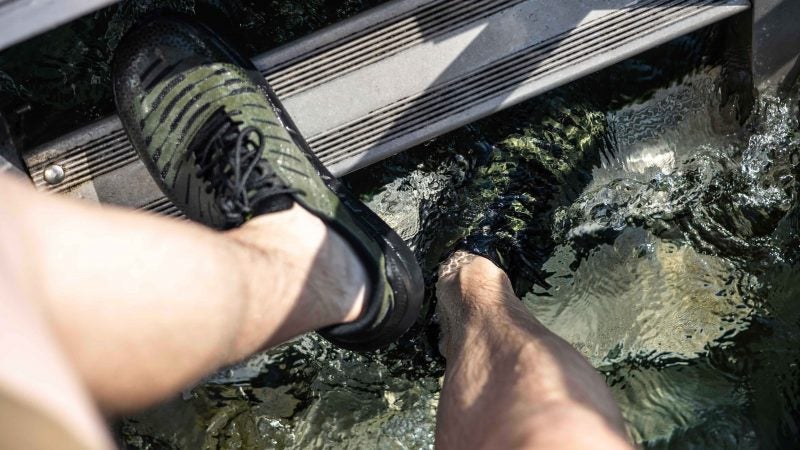 LALO Tactical Zodiac Recon AT – How It was Tested 
The ZODIAC RECON was tested in a variety of locations across Europe and America over the course of 8 months. I used the Zodiacs for tasks such as trail running, gym sessions, short hikes, and water shoes.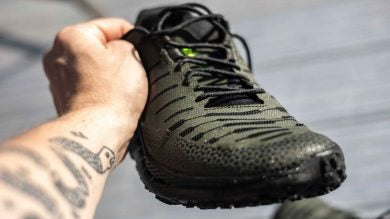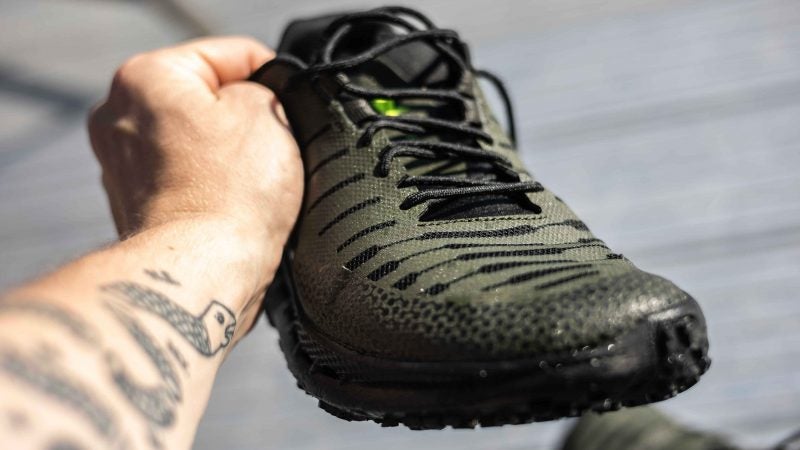 LALO Tactical Zodiac Recon AT – Quality and Comfort 
LALO claims to use top-tier materials on all of their footwear and I can fully support this claim. Starting at the bottom of the shoe you can see LALO's signature Off-Road Traction Pods (ORTP) on full display. All of these little pods help create traction in a variety of conditions and seem to not wear out too quickly. Unlike my many pairs of Soloman speed crosses – the lugs or pods, in this case – seam to hold up to road running conditions much better. I know they are not designed for this, but it is a good comparison for the multi-terrain durability of the Zodiacs. 
The Multi-density EVA construction in the sole is designed to cushion heel and toe striking while providing maximum support and stability to the end user. You will notice that the sole of the Zodiacs is a bit wider than most minimalist running or trail shoes, and that's to help when running in terrain like sand. Not a surprising feature considering who these shoes are marketed for (SEALs). The rocker shape of the Zodiac Recon AT's sole promotes forefoot strike and forward momentum.
There is an EVA heel counter that assists with stability and keeps your foot stay looked into the shoe. When I found myself running up inclines or jumping between rocks, this feature really kept my feet locked into the shoe and gave me the support I needed. The sides of the shoes have drainage ports for water and mud if you get into some really gnarly trails. On a side note, LALO promotes this kind of abuse to their products so you know it will stand up well.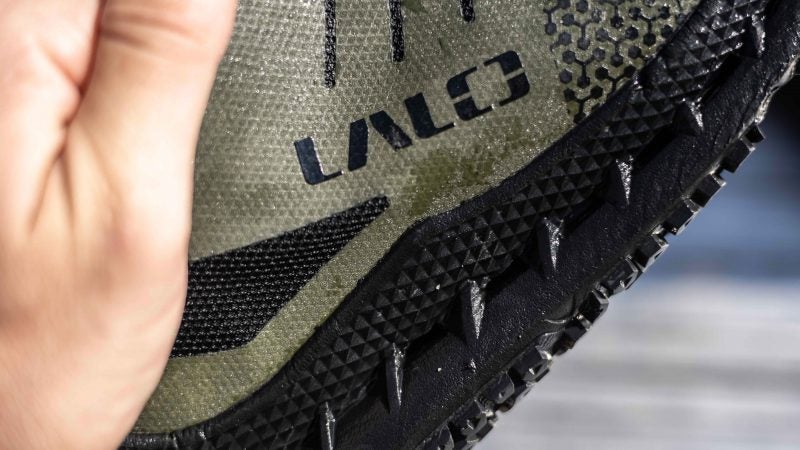 The primary reason I bought the Zodiacs was to fill a need I had for a shoe that would be fine getting a bit wet during missions where boats were involved. I will fully admit when I purchase these shoes I thought they were also a kind of water shoe but now that I'm sitting down and typing up this review and reading over the description on LALO's website, I can see there were never designed for that kind of an application. The more surprising thing to me now is that there worked really well in this role for me. The shoes once wet would always dry off very quickly and aside from the removable foam sole inside the shoe being a bit spongy from the water, I had no real complaints. 
The Toe cap on the shoes is carbonized and heat transferred meaning that a lot of heat from your feet will vent out through this portion of the shoe. The toe cap is also slightly reinforced for a bit of protection. The skin of the shoe that interfaces with the laces is designed for a second skin to feel meaning it's very minimalistic in nature. The skin is also very breathable to help ventilate your feet. 
In all of my running shoes, I generally wear a 9.5-10. Obviously, not all manufacturers make their sizes exactly the same and there will be variations. I ordered my pair of the Zodiacs in 9.5 as it's the size that fits best between most of my running shoe brands. Unfortunately, I think that LALO's sizing runs a little bit smaller than most manufacturers so they were a bit tight but not a dealbreaker. I recommend going a half or full size larger for anyone else looking to get a pair of these. 
Philosophies of Use 
Suitable for both long and short-distance runs, but excels on trails. 

They're

 n

ot designed for this, but I found them to be a suitable water shoe as long as they are drained often. 
Likes 
Well constructed and built to last 

Breathable, lightweight, and drainable 

Can be taken into the water (In my opinion) 
Dislikes 
A bit pricy if you don't qualify for their military discount 

Sizing seems to run a bit small 

Not great for running on treadmills given the rocker shape of the soles 
LALO Tactical Zodiac Recon AT – Wrap Up 
The Zodiac Recon ATs represent a true off-road shoe that can really do-it-all. Truly a jack of all trades but also a master of none. If you're looking for a trail running she with the tactical aesthetic that's, 's not another pair of Solomans or Merrels I recommend giving these a try. Yes, they are a bit pricy but you do get what you pay for with this product.