Adam Scepaniak   01.08.22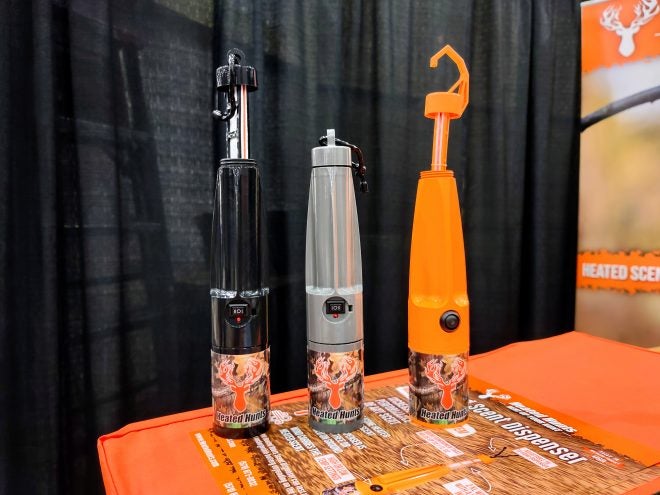 When it comes to hunting – archery, firearm, and muzzleloader – you can do everything right and account for every factor of a successful hunt yet get busted by your scent in the end. Worse yet, if Mother Nature has whitetail deer or game animals in your area holding tight (not moving) there is often little you can do to get them headed your way. That is where a revolutionary product like the one Heated Hunts has in their Electronic Heated Scent Dispenser can be a game-changer.
ATA Show Coverage on AllOutdoor
The hallmark product that Heated Hunts shared with us at ATA Show 2022 is their Electronic Heated Scent Dispenser, but they have a complete portfolio of scent related tools to cover your scent and drive game animals to your location. The Electronic Heated Scent Dispenser is unique in that regardless of the outdoor ambient temperature it will continue to work and distribute scent in your area (as you have programmed or designed it to for the specific needs of your hunt).
The Electronic Heated Scent Dispenser boasts a silicone heater which warms scents (attractants or cover-up scents), the scent dispenser is hung on a tree or placed on the ground, and the wind carries the scent throughout your hunting area. This system is capable of working for 20+ hours depending on the outside temperature.
Rechargeable Lithium Battery
High and Low Temp Settings
Scent container that holds up to 1 Fluid Ounce
Adjustable Tie to Hang Dispenser
Comes with Two (2) XL Wicks with a Silicone Heater Inside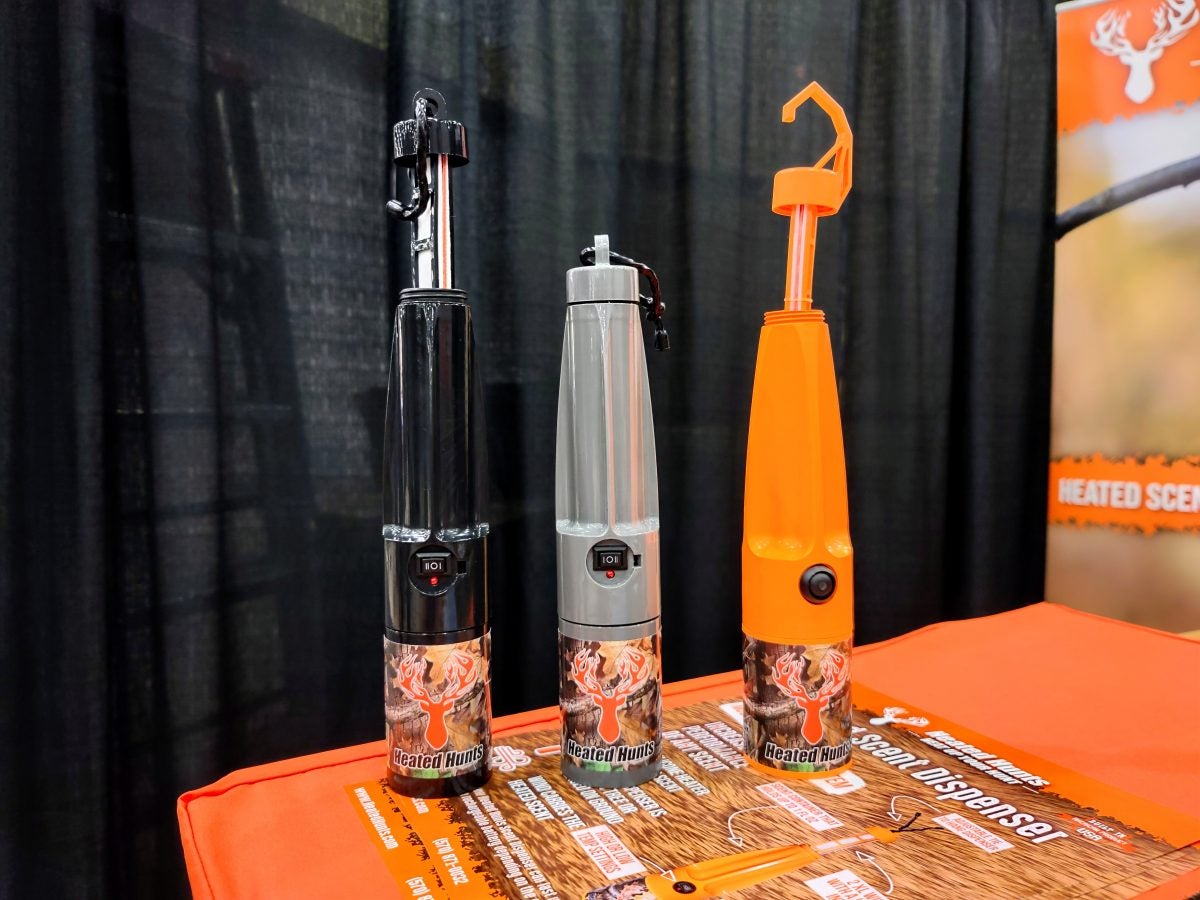 Where the Heated Hunts' Electronic Heated Scent Dispenser stands above its competitors is in extremely cold temps. Traditionally scent dispensers – not Heated Hunts – rely on the fluctuation of temps (highs and lows) on a given day to expand and contract a plastic bottle or dispenser. This method works fine during early season hunts and warmer temperatures, but tends to fail in the cold or not work at all. Hailing from Minnesota myself, we need products to work in the cold because those are the conditions we are continually hunting in. As Jonathan Kalasinski explained to us in their booth, a heated scent dispenser like his is infinitely more reliable in the cold and a heated scent carries further and more strongly in the woods.
Another product from Heated Hunts that caught our eye was their synthetic urine line as attractants for hunting. In some restrictive states, it is illegal to use bait, mineral licks, and/or urine and similar attractants. These politically-driven, restrictive measures are often implemented under the guise of not wanting to spread CWD (Chronic Wasting Disease) and other diseases that can plague wildlife. To circumvent this and allow for a secondary option, Heated Hunts offers synthetic urine that has none of the perceived "negative side effects" in our legislators' eyes yet can still draw in whitetail deer while hunting.
Aside from Heated Hunts' innovative Electronic Heated Scent Dispenser and Synthetic Urines, they also offer a host of cover scents and attractants in spray bottles. These would be applicable for bear hunting, wild pig/boar hunting, and whitetail deer.
Coming from someone who has hunted his entire life and used scents on-and-off for years, it takes something authentically unique and creative to pique my interest surrounding the topic of scents and attractants, and Heated Hunts did just that. The only thing that remains is whether or not you would be willing to give it a try?… As always, let us know all of your thoughts in the Comments below! We always appreciate your feedback.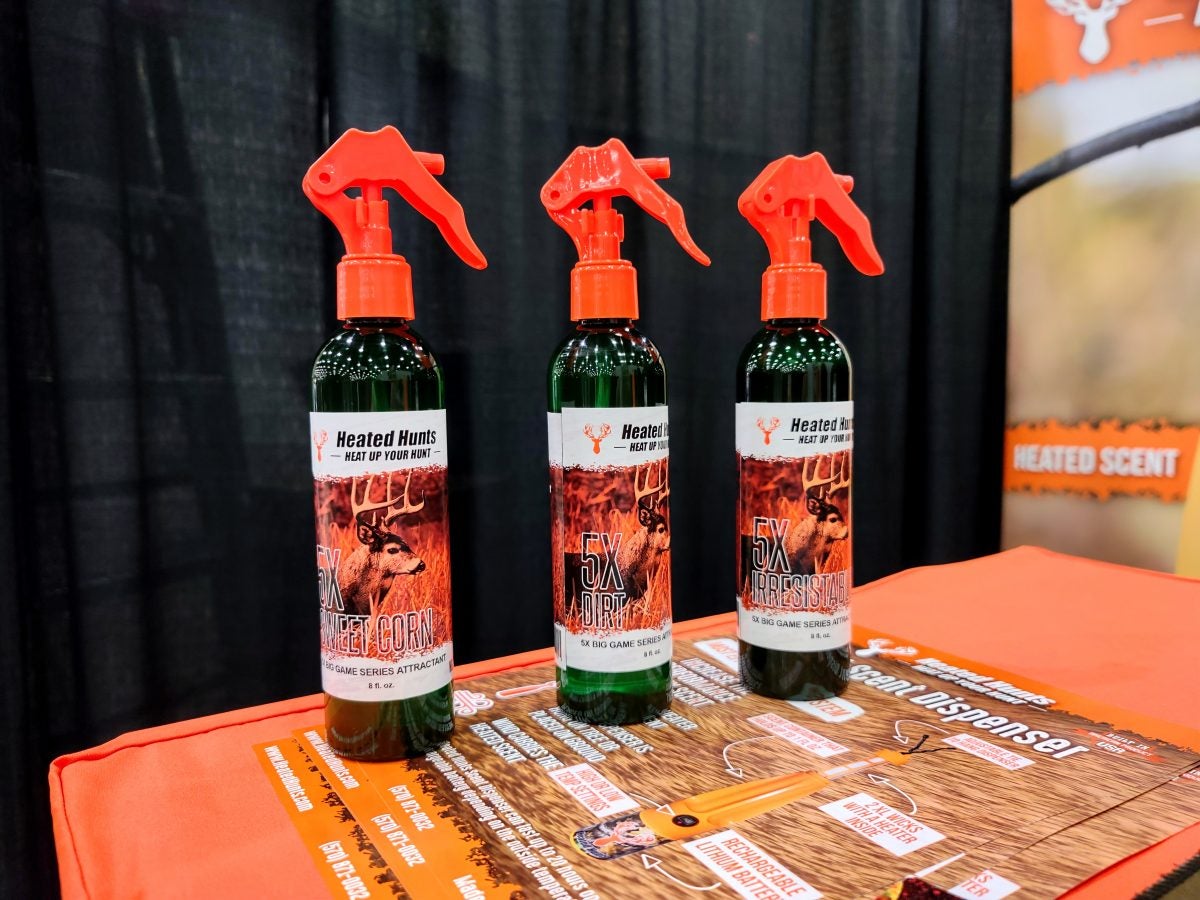 Source Link