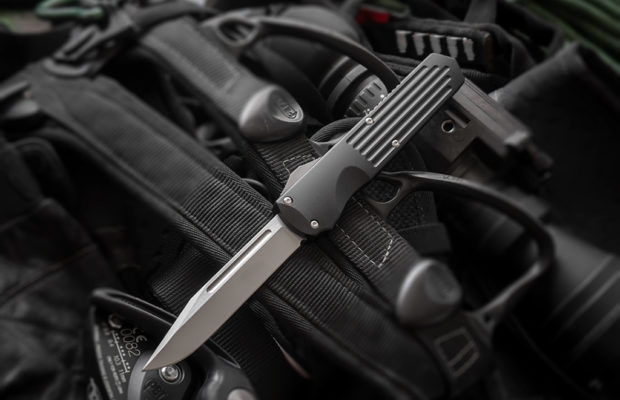 Prometheus Design Werx is releasing its first automatic knife, a limited edition model under their Special Projects label. They're calling it the Audax, and it comes decked out in classic PDW style while delivering double-action OTF deployment.
These days, the OTF genre is gaining traction outside of the "tactical" demographic, but PDW says the Audax was designed with those users in mind. "We created with Audax OTF as a refined, reliable and purpose driven edged tool for our Military and Law Enforcement customers," they write in the knife's press release. It's a role that the Audax is clearly spec'd to fill, with a clip point blade that looks mean without sacrificing the clean lines that are part of the PDW house style. Consisting mostly of a straight edge, with a little belly as it moves out to the tip, the Audax's blade opens with a titanium, spine-mounted slide that has a glow-in-the-dark dot embedded in it. M390 blade steel delivers tried-and-true, upper shelf performance in all the key metrics: edge retention, toughness, and corrosion resistance.
Ever since its inception, one of PDW's key practices is to maintain their particular aesthetic across every model they make. So the Audax's handle, made from contoured aluminum, comes in the two traditional PDW colors, olive drab or black, and sports the five fuller signature on both the front and back sides. A slab titanium pocket clip, emblazoned with the Special Projects Division kraken insignia, is the carry method on offer here.
As the name would imply, Prometheus Design Werx's Special Projects Division is home to the company's more adventurous or otherwise limited offerings. The SPD label has seen everything from special edition Sebenza 21s to a pair of overland kitchen knives housed in their own, folding cutting board.
The Audax released today and is available now.
Knife in Featured Image: Prometheus Design Werx Audax