Adam Scepaniak   01.09.22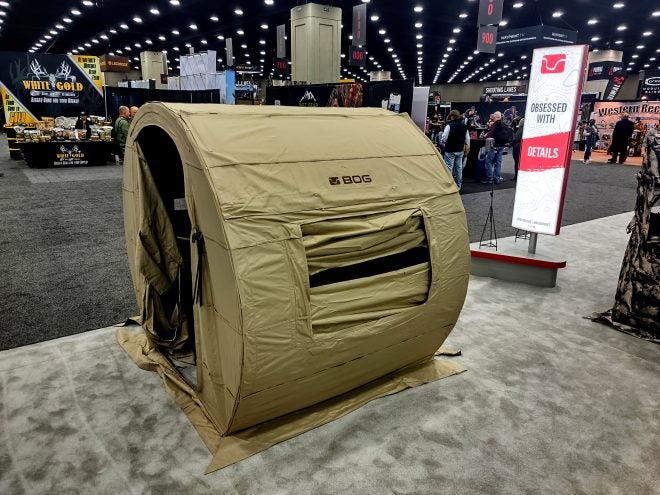 When it comes to hunting some of the best locations are not always found in an elevated stand or on the side of a tree; sometimes you need to get on the ground to be where the action is at. That is why blinds can be such a valuable tool in your library of tactics for hunting turkeys, whitetail deer, and a host of other game animals. A truly unique hunting blind to come from the Archery Trade Association (ATA) Show 2022 is the Haymaker Bale Blind from BOG.
ATA Show Coverage on AllOutdoor
"The BOG® HayMaker Ground Blind is an open field ninja. With a realistic bale design and 600 D Field-Khaki fabric with brush loops, this steel frame blind is designed to blend right into hay field or cut crop field setting. The silent, 4-sided curtain windows feature StealthTrac® window technology for silent and easy window adjustment. The HayMaker Ground Blind also features a user-friendly trap waterfowl door that is easy to operate and has more travel when open, ensuring the perfect shot for finishing waterfowl."
The Haymaker Bale Blind from BOG is meant to put you in plain sight yet never be seen. Mimicking the all too common view of a hay bale out in a field, this blind should hopefully get you closer to feeding game with increased opportunities of punching your tag.
600D field khaki fabric with UV protection
Full coverage brush loops
Curtain windows and mesh
StealthTrac™ silent window system
Easy to assemble steel frame
Waterfowl trap door ideal for finishing waterfowl
Rebar-style staking system
Snap style cover for easy setup and removal
Dimensions – 64.25" x 83.9" x 71.7"
The MSRP for the Haymaker Bale Blind from BOG is benchmarked at $459.99 and it is currently available on the BOG website. I have actually hunted next to and built real bale blinds before so I completely understand the utility and value in hunting in fields next to bales. They are unassuming and do not set off any "red flags" for game animals. As always, let us know all of your thoughts in the Comments below about this new type of hunting blind! We always appreciate your feedback.
Source Link