Call them what you want – fanny packs, waist packs, belt bags, bum bags – but I'm going to go ahead and say it: fanny packs are underrated! I ditched my purse for a fanny pack years before they were cool and I haven't looked back.
Whether you're hitting the trails or just running errands, the best fanny packs are perfect for storing your essentials. They're convenient and functional for all the times when you need to have both hands free and since they sit snug on your body, they are great for keeping your valuables safe, too.
Here's our list of the best fanny packs that are both functional and cute.
This post contains references to our sponsors. Bearfoot Theory also participates in affiliate programs with a variety of retailers and is compensated for referring traffic and business to these companies. All of the products we recommend we stand behind, and we appreciate your support!
Best Everyday Fanny Packs
These fanny packs are great for everyday use whether you're going out for a neighborhood stroll, meeting friends for drinks, or running errands around town. They're cute, versatile, and more importantly, have great organization so you're not digging around trying to find your keys.
lululemon Clean Lines Belt Bag
The lululemon Clean Lines Belt Bag is a spacious and fashionable 2-liter fanny pack that's perfect for carrying all of your essentials. I recently upgraded to this fanny pack and I absolutely love it. It's got two pockets. The big outer pocket I use for my phone, snacks (because I always carry snacks), my lip balm, sunglasses, business cards, and other essentials. This pocket also has a mesh compartment to help with organization and a string with a clip that you can attach your keys to.
The other pocket is a little more stealth and close to your body. This is a great place to stash your credit cards, cash, and other valuables. The 2-liter capacity means you won't have to cram all of your stuff in here… there is plenty of room.
The fabric is water-resistant and lululemon incorporated recycled nylon into the body of the fanny pack (bonus points!). While not totally waterproof, you don't have to worry about your stuff getting ruined if you encounter some rain. The waistband is highly adjustable so it can fit a variety of body sizes, and I really like that the excess waistband material is held flush by a little clip so it's not hanging by your butt. I have the color Burnt Caramel/Black, and it really goes with everything.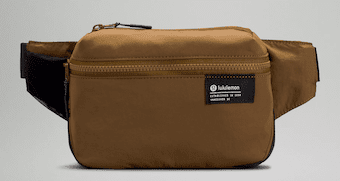 Check Price: lululemon
REI Co-op Trail 2 Print Waistpack
If you want a low-profile fanny pack that also has some technical design details, go for the REI Co-op Trail 2 Print Waistpack. A smaller option that's also great for short hikes, it's made for storing your essentials with features like a bucket-style, top-loading main compartment for easy access while you're on the move.
Plus, it's even got a front and secret back zippered pocket for valuables. This is Linda's (BFT's Director) hiking fanny pack of choice since it's small and simple with the perfect amount of space to carry the basics.
If you don't like the colorful prints, you can also choose from solid colors.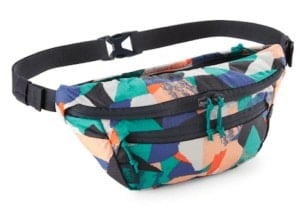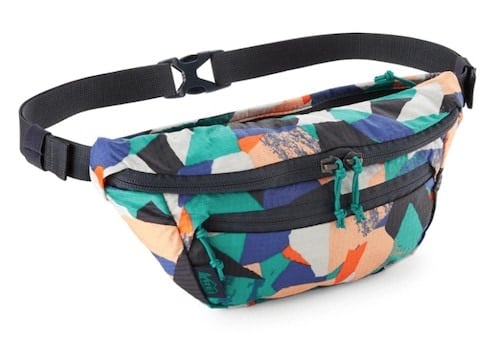 Check Price: REI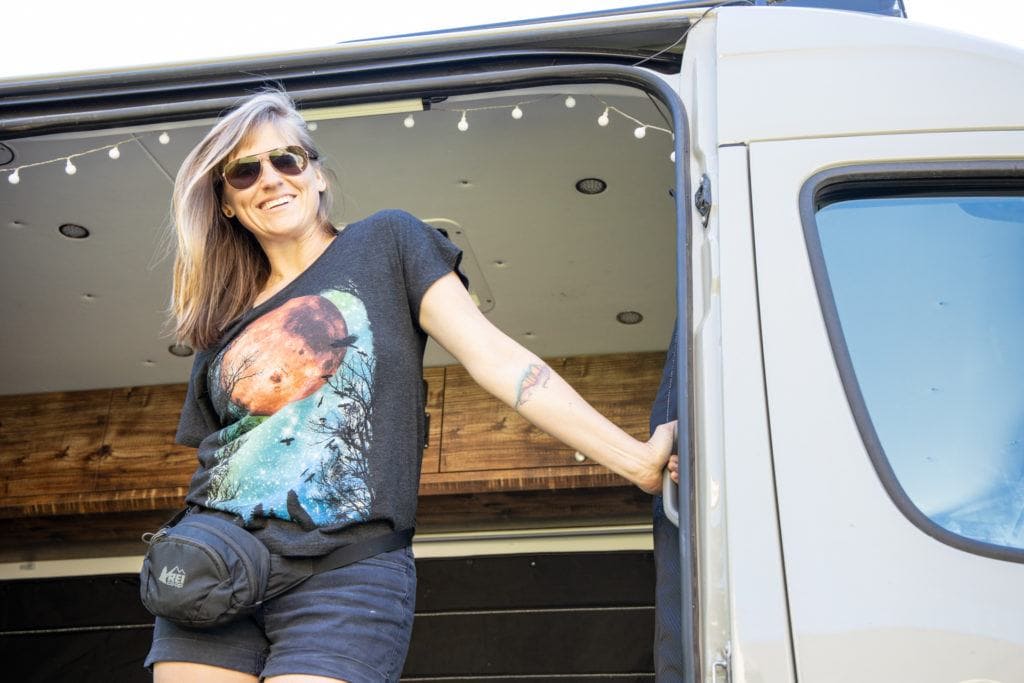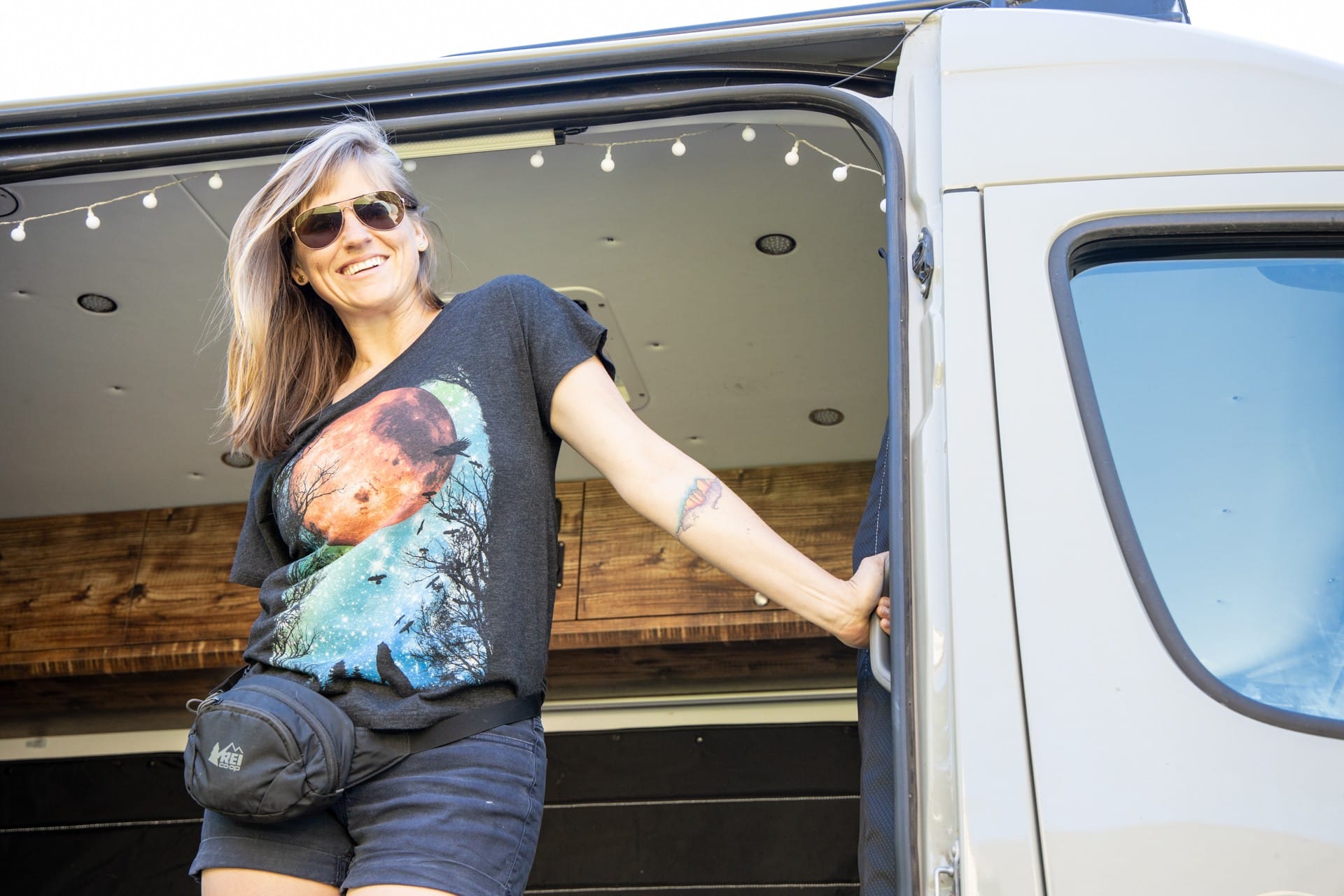 Kavu Spectator Waistpack
The Kavu Spectator Waistpack is a simple, stylish, and straightforward option for everyday or casual outings. It has two zippered compartments, an adjustable strap, and an easy side buckle. This waist pack comes in a variety of prints that punch up the look enough so you can go without a bag and not have to worry about stuffing everything into a pocket.
It's easily one of the best waist packs for going hands-free on a night out with friends.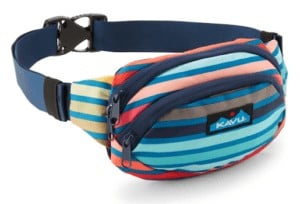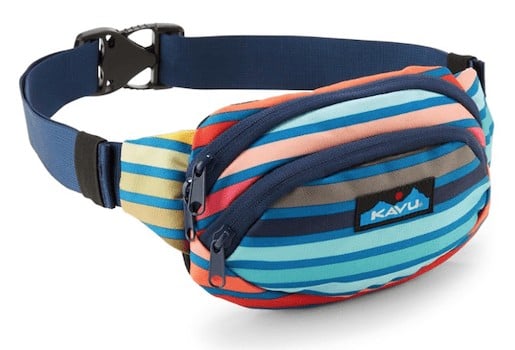 Check Price: REI
Cotopaxi Bataan 3L Fanny Pack
The Cotopaxi Bataan 3L Fanny Pack has a large main zippered compartment that is great for holding bigger items (think: sunglasses, snacks, even a packable layer) and smaller mesh pockets inside, so you aren't fishing around for the car keys.
It has an adjustable strap so you can wear it on the front, side, above the bum, or even as a sling bag. Plus, you get to choose from one of the many unique colorways which set Cotopaxi gear apart from the rest.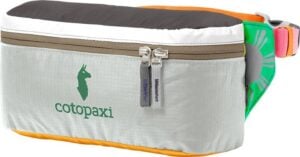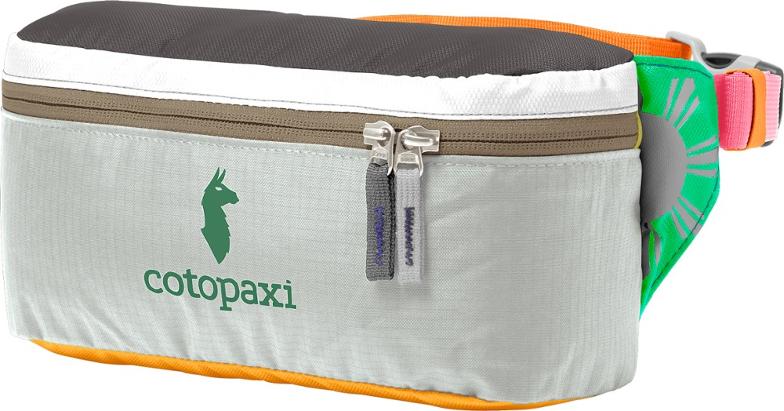 Check Price: Cotopaxi | REI
Best Hiking Fanny Packs
Hiking fanny packs are great for short day hikes where you need to bring some essentials but don't need a full day pack to carry all your gear.
REI Co-op Trail 5 Waistpack
Made from recycled polyester and recycled nylon, the REI Co-op Trail 5 Waistpack is an eco-friendly option that can be worn on the trail or as a larger everyday option. The outer shell has a water-resistant coating making this perfect for all seasons, and daisy chains on the front allow you to loop your jacket for even more hands-free convenience.
It has 2 water bottle pockets that each fit a 1L bottle (not included) as well a large main pocket and handy small front and back organizational pockets for smaller items.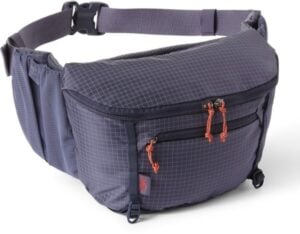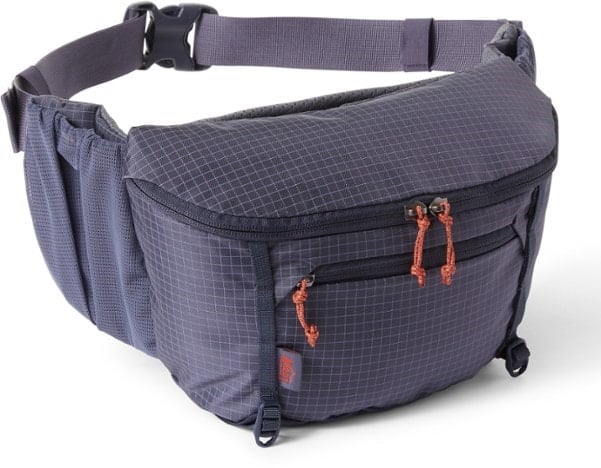 Check Price: REI
DAKINE Hot Laps 5L Hydration Waistpack
The DAKINE Hot Laps 5L Hydration Waistpack is a workhorse of a fanny pack. Designed for mountain biking, but versatile enough for day hikes or traveling, this is one of the best hiking fanny packs for female travelers who like doing a little bit of everything.
The biggest feature is the spacious main compartment that stores a 2-liter hydration reservoir and a bite valve, so you don't have to remove it while drinking. Plus, a front zippered pocket that organizes everything else: keys, wallet, phone, snacks, and even a spare bike tube.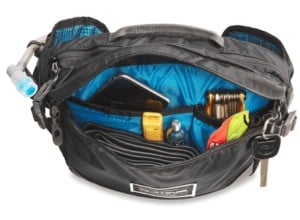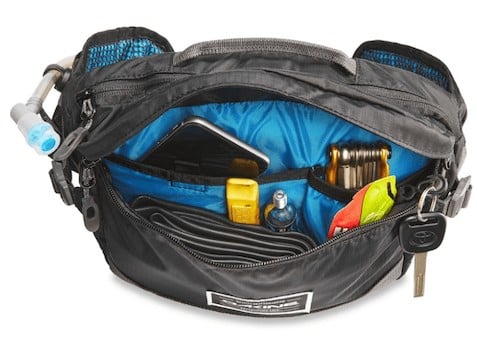 Check Price: REI | Backcountry | Moosejaw
Mountainsmith Tour Lumbar Pack
The Mountainsmith Tour Lumbar Pack is one of the best hiking fanny packs with a water bottle holder. The pack holds a whopping 9L of gear and the side pockets fit 32oz water bottles (not included).
There is an interior zippered compartment to secure your small valuables. The pack is extremely comfortable, ergonomic, and is one of the most popular hiking waist packs on the market.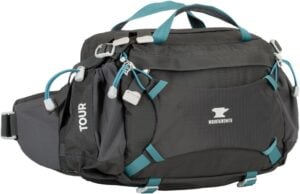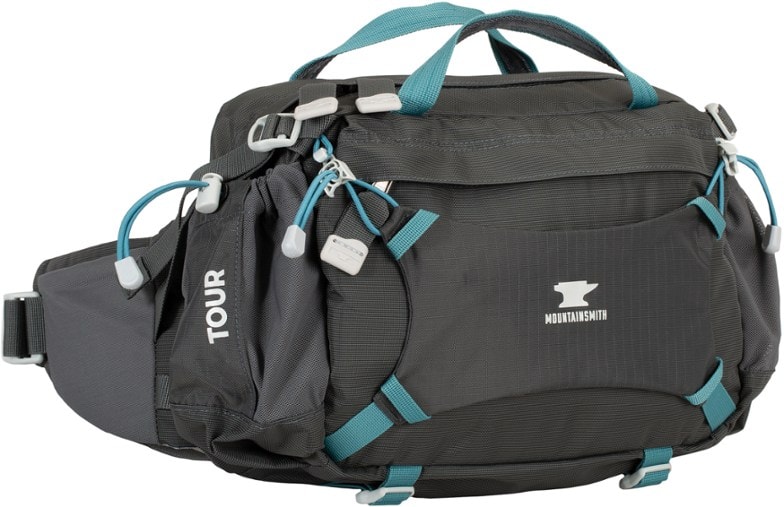 Check Price: Backcountry
Best Travel Fanny Packs
I'm always looking for ways to make travel easier and more efficient. I've found that using a travel fanny pack, especially when flying, makes keeping track of important documents much easier and less stressful. Here are a few of the best travel fanny packs on the market.
Patagonia Black Hole Mini Hip Pack
The Patagonia Ultralight Black Hole Mini 1L Hip Pack is former BFT writer Katherine's favorite waist pack for traveling as well as everyday wear. The waistband is adjustable and the bag is roomy and made of durable ripstop nylon that is also waterproof and easy to clean.
True to its name, this is a lightweight and versatile pack that looks cute and does everything that it's designed to do while you're out and about. Katherine wore this one on our Central California Coast Road Trip.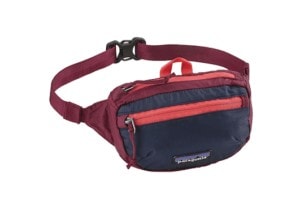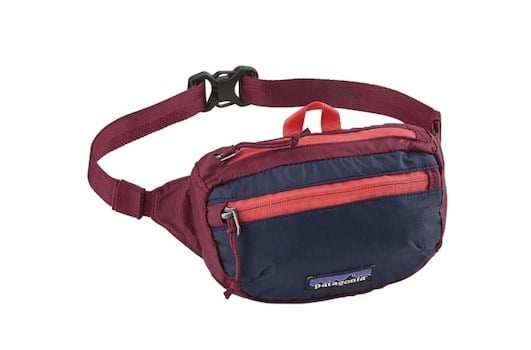 Check Price: Patagonia | REI | Backcountry
Cotopaxi Coso 2 L Hip Pack – Cada Dia
The Cotopaxi Coso 2 L Hip Pack Cada Dia is a versatile travel fanny pack that will meet your needs on any trip. The main zippered pouch has several pockets for keeping things organized and the outer expandable pocket is great for stuffing a light layer or keeping important documents at the ready.
We also love that this pack can be worn multiple ways depending on your activities. Wear it as a hip pack for day hikes or sling it around your shoulder when walking around town.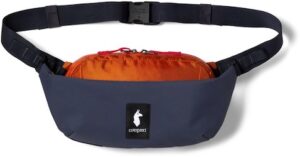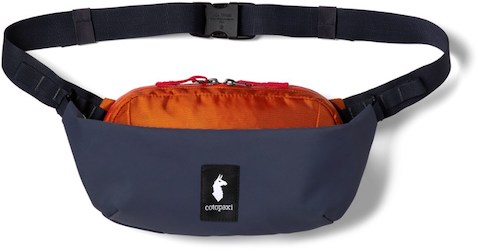 Check price: REI | Cotopaxi
Pacsafe Vibe 100 4L Hip Pack
The Pacsafe Vibe 100 4L Hip Pack is another great travel fanny pack, offering a ton of room. The main pocket fits up to a 7-inch tablet, among other must-haves. It has a PopNLock security clip for quickly securing the bag to a fixed object (like a chair leg) and slashguard material on both the bag and strap for an added layer of security.
This is the perfect travel or everyday hip pack for those wanting to stay safe and organized.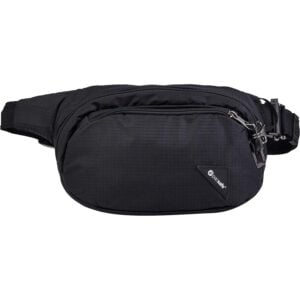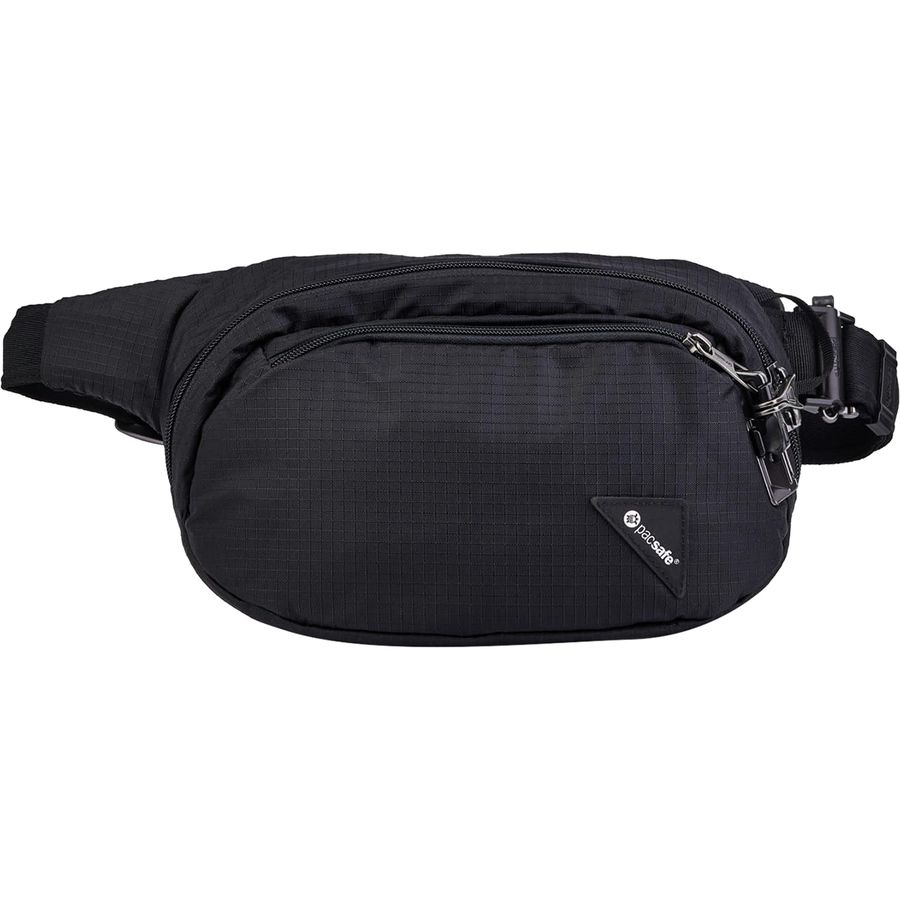 Check Price: Backcountry | Pacsafe
Have you found the best fanny packs for hiking, traveling, or everyday adventuring? Which one is it and what do you love about it? Leave us a comment below!